The 7 Best Chicago Engagement Photo Locations
If you're getting hitched in the Windy City, check out these Chicago engagement photo locations to find the right backdrop for your photo shoot.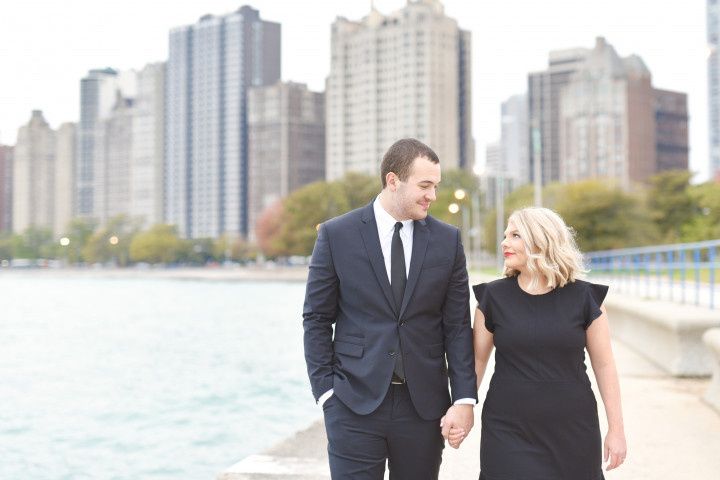 Known as the Windy City, Chicago is a dreamy place to get blown away with your one-and-only. It's one of the largest cities in the country and is best known for some of the most impressive and noteworthy architecture in the United States—and in turn, there are plenty of Chicago engagement photo locations to take those oh-so-important shots. Even if Chicago isn't as renowned for romance like other destinations, if this Illinois hub has a special place in your heart, it's worth considering for these images you'll cherish for years to come.
Here, seven top Chicago engagement photo locations you and your soon-to-be spouse will love in the Windy City.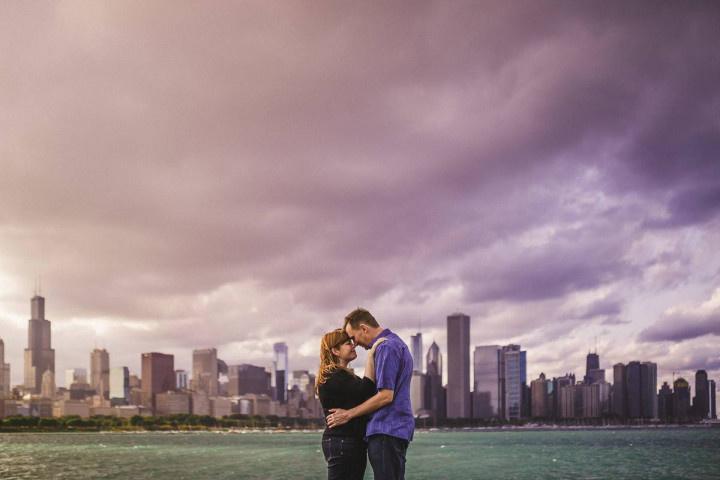 Adler Planetarium
There's something special about meeting the love of your life. And even though yep, it's a little cheesy, it often feels as if the stars finally aligned. You and your partner can show just how big your love is in an infinite universe by taking photos at Chicago's oldest planetarium. Here, you can see the midnight moon, stars and planets, just as they were in 1913 when the Adler Planetarium was built. It's a fascinating experience — and one that feels rose-colored when your favorite person on Earth drops to one knee. You will likely need to book a few tickets for yourself and the photographer, and give a heads-up to the staff before you arrive.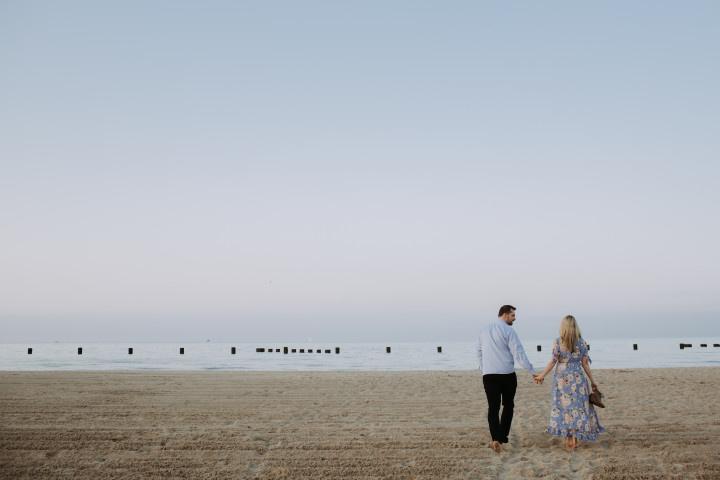 North Avenue Beach
If summer lovin' has you thinking of the early days of your relationship when you met in the heat of the season, don't discount a beachy engagement session at one of Chicago's most popular shores. Just think about it: the skyline behind you, with your toes nestled neatly in the sand. If you want something a tad more formal, visit the North Avenue Beach House, which has 22,000 square feet of space, complete with shops, restaurants and more. Maybe a celebratory glass — or bottle of champagne after the click-click-flashes are finished?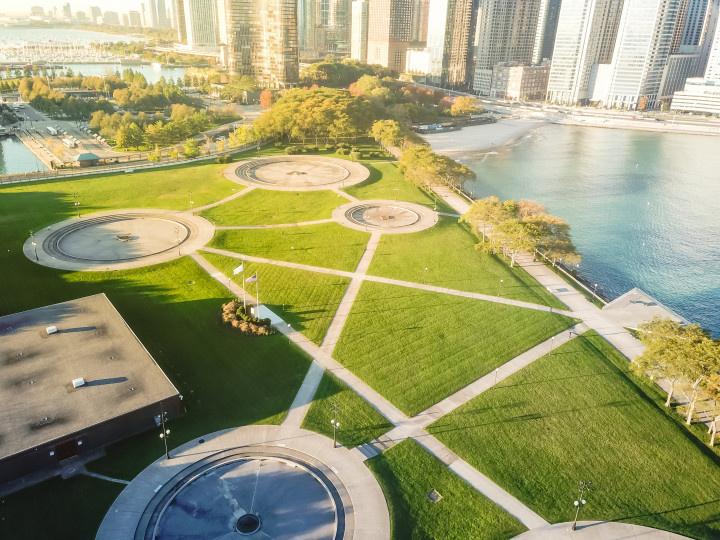 Milton Lee Olive Park
A bit north of the iconic Navy Pier you'll find this gorgeous, green park that basically begs for sweet strolling, hand-in-hand—it's easy to see why this is one of our top Chicago engagement photo locations. When you enter the grounds, you'll be surrounded by honey locust trees that lead you to a variety of various landscapes: grass, granite beaches, lakes, you name it. Even though it's all beautiful, many people love the five fountains on different levels that add dimension and height to the area. If what you love the most about your relationship is how you love 'just being' with one another, ask your photographer to snap candid images of you walking, talking, laughing, and maybe even picnicking in this area.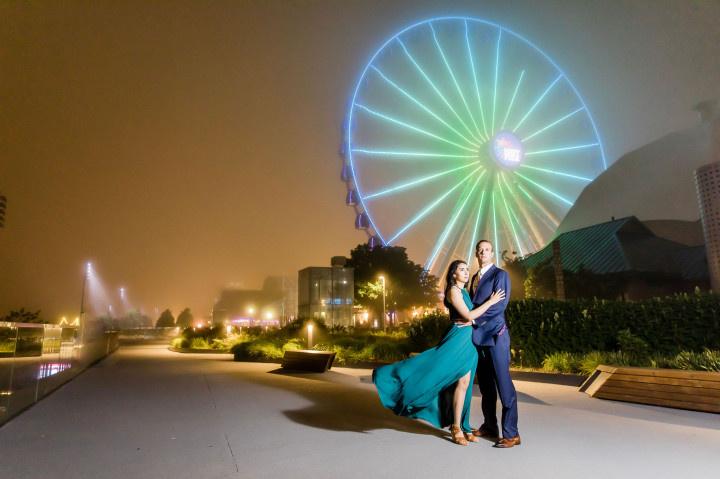 Navy Pier's Centennial Wheel
What city would be complete without an oversized ferris wheel to take in the sights? Chicago has their very own Centennial Wheel on Navy Pier, and for couples who have been around the block a time (or ten) together, it's a big way to take photos. It will take you and your number on up 200 feet as you take in the 360-degree views of Chicago and Lake Michigan. For your engagement session, consider booking the VIP gondola that can be reserved for once-in-a-lifetime occasions like this one. The best news about this choice is you can also take photos at Navy Pier afterwards, too. Maximizing your time and budget, you'll get a wide selection of shots to pick from.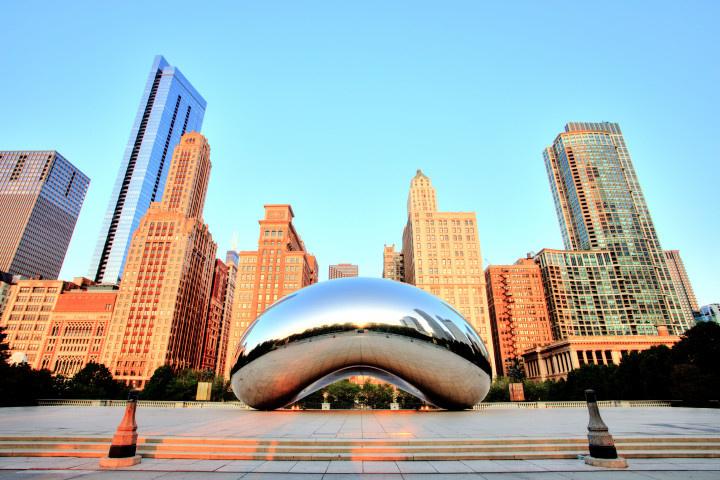 Cloud Gate
If you don't take a photo at the city's 'bean' — that isn't really a bean at all — did you even go to Chicago? Cloud Gate is the iconic mirror sculpture that reflects funky images back to those who stand near it. Imagine a save-the-date that features the two of you — and a sparkly engagement ring with this Chicago engagement photo location behind it. Just make sure to get there early so you avoid mega crowds.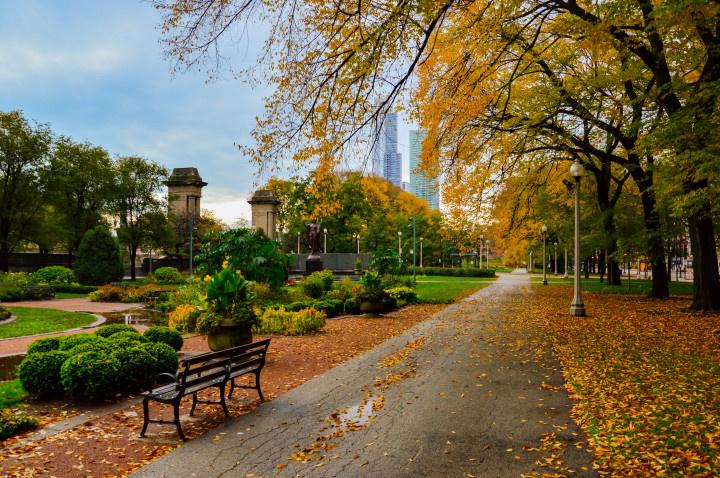 Grant Park
If Chicago had a Central Park like New York City, it would be this one. This oversized urban escape is located in the business district, and intertwines the 'Loop' community. For couples who want a large variety of backdrops but only have limited time, this is your best bet, since Grant Park is home to many landmarks — the Art Institute of Chicago, the Museum Campus, Buckingham Fountain and Millennium Park, to name a few.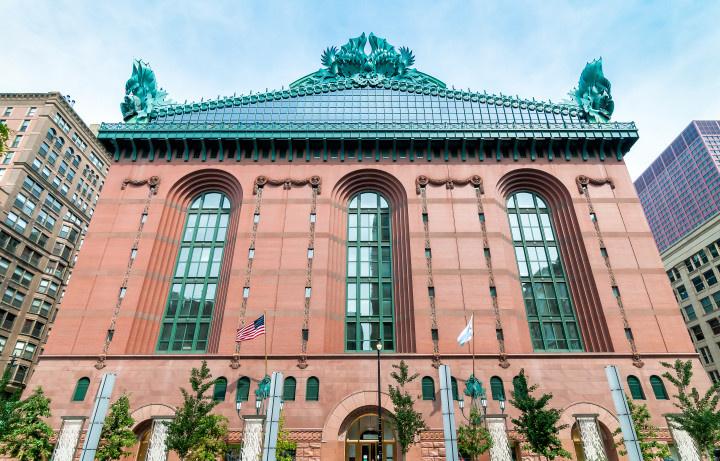 Harold Washington Library
As the saying goes, the book of love may be long and boring — but your story is something different all together. In fact, it's how you met, what made you stick together and why you keep choosing one another that makes your relationship unique and happy. If you and your partner are book worms, consider taking photos at the legendary Harold Washington Library. On the ninth floor is The Winter Garden, an atrium that features a 52-foot glass-paneled dome. It's a sweet way to capture a view, a pretty space — and detail how your fairytale ends. (Or rather: begins!)