9 Bridal Shower Activities Besides Opening Gifts
From printable date night cards to toilet paper wedding dresses and more, these are the bridal shower activities that will wow a crowd.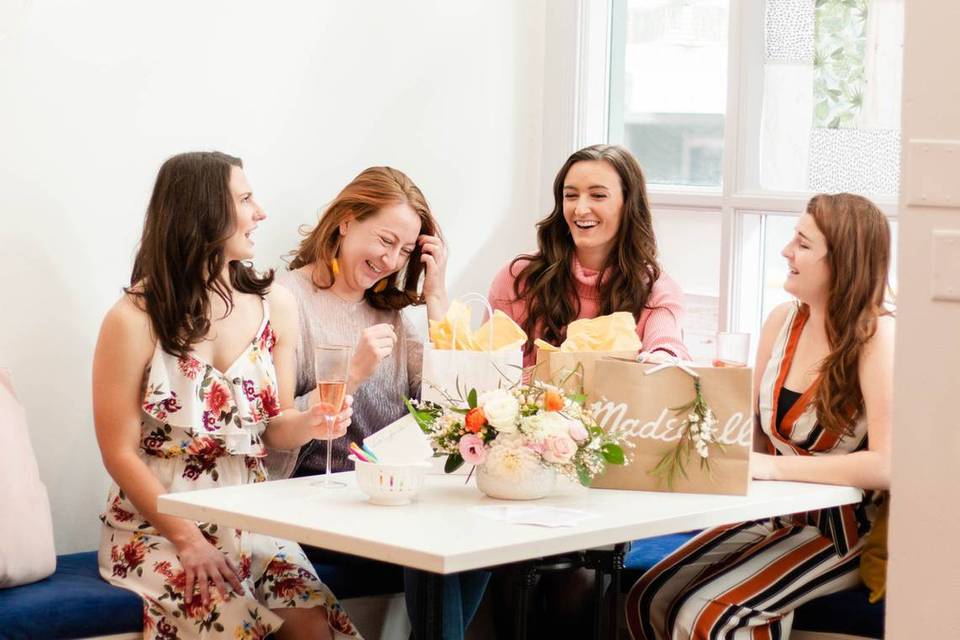 A wedding is never a one-day event—especially when your friends, family, bridesmaids, and loved ones can't wait to spoil the bride-to-be. One of the most popular traditions is a bridal shower. It's a time to play games, create fashion masterpieces out of toilet paper, toast with champagne and cocktails, and of course, give gifts and advice to the guest of honor. If you are part of the planning committee, it's important to keep the conversation and energy flowing with bridal shower activities. These can range in complexity and participation, but all should pay a special tribute to the bride and her upcoming nuptials.
If you're running low on inspiration, don't sweat it. Here, we spoke with wedding planning experts on the latest-and-greatest bridal shower activities and fun bridal shower games:
Create a signature cocktail during the bridal shower.
Though some showers stick to non-alcoholic beverages, many modern parties include them. If you're on team booze, consider a DIY bridal shower activity where guests get to create a cocktail to represent the couple and/or the bride. It's a trend wedding planner Tara Fay has noticed recently — and one that can add a lot of flavor to the bridal shower (no pun intended). How could it work? Ask each guest to select ingredients from a list that best represents the bride or the couple, and explain why. Then, they can either whip up the concoction themselves, or you can hire an on-site mixologist. After naming their clever cocktail, everyone gets a sip, and you can vote on the one that wins. Bottoms up!
Create a sweet memory book for the bride-to-be.
As any married person will share, a wedding is a sentimental, meaningful time. Everyone you love is gathered near, excited to celebrate the start of your marriage, and the love radiates throughout the process. Savor and record some of that specialness by setting up a photo area at the bridal shower, says wedding planner JoAnn Gregoli of Elegant Occasions by JoAnn Gregoli in New York, New York. You can provide a Polaroid instant camera for selfies, and then each guest can fill out a card to insert into the book. You can let them fill out their own prompts (like a walk down memory lane) or make it a more themed or guided writing experience. "The guests can then provide a piece of advice for the to-be-weds or share a favorite memory of the couple," she continues. "The hostess can have the photos printed and add them to the book after the shower, next to the written message from each guest."
Play wedding traditions trivia…
If you've been married yourself, you've probably heard plenty about the origins of certain wedding traditions. Though some may seem a bit dated, others remain relatively consistent through most events. So, why not make bridal shower activities a tad educational with a trivia game for guests? As Fay explains, you can create a list of common superstitions, traditions and facts that are wedding-related and get the competition going. Make sure you have a record of the correct answers so you can tally up the answers and announce a winner.
...or couples trivia.
If you would rather keep it personal, you can't go wrong with couples trivia, a popular bridal shower activity. In fact, it's recommended if groups of friends and family members are coming together for the first time since it serves as an icebreaker, says Thomas Waters, a wedding planner from The Renaissance in Richmond, Virginia. To execute this, the designated wedding shower host and/or bridal party compiles a list of questions like, "Where did the couple have their first date?" or "Who said 'I love you' first?" and guests have to write down their answers. "Create questions that range in difficulty," he continues. "That way, everyone can learn something new regardless of how close they are to the couple."
Psst: Make sure to check with the couple, so you have the correct answers and/or to note if any topic or tidbit is off-limits.
Collect date night ideas.
First comes love, then engagement. And the bachelorette party, then the bridal shower. Next? The wedding and honeymoon. But most important of all? The marriage! There is plenty of hoopla around weddings, but what couples are actually preparing for is a lifelong commitment, which, hey, will have its ups and downs. As therapists agree, having regular phone and kid-free date nights will keep your connection strong. So having a go-to list of ideas to pick from? That's ideal for all duos.
If you are looking for an interactive and useful bridal shower game ideas, pass around date night card ideas, recommends Bri Marbais, a bridal stylist at The Bridal Finery in Winter Park, Florida. "Print out one large card for all attendees to share their date night idea and pass it around to the others. Consider a different color pen for each person to write with," she continues. "The newlyweds will thoroughly enjoy all of the options provided by their friends and family."
Or, you can also find printable date night cards that are personalized, so the advice and wisdom can be for the couples' eyes only.
Take the fun outside.
No matter what season the wedding shower takes place, beauty and fun are found outside. And especially coming out of the pandemic, many guests may feel more comfortable gathering outdoors. With this in mind, you can go classic or casual with your theme, depending on what you believe the bride-to-be would prefer.
One idea is to host a vintage-themed tea party, says Genevieve Foddy, the designer and owner of Genevieve Rose Atelier. "Pack individual picnic baskets for your bridesmaids with your favorite picnic food and snacks. Then, embrace the vintage indulgence with a dress theme and, of course, matching hats," she continues. "Outdoor mani-pedis, a dance party in the park or a pavilion, adds to the vintage entertainment."
Or, for a more laid-back experience, Gregoli suggests making part of the activities yard games. You can slightly change the names or the concepts to becoming more wedding or bride-focused, but the idea remains the same. "This shower version of ring toss features glass bottles and metal rings found at the craft store or hardware store, in a wood crate. Find an opponent and take turns tossing all of the rings to see who can land the most on the bottle," she explains. "The winner, of course, wins a prize!"
Charades is also one of the best bridal shower game ideas that's best done outdoors. As Waters recommends, have the maid of honor, the guests and wedding party come up with a list of wedding-related books, television shows, situations, people, and so on. Then, split the attendee list into two, and have each one compete for the top prize. Some charade ideas include love songs, a mimosa, a guest book, the first kiss, the ring toss or bouquet toss, or something else about the big day. Whatever it is, make sure it's interactive and hilarious, and of course, wedding-themed.
Get creative with the invite.
You've likely received a baby shower invite that asks for parenting advice instead of a card. You can take the same liberties as the maid of honor or the hostess of a bridal shower. When you mail the shower invitations, include a recipe card, Marbais recommends. Then, you can ask each person to write down a recipe they love and bring it to the shower, creating a recipe catalog for the couple. Or, if the guest of honor already has everything she needs, but could always use more champagne or wine, ask each attendee to bring their favorite bottle as a gift.
Make a wedding dress out of toilet paper.
It may be silly, and it may be unnecessary, but there's a reason why the toilet paper wedding dress bridal shower activity is a classic game that's stuck around for decades. It's fun! And it makes for great photos (or Tik Toks). To do this, Gregoli says to gather toilet paper, ribbons, bows, markers and colored tissue paper.
"Divide groups into teams of at least three to four people, with one team member who will be the model," she continues. "The other team members will have to make her (or him) a wedding dress out of toilet paper and your other decorating supplies." Then, set a 15-minute time limit, and the bride-to-be can choose her winner.
Decide what the bride-to-be needs the most.
Depending on when the bride-to-be is saying "I do", she may already have a kitchen full of items she loves. Or, she's been living with her partner for years, and together, they've already decked out their home. So, instead of asking her to create a repeat registry, ask what she wants, Marbais recommends. For example, she may enjoy a lingerie party, and the hostess can provide her bra and underwear size for guests. Or, perhaps she would prefer if guests contributed to a charity or toward a honeymoon fund. Whatever the cause, let her make the final decision. It's her day, after all!