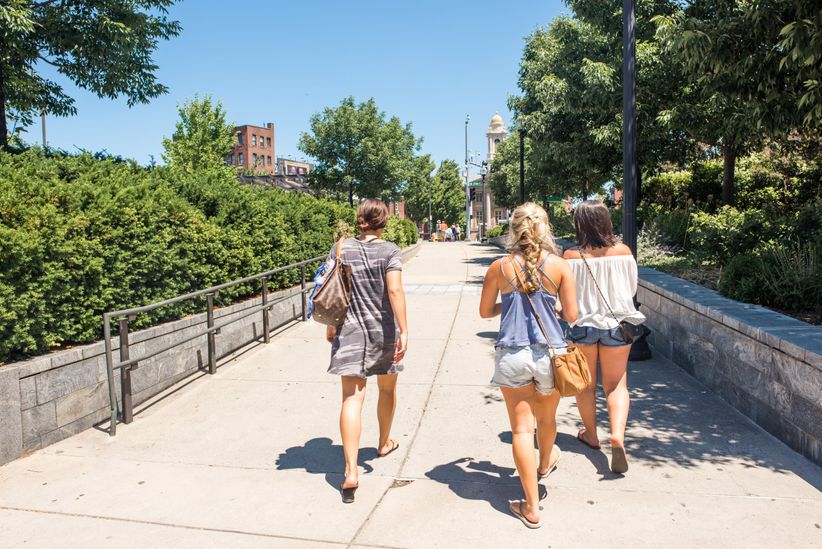 For many, Boston immediately brings to mind images of American Revolution history but there's so much more to this city than textbook tourist sites. Plan a Boston bachelorette party and you'll find yourself in a major hub of art, culture, shopping, and dining experiences to celebrate your expiring single lady status. Whether you follow the Freedom Trail or go off-the-beaten-path, you'll never meet a dull moment if you come prepared with a loose Boston bachelorette party itinerary plus a sense of adventure to explore.
This city is best discovered on foot, so skip the stressful parking hunt and enjoy both the main attractions and hidden gems of your Boston bachelorette party, one step at a time.
What to do
For a complete overview of Boston in one guided stretch, follow the 2.5 mile Freedom Trail. You'll cover 16 historical sites, with plenty of opportunities to stop for a bite or drink along the way. Of course, if history tours aren't your thing, fear not because Boston has something for everyone in your party.
Step foot into the city's prettiest downtown neighborhoods, Beacon Hill and Back Bay, for block after block of stunning brownstones along with high-end shops and restaurants. While in the area, make a point to stroll through the Boston Public Gardens and take in the outdoor oasis amidst the surrounding skyscrapers.
If shopping is on your Boston bachelorette party agenda, Newbury Street is the place to be. Boston's own version of Michigan Avenue, Newbury features endless stores, from major brands to small boutiques and everywhere in between. Also home to incredible shopping is Boston's South End neighborhood which features the trendiest restaurants, bars, local shops, and more.
Just a short trip across the Charles River, you'll enter Cambridge where landmark institutions like Harvard and MIT are located. Wander through the impressive campus grounds or shop, dine, and drink in Harvard Square where you can party like a college student nearly any night of the week.
Visiting during baseball season? Take your crew to a game at Fenway Park. Whether you're a Red Sox fan or not, this historic ballpark is worth a visit for the seriously fun atmosphere.
Where to eat
Any Boston bachelorette party should include dining on the area's famously amazing seafood, and Island Creek Oyster Bar and Neptune Oyster are two of the very best spots. Order up the lobster roll with a side of clam chowder to experience the local delicacies this city is known for.
If your group happens to be in the mood for Italian fare, Boston's Little Italy (known as the North End) is where you'll find it. With more than 87 restaurants to choose from, including favorites like Pomodoro and Carmelina's, you'll be in a pasta lover's heaven and surrounded by blocks of old world charm. Cap off any North End meal with a stop at Mike's Pastry for their homemade cannolis that will satisfy any sweet tooth.
Another great spot to experience Boston's dining delights is the ultra-trendy South End neighborhood. Try tapas at Toro, choose from over 400 wines at the Barcelona Wine Bar, or sip something fancy while listening to live jazz music at The Beehive.
Once you've wined and dined, grab a cab and move the after-party to Drink in the city's Fort Point district. No need for a menu here—the top-notch bartenders will craft a custom cocktail based every lady in your group on their own personal tastes.
Where to stay
Looking to stay in the middle of the action during your Boston bachelorette party? The Westin Copley Place perfectly fits the bill. You'll be within walking distance to nearly every city sight, or you can easily hop on Boston's subway system (known as the "T") to go anywhere you choose.
Tucked on the most charming brick-lined street is The Inn at St. Botolph, located between the Back Bay and South End neighborhoods. While this boutique hotel may have a limited number of rooms and suites, the chic accommodations feel more like staying in a private apartment rather than a busy hotel.
Expect amazing waterfront views at the Boston Harbor Hotel on Rowes Wharf. This five-star hotel delivers a luxury experience with a down-to-earth vibe, and their afternoon high tea is not to be missed.