The 13 Groups of People to Consider Inviting to Your Wedding
From immediate family members to casual friends and social media contacts, here are the different groups of people you can consider inviting to your wedding.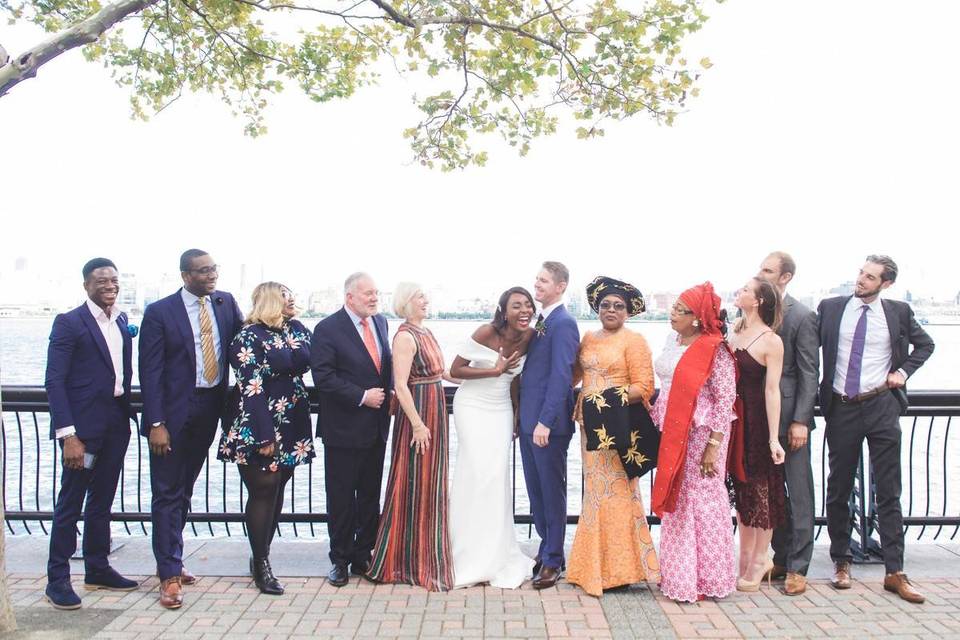 Figuring out who to invite to your wedding is one of the earliest, and perhaps one of the hardest, parts of planning your big day, but it's also essential. And it's not as simple as just writing down a list of names—there's strategy involved here. One of the best techniques to starting your wedding guest list is to create groups of family members and friends from both sides, beginning with those who are closest to you and your partner, and then working your way to those who are more distant.
If your wedding budget and venue allows you to invite everyone, awesome! But more likely, you'll only be able to accommodate some of these groups—for example, your close family members would be in the first round of people added to your guest list, while more casual friends might not make the cut if you're keeping your list tight. Creating "guest groups" can also be helpful if you're going the A-list and B-list route (which we don't necessarily recommend, but know you'll probably do it anyway) and to solve wedding guest list etiquette dilemmas. So, without further ado, these are the different circles of people in your life to consider inviting to your wedding.
Of course, we understand that everyone's family and friend circumstances are different. Your and your spouse-to-be's relationships should be first and foremost when it comes to who to invite to your wedding, and these groupings may not feel right to you. The most important thing is that you're surrounded by people who love and support you on your wedding day.
Immediate family members
This includes your and your partner's parents, siblings, and grandparents. Your siblings' spouses and children should also be included in this group.
Wedding party members
Your wedding party, including maid of honor, best man, bridesmaids, groomsmen, bridesmen, groomsladies, flower girls, ring bearers, ushers, and others, should be the top of your guest list. These people are likely included in the other groupings here, as well.
Extended family
If you have a lot of aunts, uncles, and cousins, this part of the guest list can be tricky. It's important to be as fair and equitable in the process as possible. If you want to invite one of your first cousins, you'll probably have to invite them all—and your partner should be able to invite their first cousins, if desired, too.
Family friends
These are the people you grew up with, vacationed with, and are basically like family to you.
Childhood friends
The close friends who have known you the longest should be at the top of your list. One major thing to think about when it comes to inviting friends is, how well do they know your significant other? While this isn't necessarily a deal breaker (if your lifelong BFF lives across the country they may not have met your future spouse yet, but of course your bestie is still invited!), it's definitely a factor to consider. Think about how well they actually know your fiancé(e) and how much it means to you two as a couple if they're in attendance. Try to keep your list of friends down by considering those you still keep in touch with regularly.
School friends
Whether from high school or college, your school friends can be a joyful and nostalgic addition to your guest list.
Parents' friends
Different from family friends, these are people who are friends with your parents but you may not know well. If your parents are contributing financially to your wedding (more on that later), they may want to add these people to the guest list.
Religious or interest groups
If you belong to certain religious or interest groups (such as recreational sports teams, book clubs, volunteer groups, etc.), you may want to invite them to your wedding.
Casual friends
Going with a "the more the merrier" vibe for your guest list? Then more casual friends or social media contacts may be added to your list—but these folks can likely be cut first if you're keeping it smaller.
Co-workers
Say it louder for the people in the back: You don't have to invite your co-workers to your wedding. But if you're friends with them outside of work, you can definitely add them to your guest list.
Kids
When it comes to whether or not you'd like to invite children to your wedding, the choice is yours. It's not bad etiquette to ask the little ones to stay home, and it's an easy way to keep your guest count down if needed. If you have children in your life who are particularly important to you (nieces and nephews, for example), you can include them in the wedding and restrict the guest list only to kids in the wedding party—but don't make any exceptions!
Plus-ones
We recommend applying a blanket rule for all guests on this one. Some couples say their guests only get plus-ones if they've been dating for a specific amount of time, or if they've met the guest's significant other prior to the wedding, but really anyone in a serious relationship should be given a plus-one. There's no hard and fast rule for this, so do whatever makes you both feel comfortable, just make sure you pick a rule and stick to it.
People whose wedding you attended a long time ago
If you find yourself debating whether or not to add someone to your guest list merely because you attended their wedding long ago, then consider leaving them off. Your invite list should reflect the people you have relationships with now, not people you feel obligated to invite.
Factors to consider when deciding who to invite to your wedding
Who gets a say?
If your parents and/or in-laws are funding the wedding (partially or in full), they get a say in who to invite. Yes, this may end up causing some disagreements, but it's important to be fair and equitable or you'll risk even more drama down the road. Here's how to divvy up the guest list—divide the total desired guest count in half. You and your spouse-to-be take one half for your friends and loved ones, and the other half is split evenly between your parents and your future in-laws. Your parents and in-laws can invite whomever they want within their portion of the guest list. You could also ask your parents and in-laws to simply write down their wish list of guests and then edit, but we find it's safer to give them a target headcount to work with from the get go.
Wedding style
One of the first steps of wedding planning is thinking bigger picture: What do you want your wedding to look and feel like? When you picture your wedding do you see a large group of people breaking it down on the dance floor or do you see your loved ones at one long banquet table enjoying a family-style meal? These styles call for very different headcounts. If you're seeking a more personal and intimate vibe, a small wedding guest list is recommended. Can't picture your celebration without a big ballroom full of friends and family members? Your list will likely be a bit more lengthy. Also consider if you're hosting a destination wedding or a hometown event—you might keep your guest list smaller for a destination event, while a hometown celebration can be larger.
Budget
Turns out that your budget has a major impact on who you can invite to your wedding. Since wedding costs are usually handled on a per-person basis, the more people you invite, the more you'll spend. In fact, according to the WeddingWire Newlywed Report, the average couple spends $215 per guest—so even cutting just 5 guests can mean savings of over $1,000! Our best advice: Come up with your total wedding budget, and use that number to create a target guest count.
Venue
We recommend coming up with an estimated headcount before starting your venue search, but if you have a particular venue in mind from the jump, you'll need to create your guest list to fit the space's capacity. Sites like WeddingWire allow you to filter venues in your area by number of guests, so you'll only see spaces that can accommodate your crew and not get distracted by venues that are too big or too small. If you're hosting your wedding ceremony and reception in different spaces, you'll need to factor in the capacities for both of these locations. Once you've chosen your venue (or venues!), you can then finalize your wedding guest list to make sure you're not inviting more people than the space can comfortably hold.
Tracking your wedding guest list
It turns out that figuring out who to invite to your wedding is only part of the guest list planning process. Building your wedding guest list also involves creating a document that houses your guests' names, addresses, gift and hotel information, RSVP, and more. WeddingWire offers a free guest list tool that creates an organized list—there's even a seating chart tool that can help you group your guests into tables in seconds.
Finalizing your guest count
Throughout your planning process, you've been working with an estimated guest count. After you've sent out your wedding invitations (about four to six weeks before your wedding day) and your RSVP deadline hits (two to three weeks before your wedding day), you'll have your final number of people attending. The final guest list has several important functions—you'll use it to create your seating chart, escort cards, and place cards, and you'll want to share it with your wedding planner, venue, caterer, and other vendors to ensure your big day runs smoothly.
Who to invite to wedding-related events
While your focus may be on who to invite to your wedding, there are other pre- and post-wedding events that require guest lists as well. Here are some rules of thumb when it comes to these special events:
Engagement party
Anyone who is invited to the engagement party should also be on the wedding guest list.
Shower
Bridal shower guest lists usually consist of a bride's closest friends and relatives, who, it goes without saying, are also invited to the wedding.
Bachelor or bachelorette party
The bach party guest lists typically consist of wedding party members (bridesmaids, groomsmen, bridesmen, groomsladies, etc.) and other close friends—again, all invited to the wedding!
Rehearsal dinner
Guest list etiquette for the rehearsal dinner varies. At minimum, the couple's immediate family and wedding party members should be invited. You can expand the list to include other close family members and friends. And if your venue and budget allow, you can further expand the list to include all out-of-town guests as a welcoming gesture. This a particularly nice idea if you're hosting a destination wedding. Traditionally, the wedding officiant is invited to the rehearsal dinner, though they might choose not to attend.
Post-wedding brunch
If you're able to invite all of your wedding guests to your next-day brunch (particularly those who have traveled from long distances to attend), great! If not, you can keep the list to close family and wedding party members.