Who Pays for the Bridal Shower? Here's the Answer.
We're here to help you figure out who hosts (read: pays for) the bridal shower and exactly what costs they can expect.
We have included third party products to help you navigate and enjoy life's biggest moments. Purchases made through links on this page may earn us a commission.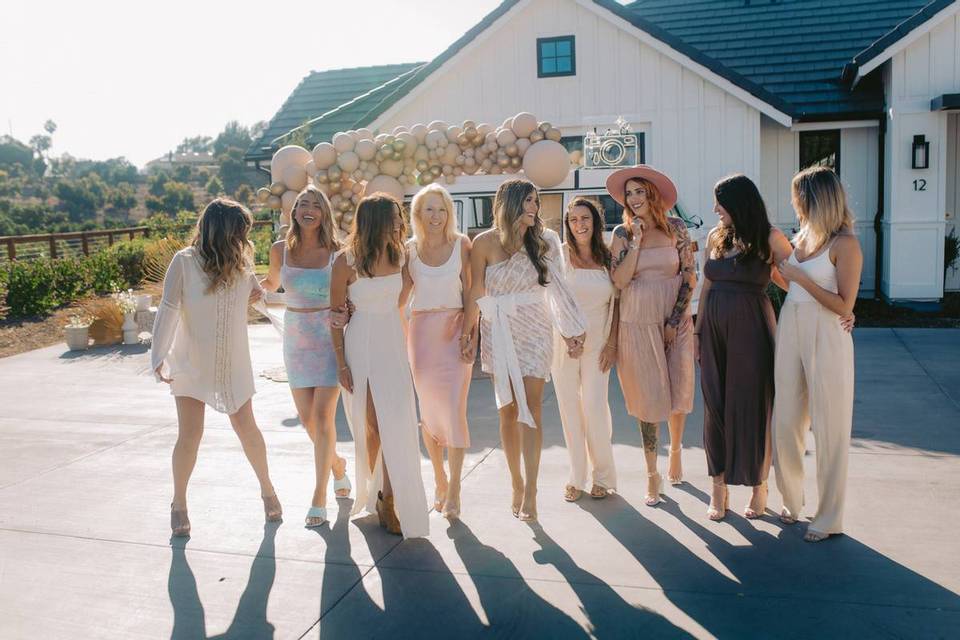 When it comes to planning pre-wedding parties (engagement party, wedding shower, bachelor and bachelorette party, rehearsal dinner, etc.) , the soon-to-be-weds can usually take a step back and let others take the lead (phew!). But you may be wondering: Who pays for the bridal shower? And what exactly are said people paying for? We're here to help figure out the bridal shower etiquette behind who pays for what, and exactly what costs the hosts can expect so they can budget accordingly.
So, who pays for a bridal shower?
Traditionally, the bridal shower is hosted (read: paid for) by the bridal party, led by the maid of honor and supported by the bridesmaids and bridesmen. However, this isn't always the case. Bridal showers may be hosted and paid for by family friends of the bride, as well as other close family members (like a grandmother or aunt). Though it was once considered taboo for the mother of the bride or the bride's future mother-in-law to throw a shower for her daughter/daughter-in-law (it seemed like a direct plea for gifts), it's happening more and more these days. Bridesmaids, family friends, and family members may also co-host the shower and split the cost, or bride may have multiple showers thrown in her honor!
To start the process, the MOH may want to reach out to the mother of the bride and/or mother-in-law to discuss her intention to host the shower. The moms may offer to contribute, or let the bridal party handle the planning. And if the mother or mother-in-law makes the first move, the bridesmaids should offer to contribute funds and/or help with planning. If there is no bridal party, family members or close friends may take the lead in planning, hosting, and paying.
What are the costs associated with a bridal shower?
The total cost of a bridal shower ranges from a couple of hundred dollars to well into the thousands—a lot of it depends on the size of the guest list (more people, more money!) and where the shower is being held. That's why it's so important to create a budget before starting to plan the shower. The total budget is typically split up evenly among those who are hosting (the maid of honor and bridesmaids, usually), but it's important that everyone is comfortable with the suggested amount. Remember that the bridesmaids are typically budgeting for many other wedding expenses (gifts, bridesmaid dress, travel, etc.), so try to keep bridal shower costs under control.
Venue
When it comes to choosing a bridal shower venue, you have a few options. An at-home shower may seem like the most affordable option (if one of the hosts has the space and is willing), but remember—you may have to bring in tables, chairs, table linens, plates, silverware, glassware, and more, not to mention food and drink! Of course, there are expenses involved with hosting a shower at a restaurant, hotel, or other all-inclusive event space, but you won't have to worry about food, drink, or rentals.
Decorations
Depending on your bridal shower theme, you'll want to decorate your event space. That may mean streamers and balloons or full-on floral centerpieces and photo backdrop—the choice is yours! You can of course DIY the decorations or opt to bring in a professional. While DIYing the decor may seem cheaper at first, it will take time, effort, and money to find supplies and put everything together. Hiring a professional florist means more cost upfront, but less work for the hosts on the day of (plus, you're supporting a small business!).
Food and Drink
A major part of the bridal shower experience is the food and drink. Whether you're hosting a full-on brunch, a sampling of light hors d'oeuvres, or assorted desserts, you'll need to provide something for your guests to munch on. If you're hosting the bridal shower at someone's house, the hosts may opt to prepare the food and drink themselves (though it can be a lot of work!), take out from a local restaurant, or hire a caterer. And don't forget the drinks! You can set up a self-serve bar, or hire a bartender to handle the bevs. For events taking place at a restaurant or other all-inclusive event space, the food and drink will likely be taken care of—you'll just have to choose a menu that works with your style and budget.
Favors
Bridal shower favors are a nice touch, but totally optional. From candles to koozies, cookies to mini bottles of champagne, favors really run the gamut in terms of price and style. Those who are planning and paying for the shower should discuss if they want to give out favors at all, and if so, what they should be. Hint: Online retailers such as WeddingWire Shop offer bridal shower favors at an affordable cost!
Gifts
Yes, the shower hosts still have to purchase a bridal shower gift for the guest of honor (yes, in addition to a wedding gift!). Usually, bridal shower gifts cost between $25 and $75, and the hosts can certainly opt for a group gift to help defray some of the costs.
Games and Entertainment
While the main activities at a shower include watching the bride-to-be open gifts, eating, and mingling, providing a few bridal shower games can certainly liven up the event. Most of these games are fairly affordable, but you'll want to make sure you have any and all supplies accounted for (printables and pens for any games that require written answers, toilet paper for a wedding dress design competition, etc.). To take your celebration to the next level, consider hiring live musicians, a caricature artist, or a tarot card reader, or rent a photo booth or even a karaoke machine! If your bridal shower theme involves an activity, such as a cooking or flower arranging class, you'll need to hire an instructor and purchase supplies.
Photographer
You might consider hiring a professional photographer to capture the bridal shower, since most guests will (hopefully!) be too busy enjoying the festivities to snap pics. This is not a necessity, but if you're able to include a photographer in your budget, it's certainly a nice idea to help remember the big day.