Where to Propose, Based on Your Partner's Zodiac Sign
Trying to figure out where exactly to propose? Look to your partner's zodiac sign to find the perfect spot to pop the question.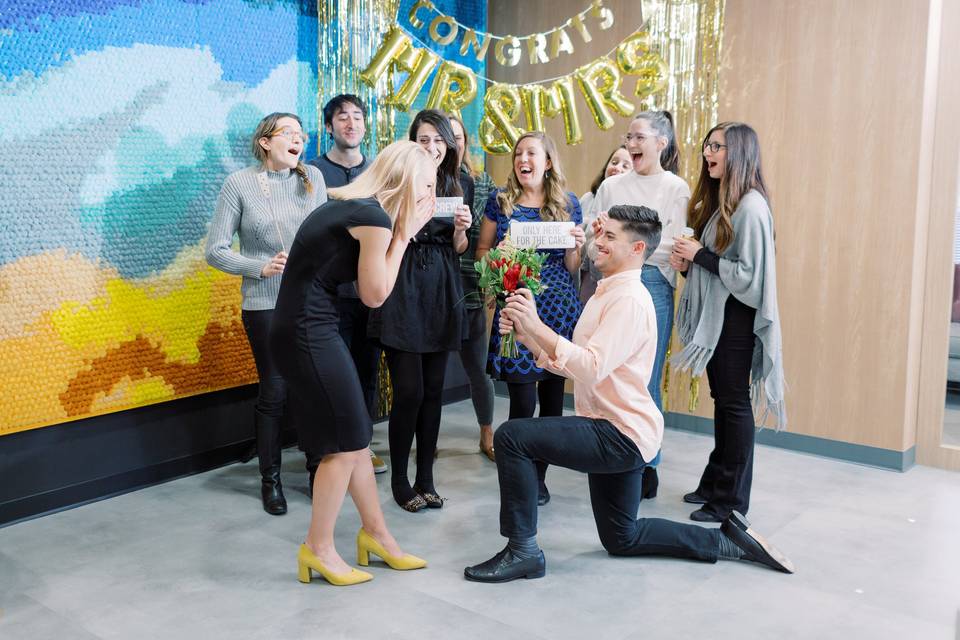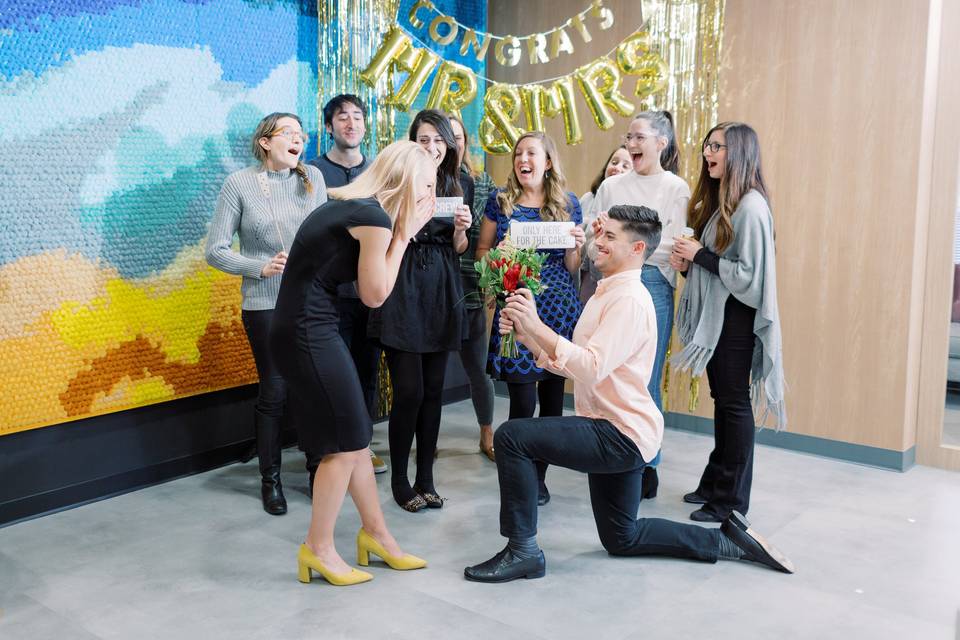 Once you've made the incredibly exciting decision to pop the question to your partner, the next to-do is to figure out a plan for how—and where to propose. This is the hard part for most prepared to get down on one knee. A lot of thought and well-drafted planning goes into the process of putting together a proposal. Of course, you'll want to take into consideration your partner's likes and dislikes, but it may be worthwhile to factor in their zodiac sign as well. This can help you create a proposal that shows the depth of your love and care that they'll never forget, according to celebrity astrology expert Kristin West.
There may be some signs hidden in your partner's astrology that may indicate how your partner would ideally like to be proposed to, as well as the environment. "Water signs, Cancer, Scorpio and Pisces will enjoy watery activities or being proposed to near lakes, streams and the ocean and crave an emotional proposal while earth signs, Taurus, Virgo and Capricorn, will enjoy being close to the land and rocky places, like meadows, mountains and farms," she shares.
Here's a closer look where to propose, depending on your partner's zodiac sign.
Aries (March 21 - April 19)
An ideal proposal environment for an Aries, according to Amy Zerner, astrologer and co-author of Astrology for Wellness, would be one that's 100 percent designed to be exactly what the Aries wants to do. "Since Aries always likes to be the first to see and do things, consider going to a movie premier or the opening of a new restaurant—any place that has just opened or that most other people have not yet been to or even heard about," she says.
Taurus (April 20 - May 20)
Fun should top the agenda when it comes to where to propose to a Taurus. Zerner recommends proposing at a concert or football game, since Taurus loves music and enjoys any social, cultural, or sporting event—or, better yet, a beautiful garden or art gallery. "As long as Taurus can relax, take their time, and enjoy the beauty and creativity of the experience, they will be happy," she says.
Gemini (May 21 - June 20)
Time to put your thinking cap on—and make sure it's on tight! Geminis love to be clever—and love when their loved ones are clever. For this reason, West suggests getting extra creative with your proposal. "Consider hiding your proposal in a romantic crossword puzzle, since Geminis love words and communication," she says. "Geminis would also appreciate a well-crafted love poem or if you're very ambitious, consider proposing by composing them a song." With a good proposal story, your Gemini partner will love telling friends and family.
Cancer (June 21 - July 22)
Cancers love an intimate evening at home, so consider your living room to be the optimal proposal destination. "Make a delectable dinner and hide the ring in the dessert," suggests West. "Make sure there are no interruptions, as Cancer enjoys stability and tranquility in a partner." Can't cook? She suggests getting private cake decorating lessons together and popping the question by writing, "Will you marry me," on top of the cake you made together.
Leo (July 23 - August 22)
Leos adore the spotlight and also love PDA and entertainment, so West recommends proposing to a Leo on the jumbotron of a sports game. "They'd also love the thrill of being proposed to at a glitzy casino—and might just head to the altar right away to say 'I do,'" she says. "Leos will love a big effort on your behalf and your ability to put on a good show." As an added bonus, consider telling them all of the things you adore about them just before popping the question.
Virgo (August 23 - September 22)
Virgos are sticklers for health and well being, so West recommends booking a nice couples massage or private yoga lesson and then popping the question when you're both fully relaxed. "Virgos love to care and be cared for and they'll appreciate the gesture," she says. "Virgos are used to being there for others (sometimes to their detriment), so let your Virgo beloved know you'll always be there to love and care for them."
Libra (September 23 - October 22)
"A Libra can glow with love for the whole world when she meets the person of her dreams, as she tends to fall in love with love itself and is eager to share life, with all its ups and downs, with her partner," says Zerner. "A place to propose to a Libra usually involves some classy event where an attractive new outfit is required." Any gathering that has a nice mix of interesting friends should do—just make sure you're not stealing someone else's spotlight (like a baby shower or birthday party).
Scorpio (October 23 - November 21)
"Scorpios prefer quiet, intimate venues, especially for something as important as a proposal, yet, because they are not particularly talkative, they may enjoy an atmosphere that is relaxing but does not demand constant conversation," says Zerner. "The best choice is to surround them with music at a jazz club, rock concert, opera, or even a musical at a dinner theater." Since Scorpio is a water sign, an evening walk on a beach, or a sunset stroll by a lake is not a bad add-on!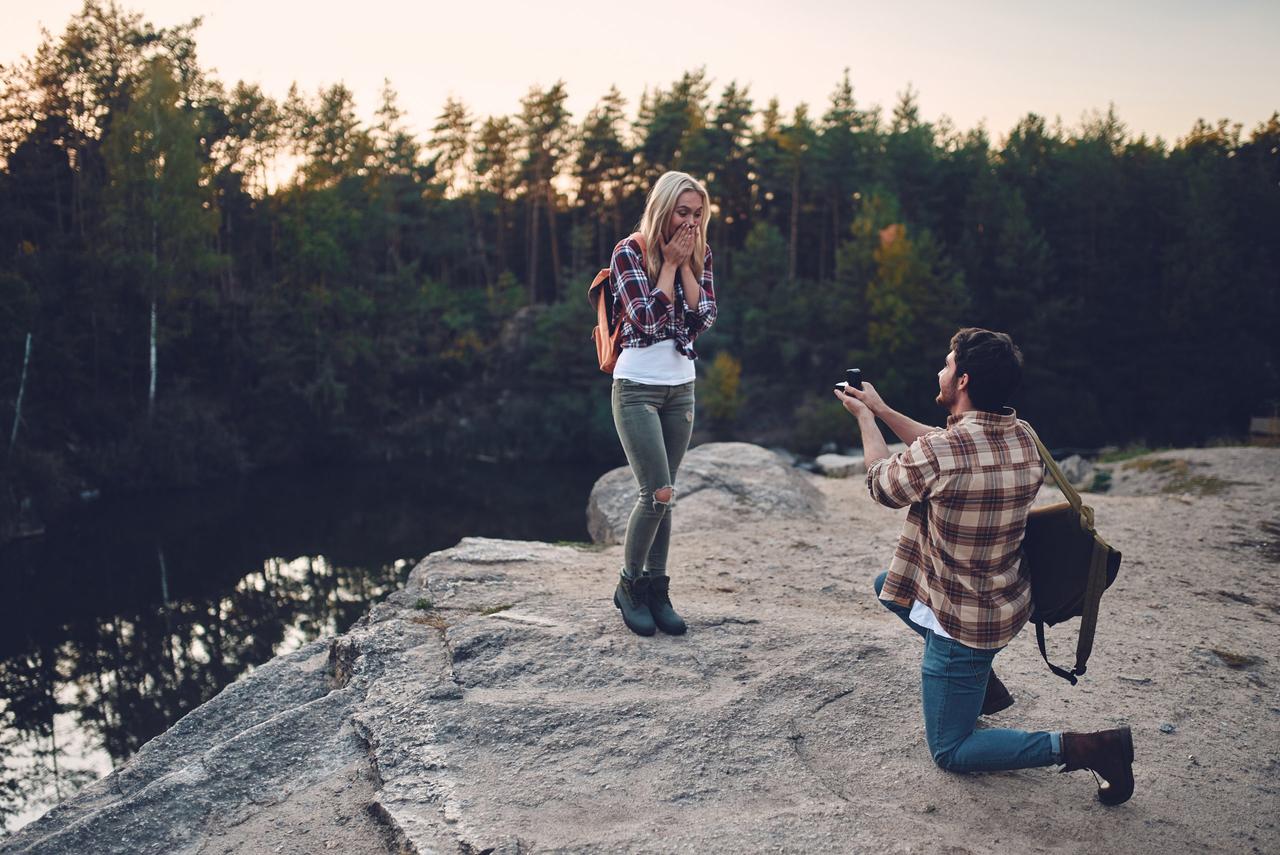 Sagittarius (November 22 - December 21)
Sagittarius are adventurous, so getting down on one knee in front of them must be special! "They embrace change, so be prepared for a bold proposal, such as popping the question underwater," says Joyce Olsen, with PsychicWorld.com. "Make sure all precautions are in place by letting the diving instructor know exactly what is going on before your fiancée-to-be starts freaking out in the middle of the ocean, and you could even ask them to prepare a surprise boat party following your engagement!"
Capricorn (December 22 - January 19)
Ambitious Capricorn is looking for someone to climb with—literally and metaphorically, according to West. She suggests choosing a romantic mountain top hike or a candlelit, swanky meal at the top of your city's tallest skyscraper. "Remind Capricorn of the heights you can attain together," she says. "Capricorn wants to know what you intend to build with them, so show them you have a plan for a bright future together."
Aquarius (January 20 - February 18)
Aquarius is a futurist at heart, so West suggests taking them to a tech convention with the latest gadgetry and discussing building the future together. "Many Aquarians also have an affinity for space and proposing at a planetarium would delight them too," she says. "Aquarians are humanitarians and philanthropists, so starting a charitable effort with them would make them swoon."
Pisces (February 19 - March 20)
Pisces is a water sign, so consider a fitting environment, such as the beach or by any body of water. Live in a landlocked area? Consider proposing at the aquarium! Most of all, trust your intuition when proposing to Pisces. "You'll know and feel the right moment and right words and they'll appreciate that you're dialed into your intuition," says Zerner.