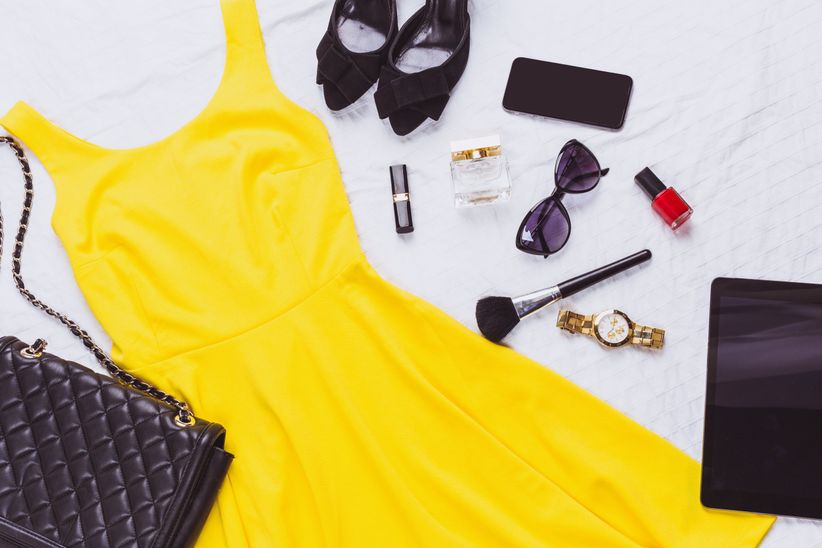 If you're attending a ceremony or reception that calls for dressy casual wedding attire, and you have nothing in your closet, we're here to help. Dressy casual wedding attire — or semi formal attire — means finding a look that's the perfect blend of comfort and chic. This can be easy for guys, since they just need to wear a suit and tie in a color that matches the season and time of the event. As for women, shopping for dressy casual wedding attire can mean a wide range of choices. That's why we decided to make shopping easier for you ladies! Whether you're hoping to wear an edgy pantsuit or a fitted lace dress, check out these online stores so you can look and feel your best at your friend or family member's big day.
Dressy casual wedding attire is easy to find at one of these popular online stores.
Vici
For those with a more fashion-forward taste and style, we suggest checking out Vici for dressy casual wedding attire. Vici is known for carrying a vast selection of modern looks that will definitely have people wanting to copy your outfit. Simply browse through their "Dresses" category where you can shop various styles, like "Guest of Wedding" or "Maxi Dresses," that are all great for a semi formal wedding. If you're hoping to wear something other than a dress to your friend or family's bash, Vici's "Rompers and Jumpsuits" section is filled with statement-worthy looks that are appropriate for an early afternoon ceremony or outdoor reception.
Free People
If you're attending a dressy casual wedding and want to wear something that matches your carefree everyday style, definitely shop at Free People. This store offers guests plenty of outfit options that are great for a daytime or evening semi formal event. Styles consist of boho chic dresses, jumpsuits, and other casual looks that you can easily dress up with some playful jewelry, hats, and shoes found under the store's "Accessories" section. For daytime dressy casual weddings, we suggest shopping through the store's midi and printed dresses, and for evening affairs, Free People's party dresses and night out dresses provide endless possibilities.
Neiman Marcus
From black tie dresses to dressy casual wedding attire, Neiman Marcus is one of our favorite stores to shop at for any type of occasion. The well-known department store has a fabulous collection of designer brands and styles, like Michael Kors and Eileen Fisher, that are great for giving guests a wow-worthy wedding look. Simply visit Neiman Marcus' "Wedding Guest" section where you can find a vast selection of dresses, skirts, and more. The best part? Free shipping and returns!
Zara
If you're on a time crunch for finding something to wear, then Zara will be a great place for you to shop. This fast fashion retailer is a go-to for last-minute dressy casual wedding attire, since it gets new arrivals weekly. These products consist of seasonal looks, like flowy kimono dresses, as well as, printed jumpsuits, which are perfect for guests hoping to wear something trendy to their friend or family member's big day. Along with their variety of hip and stylish looks, Zara also has a killer shoe collection that you can peruse to complete your overall look.
Lane Bryant
Trying to find plus-size dressy casual wedding attire? Lane Bryant offers a huge selection of stylish dresses that come in sizes 10 to 28. Specializing in high-quality, fashion-forward plus size clothing, guests in this size range can find a semi formal outfit at Lane Bryant that they'll actually want to wear again. From midi and maxi dresses to party and cocktail dresses, the online store easily provides users with hundreds of different dress options. Lane Bryant even has a "Petites" section for shorter women, with runway-inspired looks, like ruffled jumpsuits, printed chiffon dresses, and more.