You don't have to be a native Texan to be wooed by the magic of the West Texas desert. If you're a sucker for rocky mountains, prickly succulents, and starry skies, you'll fall in love with these West Texas wedding venues. From hipster chic Marfa wedding venues to a sparse Big Bend wedding with awesome desert views, wedding venues in West Texas can definitely have an eclectic feel. But, traditional, romantic, or glam couples won't be disappointed with the West Texas wedding venue offerings in El Paso, Amarillo, and Lubbock, where wineries, country clubs, and converted barns are all part of the mix.
Discover the very best of West Texas wedding venues from Lubbock to El Paso, Big Bend to Amarillo.
Marfa & Big Bend wedding venues
Chisos Mountain Lodge
This popular lodge is the easiest way for couples to wed right in the middle of Big Bend National Park. Ceremonies take place in uncovered, open areas of the park — you'll need an events permit from the National Park Service for this — then receptions are held within the cozy restaurant. If you've always imagined a gorgeous, mountainous terrain to frame your Big Bend wedding, this special, desert experience at one of the coolest West Texas wedding venues will definitely beckon you.
Learn more about Chisos Mountain Lodge »

The Gage Hotel
This historic, Spanish-style wedding venue has become a legend after hosting destination weddings for the past 40 years. Tucked away in teeny Marathon, Texas, it's an ideal place for couples who want close proximity to Big Bend and Marfa, but house their crew at a world-class hotel. As one of the most spacious West Texas wedding venues, The Gage can accommodate up to 300 guests amid its dozens of event spaces. Their in-house team is also well-versed in providing lots of the services you'll need to create a chic desert wedding, including florals, music, photography, and a wedding day glam squad.
Learn more about The Gage Hotel »
Saint George Hall
Marrying the aesthetics of classic Texas dance halls with modern minimalism, Saint George Hall is more than 5,600 square feet of unique and elegant event space. Large windows and high ceilings filter in tons of natural light while reclaimed wood floors beg for enthusiastic country line dancing. The main hall is perfect for up to 240 guests, while additional indoor and outdoor spaces hold up to 180 guests. Located in downtown Marfa, Saint George Hall is walking distance from the town's many art installations.
Learn more about Saint George Hall »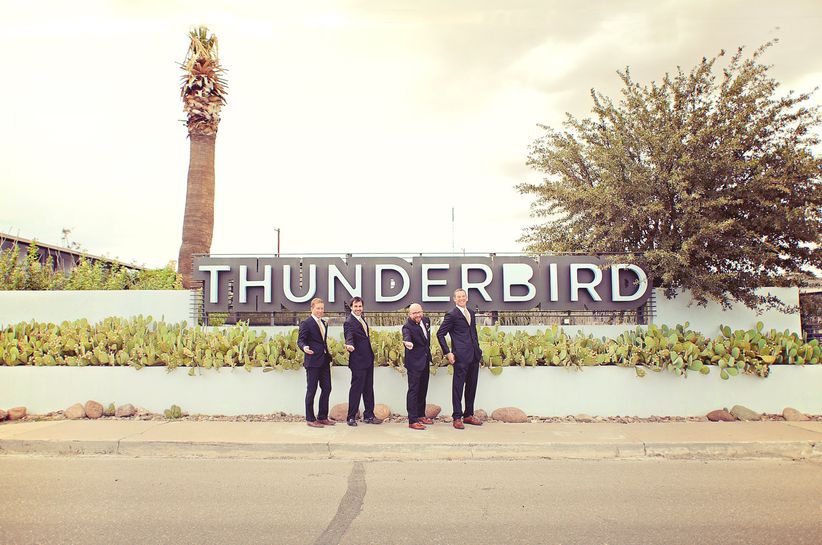 Thunderbird Hotel
Old Hollywood fanatics, or any style-obsessed couples, will really love this 24-room boutique hotel in Marfa, Texas. Styled like so many mid-century California roadside hotels, Thunderbird's spacious event space, Capri, is perfect for couples who want a mix of laidback desert and high-wattage style. Beyond the main indoor wedding venue, there's also a Mezcal bar and an outdoor garden space to customize for your celebration.
Learn more about Thunderbird Hotel »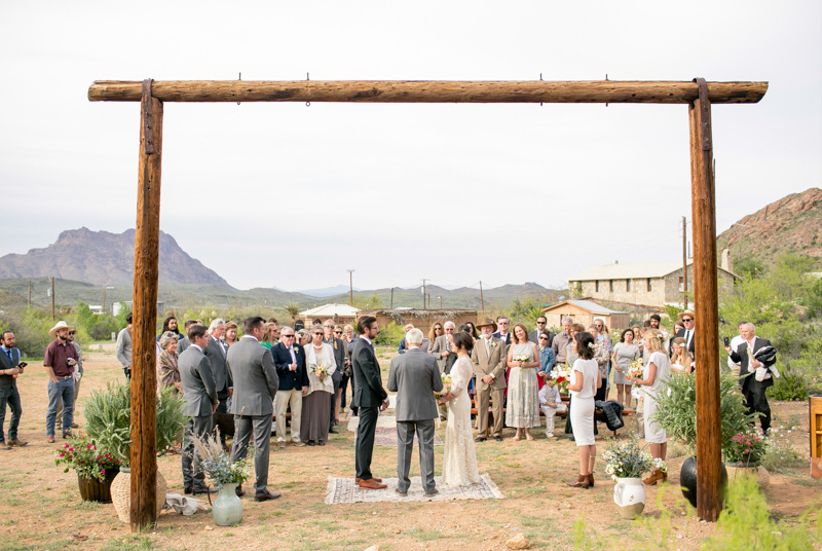 Terlingua Ranch
Growing from a population of seven humans, nine goats, and two Mexican burros in the 1960s, Terlingua is now a thriving tourist oasis that sits on the American-Mexican border between the Rio Grande River and Big Bend National Park. The Terlingua Ranch Lodge is 425 acres of natural beauty for couples who want a laid-back desert ceremony. Up to 50 people can be hosted at this ranch, which also includes a patio and two indoor event spaces in the case of bad weather on your wedding day.
Learn more about Terlingua Ranch »
150 Sunset
Couples on the hunt for West Texas wedding venues they can really personalize are a great fit for this El Paso staple. The in-house team here includes an experienced event planning staff with floral and lighting skills, plus a top chef, to create a ceremony and reception that reflects your love. There are four event venues to work with here, and the most spacious of these can hold up to 400 guests, while the smallest is great for about 60 guests.
Grace Gardens
Indoor or outdoor; over-the-top opulent or understated romantic — all wedding styles will find something to love about this gorgeous West Texas venue in El Paso. There's six event spaces to mix and match for your ceremony, cocktail hour, reception, and other wedding events, with the largest accommodating up to 550 guests. Outdoors, the wooden pergola that sits next to a serene fountain is a popular location for first looks and ceremonies, while the indoor ballroom is adorned with fancy chandeliers and sleek floors for dancing.
Learn more about Grace Gardens »
Amarillo & Lubbock wedding venues
The Venue
This newly renovated Amarillo wedding venue is all clean lines and modern neutral shades. Exposed wooden beam ceilings, industrial light fixtures, and original concrete floors are the perfect backdrop for minimalist couples who want to host up to 200 guests.
Cotton Creek Barn
West Texas couples who want a rustic venue that will fit their Texas-sized family should definitely consider Cotton Creek Barn in New Home, just south of Lubbock. This property includes two barns, a train car, and a vintage seed house for events, plus a groom's room and a bridal suite for getting ready. While the barns are popular reception locations, a small wooden porch with benches for guests serves as the primary ceremony location. Bright red, vintage pick-up trucks, five-point stars, and an old-fashioned Coke machine are among the Old West memorabilia that make up the rustic backdrop of this venue.
Learn more about Cotton Creek Barn »
The Copper Press
Romantic couples searching for the perfect Lubbock wedding venues will fall in love with this restored, historical building in nearby Colorado City. Exposed brick walls are painted a clean white while retro ceiling piping mingles with antique chandeliers to create the perfect mix of industrial chic and just-plain chic. The open space is also flooded with natural light thanks to large windows. Host up to 300 wedding guests at this adorable venue.
Learn more about The Copper Press »