Wedding Dress Restoration: Everything You Need to Know
Want to wear your grandmother or mother's gown on your wedding day? Check out these expert tips to make it happen!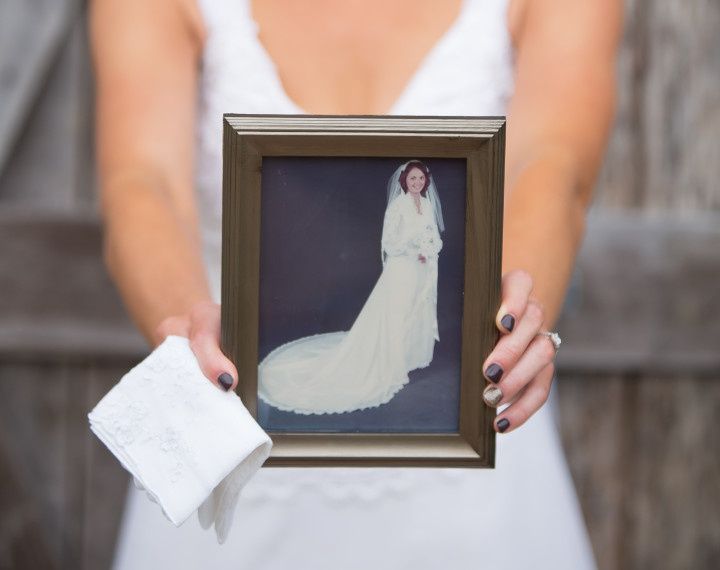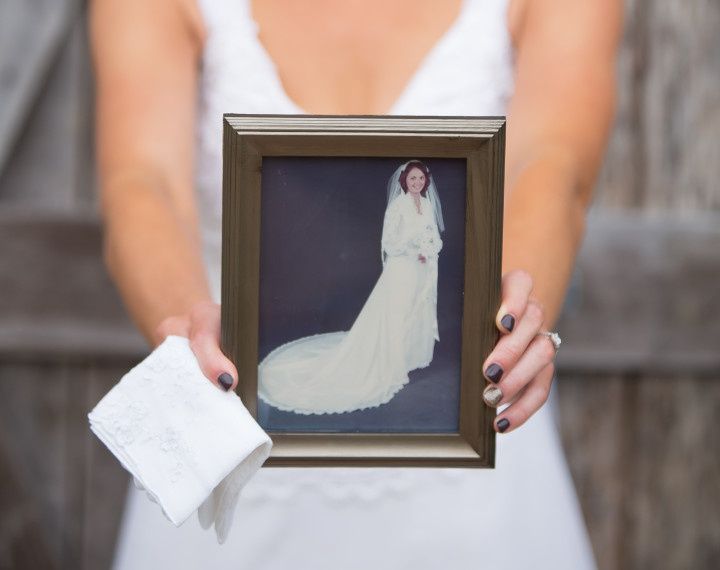 Photo: Whitney Fletcher Photography
Have you always dreamed of wearing your mother or grandmother's wedding dress on your big day? If the answer is yes, then it's time to learn about wedding dress restoration! Wedding dress restoration is the process by which a vintage wedding dress is cleaned and mended to make it wearable now. Even if the dress you want to wear seems to be in good condition, it's important to bring it to a gown care professional to ensure it will hold up well on your wedding day—and that it fits properly!
We talked to Sally Lorensen Conant, PH.D, MWV of Orange Restoration Labs in Orange, Connecticut to get all the expert tips on wedding dress restoration.
Vintage wedding dresses from the 1920s are hot, thanks to The Great Gatsby and Downton Abbey. If a bride has a heirloom wedding dress, what's the best way for her to determine if it's worth restoring?

The first step is to consider the wedding dress restoration cost. Some brides think that restoring their mother's gown is less expensive than buying a new one – but this isn't always the case. If the gown has holes in the fabric, is stained, or doesn't fit, the wedding dress restoration cost can range from $300 to $800 or more depending on how much work needs to be done.

If your gown is very fragile, it may need to be lined and mended onto the lining so that the lining will support it. You might also opt to wear a very fragile gown for the ceremony only and change to another gown for the reception. Then, too, you might consider, as one family did, duplicating the gown and wearing the duplicate to the reception.

Not every vintage gown needs color restoration. Vintage silk would probably not have been truly white because the natural color of silk is not white. Silk that is white has been dyed after the thread has been harvested from the silkworm's cocoon. Even if your gown is rayon or cotton or some other non-silk fabric, evenly aged fabric may be a lovely color that only time can give it, and you may like it that way.

Stains, however, are a different problem, and large brown perspiration stains under the arms or irregular brown splotches from sugary spills such as champagne do detract from the beauty of your vintage gown. Although drycleaning does not remove such stains, they can be removed. Unfortunately, only a water-based solution can remove them, and that means your entire gown will have to be restored to the true color. Otherwise, If only the stains are treated, the areas that were brown will be white because water dissolves the oxidation that colors an heirloom gown. So if the stains cannot be covered with lace or some other decoration, you will have to choose--either an antique gown with stains or one that is restored to the true color.

Even if you are the overall size of the original bride, your family gown may not fit. You were probably far more active growing up, and your gown may have to be restructured to accommodate your broader shoulders or your larger rib cage. Heirloom fabrics are very hard to match, so if your gown has to be enlarged, it is best if fabric can be taken from the skirt. If the skirt is very full, you can take a new seam down the center back that will give you enough fabric for gussets to enlarge the side seams. If not, you may have to find a new fabric that complements the old.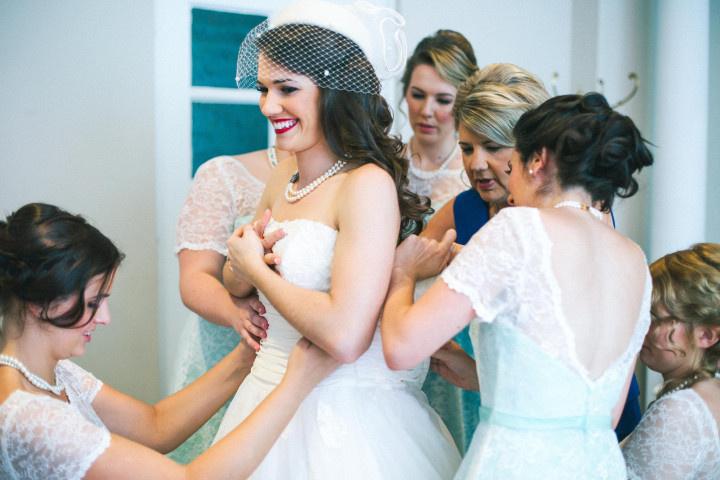 Photo: Krista Lajara Photography
How does the wedding dress restoration process work?
Take your gown to a professional who will look over your gown with you and discuss your options. If you elect a color restoration, buttons with metal backs will be removed from your gown and processed separately--if at all—because the metal will rust in the solution. Metal hooks and eyes will also have to be removed. Pearls can lose their covering in the process and look opaque rather than lustrous. Sometimes when the stain is dissolved, the fiber dissolves, too. If this does happen, it will probably be in the underarm area where the fabric has been weakened by perspiration. Fabric may also shrink, and different types of fabric may shrink in different ways so that the lining, for example may shrink more than the exterior or a lace overskirt more than the silk underneath. Sometimes the fabric can be pressed back into shape; other times the hem will have to be remade to solve the problem.
What are realistic expectations for the end result? Assumingly the gown won't look new, but what can a bride expect?
Some color restorations are more successful than others, and cotton or linen is easier to handle than silk. As a general rule, the tighter the weave, the more difficult it is to press out the wrinkles. Silk satin is the most difficult to press out smoothly; net or lace is the easiest. The exception is silk illusion net. Silk illusion veils were very popular in the first half of the twentieth century, but it has a very short shelf life. Vintage silk illusion today feels crunchy and completely dissolves in water.
What are some ways that a bride can update a vintage gown without taking it apart?
Your heirloom gown might easily be personalized for you by removing the sleeves, which can then be saved. You might also transform a high-necked gown with sleeves into something strapless. Or for more security, add spaghetti straps. Add an overskirt to a straight gown or cut down a full skirt to something sleeker. You are limited only by your own imagination—and whether your family is willing to allow extensive changes.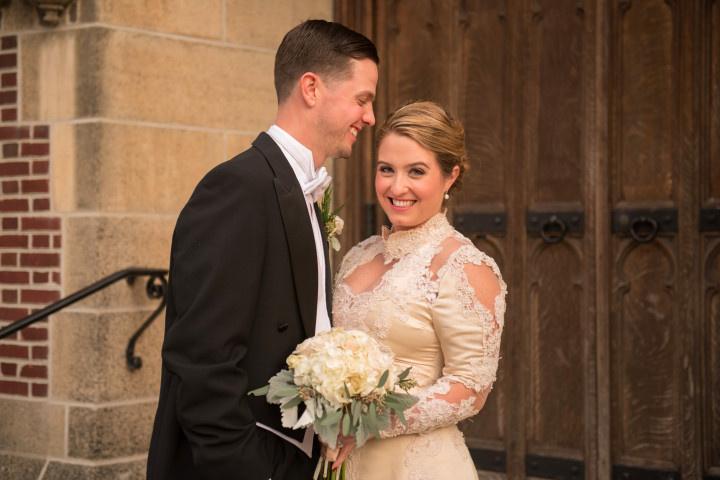 Photo: James Hancock Photography
If a bride is unsure of when a vintage gown is actually from, are there ways to pinpoint the era when it was created?
The silhouette is the most obvious characteristic. Late-nineteenth and early twentieth-century gowns are usually fitted at the waist. Waists are relaxed in the 1920s and reappear again in the 1930s when full skirts swell out below the fitted waist. Very full skirts and ball gowns are typical of the 1950s. The fabric may also be a clue. If the gown is entirely Point de Gaze (Rosepoint) lace it is likely to be late nineteenth - or early twentieth-century. Rayon satin is typical of the 1930s and early 1940s. Later gowns can be satin or silk sometimes inset with Chantilly lace, and by the 1950s gowns are often tiers of lace ruffles. Alencon and Venise lace come in with the 1960s.
What are some design details that were common in the 1920s that a bride might find on an heirloom gown?
The iconic 1920s look is a tubular, tunic-style short dress often paired with a cloche hat. The basic tube or chemise, as it is known, could be enhanced with lace as well as with embroidered--and sometimes beaded--lace, tulle, or chiffon. Layered overskirts might be made from sheer, contrasting fabrics with asymmetric, petal-edged, or scalloped hemlines. Detachable trains are often attached at the waist or to the shoulders. Very long trains attached at the shoulder are called court trains and area frequently made of elaborately embroidered and beaded satin. Chenille decorations and wax beads appear together with pearls on many 1920s gowns.
If a bride is in possession of an heirloom gown from a mother or grandmother but doesn't want to wear it, what are some ways to incorporate pieces or parts of the gown in her wedding day ensemble?
Your family may have heirloom jewelry that is easy to incorporate into your wedding. Or consider wearing the family veil, which can also be restored if necessary. Princess lace veils or veils made from more elaborate Point de Gaze or Duchesse lace blend beautifully with many of today's styles. Other brides have chosen to make a ring bearer pillow or a handbag from a part of the family gown. Some brides sew a piece of the mother's or grandmother's dress into the lining of their new gown. If your family gown was worn a century or more ago, you might even display it at the reception where everyone can appreciate its history. Another option would be to display a collage of family bridal photographs. Or not – it's your wedding after all!