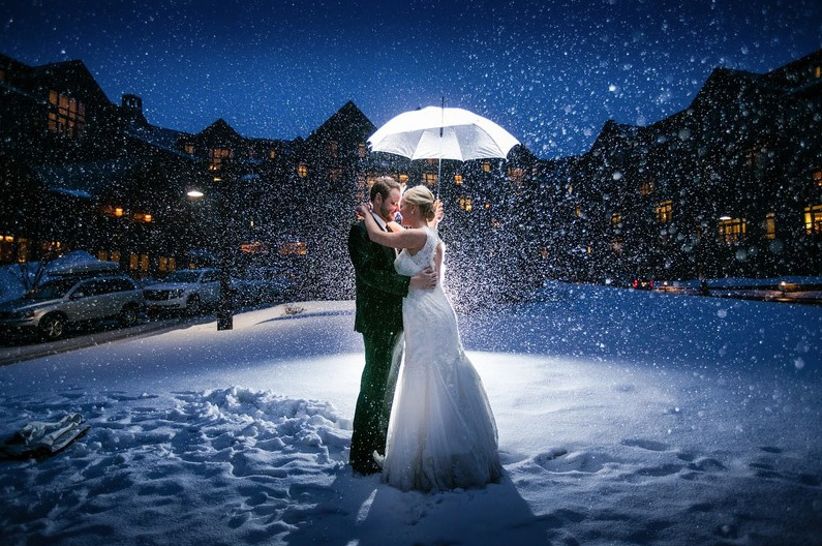 Though it's technically considered the "off season," winter is a cozy and romantic time to wed in the Green Mountain State. Fortunately, there are numerous Vermont winter wedding venues where you can celebrate the magical, snowy beauty of the area and enjoy the many activities the cold season has to offer, from sleigh rides to skiing, and more. Your guests will enjoy a snowy weekend getaway and many of these Vermont wedding venues are hotels and resorts where your loved ones can stay and enjoy.
Start planning your nuptials with this guide to Vermont winter wedding venues.
Killington Resort
Whether you're hosting an intimate wedding or a large event for up to 250 guests, this Vermont winter wedding venue has a variety of spaces to choose from. For smaller weddings of up to 34 guests, the Ledgewood Yurt is a woodsy and unique place to celebrate your "I dos". Larger weddings can be hosted inside one of the hotel ballrooms, the Peak Lodge, or one of the on-site restaurants. There are 200 rooms in the hotel itself, along with other nearby lodging, so your guests will easily be able to stay on premises for a true destination wedding weekend.
Learn more about Killington Resort »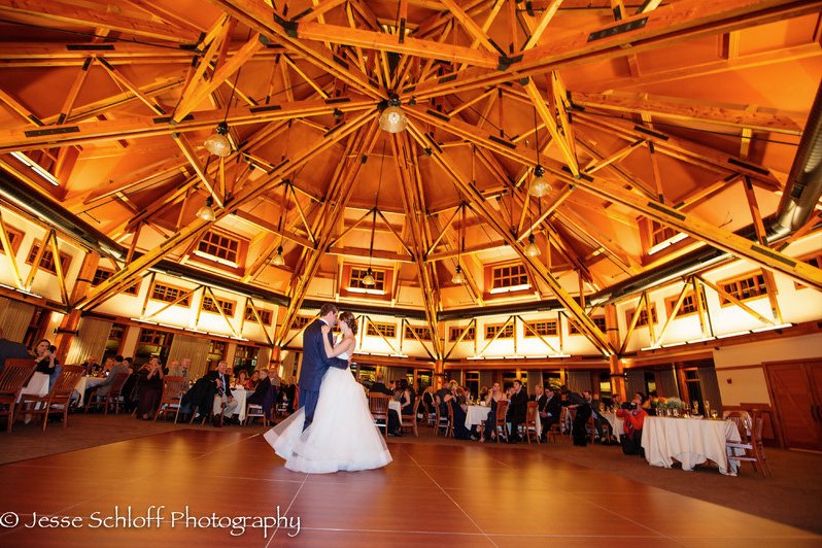 Stowe Mountain Resort
One of the top Stowe, Vermont wedding venues is, of course, the famed Stowe Mountain Resort. The Great Room & Patio at Spruce Camp Base Lodge is a popular venue that accommodate over 300 guests for weddings. It features unique Alpine architecture complete with post-and-beam ceiling, 30-foot stone foot fireplace and outdoor patio. For smaller events, the Cliff House is ideal for weddings of up to 75 guests and includes incredible views of the Green Mountains.
Learn more about Stowe Mountain Resort »
Stowe Mountain Lodge
Another favorite Stowe wedding venue is the Stowe Mountain Lodge. This Couples' Choice Award-winning venue has indoor and outdoor spaces that are ideal for winter weddings. Even during the colder months, wedding ceremonies can be held on the terrace, which features breathtaking mountain views. There are two large ballrooms for receptions, the Tamarack Ballroom with its wrap-around terrace and space for up to 300 guests, and the Junior Ballroom, which features floor-to-ceiling windows and is ideal for indoor ceremonies, too. There are also smaller spaces for more intimate weddings, rehearsal dinners, even elopements!
Learn more about Stowe Mountain Lodge »
Taconic, a Kimpton Hotel
Located in charming Manchester, this Vermont winter wedding venue offers a variety of wedding packages to fit all styles and budgets. Plus, the Taconic Hotel has a number of celebrating spaces to accommodate all of your pre-and post-wedding events. There's a restaurant onsite, The Copper Grouse, where you can host your rehearsal dinner, and then host your ceremony and reception inside the 2,800 square foot Trillium Ballroom, which can host weddings of up to 200 guests. And your guests will adore staying here for a fun wedding weekend celebrating all the Green Mountain State has to offer.
Learn more about Taconic, a Kimpton Hotel »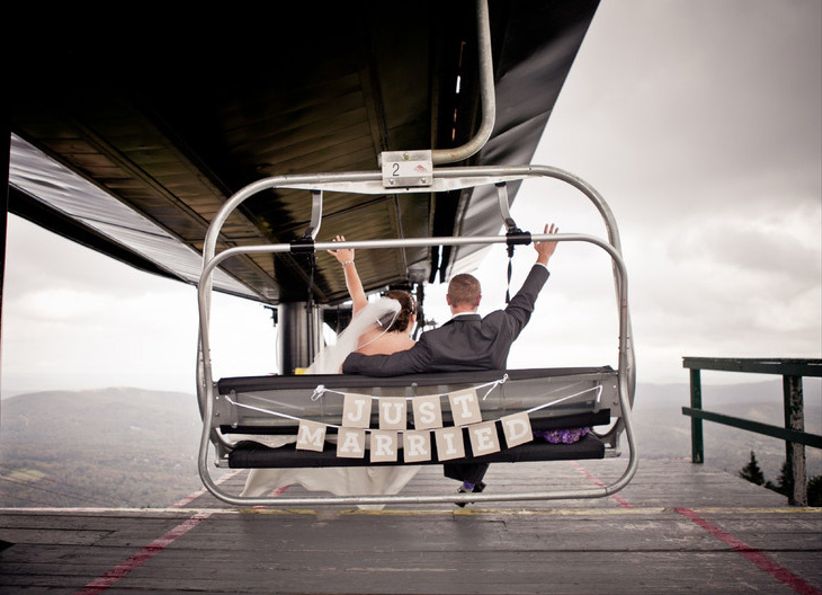 Mount Snow Resort
This Vermont winter wedding venue and Couples' Choice Award winner is ideal for couples dreaming of a ski-themed wedding (hello, ski lift photo ops!). There are a variety of all-inclusive packages, and the Somerset Grand Ballroom is the top space for larger weddings. And of course, your guests will be able to ski the weekend away if you choose a destination wedding here. Couples rave about the delicious food and reliable staff here.
Learn more about Mount Snow Resort »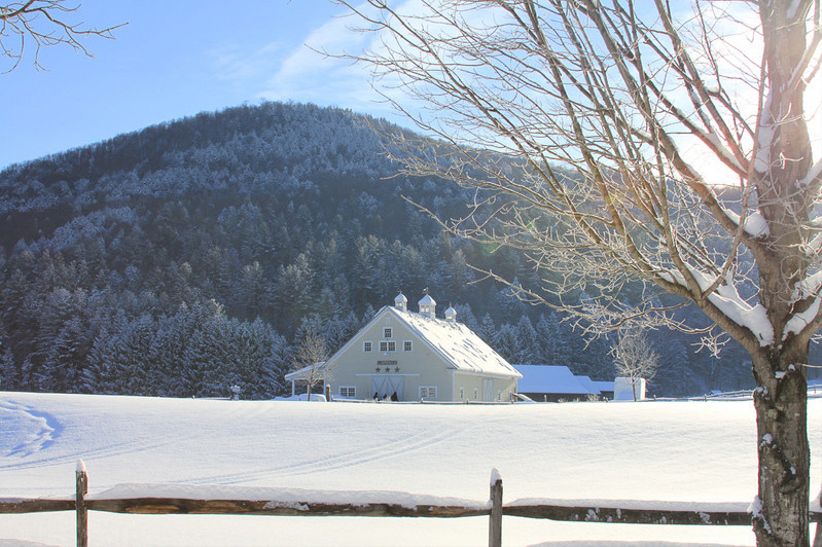 Riverside Farm & Amee Farm Lodge
Couples searching for a location that combines the coziness of a winter wedding with that rustic barn style, will love this Vermont winter wedding venue. There are five barns on premises here, and the venue can host weddings of up to 600 guests. It is an ideal setting for convenient destination wedding weekends, as it can host the rehearsal dinner, ceremony, reception, and post-wedding brunch—each in a unique setting on the property. This Couples' Choice Award-winning venue is all-inclusive, and features a variety of lodging options (include a Bride's Cottage and Groom's Cabin) so your loved ones can stay on premises.
Learn more about Riverside Farm & Amee Farm Lodge »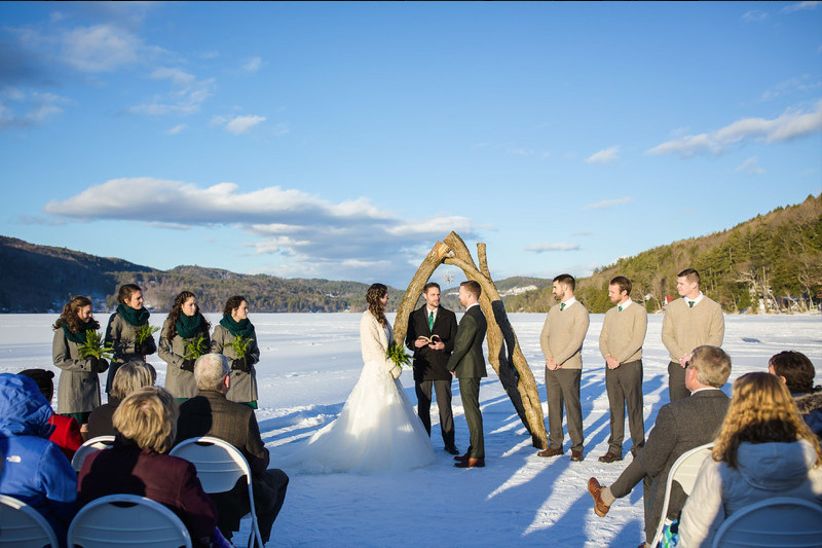 Lake Morey Resort
Sure, a summer nautical wedding at this bucolic lakeside resort in Fairlee can be pretty special, but winter weddings here are absolutely breathtaking as well. Outdoor ceremonies are possible even in the snowy months, and there are several ballrooms for receptions, too. The Terrace Ballroom features high ceilings and huge windows, with a capacity of 250 guests. For smaller events, the Morey Room, Waterlot Room, and the Edgewater Room are all ideal. Guests will love staying in the 130 rooms here, plus there are lots of activities to enjoy.
Learn more about Lake Morey Resort »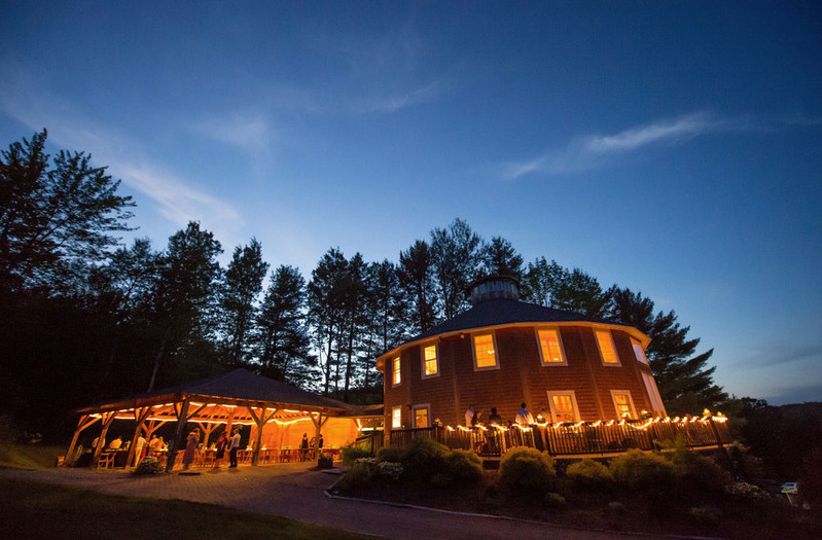 Sleepy Hollow Inn, Ski and Bike Center
For a more intimate barn wedding, this Vermont winter wedding venue is the place. The 17-sided Round Barn can host events of up to 140 guests in the winter (165 during the warmer months). There's also an inn on premises where up to 22 people can stay—you can rent out the entire facility for the weekend, if desired. And—bonus—winter weddings include ski and snowshoe passes for your whole crew!
Learn more about Sleepy Hollow Inn, Ski and Bike Center »
Topnotch Resort
This luxurious Stowe wedding venue feels like you're getting married at your very own country estate. There are 68 guest rooms and 23 resort homes on premises, and a variety of indoor and outdoor settings for events. The Pinnacle Ballroom is ideal for weddings, and can host events of up to 120 guests for a seated dinner. And the award-winning Topnotch Spa is an ideal place to prep for the big day!
Learn more about Topnotch Resort »