With rugged mountains, picturesque valleys, and lush forests filling the state, Utah is a dream when it comes to getting married outside or having a rustic-style wedding. There are so many barn wedding venues in Utah that combine gorgeous scenery and quaint rustic charm into one location, and we're sharing some of our top picks right here. If you're envisioning a barn wedding in Utah, check out our scoop on all the best venues to consider, from Provo to Logan and beyond.
Here are eight barn wedding venues in Utah that you won't want to miss if you love rustic style.
River Bottoms Ranch
River Bottoms Ranch is one of the most elegant barn wedding venues in Utah. Located just 20 minutes from Park City, the ranch is easily accessible but feels like a world away, thanks to its secluded (and scenic) location at the base of Mt. Timpanogos. The newly built barn is a gorgeous farmhouse-style structure with a gambrel roof, white siding, and oversized picture windows that frame the view of the mountains in the distance. For outdoor ceremonies, the venue has a spacious lakeside lawn or various field locations to choose from. Extend your celebration by staying in the venue's cozy cabin for the weekend—the ranch has five king-size bedrooms, 20 twin-size beds, a kitchen, a family room, and a hot tub. River Bottoms Ranch hosts weddings for a maximum of 300 guests and is open year-round.
Learn more about River Bottoms Ranch »
Barbwire and Lace
For the ultimate rustic-style wedding, check out Barbwire and Lace in Pleasant Grove, about 12 miles north of Provo. Barbwire and Lace spans nearly four acres and features charming landscaped gardens, antique cars, an open-air barn, and an old-fashioned saloon to create a vintage-meets-rustic aesthetic for your wedding day. The venue's existing decor (think chandeliers, retro bicycles, mason jars, and chalkboards) eliminates the need for you to source your own decorations, and you can also use the tables, linens, chairs, and other decorative items that are provided in-house. Barbwire and Lace has wedding packages starting around $2,000 and can accommodate up to 300 people.
Learn more about Barbwire and Lace »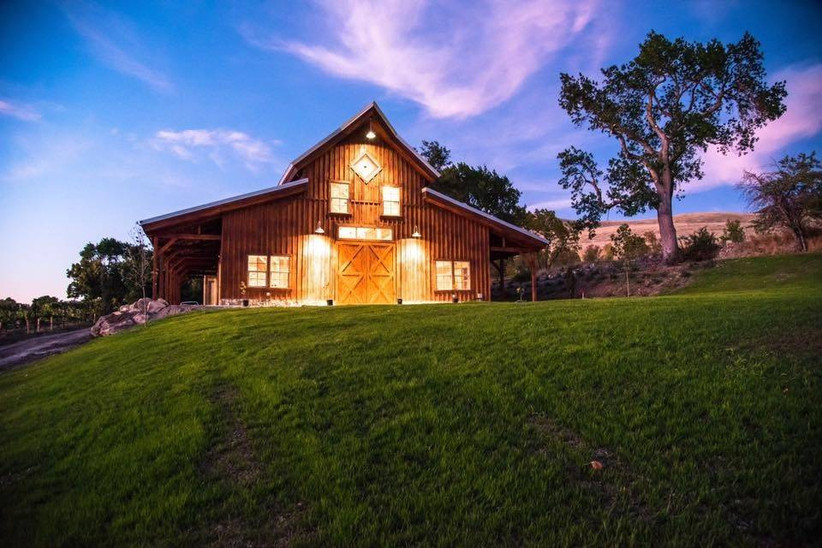 The Vineyards at Mt. Naomi Farms
Say hello to one of the most scenic barn wedding venues in Utah. Situated at the edge of the Wasatch Mountains in Hyde Park, the Vineyards at Mt. Naomi Farms has breathtaking panoramic views of Cache Valley and the surrounding hillsides. The elegantly refurbished barn features vaulted ceilings, stained glass windows, a spiral staircase (perfect for making your grand reception entrance!), and polished concrete floors. Outside, a spacious lawn and intimate patio overlook the vineyard for a picturesque ceremony spot. The Vineyards at Mt. Naomi Farms, which hosts weddings for up to 150 guests in the barn and 298 guests outside, provides tables, chairs, table linens, shuttle service, and dressing rooms.
Learn more about The Vineyards at Mt. Naomi Farms »
Sage Canyon Ranch
Thinking about hosting a retreat-style wedding? Sage Canyon Ranch in Fountain Green is located about an hour-and-a-half from Salt Lake city, making it a perfect spot for a "destination" wedding without requiring you to ever leave the state. The 2,000-acre ranch is bordered by the Wasatch Mountains and the Uinta National Forest Service, which means you'll be surrounded by stunning landscapes and vistas that set the scene for the perfect outdoor wedding. The ranch's main barn is a two-story event space that can accommodate up to 200 people. The loft-style barn features polished concrete floors, exposed wood beams, and a full-size kitchen for catering. A quaint, private cabin on the venue's property sleeps 16 people and is available to rent for overnight stays.
Learn more about Sage Canyon Ranch »
Wadley Farms
If you're dreaming of a wedding that's worthy of a fairytale, then you'll love Wadley Farms in Lindon. This stunning venue is an extremely romantic location for your big day—not only does the venue have a gorgeous, European-inspired barn covered in lush ivy, but there's also an actual castle (with mountains in the background…could it be any more majestic?). Wadley Farms is available year-round and can host weddings for up to 250 people. With your rental fee, this barn wedding venue in Utah provides tables and chairs, linens, centerpieces, and a variety of other rental items to complete your special day.
Learn more about Wadley Farms »
White Shanty Venue
Located in Provo, the White Shanty Venue is a dreamy barn wedding venue in Utah if you're envisioning a minimalist wedding or industrial space. The roomy space, which is completely painted white to maximize its airy vibe, features high vaulted ceilings, oversized barn doors, exposed beams, and Edison bulb string lights. To help you plan the best day ever, the venue offers in-house event coordination, rental setup, custom farmhouse-style banquet tables, chairs, benches, and decorative items. White Shanty Venue can also provide a list of recommended vendors to assist in bringing your wedding vision to life.
Learn more about White Shanty Venue »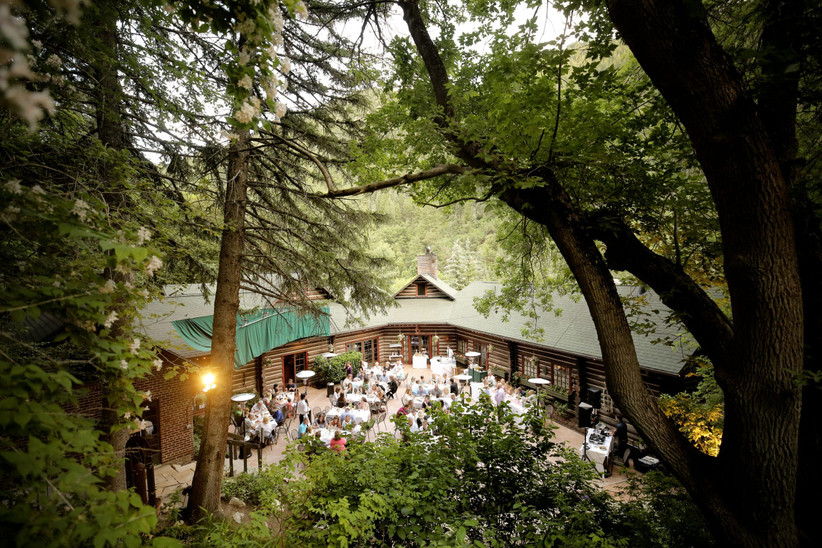 Log Haven
This top-rated Utah wedding venue is tucked away in the Wasatch National Forest about 15 miles east of Salt Lake City. Known for its scenery and ambience (it was named a top romantic restaurant by USA Today), Log Haven is a 40-acre property featuring waterfalls, a private lake, and an award-winning restaurant that resembles a traditional log cabin. While it's not technically a barn, the venue has a charming rustic vibe and unbeatable mountain backdrops. For your wedding day, this venue has several event spaces to choose from, including banquet rooms, an open meadow, and a forest overlook. Catering, bar service, day-of coordination, and basic decor rentals, such as tables, chairs, and china, are all provided in-house.
American Acres Event Center
This wedding venue in Garland, Utah offers a modern-meets-rustic setting for your special day. American Acres Event Center has indoor and outdoor event spaces on its property, giving you the option of a scenic mountain view, a cozy barn, or both as your backdrops! Choose from the venue's customizable packages, which include everything from the basic event space rental (starting at $750 for the day) to add-ons like tables, chairs, speakers, setup/cleanup, and a lighted tent.
Learn more about American Acres Event Center »