The House Party vs. The Bridesmaids
Let's break down the role of a house party at a wedding—what they do, what they wear, and how their role differs from that of a bridesmaid.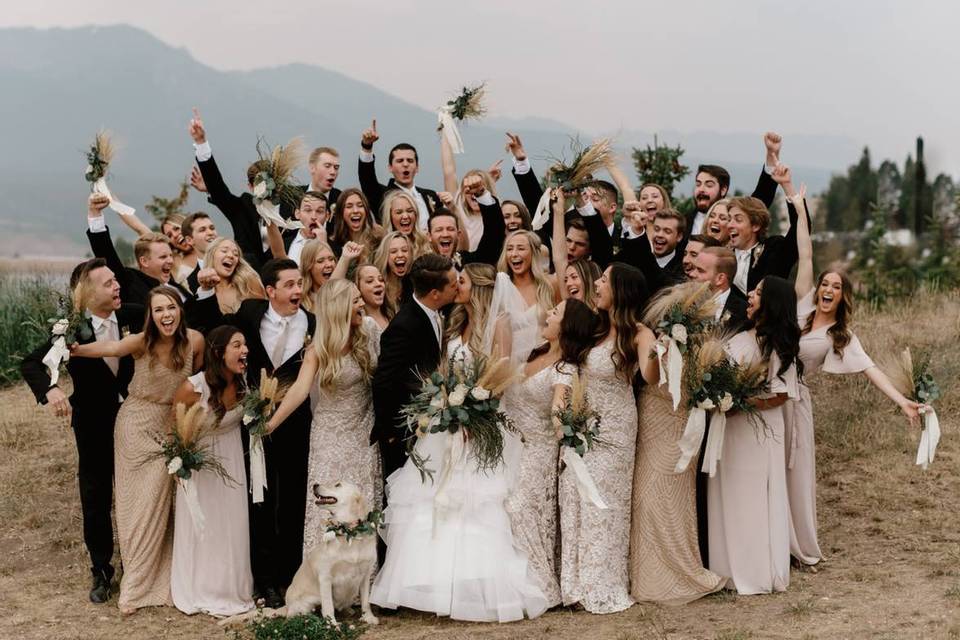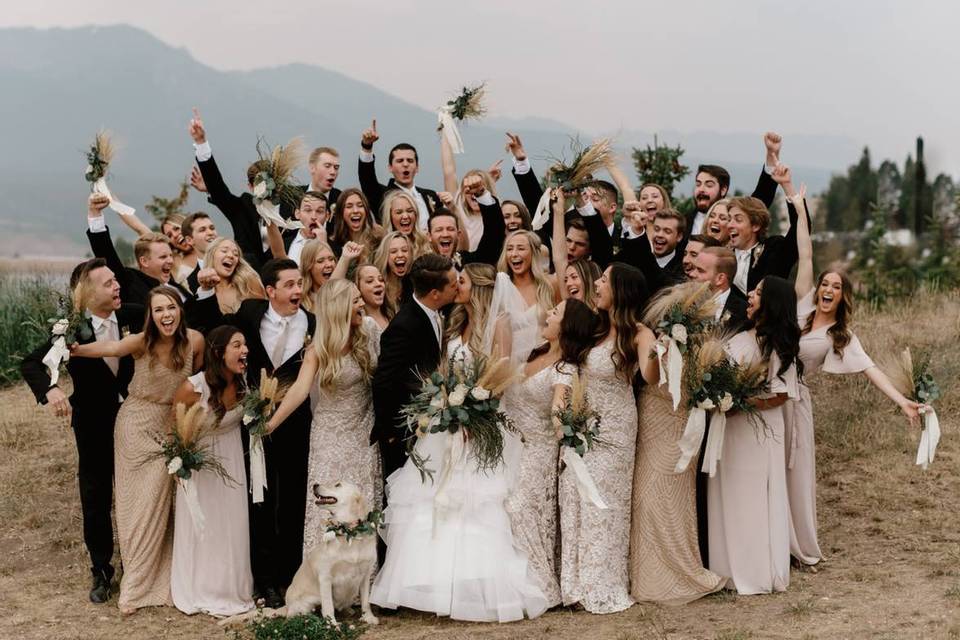 Deciding who should be in your wedding party can be a tough task, especially if you have a lot of close friends and relatives. Don't worry! Avoid hurt feelings by having a house party at your wedding, in addition to your bridal party. A house party is a Southern wedding tradition that is becoming quite the trend in other parts of the country—and for good reason, too. A house party at your wedding, along with your bridesmaids, allows you to involve and honor lots of loved ones on your big day.
Who is in the house party?
Typically, the wedding house party includes friends or relatives of the bride—but those not as close as the people in the bridal party. This could be old childhood friends, sorority sisters, or more distant family members, like cousins. If you have many sisters that are shoo-ins for bridesmaids, you can have your wider group of friends be part of a house party at your wedding, for example.
Why should you have a house party at your wedding?
If you have a big family or a big group of close friends, having a house party at your wedding allows for you to honor more people without overcrowding your altar. As the saying goes, the more the merrier!
What does the house party do? How do the house party's responsibilities differ from those of the bridal party?
The house party is still involved with most wedding-related activities, including the bridal shower, bachelorette party, wedding day pictures, etc. They attend these events, and can help plan the pre-wedding parties with the maid of honor and other bridesmaids if desired. They can also get ready with the bride on the morning of the wedding, provided she wants a bigger group during that time.
The biggest difference in the bridal party vs. the house party is at the ceremony—the bridesmaids participate in the wedding ceremony and stand at the altar beside the bride, but the house party does not. Instead the house party typically sits in the first or second row near the bride's family. They also can participate in the wedding day by handing out programs, giving a reading, monitoring the guest book, or making a group toast at the rehearsal dinner or during the reception.
What does the bridal house party wear?
House party members usually wear a dress of their choosing that matches the wedding color scheme but isn't necessarily the same color as the bridesmaid dresses. For example, if your color scheme is pink and green, and your bridesmaids are wearing pink, the house party members can wear dresses in varying shades of green. Or, for an evening wedding with a cocktail attire theme, you can have your house party members all wear little black dresses to contrast the bridal party's floor-length gowns. You can also just tell your house party members to wear whatever they'd like to your wedding, but differentiate them from the rest of the guests by giving them a small flower arrangement or corsage (see below for more on that!).
How do you ask someone to be in your house party at your wedding?
It can be as formal or informal as the bride wants, from a card to a personal phone call to a small gift. Some people might be confused about exactly what the house party role entails, so be prepared to explain it to them—what they'll be doing as part of the wedding, what they'll wear, etc. Since the roles and responsibilities of house party members can vary from wedding to wedding, it's best to be as clear as possible from the get-go.
Do members of a house party receive gifts?
Yes, it is important to give your house party members a small thank-you gift for being a part of your celebration. It does not have to be extravagant, but it is a nice gesture to show your appreciation and love—for example, a cute tote bag, a personalized mug, or a bottle of wine. These gifts can be different or similar to your bridesmaid gifts. And don't forget to include a handwritten note expressing your appreciation for their friendship.
What does the house party carry?
In lieu of a bouquet, house party members typically carry a single flower or small nosegay that matches your wedding day decor—or they may wear a corsage like other honored guests. They carry this flower or floral arrangement as they walk to their seats during the ceremony.
Is there ever a time when you shouldn't have a house party at your wedding?
If you're having a super-small wedding (under 100 guests), having a house party might seem a bit excessive. You don't want half of your guests to be bridesmaids, groomsmen, or in the house party! House parties work best at larger weddings with more than 150 or 200 guests.