20 Tea Party Bridal Shower Favors You Can Buy Online
These tea party bridal shower favors are perfect for a classic event. They're adorable, useful—and totally easy to buy!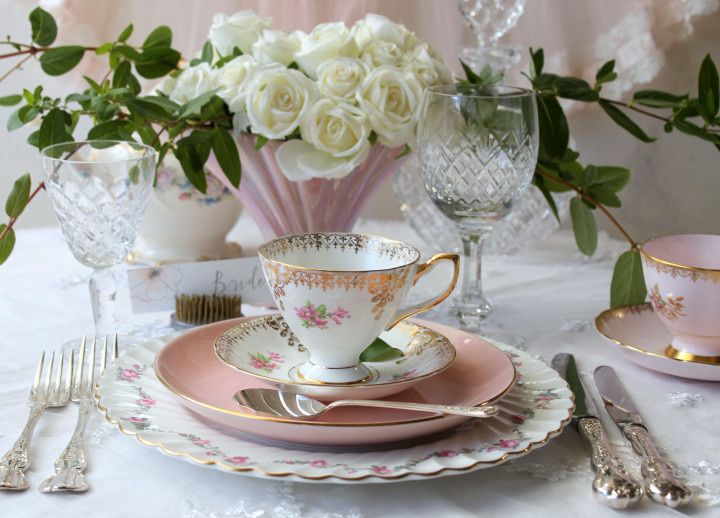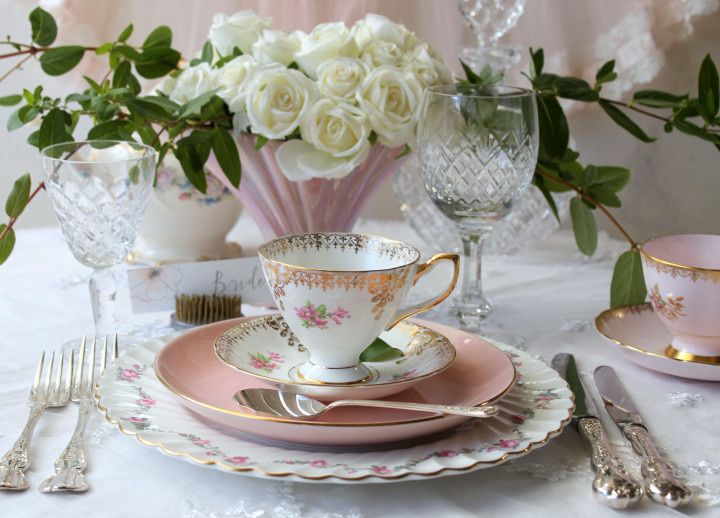 If you're hoping to make your bridal shower an elegant affair, why not opt to make it a tea party? There's so much you can do with this fun theme and once you have your décor and color scheme nailed down, it's time to turn your attention to those tea party bridal shower favors!
The best tea party bridal shower favors are those that fit the theme you've chosen while still being useful. There's nothing worse than spending a ton of money on trinkets that won't ever see the light of day. The good news? We've rounded up a bunch of favors that totally work with a tea party theme and your guests are guaranteed to love them!
So if you'll be sipping tea as a way to celebrate your upcoming nuptials, you'll definitely want to check out our list of the best tea party bridal shower favors.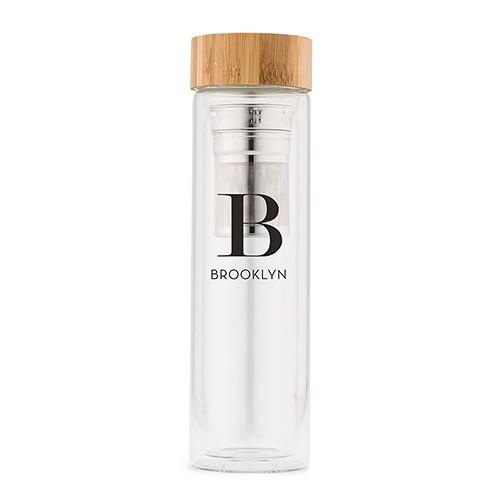 Have tea, will travel. Send your guests home with their very own monogrammed travel tea infuser! This one, from WeddingWire Shop, holds 17 ounces of hot or cold tea in a double-walled glass container emblazoned with a bold, modern-style monogram. A stainless steel infuser and bamboo lid allow your guests to avoid chemicals found in similar plastic versions.
WeddingWire Shop glass tea infuser travel cup, $15, WeddingWire Shop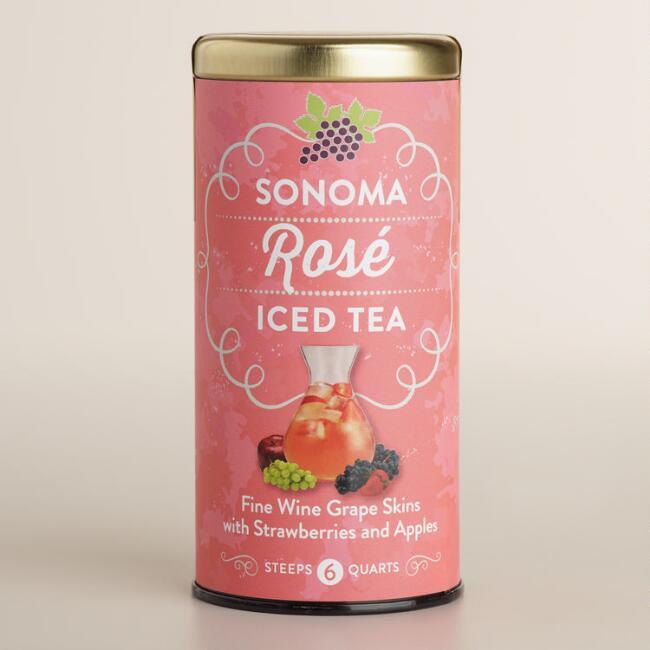 What's the best tea party bridal shower favor? Why, tea, of course! Your guests will love this super-feminine tin of rosé tea from The Republic of Tea.
The Republic of Tea rosé tea, $8, World Market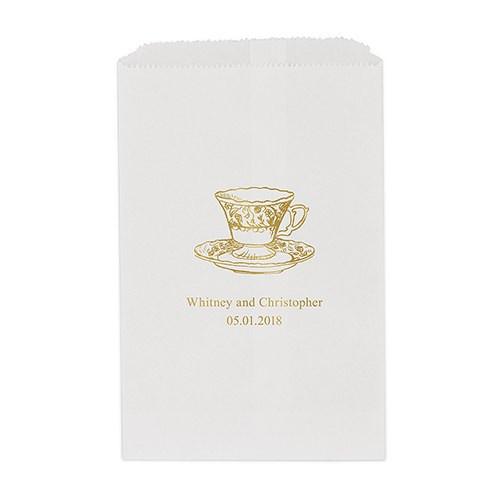 For tea party bridal shower favors on the cheap, slip a goodie like a tea cookie or a macaron into this cute goodie bag. A golden tea cup adds a hint of class and elegance.
WeddingWire Shop vintage teacup goodie bags, $23 for pack of 25 bags, WeddingWire Shop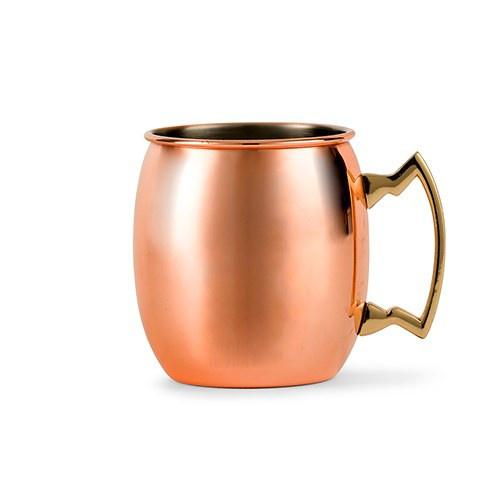 We're of the opinion that a tea party-themed bridal shower is the perfect excuse to hand out these super trendy copper mugs as party favors. Not only are copper mugs totally of-the-moment, they're the perfect partner for a cup of tea.
WeddingWire Shop Moscow mule copper mug, $15, WeddingWire Shop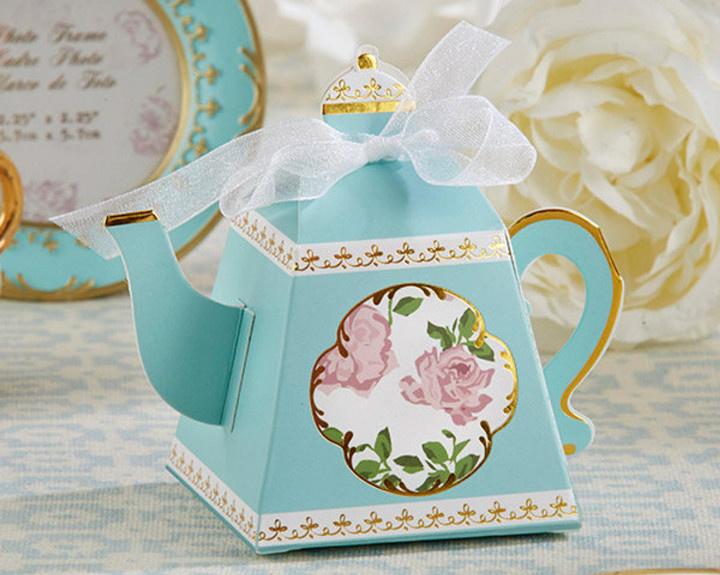 Breakfast at Tiffany's, anyone? These blue Tiffany-inspired gift boxes are shaped like tea pots—simply brilliant! Fill them with your favorite tea cookies or other confection for the perfect tea party bridal shower favors.
Moonlight Weddings tea party favor boxes, from $20 for 24, Etsy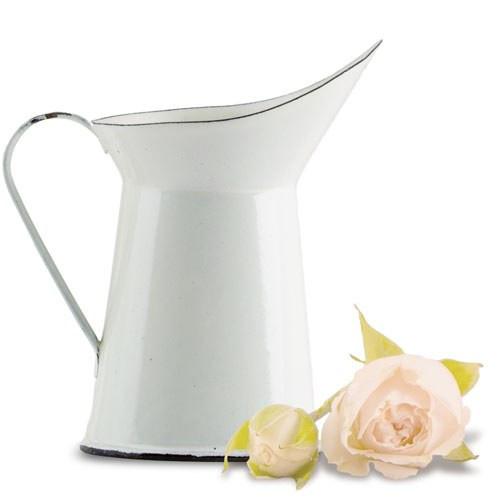 Having a rustic or shabby chic get-together? Then these stunning pitcher vases are the tea party bridal shower favors for you! With a distressed white finish, these would make the perfect table centerpiece for your guests' homes. To personalize, snag some stickers with your and your spouse's initials and wedding date and stick them on for a shower favor your guests will use over and over.
WeddingWire Shop French provincial mini decorative pitcher, from $20, WeddingWire Shop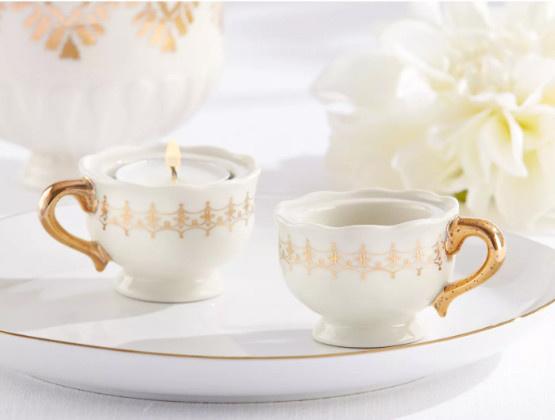 A candle is always a safe bet as a bridal shower favor, which is why we love these beautiful teacups that double as candles. We love this super affordable set of 12 from Target featuring a lovely cream and gold palette. A tea light is included with each dainty teacup.
Kate Aspen classic teacup tea light holder, $40 for 12, Target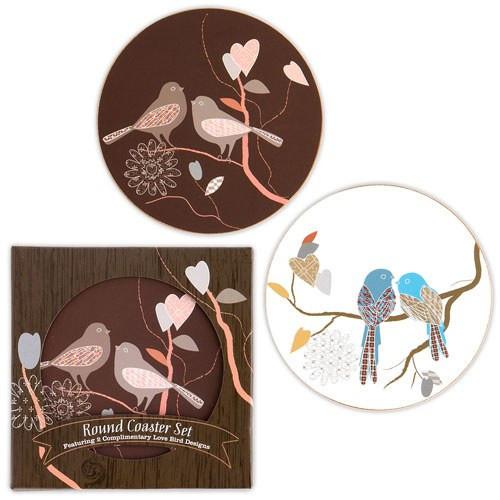 Every teacup needs a coaster, right? So think outside the box and opt for these super-sweet, vintage-inspired love bird coasters for your tea party bridal shower favors. The coasters arrive packaged in sets of two, and a cork backing adds a slip-proof finishing touch.
WeddingWire Shop love birds coaster set, $3, WeddingWire Shop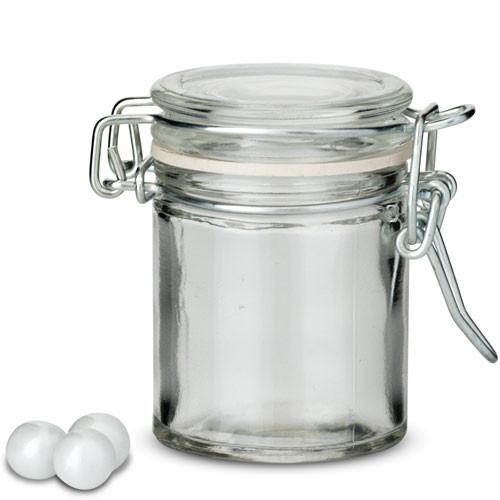 Here's a super simple—and super inexpensive—favor idea your guests will love: purchase a bulk package of loose tea leaves (Amazon is your friend here) then fill these tiny snap-top canisters with tea for each guest to take home and enjoy. These make the perfect tea party bridal shower favors since they fit so perfectly with the theme.
WeddingWire Shop mini glass bottle with wire snap lid, from $17 for 12, WeddingWire Shop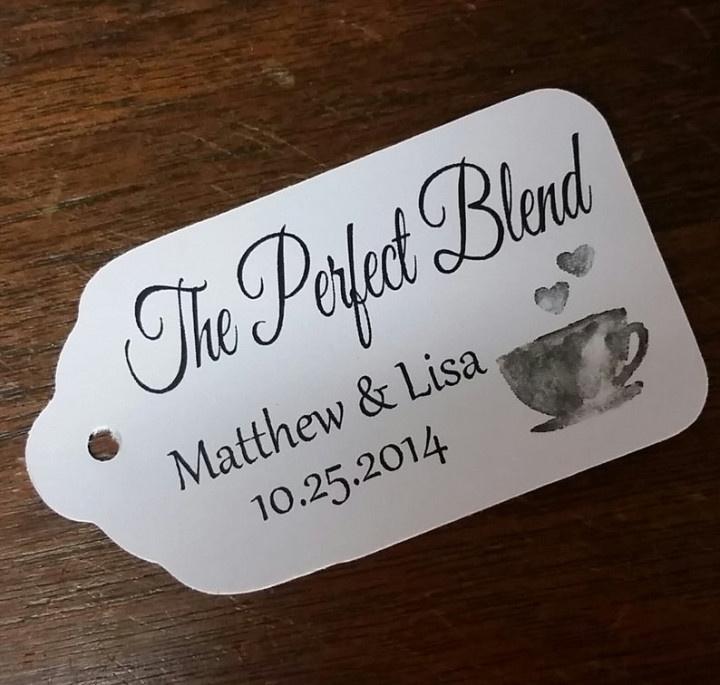 Make any bridal shower favors work with your tea party theme when you adorn them with these cute little "tea bag" tags. Each one includes the bride and groom's names, and indicates they're the "perfect blend." Choose from white paper or a unique tea-stained look that would look right at home with your shower décor.
Tia Zoey Tea Stained tea bag tags, from $10 for 25, Etsy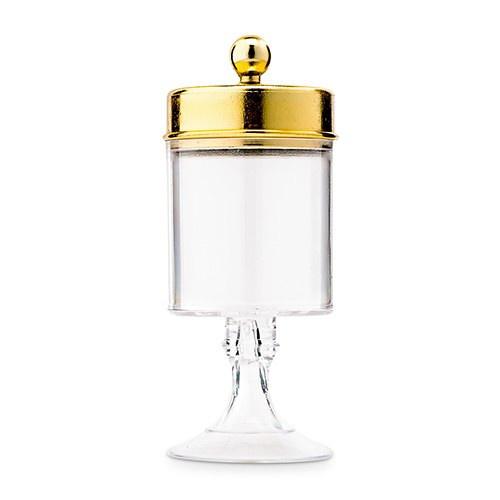 These mini cloches are not only the perfect way to display a beautiful mini confection, but they would look amazing on a dessert table. That's why these clear plastic and gold containers are some of our favorite tea party bridal shower favors. Send your guests packing with a lip-smacking confection as a thank you they won't forget!
WeddingWire Shop clear plastic wedding favor container, from $4 for 2, WeddingWire Shop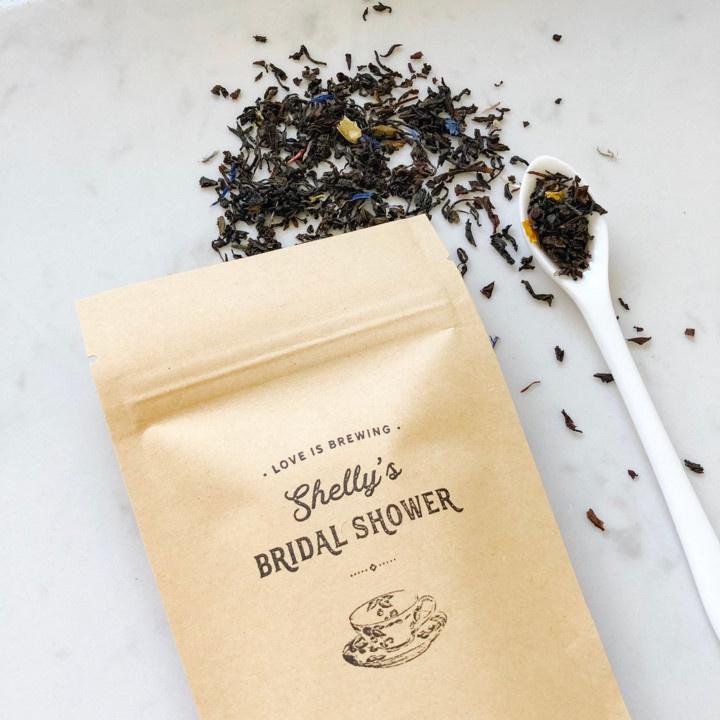 Love is brewing! So say these brown paper loose-leaf tea bags from Etsy shop The Paper Shoppe CA. They arrive adorned with a personalized stamp that says the bride's name, along with a sweet "Love is Brewing" inscription across the top. Each bag holds about a half-cup of tea leaves.
The Paper Shoppe CA tea favor bags, from $25 for 25, Etsy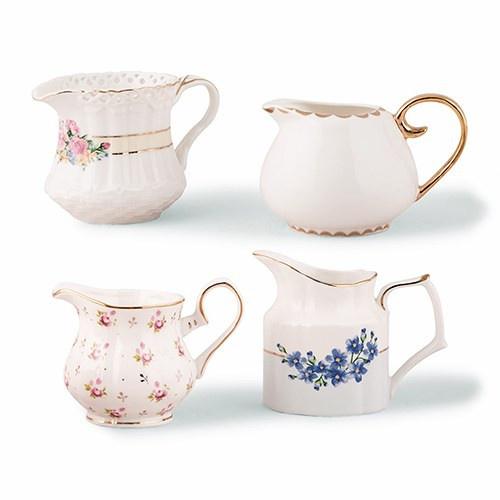 This completely adorable set of 4 vintage creamers is hands-down one of our favorite tea party bridal shower favors. After all, they're so cute! These are perfect for an all-girls gathering, and we're sure each guest will feel totally pampered when they receive this as a favor.
WeddingWire Shop vintage creamer favor vase set, $15, WeddingWire Shop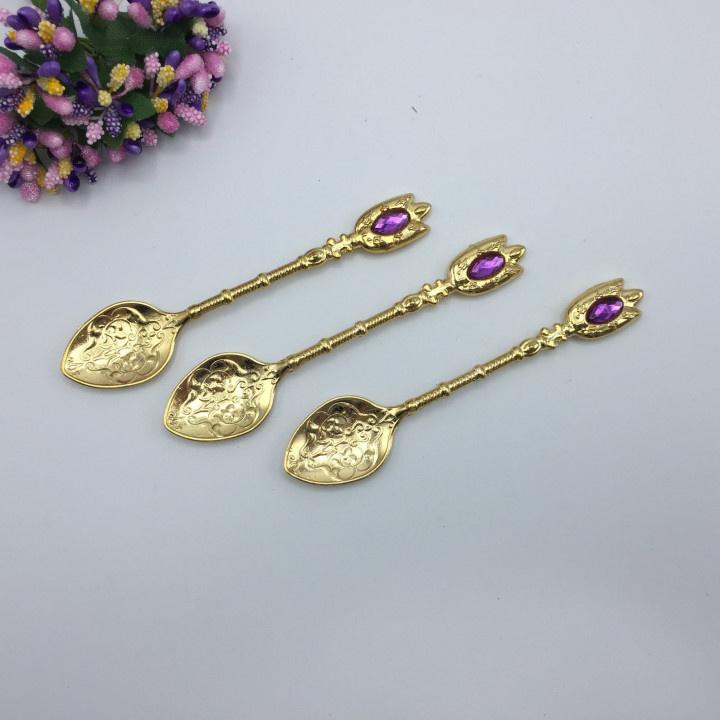 Your guests can stir in style when you add these dainty spoons to your tea party bridal shower favors. These would pair perfectly with a coordinating teacup or a box of tea. Choose from gold, silver or antique gold to match any bridal shower decor.
Erana Design mini spoon favors, $1 each, Etsy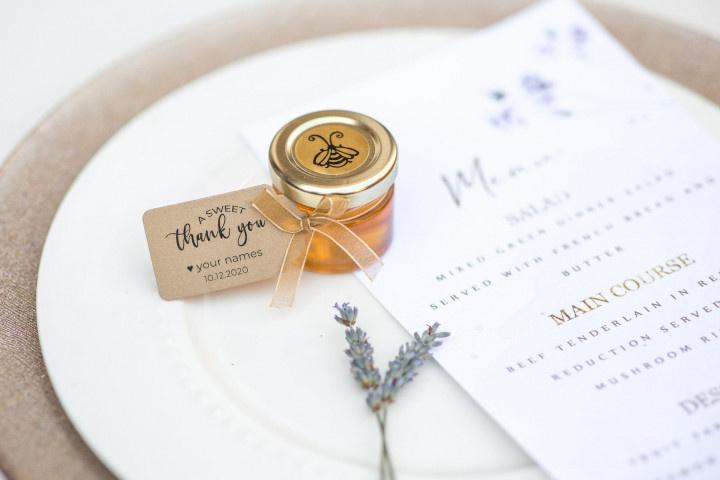 No cup of tea is complete without honey, of course! Send your guests off with a sweet thank you when you opt for these mini pots of honey from Etsy shop LuLu Island Honey. With a fancy bee sticker on top and a custom gift tag, these tea party bridal shower favors are bee-utiful!
LuLu Island Honey mini honey jars, $3, Etsy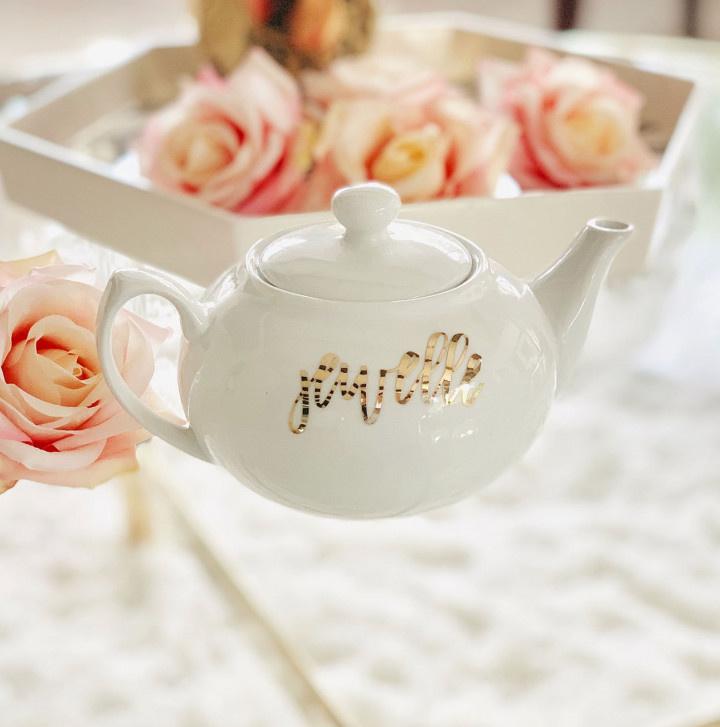 Tea for two! Or how about for everyone? These cute little individual tea pots will see to it that every guest is able to make his or her own tea long after the shower is over. Attractive gold personalization adds a beautiful touch your guests are sure to appreciate.
ModParty personalized custom mini teapot, $15, Etsy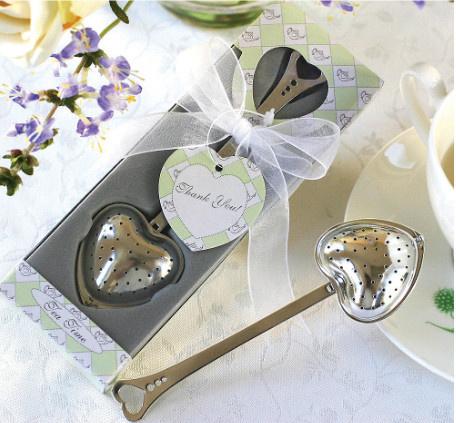 These heart-shaped tea infusers have totally stolen our hearts. What better way to celebrate your impending nuptials than an infuser that's "infused" with love?
Party City heart-shaped tea infuser, $3, Party City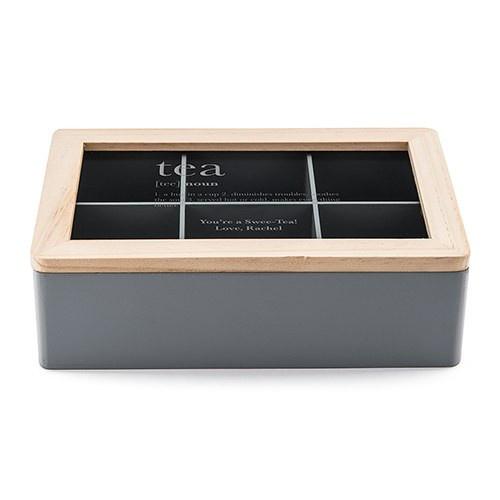 If you're looking for tea party bridal shower favors your guests will actually use, this wooden keepsake box is on point. The glass top features an engraving of the word "tea" defined, and a sweet message at the bottom. And the inside features six separate cubes to store tea bags or other small trinkets.
WeddingWire Shop wooden keepsake box with glass lid, $13, WeddingWire Shop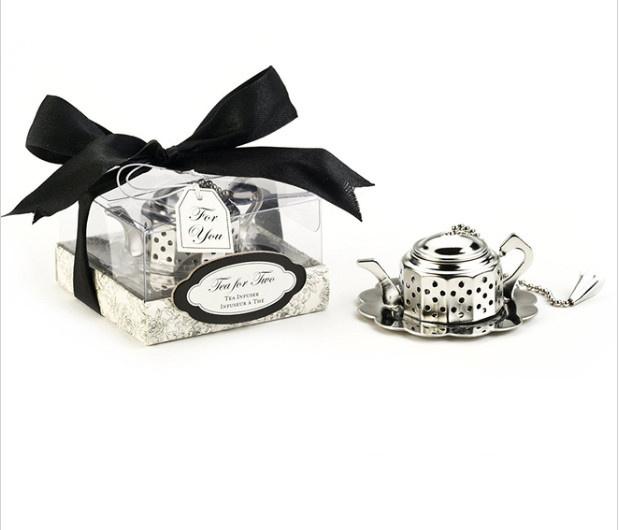 An infuser in the shape of a teapot? Yes, please! When it comes to tea party bridal shower favors, we can't imagine anything being more apropos. What's more, it arrives boxed and ready to give with an attractive bow on top.
Favors & Flowers mini teapot tea infuser, $4, Favors & Flowers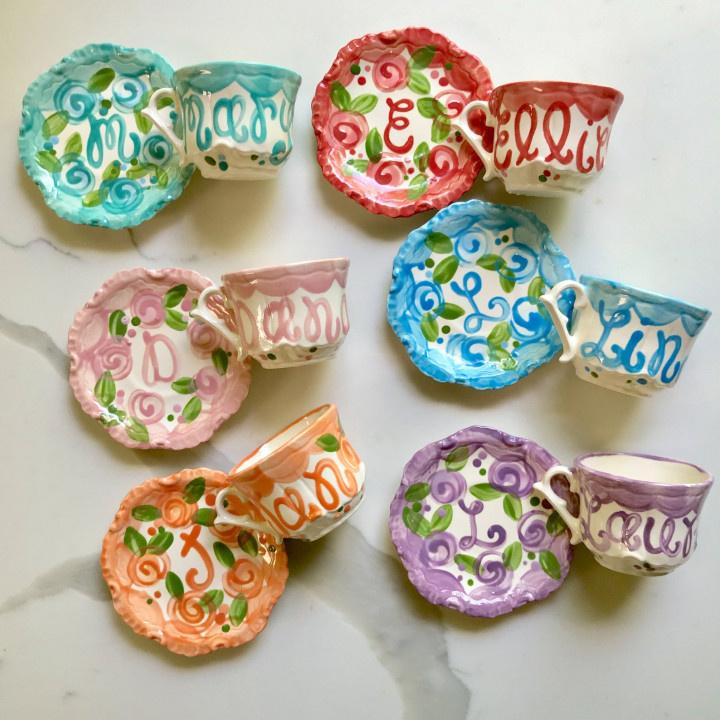 We can't think of better tea party bridal shower favors than a teacup with a matching saucer. And these personalized ones from Etsy shop Holly Slay are perfect to a T(ea). Choose from 6 different colors to match your shower decor, or opt for a multi-colored look.
Holly Slay personalized tea cups, $9, Etsy
Disclosure: This post contains affiliate links, some of which may be sponsored by paying vendors.