How to Shop for a Wedding Dress That's Sustainable and Stylish
Striving to live a little more sustainably? Find out everything you need to know about shopping for an eco-friendly wedding dress.
We have included third party products to help you navigate and enjoy life's biggest moments. Purchases made through links on this page may earn us a commission.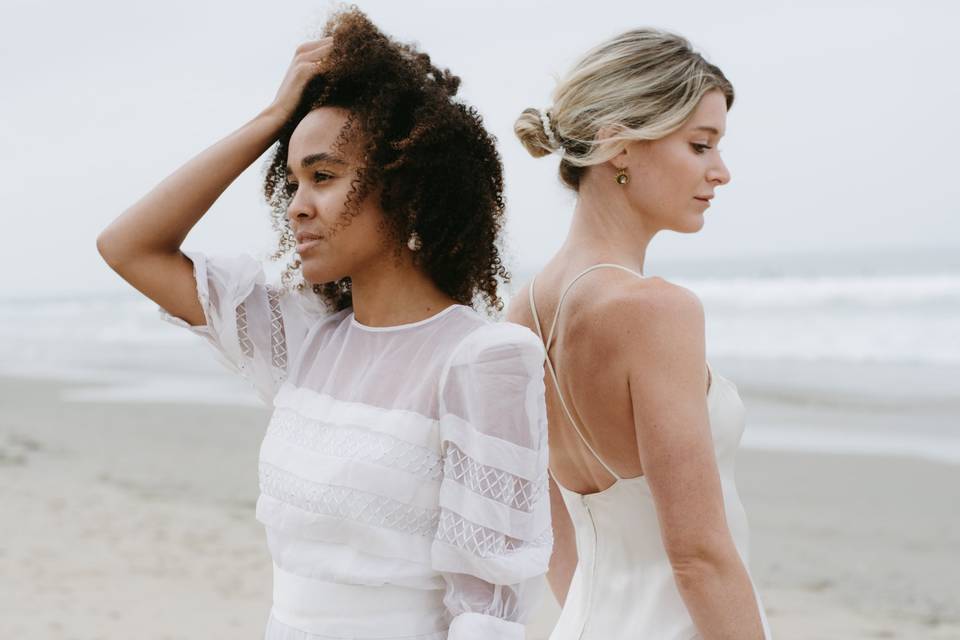 What better time to celebrate the values that matter most to you than on your wedding day? According to our 2021 Newlywed Report, 20% of couples reported incorporating sustainable elements into their weddings in 2020, from using recycled paper to making more eco-friendly food choices. But why stop there? Buying a sustainable wedding dress is another great way to plan a more eco-conscious celebration—and it's a lot simpler than you might think.
Nowadays, there are so many talented designers and brands out there offering truly beautiful wedding attire that's ethically and responsibly made. Not only that, but you also have the option of buying a preowned gown or even renting one if that works for you. To help you say yes to the (sustainable) dress, we've broken down exactly what to look for in an eco-friendly wedding dress according to experts, as well as the best places to shop.
How to Shop for a Wedding Dress Sustainably
Eco-responsibility certainly isn't one-size-fits-all. "Sustainability is a multi-faceted concept and there are many ways to approach it," says Brenna Simmons, founder of the eco-conscious wedding attire brand nordeen. You don't have to tick all the boxes—a little can go a long way. "Figure out what aspect is most important to you and then start asking your top brands those questions to get more transparency on where their product is coming from," advises Simmons. From gowns made with recycled materials to preloved dresses, it's all about finding what works best for your wedding.
Buy made-to-order attire
When it comes to planning an eco-friendly wedding, your gown is a great place to start simply due to the fact that a lot of brands and designers provide a made-to-order service. "Our products are made to order, which means we have no excess inventory," says Marteal Mayer, co-founder of sustainable Brooklyn bridal boutique Loulette Bride. Generally, producing made-to-order clothing instead of ready-to-wear means less waste (and a dress that fits like a glove).
That said, there are certainly other factors to keep in mind too. Mayer warns that just because an outfit has been made to order does not automatically mean it was sustainably or responsibly produced. "It is most important to look at the fabrics, and where exactly the gown came from, and who it was made by."
Pay attention to materials
Like we said before, there are many different approaches to buying a sustainable wedding dress. "One way would be by focusing on the materials—whether that is fabrics made from recycled waste or plant-based fibers sourced from responsibly managed farms and forests," suggests Simmons. Anything made from recycled, natural, or organic fabrics is a good place to start.
What a wedding dress is made of goes a long way in determining just how eco-friendly it is. "Natural fabrics are more environmentally friendly since synthetics are usually made from petroleum, which means they are essentially plastic," says Mayer. Polyester and other synthetic materials can take over 200 years to biodegrade in a landfill, the designer adds.
But how do you know what kind of fabric a dress is made of? The best way to find out is to ask questions. "Brands are also required to disclose the fiber contents of garments and where they are made, so that info is easy to find," says Mayer. "Don't be afraid to reach out and ask more questions to designers you are interested in!"
Ask about the manufacturing process
If finding an ethically made wedding dress is your biggest concern, try to find out as much as possible about the manufacturing process. A great place to start is by asking about where the fabrics and final products are made. "If you want to support locally made, ask the designer where exactly they produce to ensure it's not being made at a factory overseas," advises Simmons. Locally made wedding dresses have a lower carbon footprint and you'll be supporting your local economy.
The price can be another indication that a dress has been responsibly produced. "It is important to know that cheap, cheap items are cheap for a reason," says Mayer. "At this point in time, responsibly made items just are more expensive because it is more expensive to manufacture the right way, use eco-friendly materials, and pay fair labor costs." Simmons has a similar viewpoint: "You are helping to ensure no corners are being cut—workers are being paid properly and the environment is being treated with care."
Of course, that doesn't mean you can't find ethical wedding dresses on a budget. Sustainable styles are available at a range of price points—plus, there are ways to save. According to Mayer, "Many eco-friendly designers will hold sample sales, which are gowns that are maybe extra samples or some random excess inventory, and will be sold for a fraction of the price!"
Don't discount preloved dresses
Another way to shop sustainably is to "extend the lifespan of something that already exists by finding and reviving a preloved dress or outfit," says Simmons. "This could be through scouring vintage stores and boutiques, or finding something through a secondhand outlet." There are several perks to buying preloved clothing, but a big one has to be the price. "These options tend to be much more affordable and the only additional cost would be for any cleaning or alterations needed," Simmons explains.
That said, there are a few things to keep in mind when shopping secondhand. Some gowns may have been previously altered, so you'll want to double-check the measurements before committing. "Make sure the hem will still be long enough for you, and check the measurements of the garment itself," says Mayer, who advises not to go by label size but instead by actual body measurements, as previous alterations can affect the sizing.
If dry cleaning is needed, you'll want to shop around when it comes to that too. According to Mayer, "Dry cleaning is not a very eco-friendly process at all, but there are eco-friendly dry cleaners out there!" Look for businesses that advertise green dry cleaning, especially if they offer a wet cleaning service, as this should only involve mild, non-hazardous detergents.
Find a designer who upcycles
If reusing a previously worn wedding dress is super important to you—but you just can't seem to find one you love—consider working with a designer who upcycles. "Upcycling vintage is inherently sustainable in that you are helping eliminate waste," says Melissa Sullivan, founder of bridal atelier Maison Sully, which specializes in reimagined vintage pieces.
Not only that, but you're likely to get plenty of bang for your buck too. "Investing in an upcycled wedding gown is great in terms of affordability, fit, and quality," says Sullivan. "Secondhand pieces are almost always less expensive than buying new." These recycled wedding dresses give soonlyweds the opportunity to put their own spin on something entirely unique. According to Sullivan, "Going vintage is like wearing a piece of history, with a legacy you get to enhance with your own story."
While renewed and reimagined gowns are a particularly great choice for those with a vintage sense of style, that's not to say they won't work for others too. Sullivan says, "Many vintage garments have tremendous potential to be made more 'modern' reasonably simply." The key is having an experienced designer on your side. "Choosing a skilled partner to help with sourcing that can 'see the vision' and understands tailoring will save you a lot of time," she advises.
Consider renting your wedding attire
Another way to obtain an affordable, eco-friendly wedding dress is by renting. One of the biggest problems with sustainability in the wedding fashion industry is what happens to the clothing after the big day. Renting allows you to take advantage of an outfit that can be worn (and loved!) again and again. Rent the Runway has a curated selection of bridal styles to choose from. While you won't find traditional wedding dresses, the site does offer chic white mini dresses, elegant midis, and on-trend jumpsuits.
One thing to keep in mind, though, is that there may be a limited choice of sizing, and alterations to the garment likely won't be allowed. You'll also want to pay close attention to the rental timeline—when will your dress arrive, when will you have to return it, and what happens if it doesn't fit? Additionally, you might want to ask about how the garment will be dry cleaned, as this may not be done in an eco-friendly fashion. Rent the Runway has adopted a green dry cleaning practice using biodegradable detergents that are free from harmful chemicals.
While renting is an affordable way to approach sustainability, it's not for everyone. If you're the sentimental type, why not try renting some of your other attire (think: a rehearsal dinner outfit) instead? Alternatively, renting is a simple and budget-friendly way to make your bridesmaid dresses more eco-friendly.
Buy from brands that give back
Some brands practice sustainability by donating a portion of sales to different charities or environmental efforts. It's a great sign that the business values eco-responsibility, but you should definitely still ask questions to double-check that their wedding dresses are ethically sourced. "Research is the most important starting point with any product you buy," says Mayer.
Loulette Bride plants a tree with One Tree Planted for every dress sold, and they also partner with a different non-profit organization with every collection to donate a portion of the sales. Supporting brands that give back to environmental causes is a great way to promote sustainability.
Where to Buy a Sustainable Wedding Dress
Understanding what makes a wedding gown ethically and responsibly manufactured is great, but it won't automatically make finding the dress of your dreams any easier. To help you out, we've listed some of the best sustainable wedding dress designers and brands to look out for below. One thing to keep in mind: Our list certainly isn't exhaustive. A lot of brands have information on their websites that'll let you know if they manufacture sustainably, and the stylists at your local salon will have a wealth of knowledge about the designers they carry, so feel free to shop around!
Many soonlyweds turn to their local salon or bridal atelier to find the perfect wedding outfit, and there's no reason you can't do the same. Maison Sully's atelier offers appointments in Silverlake, Los Angeles, as well as virtually. Similarly for nordeen, soonlyweds can reach out to schedule in-person appointments in NYC or LA, or preorder a dress online. If you plan on shopping at a salon, just let staff know that you're interested in sustainable wedding dress designers and they'll be able to guide you. Some names to look out for include Leanne Marshall and well-known wedding fashion brand Pronovias, which has an eco-friendly line.
Pictured: Hadiya gown, price upon inquiry, nordeen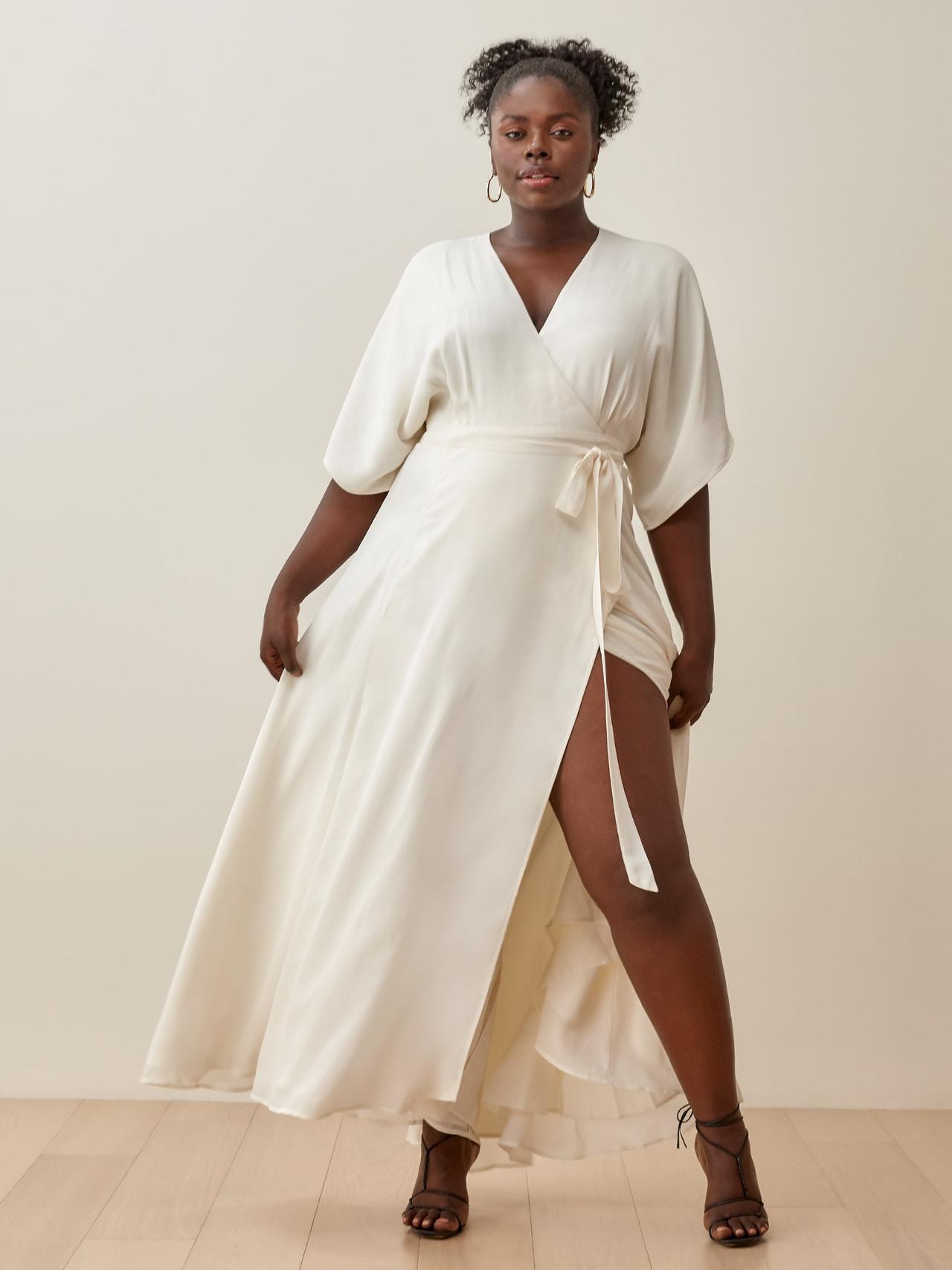 Reformation was built from the ground up with sustainability in mind. The brand is very open about its manufacturing process—each piece of clothing is made from carefully chosen materials in sustainable factories. Chic and contemporary, the brand's understated bridal attire is also super budget-friendly. Reformation doesn't just offer sustainable dresses for weddings. You could easily shop for your bridesmaid dresses or pre-wedding party attire here too.
Pictured: Winslow dress in Ivory, $278, Reformation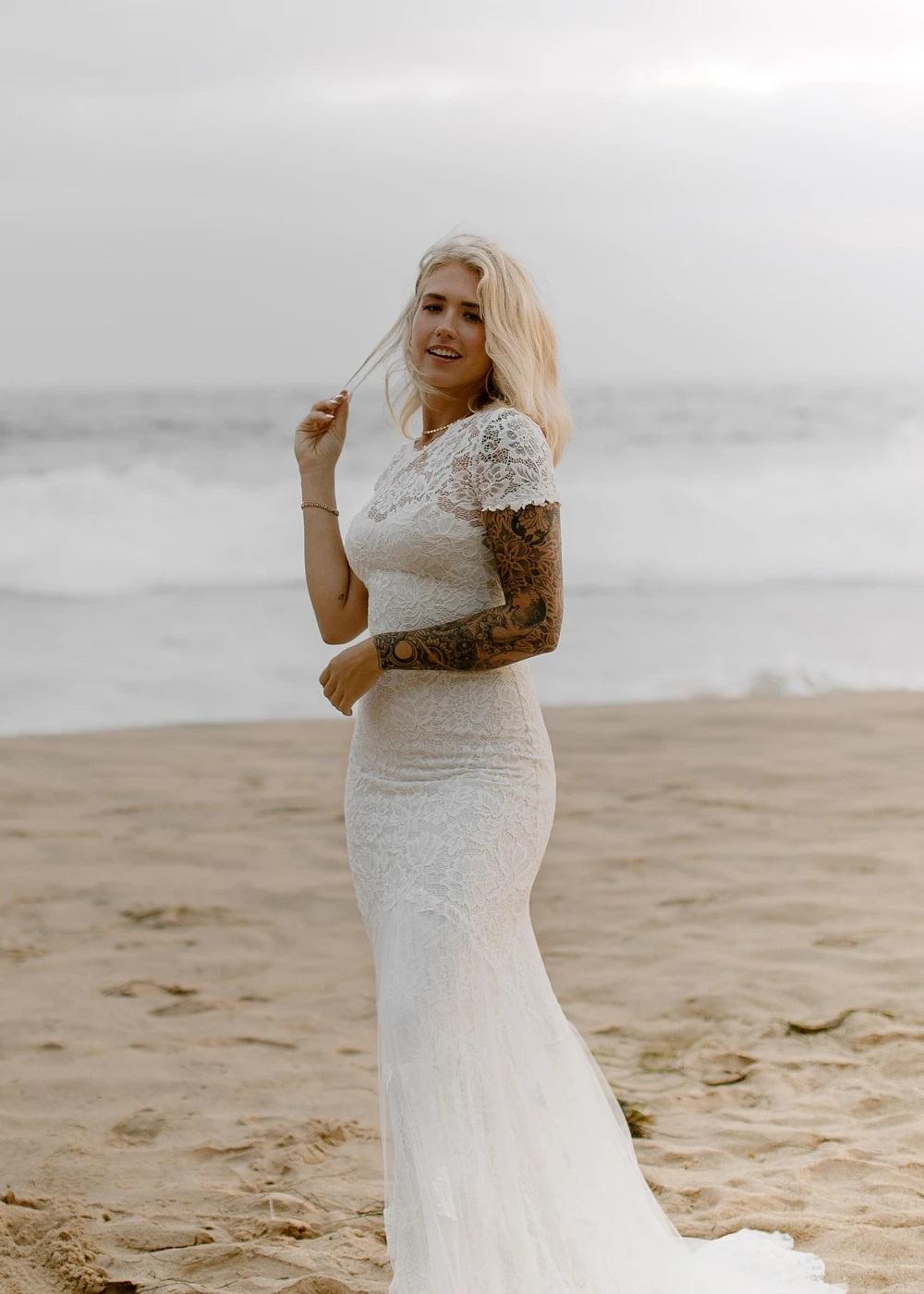 Wear Your Love's dreamy designs just ooze romantic minimalism. If dainty lace details and simple silhouettes sound good to you, you'll love these dresses. Quality and eco-consciousness are at the heart of this brand's work, and because the team operates exclusively online, products are delivered directly to the consumer. The result? A smaller carbon footprint and a more affordable price. The brand's clothing is also designed and manufactured locally in its California studio, and dresses are lined with natural, organic cotton.
Pictured: Reese dress, from $1,520, Wear Your Love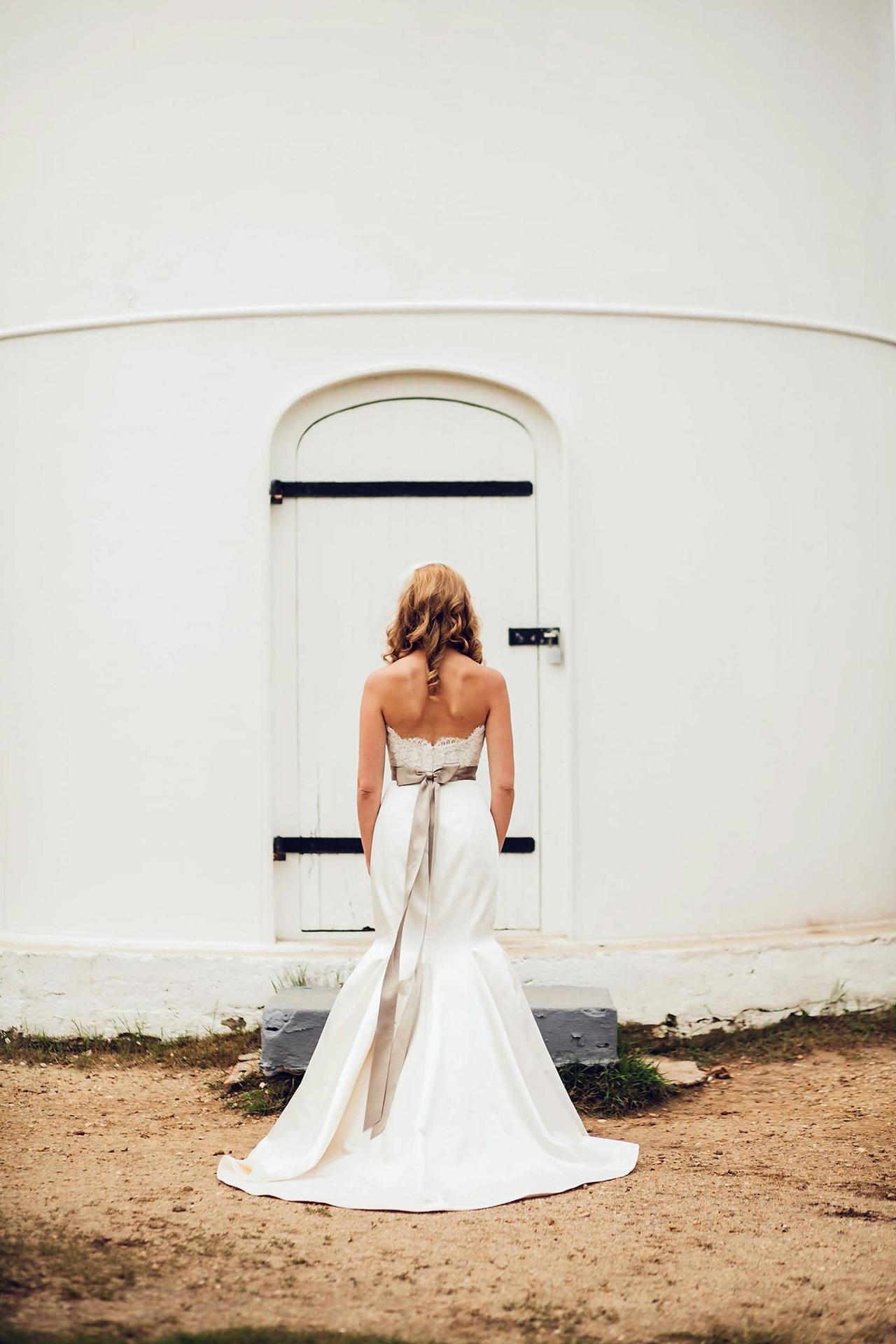 If you're an avid thrifter, it's time to put your skills to the ultimate test: buying a wedding dress secondhand. Nearly Newlywed is an online marketplace for buying and selling preloved attire. Inventory is always changing, but you're sure to see at least a few well-known brands and designers on there, such as Morilee or Justin Alexander. And remember: You can always work with a designer to upcycle something.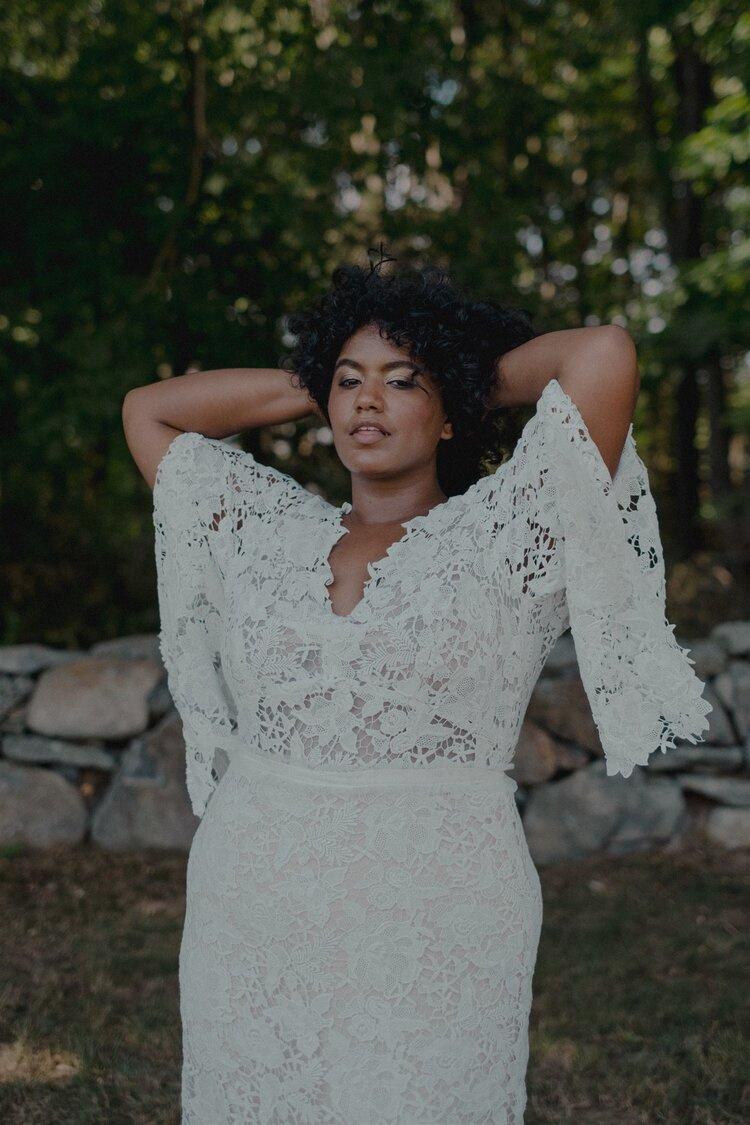 This online and Brooklyn-based salon has pretty much mastered the cool girl vibe. Their on-trend (and made-to-order) attire is unique, customizable—and better yet, made using recycled and natural materials. The business also provides eco-friendly shipping, recycles any leftover scraps of fabric, and works with One Tree Planted to plant a tree for every dress sold. Not only do co-founders Marteal Mayer and Timmy Johnson champion sustainability, but they also strive to be inclusive. This is clearly reflected in the brand's sizing, which ranges from 0-40.
Pictured: Joni gown, $2,990, Loulette Bride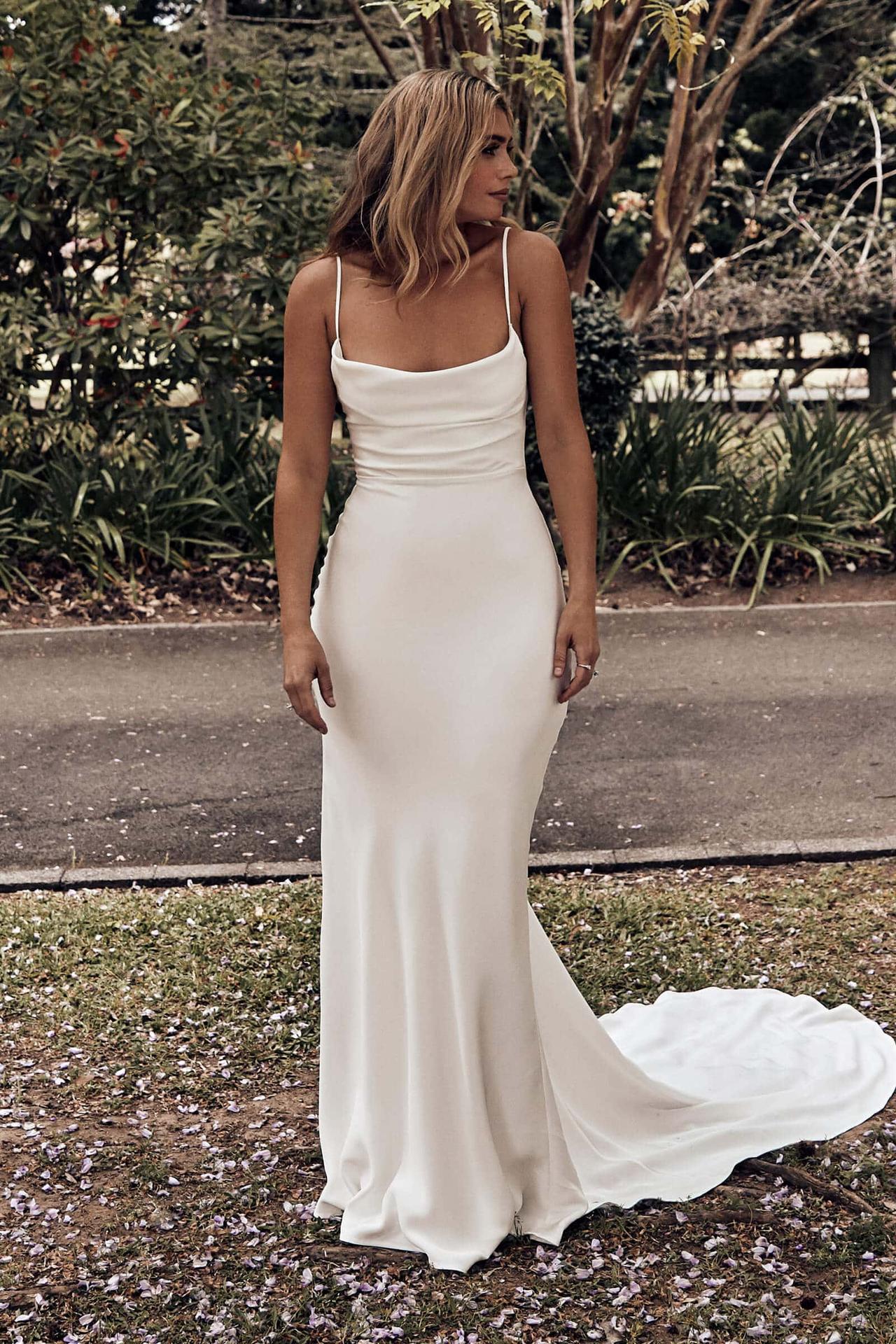 This eco-friendly fashion brand is based in Australia, where their wedding gowns are handmade in-house and can be made to order. You'll find a mixture of gorgeous and on-trend styles, from minimalist slip-inspired dresses to bohemian two pieces. Grace Loves Lace also has a collection of sustainable bridesmaid dresses made with 97% recycled materials (and designed to be 100% rewearable).
Pictured: Honey Silk gown, $1,800, Grace Loves Lace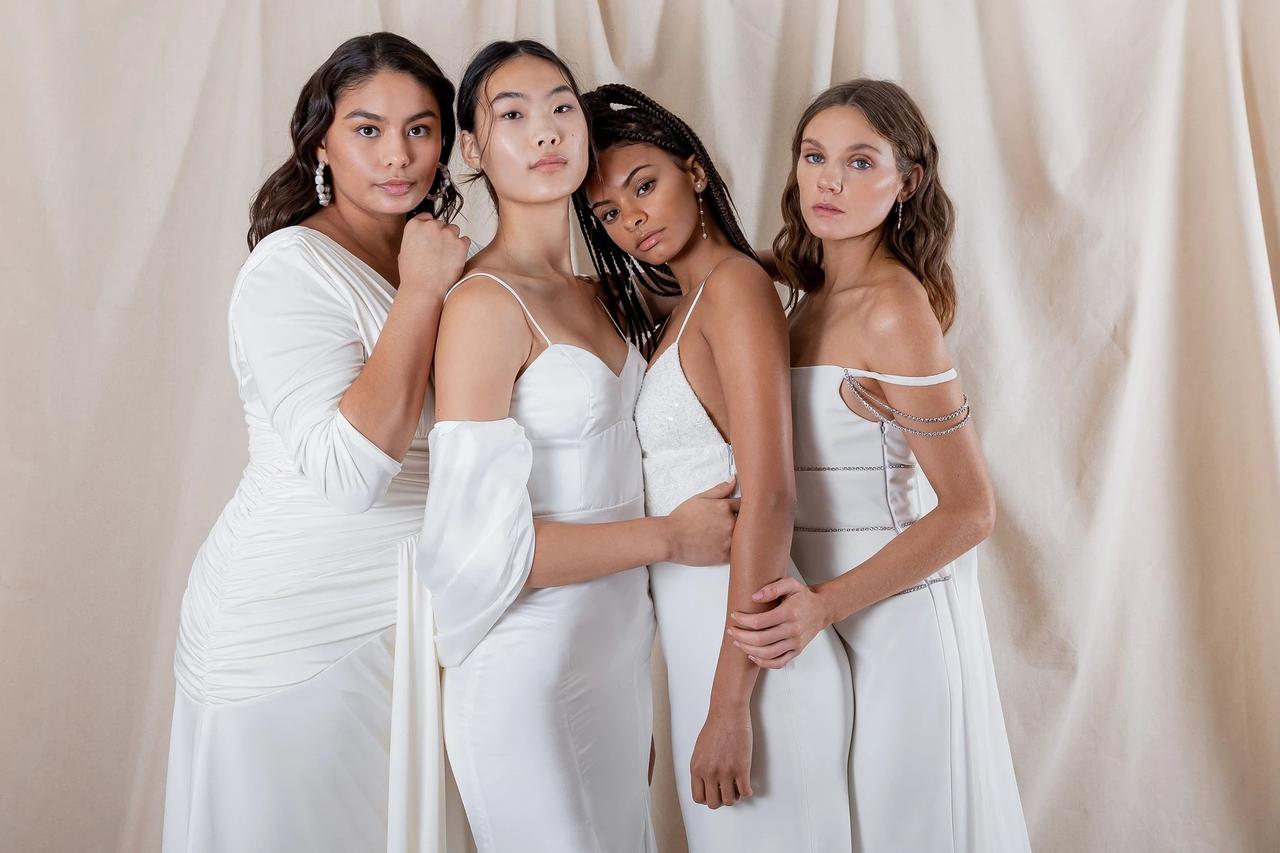 Katharine Polk is an LA-based designer committed to leading an ethical and sustainable business. She specializes in custom, made-to-order wedding attire that's stylish, inclusive, and produced locally in Los Angeles. Polk's designs combine clean, minimalist fabrics with playful details, like statement sleeves and draped backs. To help make her clothing accessible, this eco-conscious designer offers a variety of price points and sizes 00-30.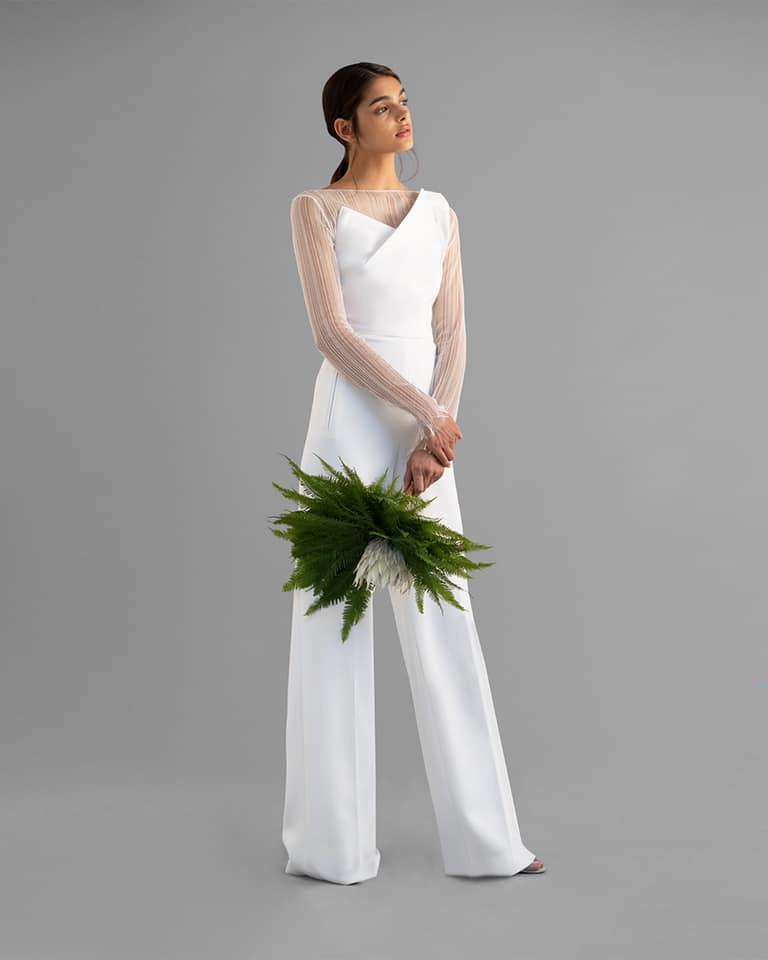 Last but not least on our list of sustainable wedding dress brands: Roland Mouret. The French designer, who is much loved by the one and only Duchess of Sussex, launched his first bridal collection in 2020 with a unique take on sustainability. Mouret specializes in bridal separates and other timeless pieces that soonlyweds can easily integrate into their everyday wardrobes. By focusing on style and longevity rather than fleeting fashion trends, he aims to eliminate the issue of wedding attire that can't be reworn.
Pictured: Platano jumpsuit, $2,720, Roland Mouret