How to Sell Your Used Wedding Dress Online in 8 Easy Steps
Want to sell your used wedding dress after the big day? Here's an easy-to-follow guide to selling your gown online.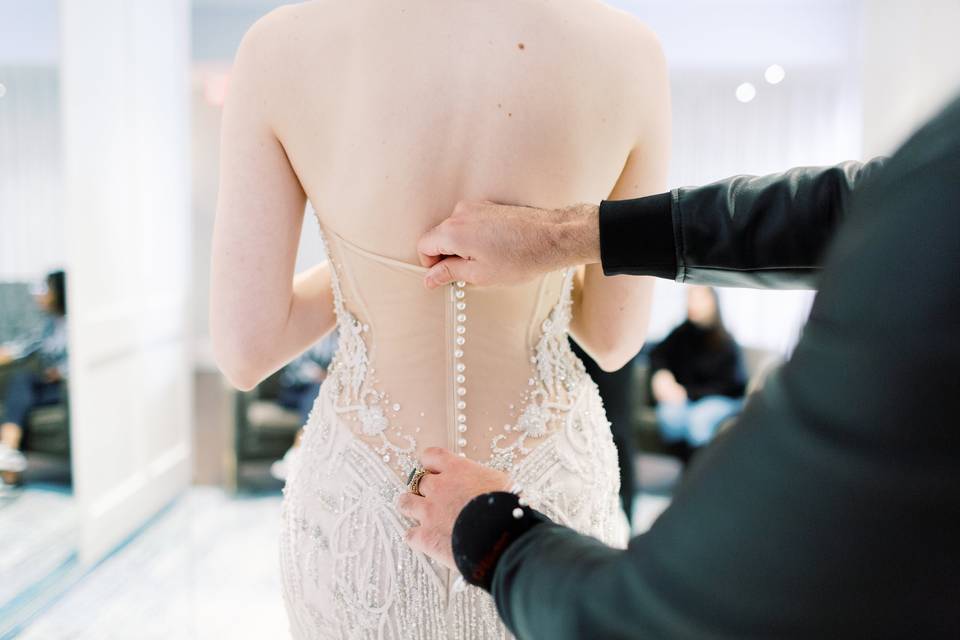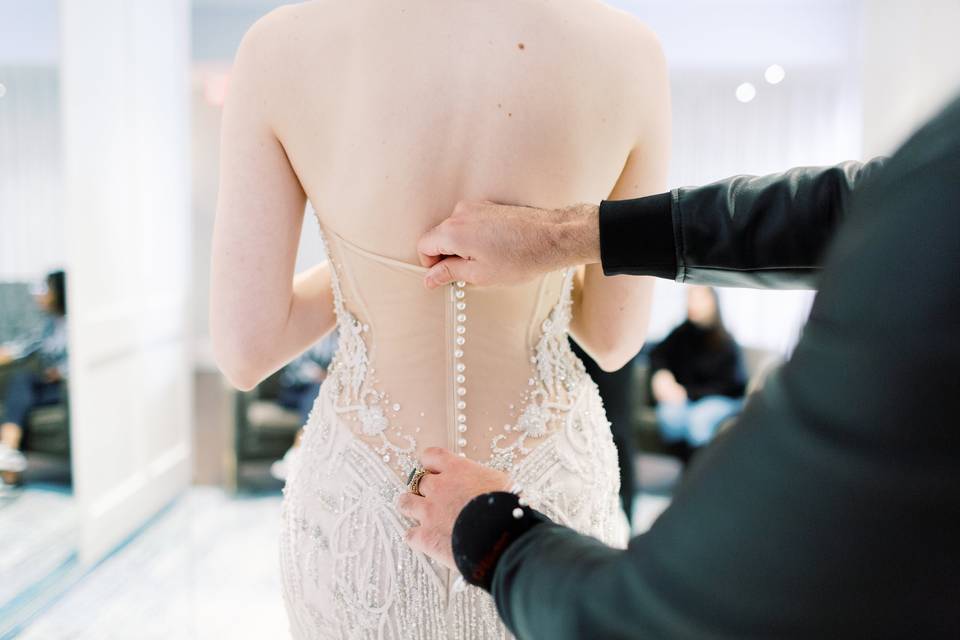 You fell in love with your wedding dress and wore it on your best day ever. Now that the big day's over, you loathe the idea of letting your dream gown collect dust in your closet—and the prospect of selling your used wedding dress sounds pretty appealing. Not only can you earn back some cash, your dress will get a second life. The process of selling your wedding dress online might seem a bit daunting, but by following a few simple steps, you can give your gown a better chance of selling quickly.
Check out our step-by-step guide to selling your used wedding dress online, and make some money after your big day.
1. Decide if it's worth it to sell.
First things first—you'll need to determine if you really want to sell your used wedding dress. Once it's sold, you can't get it back, so if you're feeling at all sentimental about your gown or might want to pass it on to a future child or family member, take a step back. You'll also want to think about your potential earnings, and if it's worth the effort. If your gown is in good condition and less than two years old, you can probably sell it for about half its original retail price. And if your gown is by a higher-end designer, you might be able to get slightly more than that. One more thing—if your dress has obvious damage that would be expensive or impossible to repair or clean (a giant rip down the back or a massive stain, for example), you might not be able to sell your used wedding dress.
2. Find a reputable site.
Next, it's time to research how you'll sell your used wedding dress online. There are several services out there, each with its own pros and cons. Our top pick is Nearly Newlywed, a service that handles most of the legwork for you. All you have to do is send in wedding dress information and photos, and once your gown is approved, they'll take care of working with potential buyers, payments, shipping, and returns. Note: There is a $25 listing fee, and Nearly Newlywed charges 40 percent commission. You might also choose to sell your wedding dress on a site like Tradesy or even on Craigslist, but we recommend going with a site that specializes in wedding dress resale.
3. Get your dress professionally cleaned.
According to Nearly Newlywed, wedding dresses that have been professionally cleaned sell up to twice as fast and have a lower rate of return. So if you're planning on selling your used wedding dress, the investment of having it cleaned is well worth it. There are even online companies that make the process a breeze—they'll send you a shipping kit so you can send your gown directly to them and will ship your dress back once it's in pristine condition.
4. Price competitively.
On sites like Nearly Newlywed you'll set your own selling price for your dress. If you want to sell your wedding dress quickly, we recommend marking it down to between 40 and 50 percent off the price you paid for it. However, if you're not in a rush or your gown wasn't super-expensive to begin with, you can lower the price more gradually, starting with 20 percent off and going from there.
5. Find or take professional pictures.
The best way to make your gown stand out to potential buyers is with great photos. Professional, full-length shots of you in your dress are ideal, blurry photos of you trying on your gown in the salon less so. You can also provide photos of your dress on a hanger to show its current condition, but those shouldn't be the primary images for your listing. Buyers prefer to see how a dress looks on a human, not a hanger.
6. Make sure you have accurate measurements and other dress details.
When creating your listing to sell your used wedding dress online, you'll need to provide detailed information about your gown, including its measurements, fabric, silhouette, neckline, and more. If you aren't sure or have questions about your gown's details, you might look on the dress' tags or the receipt for sizing information or search online to find similar dresses if you aren't an expert in silhouettes or necklines. Try to be as accurate as possible—a gown that's misrepresented online will likely be returned.
7. Write your listing.
As part of your listing, you'll need to write a few sentences about your gown. Talk about your wedding dress' unique features (Flattering silhouette! Long train!) and its condition. If you wore the dress on your wedding day, you can even add a line about how you felt wearing it to give your listing a personal touch. Be as descriptive as possible without writing a novel—short and sweet is best.
8. Be patient, and adjust pricing if needed.
It can take anywhere from a few weeks to a year to sell a used wedding dress online. If it's been a month or two and you haven't received any interest, you might consider lowering the price, adding new photos or adding more information to the listing. If your dress doesn't sell in a reasonable time frame (six months or more), you can always take down your listing and keep your dress.
Disclosure: This post contains affiliate links, some of which may be sponsored by paying vendors.