How to Preserve Your Wedding Dress
You've spent so much time and energy making sure your wedding dress is absolutely perfect. Keep it that way even after the big day by getting it preserved by a professional.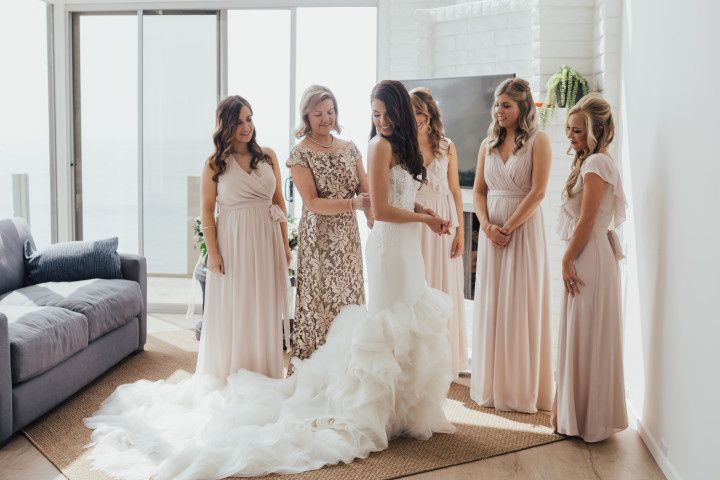 From the moment you buy your wedding dress, your top concern is keeping it in pristine condition—not just for your big day, but long after. Wedding gowns are expensive, after all, and they hold a great deal of meaning for most brides. That's why many research how to preserve a wedding dress.
Whether you wish to pass it on to future generations or simply have it as a keepsake to remember your special day, preserving your dress is the best way to maintain its beauty and newness, explains Sheila Sciocchetti, Divisional Merchandise Manager at David's Bridal. "During the preservation process, all stains, including hidden ones are removed before they can set in and change color," she says. "Additionally, the preservationist will check your gown for any restorations needed to the embellishment and fabric."
While you can certainly take it upon yourself to clean and preserve your dress, most experts recommend getting it cleaned professionally. "Wedding dresses can contain many hidden stains (white wine, sugar, and other clear spills) that professional cleaners and preservationists can catch," says Caitlin Fitzgerald of Prevue Formal and Bridal in La Mesa, California. These spills can often oxidize and stain as they age, so catching these before is crucial to keep the dress' integrity.
If you're considering letting the professionals handle this important process, here's our advice on how to preserve a wedding dress.
Choose a trusted preserver.
Before heading to the wedding dress preserver closest to you, do your research on how to preserve a wedding dress. Get recommendations from friends and family members who may have found a high-quality preserver they trust and search online to read reviews. "When choosing a company, look for keywords like 'guarantee against yellowing,' 'museum-quality materials,' 'free inspection before the gown is placed in preservation chest' and 'acid-free' instead of 'acid-neutral,'" suggests Kathy Kimmel of Kimmel Wedding Gown Preservation and Restoration in Upper Sandusky, Ohio.
Inspect gown for stains.
Before the cleaner goes to work, the two of you will likely go over the gown in search of stains. "Be sure any buttons on your gown are in place and your zipper is working properly," says Sally Conant, executive director of the Association of Wedding Gown Specialists and owner of Orange Restoration Labs, in Orange, Connecticut. "Let down your bustle and look carefully at the places where your bustle was attached to the gown, as very often these places, called bustle points, are torn when someone steps on your gown on your wedding day." She also recommends checking to see if any beading or other decorations are secure and whether any other repairs are needed.
Remove any stains.
When it comes to how to preserve a wedding dress, if your dress happens to have stains (which will likely be the case since you danced the night away!), your preserver will use certain techniques to remove them, even the ones you can't see. "It is easy for the cleaner to see where you have spilled chocolate and the floor dirt on your hemline, and the cleaner uses different kinds of chemicals to dissolve the visible stains, however, such things as white wine, ginger ale and cake can dry clear and they do not automatically dissolve in dry cleaning fluid," explains Conant. "It requires an extra step to be sure these latent stains are treated and dissolved so the sugar content does not turn an ugly brown over time."
Once all of the stains have been dissolved, Conant explains that the gown then goes into a machine that rinses out the chemicals used to treat the stains. "Your gown goes into the machine dry, goes through several cycles such as washing, extracting, and drying and is dry when it is removed from the machine," she describes. "Then your gown is carefully pressed to remove any wrinkles."
Inspect the gown again.
To make sure all the stains have been removed to your liking, your preserver will likely have you come in to inspect the gown again. If your preserver does not tell you to do this, request it so you're sure you're happy with the results.
Store the gown.
Some cleaners will pack your gown while you are there to watch, but others will do so on their own. In any case, the next most important part of a preservation is the materials in which your gown is stored. It's best to use acid-free paper to buffer the folds of the wedding gown as it is packed, as well as for the wedding chest itself, explains Conant. Otherwise, the acidic content in ordinary paper and paperboard will scorch your gown as though you left a hot iron on it. "Do not settle for a pH-neutral wedding chest, either, as in any damp environment, a pH-neutral wedding chests can turn acidic," she adds.
Seal the dress.
After the dress is placed properly in the preservation box or chest, it is sealed. "Most preserved dresses are sealed in these containers that are filled with nitrogen instead of oxygen," explains Fitzgerald. "Oxygen can age, discolor and damage the dress over time, so preventing oxidation can allow the dress to stay in pristine conditions for a longer period of time."
Choose a storage spot.
Perhaps the most important part of the "how to preserve a wedding dress" process is how you take care of your gown for the long haul. Fitzgerald recommends storing the wedding dress in a place that's both cool and dark. "It is recommended that the wedding dress stays away from sunlight, which can discolor and fade it over time," she says. "If you're using an airtight box or chest that has nitrogen, it is recommended that you don't open it—instead keep it sealed will allow for it to stay preserved for longer."