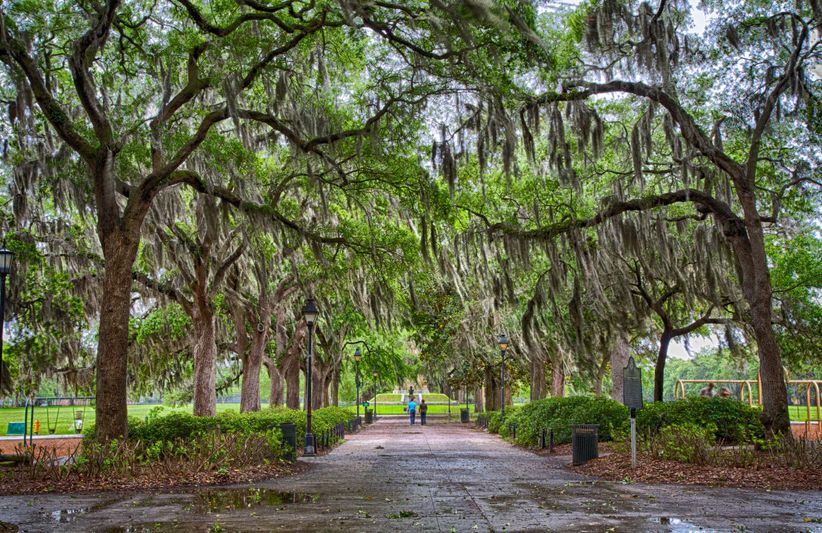 If Old World charm and Southern hospitality suit your traveling style, a Savannah bachelorette party is guaranteed to be right up your alley. Think cobblestone streets, breathtaking architecture, and Spanish moss-draped treetops everywhere you look. Plan a stay in Savannah's must-see Historic District and you'll spend your Savannah bachelorette party wandering through one of the South's most picturesque cities, with amazing food and drink stops always within close reach.
Need a little more convincing? We've mapped out the ultimate Savannah bachelorette party itinerary to make sure you cover everything this world-class city has to offer.
What to do
Set within Savannah's National Landmark Historic District, you'll find over 20 city squares just waiting to be explored. One of the most noteworthy stops you'll find is Chippewa Square, where the famous bench scene from Forrest Gump was filmed. While you're in the area, take in the incredible beauty of St. John Cathedral and later make your way over to Jones Street and walk along the most beautiful street in North America, according to Southern Living. Supposedly this very street sparked the old phrase, "keeping up with the Joneses".
As you take in the city's undeniable charm during your Savannah bachelorette party, pop into a few local shops like The Paris Market for two-stories of gorgeous French home goods plus an on-site cafe to satisfy your caffeine fix. Or, shop along City Market which features four blocks of open-air shops, art galleries, and eateries in one centralized spot.
Once you're ready for midday rest, set up a picnic spread in the scenic Forsyth Park. Savannah allows open containers in the park, so do yourself a favor and make a pit-stop at the nearby Le Chai - galerie du vin for a bottle of something special to enjoy al fresco.
A short drive away from downtown is the Wormsloe Historic Site where your ladies can wander through a beautiful avenue of live oak trees and historic ruins. If you're looking for a group photo opp to document your Savannah bachelorette party, you better believe this is the place to do it.
Want even more inspo? We're big fans of an app called BACH. It's a tool designed to make organizing and booking bachelorette parties easier, and Savannah just happens to be one of its featured cities. Explore top attractions from the comfort of your phone, share polls with your friends to see which ones strike their fancy, and make reservations on the spot.
Where to eat
With endless restaurants, bakeries, bars, and cafes, you'll never go hungry during a Savannah bachelorette party. Hot-spot eateries like The Atlantic, Cotton & Rye, and The Grey make amazing dinner destinations, while the Soho South Cafe and Gryphon Tea Room are must-trys for lunch.
Don't forget to treat yo' self to a few sweet treats at Back in the Day Bakery or the city's legendary ice cream shop, Leopold's. You'll likely wait in line for a taste of your favorite scoop, but any ice cream lover will tell you it's well worth the effort.
When you're looking to kick the Savannah bachelorette party festivities up a notch, look no further than the ultra-chic cocktail bar, Artillery. They'll fix you up whatever you fancy while you enjoy the cool vibes and good company. Other bars to add to your list, include The Olde Pink House basement bar featuring live piano music and Rocks on the River serving up drinks with a killer rooftop view.
Where to stay
Dubbed "Savannah's Coolest Hotel" by Fodor's Travel, you can't go wrong with a stay at The Brice - A Kimpton Hotel. The hotel strikes just the right balance of modern design and historic charm, plus it's walking distance from the aforementioned Leopold's.
If you're looking for a waterfront stay, The Westin Savannah Harbor Golf Resort & Spa is the place to be for your Savannah bachelorette party. You'll love the river views, the close proximity to downtown, and the opportunity to relax with your ladies at the poolside bar.
Surround yourself with history at the Hamilton Turner Inn for a boutique hotel experience in the heart of the Historic District. You'll be treated to a Southern-style breakfast each morning and feel like you've gotten the true Savannah experience.
Disclosure: This post contains affiliate links, some of which may be sponsored by paying vendors.