You've likely been invited to a handful of beachy nuptials in Cancun—but it isn't only the Mexican region that's #dreamy. Venture toward the Pacific Coast and you'll quickly want to plan a Puerto Vallarta destination wedding in this resort town. Much like any beach in this jaw-dropping country, this area in the Jalisco State is defined by picture-perfect beaches, water sports, and an active nightlife scene. When your guests aren't soaking up the sun (and all of your love, of course), they can venture to downtown to tour the Nuestra Senora de Guadalupe Church, shop through boutiques and nibble on local fare. For a more tropical adventure, your friends and family might dine at El Malecon, featuring lounges, bars and historic sculptures. What sets a wedding here apart from others? Because it isn't as popular as many other beaches in Mexico, prices are generally lower and crowds aren't as intense.
Here, a guide to planning a Puerto Vallarta destination wedding.
Best Time of Year to Get Married in Puerto Vallarta
When you finally stumbled (and fell in love with) that spouse-to-be of yours, you likely felt like the luckiest person alive. So much so, you might not need any extra fortune in your direction on your wedding day. Skip the rain and choose your 'I do' date between April and June for your Puerto Vallarta destination wedding. These months feature few showers and inexpensive prices, as well as balmy, easy weather. What's nice about this beach in Mexico is that it's out of the hurricane belt on the Pacific Ocean, making a year-round wedding a possibility. If you'd like your guests of honors to be whales though, keep your dates from December to March.
Marriage Laws in Puerto Vallarta
Since there are so many states in Mexico, marriage laws vary greatly depending on where you're getting hitched. In Puerto Vallarta, it's pretty intense: birth certificates, four witnesses, a blood test and at least a three-day arrival before your wedding. Your best bet is to do your research thoroughly, and when in doubt, ask your local Puerto Vallarta destination wedding planner to field through confusion. After all, you don't want overlooked fine print to put a damper on your celebration!
Best Venues in Puerto Vallarta
Costa Sur Resort & Spa Puerto Vallarta
Imagining your wedding day probably takes you down a rose-colored lane… or is it more like a sunset-drenched beach? At Costa Sur Resort & Spa Puerto Vallarta, you can get married on a private beach, tucked away from the world. Not only do they have an Instagram-worthy oceanfront backdrop with extended access to the ocean, but they're also super close to downtown, just in case you need to pick up something you forgot last minute. What also sets apart this spot is their attention to detail, offering a full wedding staff who manage everything from the time you arrive until you head out. From photography and fireworks to DJS, mariachi bands and wedding cupcakes and hair stylist—everything can be arranged. If you want to keep it simple? Consider their 'Free Wedding' package—where you'll receive a banquet buffet, full-setting and decorations, four hours of an open bar and a wedding planner, if your guests book an all-inclusive rate for two nights or more.
Hyatt Ziva Puerto Vallarta
Couples looking for an intimate wedding will find their definition of paradise on Las Estacas Beach, secluded away from most tourist destinations. At the all-inclusive Hyatt Ziva, you can wed by an infinity pool, on the sand or inside, if you prefer. Especially if you want to treat your bridesmaid to a spa day to thank them for all of their help and support, the oceanfront spa is a great way to spend the days leading up to your wedding. Even if you want a bigger party or something else entirely, their on-site team will take care of your every wish and hope, creating a Puerto Vallarta destination wedding you'll surely never forget.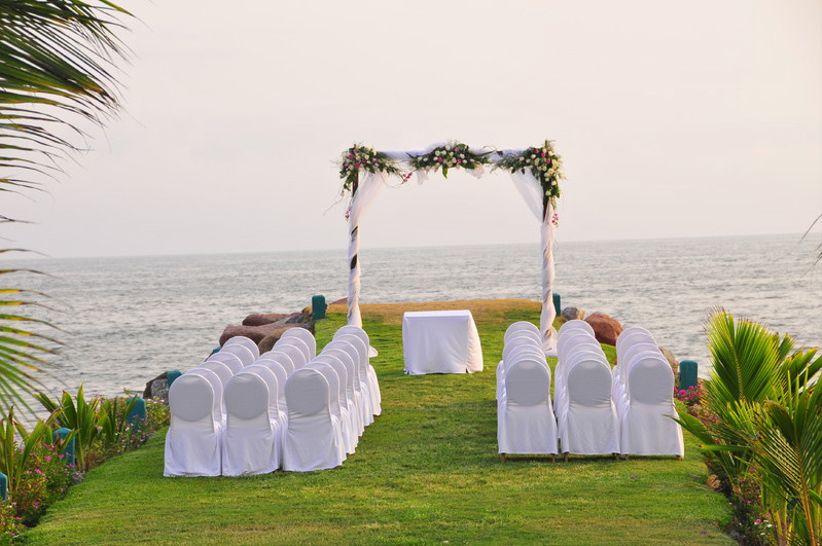 CasaMagna Marriott Puerto Vallarta Resort & Spa
Many who have a lengthy wedding guest list might shy away from a getaway wedding, but at the CasaMagna Marriott, you don't have to. They can host nuptials up to 800, so invite anyone, everyone and their cousin to celebrate your lifelong love. At this fairytale-like venue, you can expect to hear the rush of the ocean, feel the heat of the sunshine and the touches of romance adding light to every aspect of your puerto Vallarta destination wedding. Here, you can wed on the sand, inside a lavish banquet hall or have a mix of both, making your dreamy-day just as you've always imagined. Since it's a Marriott, you'll also enjoy the benefits of their honeymoon reward program, allowing two free nights at any location worldwide, depending on your package.
The Westin Resort & Spa, Puerto Vallarta
Unfortunately, many same-sex couples still have to be cautious about where they choose to get married, since not all countries are welcoming. In Mexico, laws surrounding gay marriage vary dependent on state, but Puerto Vallarta is among those who allow these ceremonies. One recommended venue for both heterosexual and homosexual twosomes is The Westin Resort & Spa. Complete with dazzling infinity pools, beachfront pergolas, a lavish spa and easy-access to both the ocean and downtown, this hotel can host up to 350 guests. Whether you have a small 'I do' by the sea or a grand affair inside the tropical-style restaurant, there's something for every couple of every orientation to choose from.
Casa Velas
You want to make it official in a lush area of the world—but you don't want to be overwhelmed by a sprawling resort, consider this venue. Appropriately called 'casa', which translates to 'home' in Spanish, that's how you'll feel from the moment you arrive. When creating a gorgeous Puerto Vallarta destination wedding, Casa Velas offers a fragrant, tropical setting, effortlessly blending the pool and garden together. Or, you can choose their Ocean Club on a private beach for a toes-in-the-sand to-do. On-site wedding details will dot the I's and cross the T's—from catering to photography and more—allowing you to live fully in the moment of one of the biggest days of your life.
Dreams Puerto Vallarta Resort & Spa
For those couples with a bigger budget for a Puerto Vallarta destination wedding, booking your nuptials at this AAA Four Diamond, award-winning resort will make your jaw drop. Dreams Puerto Vallarta Resort & Spa is an all-inclusive property that elevates every part of the experience—including gourmet dining, seasonal adventures, top-shelf cocktails and other finishing touches to dazzle you, your partner and your guests. In addition to the ability to host a wedding party up to 1,000 people, your friends and family will want to extend their vacation, since Dreams offers the opportunity release sea turtles or rappel down a natural cliff and other activities.
Fiesta Americana
Every couple decides to marry far away from their hometown. While some want to keep their grand affair small, others crave the opportunity to give their guests a vacation in addition to a wedding celebration. For when you're considering a Puerto Vallarta destination wedding, consider booking the affordable, all-inclusive Fiesta Americana Puerto Vallarta. Here, you have your pick from an all-day buffet, an Italian or Japanese restaurant, or a fresh fish taco joint by the beach. With ample beach access for a sunset vow exchange and various spots inside and outside to pick from, you can create your dream getaway. Make sure to upgrade to the adults-only pool and lounge area to escape from any chaos, since this resort is family-friendly.