7 Outdoor Philadelphia Wedding Venues Pennsylvania Couples Love
These outdoor Philadelphia wedding venues are perfect for warm weather ceremonies and receptions in Pennsylvania.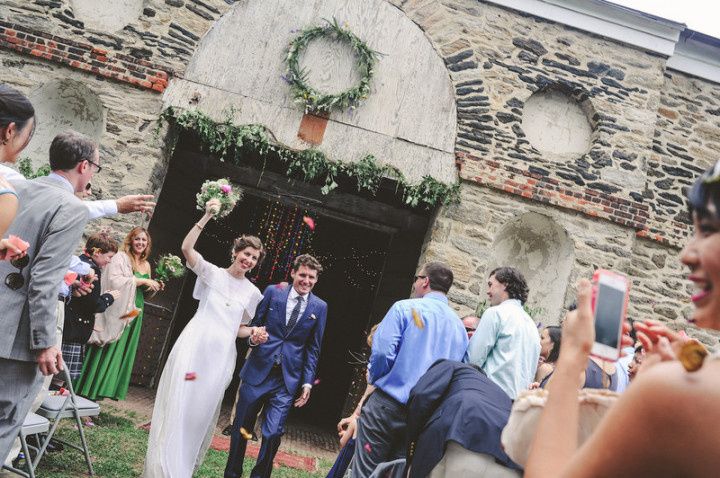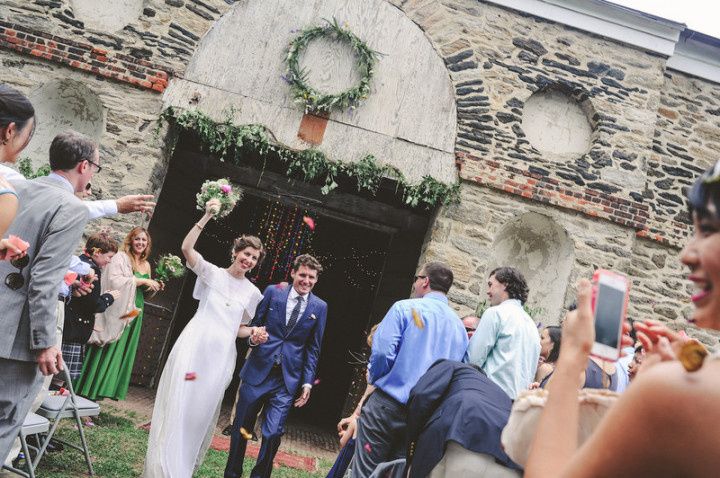 Philly couples tend to wed most often in May and October — mild weather months with enough warmth to enjoy being outside for a few hours. This makes outdoor Philadelphia wedding venues coveted from the spring to the fall. Whether you're looking to host both your ceremony and reception outdoors, or you're looking for Philadelphia wedding venues with lush outdoor ceremony settings and gorgeous indoor reception spaces, this list will offer plenty of inspiration for your upcoming wedding.
Check out a few of our favorite outdoor Philadelphia wedding venues.

The College of Physicians of Philadelphia
Gather your friends and family for a memorable ceremony with this gorgeous Beaux-Arts style building as the brick backdrop. Located in the heart of Philly's Rittenhouse-Filter Historic District, an outdoor courtyard ceremony or reception at The College of Physicians of Philadelphia retains an urban feel with city buildings on either side, but still looks serene thanks to lots of greenery. As one of the Philadelphia wedding venues that's equally as stunning indoors as outdoors, this unique venue's interior includes a columned marble rotunda with a view of grand staircase and draped in ivy that bring the outdoors in. Host up to 350 wedding guests at this venue.
Learn more about The College of Physicians of Philadelphia »

Morris Arboretum
A lovely and affordable Philadelphia wedding venue, Morris Arboretum is ideal for romantic couples who want lots of rustic and floral details for the wedding day. Featuring original Victorian-era architecture and fountains, more than 100 different varieties of tree species and colorful, elegant landscaping, this venue is all ready for the perfect garden party wedding theme. As a completely outdoor space, couples host ceremonies on the lush grounds and receptions under a wedding tent. Host up to 175 guests at Morris Arboretum.
Learn more about Morris Arboretum »

The Knowlton Mansion
Tucked away in the North Philly, The Knowlton Mansion is a not-be-missed option for couples searching for outdoor Philadelphia wedding venues. The estate includes a 19th century mansion with modern restorations that still retain the Victorian look of its past—perfect for couples who've always envisioned a historic home wedding. Outdoors, there's a wooden pergola for your ceremony, a conservatory with terrace access along with stables for cocktail hour or other wedding events. Couples and guests have 13 acres of tended gardens to roam before or during the festivities, while the mansion interior is also available for indoor receptions. Couples can host up to 175 wedding guests here.
Learn more about The Knowlton Mansion »

Bartram's Garden
Set on America's oldest botanic garden, Bartram's Garden is one of the most perfect outdoor Philadelphia wedding venues. Surrounded by 45 acres, this National Historic Landmark site is decked out with a new structure, Eastwick Pavilion, that features views of Philly's skyline. As lush and green as you would expect a botanic garden to be, Bartram's Garden is the perfect setting for a romantic outdoor bash. Host up to 300 wedding guests at this expansive, all-outdoor venue.
Learn more about Bartram's Garden »

Liberty View at Independence Visitor Center
Half elegant ballroom, half urban outdoor terrace, Liberty View at Independence Visitor Center overlooks some of the city's most iconic buildings. Outdoors, your guests will have a rooftop view of the city and your ceremony, while indoors you'll have the convenience and elegance of a contemporary ballroom. This venue accommodates up to 150 wedding guests.
Learn more about Liberty View at Independence Visitor Center »

The Horticulture Center
Situated in West Philadelphia's verdant Fairmount Park, The Horticulture Center is a modern greenhouse with roots that go back nearly 150 years. This wedding venue offers both indoor and outdoor event spaces, but even when you're indoors, the light-filled and plant-filled conservatory feels like you're still in nature. Choose from four event spaces here, and host up to 300 wedding guests.
Learn more about The Horticulture Center »

The Woodlands
Head to West Philly for this unique and versatile outdoor wedding venue. The Woodlands is set on 54 acres and includes an 18th-century mansion and stable and Victorian-era monuments along the property. Couples who host outdoor ceremonies at The Woodlands have their pick of spaces throughout the grounds, all with the elegant main mansion serving as the backdrop. If you're interested in heading indoors for cocktail hour or the reception, there are lots of event spaces to choose from there as well, including a drawing room, circular vestibule and main saloon that includes a covered portico. Host up to 125 wedding guests at this venue.