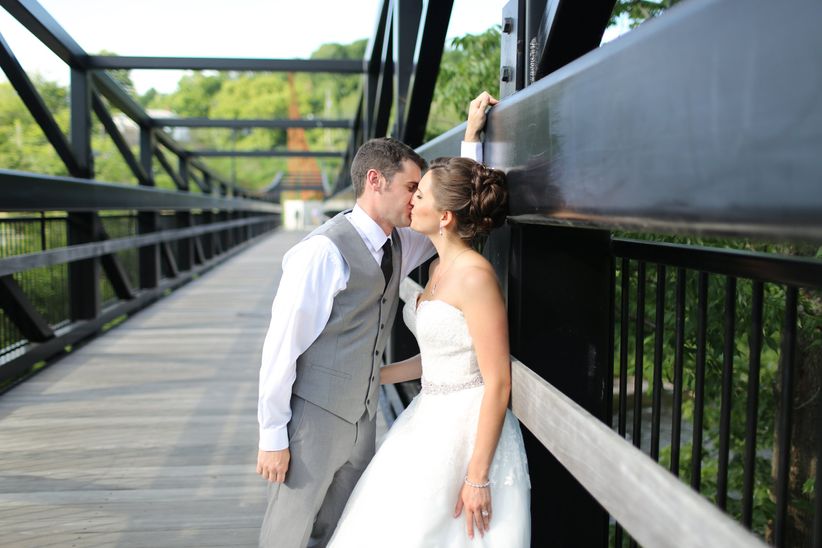 Whether you're dreaming of a wedding in the mountains or near the water, in a bustling city or in the rustic and relaxed country, New Hampshire is a state that truly has it all. Couples who are getting married in NH will find a wide variety of vendors and wedding venues in NH to help turn their dream into reality—and the incredible natural scenery is an added bonus. Whether you're a born-and-bred Granite Stater or hosting a destination wedding in New Hampshire, you're sure to love planning your special event here.
Getting married in NH and ready to start planning? Here's everything you need to know about hosting a New Hampshire wedding.
The Basics
If you're getting married in NH, one of the first things you'll need to do is create your budget. While weddings in New Hampshire tend to be less expensive than in major cities, you can still expect to spend an average of $9,000 on your wedding ceremony and reception venue, in addition to your other wedding expenses.
While New Hampshire isn't known for being the most crowded of states, be sure to research any major events occurring on your wedding weekend in your chosen locale. For example, June brings the popular Fields of Lupine Festival in many New Hampshire towns, and the Keene Pumpkin Festival is a big event in October. Fall also brings many tourists to the area to admire the state's well-known and beautiful foliage, so expect hotels and inns to be in-demand during that time of year. You'll find the state to be less crowded during the colder months, but many venues are closed during the late fall and winter.
Getting There and Getting Around
Hosting a lot of out-of-town guests? You'll want to study up on the main transportation hubs in the area. Those traveling to your wedding via airplane may have the best luck flying into Boston Logan International Airport and driving north, as the three New Hampshire airports (in Portsmouth, Manchester, and Lebanon) are relatively small. For guests traveling from the Northeast corridor, traveling via train or bus is also an option, as there are stations and stops in many New Hampshire cities and towns.
Once your guests have arrived in the Granite State, renting a car is recommended, unless they're staying in the more walkable cities of Manchester, Portsmouth, and Keene. Especially if your wedding is taking place in a more rural area of New Hampshire, it's a good idea to provide shuttle transportation to and from your venue to ensure your guests' safety and comfort.
Weather
New Hampshire is known for its long, cold winters and shorter, mild summers. January is the coldest month, with the average temperature hovering at around 31 degrees, while July is the warmest month, with an average temperature of 82 degrees. The Granite State tends to be a bit rainier and definitely snowier than the U.S. average, which is important to know if you're planning an outdoor wedding (indoor rain plans are a necessity!). Late spring, summer, and early fall are your best bets if you want to host some elements of your big day outdoors.
Wedding Venues
Couples getting married in NH will be delighted at the variety of wedding venues in New Hampshire. Whether you're dreaming of a rustic barn, a classic country club, or a waterfront space, there are so many locales to choose from. Here are some of the most popular types of wedding venues in NH:
Marriage Requirements
One of the most important parts of getting married in NH is, well, actually getting married in NH. You'll need to research the laws and requirements for legally marrying in the Granite State to ensure you're legally wed. Whether you reside in New Hampshire or are from out of state, you'll need to complete a marriage license application with a City or Town Clerk (if you're a state resident, you don't have to file for a license in the town where you live if you're marrying somewhere else in the state). You must bring a proof of age and photo identification. Once you've filed for your marriage license, you have 90 days to have your wedding ceremony performed by a licensed officiant, whether it's a justice of the peace, a minister of the gospel or other religious officiant, a judge, or another person legally able to perform marriages in the state. There is no waiting period so you could technically file for your marriage certificate and marry on the same day (a little risky, but doable).
Wedding Accommodations
Couples getting married in New Hampshire and hosting out-of-town guests should book room blocks at hotels near their venue. If you're hosting your big day at a venue that has its own accommodations (like a hotel or ski resort), this should be a no-brainer, but it might take a bit of research for those having their wedding at another event space. If possible, try to book room blocks at hotels as close as possible to your venue, and at a variety of a price points. Your guests will appreciate having a few options when it comes to finding their accommodations. Be sure to publicize hotel information on your wedding website so your guests can easily access all the details.
Things to Do in New Hampshire
While New Hampshire is often thought of as a serene New England state, there's actually lots to do in the Granite State, whether your guests are into outdoor activities or quieter pursuits. We recommend providing your guests with a list of suggested activities upon their arrival so they can enjoy the variety of attractions New Hampshire has to offer.
Mount Washington
If your guests have some free time during your wedding weekend, they may enjoy taking the Mount Washington Cog Railway to the top of Mount Washington. The three-hour round trip allows you to enjoy some truly spectacular scenery.
Franconia Notch
Located in the heart of the White Mountain National Forest, Franconia Notch State Park offers activities for all ages. Your loved ones can walk through Flume Gorge or take the Cannon Mountain Aerial Tramway for a magnificent view.
Portsmouth Harbour Trail
History buffs will enjoy this walking trail, which includes historic buildings, landmarks, and homes.
Skiing
New Hampshire is home to many ski mountains and resorts, from Bretton Woods to Mount Sunapee, Loon Mountain to Cannon Mountain.
Lake Winnipesaukee
The largest lake in New Hampshire, Lake Winnipesaukee is a popular vacation spot with a variety of nearby attractions.
Hampton Beach
While New Hampshire has a relatively short coastline, Hampton Beach is the top beach in the state. There are many hotels, restaurants, and events for your loved ones to enjoy.
New Hampshire Wedding Inspiration
If you're getting married in NH, we recommend taking a look at real weddings that took place in the state to find inspiration for your big day. Here are a few of our favorites:
April & Mary Beth's winter inn wedding in Exeter »
Chad & Tanya's seaside country club wedding in Rye »
Amanda & Brian's castle wedding in Windham »
Nicole & Tony's museum wedding in Manchester »