Petroplex couples looking for gorgeous wedding venues don't need to travel to Lubbock or El Paso to find the perfect place to wed. If you're searching for local wedding venues in Midland, TX and nearby Odessa, you'll definitely want to bookmark this list of close by places. Whether you've always envisioned your Permian Basin celebration in a rustic barn or a glamorous ballroom, you are sure to find wedding venues in Odessa, TX, Midland, and other places in the Basin.
Check out these local wedding venues in Midland, TX and Odessa for your special day.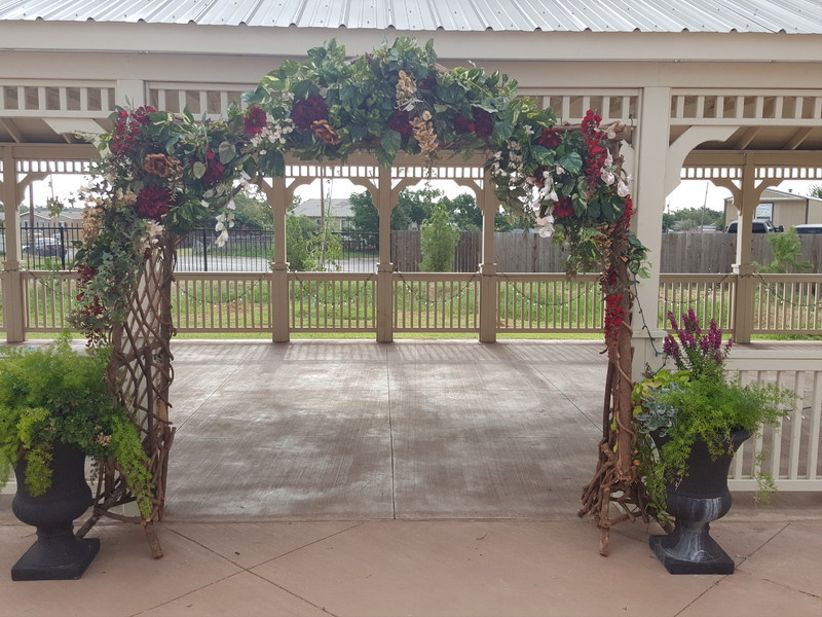 The White-Pool House Museum and Event Venue
Choose from three event spaces at this 19th century event center. There's the historic home — restored to its original 1880s glory — a Victorian gazebo that's perfect for ceremonies, a spacious barn to host receptions, and the gardens, which can also be used for ceremonies or mingling before the ceremony. Host up to 125 wedding guests at this Midland Odessa wedding venue.
Learn more about The White-Pool House Museum and Event Venue »

Kessler's Hall
If you're compiling a very large guest list, you'll love Kessler's Hall, one of the most spacious wedding venues in Midland, TX, with capacity to host up to 300 wedding guests. This banquet hall includes 4,000 square feet of interior space, all covered by natural limestone floors. There's also an addition 3,000 square feet of outdoor patio space, which includes fountains, a fireplace, and built-in setup for DJs. For ceremonies, there's a special, covered outdoor area affectionately called "The Chapel." Conveniently located just outside of downtown Midland, on West Wall Street, Kessler's is easily accessible for your local guests.
Learn more about Kessler's Hall »

The Rose Building
If you're looking for wedding venues in Midland, TX and Odessa that harken back to the region's past as a cowboy outpost, you'll love this downtown Odessa option. Originally home to the original First National Bank, The Rose Building was constructed amidst one of Petroplex's 20th century oil booms. There's plenty of space for up to 1,000 guests with 16,000 square feet of newly renovated event space, including a grand ballroom with a 22-foot ceiling. A marble exterior and a Western-themed mural are two distinctive design features.
Learn more about The Rose Building »

JL Bar Ranch & Resort
Head to Sonora, Texas for this truly unique, rustic wedding venue. Covering 13,000 acres of land where the Hill Country and West Texas meet, JL Bar Ranch & Resort is worth traveling a few miles. Designed to provide an inclusive experience for couples, you'll find everything from luxury cabins to lodge your guests to a private airport to a shooting range for the marksmen in your family — all on one property. Ceremonies here are held in tents on the grounds, or in the main lodge, while seated receptions can take place on the grounds or in the dining room of the main lodge. JL Bar Ranch & Resort is also uniquely positioned to host your pre-wedding activities, like rehearsal dinners, and post-wedding events, like a farewell brunch.
Learn more about JL Bar Ranch & Resort »

Cotton Creek Barn
If your heart's set on wedding venues in Midland, TX with a barn, you definitely want to visit Cotton Creek Barn. Located a bit north of the city, this venue includes two barns to choose from, a groom's room and a bridal suite, along with a vintage seed house and a train car, which makes for great group photos. Invite up to 300 guests to a celebration here, where you can choose from seven distinct areas to host your ceremony and another three areas with dance floors for your reception. Both outdoor and indoor options are available here, depending on the season.
Learn more about Cotton Creek Barn »