10 Unique Wedding Venues in Indianapolis for Super-Cool Couples
If a basic event space just isn't your thing, these unique wedding venues in Indianapolis are definitely worth a look!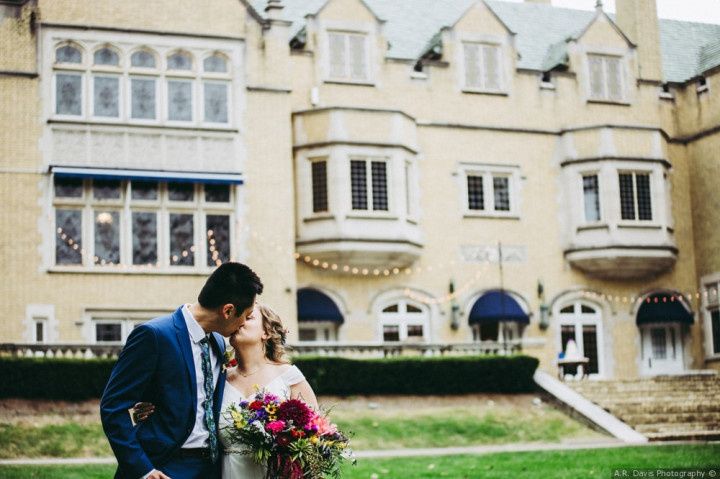 Sure, Indiana has its share of classic event spaces, but what if you're looking for unique wedding venues in Indianapolis? It turns out that there are quite a few! Bet you didn't know that you can get married at the Indianapolis Zoo or the Children's Museum? Turns out you can also wed at a variety of out-of-the-box spaces that are sure to wow your guests—whether you're hosting a small or big wedding, a casual or formal event, or something in between.
Here are a few of our favorite unique wedding venues in Indianapolis for your creative wedding celebration.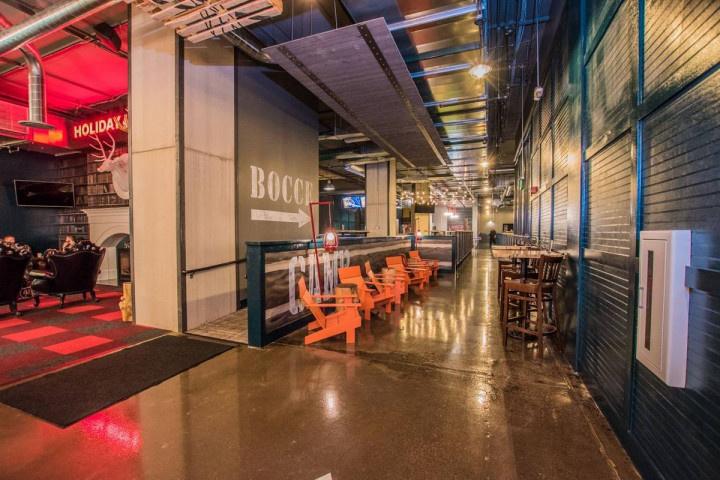 Punch Bowl Social
Located in the Wholesale District of downtown Indianapolis, this bright and eclectic restaurant is one of the most unique wedding venues in Indianapolis. There are a variety of event spaces you can rent out, from the 360 Bar with its industrial décor, circular bar, high ceilings, and antler chandelier, to the cozy Holiday Lounge with its library-themed wallpaper and mounted deer head, to the Diner, with its comfy tables and booths and floor-to-ceiling windows. You'll also find an arcade, private karaoke rooms, and bowling lanes to add a nostalgic twist to your event. All told, this venue can host up to 1,000 guests, but smaller events are also possible here. This all-inclusive venue has a variety of menus and packages to choose from to make your wedding planning experience a breeze.
Learn more about Punch Bowl Social »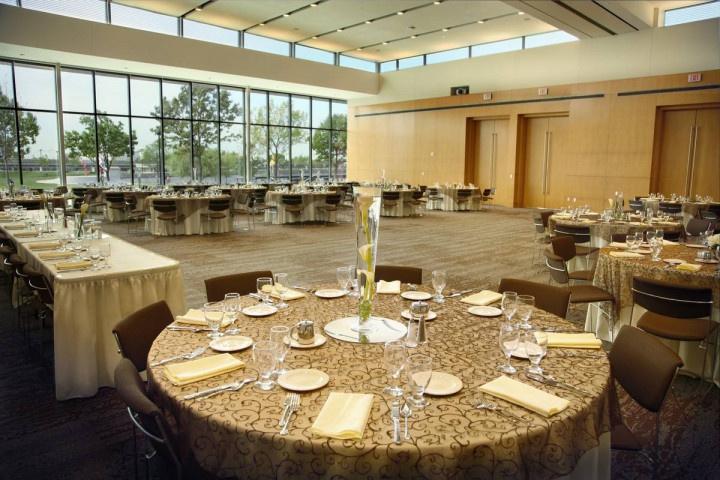 NCAA Hall of Champions and Conference Center
Whether you and your future spouse are basketball fanatics or not, this wedding venue in Indianapolis combines elegance and sporty fun. The indoor event spaces feature floor-to-ceiling windows overlooking White River State Park, and the Christine Grant Ballroom provides space for up to 300 guests. Your photographer will love the incredible portrait backdrops in the park outside, and basketball aficionados in your crew will enjoy shooting some hoops in the indoor basketball courts. This is also an ideal venue for rehearsal dinners, which are typically held in the Hall of Champions.
Learn more about NCAA Hall of Champions and Conference Center »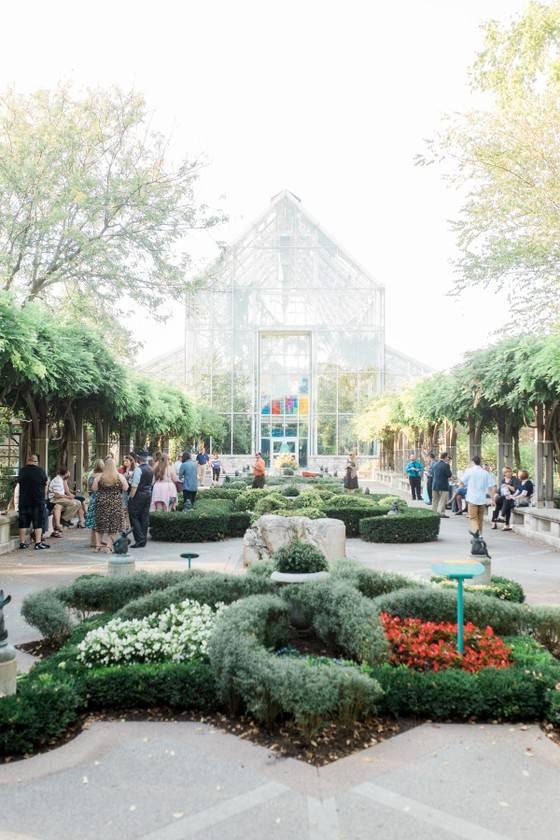 Indianapolis Zoo and White River Gardens
Not many couples can say that they hung out with elephants, tigers, and dolphins on their wedding day, but if you host your event at this unique wedding venue in Indianapolis, you definitely can! Even if you're not an animal lover, this Indianapolis wedding venue features some of the prettiest outdoor spaces we've seen. Host your wedding ceremony in the Efroymson Wedding Garden (open from April through mid-October), with over three acres of expansive green space. For receptions, the Hulman Riverhouse features skyline views of downtown Indianapolis and has space for up to 160 guests. Larger guest counts can be hosted in the St. Vincent Dolphin Gallery, the world's only underwater dolphin viewing dome and one of the most unique wedding reception venues in Indianapolis, with room for up to 250 guests. Another bonus: This venue utilizes green practices to ensure that your event is environmentally friendly.
Learn more about the Indianapolis Zoo and White River Gardens »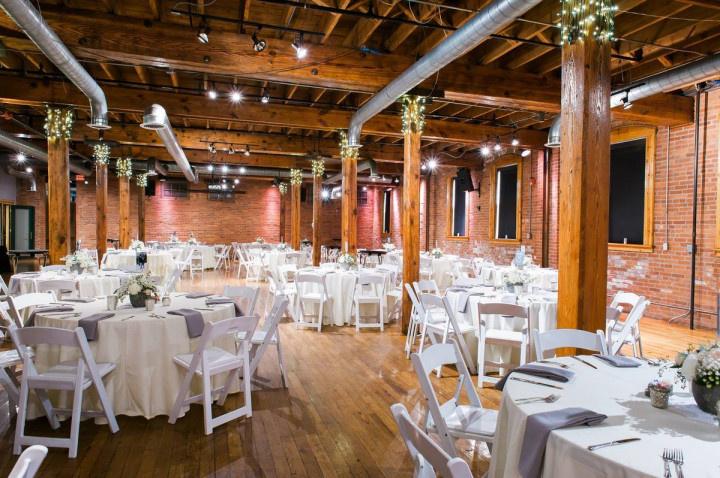 Mavris Arts & Event Center
Industrial wedding venues are so on-trend right now, and this four-level Indianapolis wedding venue is one of our favorites. This Couples' Choice Award-winning venue features the brick walls, exposed ductwork, and wooden beams that embody the industrial-chic vibe. There's a garden, ideal for ceremonies, as well as a rooftop patio. This unique wedding venue in Indianapolis is all-inclusive, and can accommodate events of up to 300 guests. The smaller event space, known as the Speakeasy, is ideal for smaller events, like rehearsal dinners, showers, and more.
Learn more about the Mavris Arts & Event Center »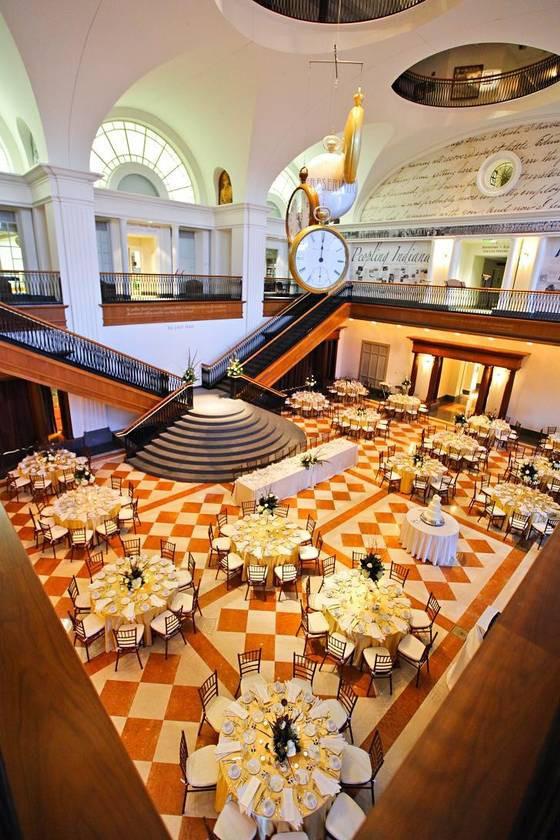 Indiana History Center
If you're an Indiana native, you'll love this unique wedding venue in Indianapolis, which celebrates the Hoosier State's history. This venue features several event spaces, ideal for weddings of all sizes. The elegant Eli Lilly Hall, which can host events of up to 250 guests with a dance floor, boasts a four-story vaulted ceiling, Italian marble floors, and a majestic staircase—plus a second-floor mezzanine for even more space. For a more offbeat event, the Stardust Terrace Café can seat up to 125 guests and the indoor storefronts will delight your guests—plus, this space has its own outdoor terrace.
Learn more about the Indiana History Center »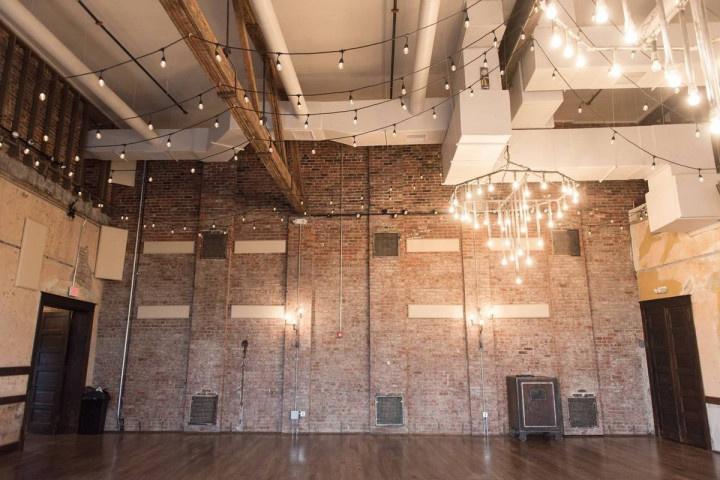 Neidhammer
This artsy and elegant Couples' Choice Award-winning Indianapolis wedding venue is a restored 1901 historic building with an industrial-chic feel. The Grand Hamilton Theater, with its 25-foot ceilings, industrial chandeliers, huge windows, stage, and exposed brick, will be your main space for both ceremony and reception. Cocktail hours are held in the Washington Room, which boasts abundant natural light. There's space for up to 250 guests for a standing reception, and 136 guests for seated reception. Outside catering is permitted, and there's even a bride's suite and groom's room for all of your getting-ready festivities.
Learn more about the Neidhammer »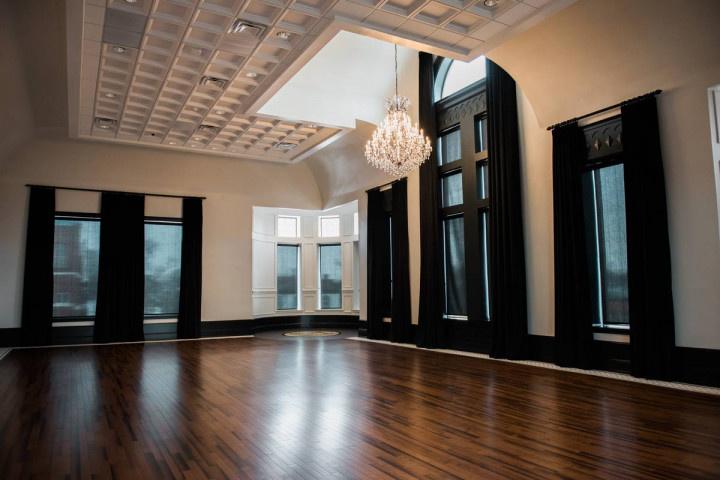 The Hobson
You'll feel transported back to the early 1900s at this unique event venue, located an hour north of Indianapolis in Kokomo. This 1893 Romanesque-style building features a two-story ballroom, which can host up to 200 guests for a standing reception. There's also a small outdoor pergola, ideal for a first look or ceremony. The venue provides tables, chairs, and linens, and outside catering is permitted. You'll also love the two getting-ready suites, ideal for all of your pre-wedding fun.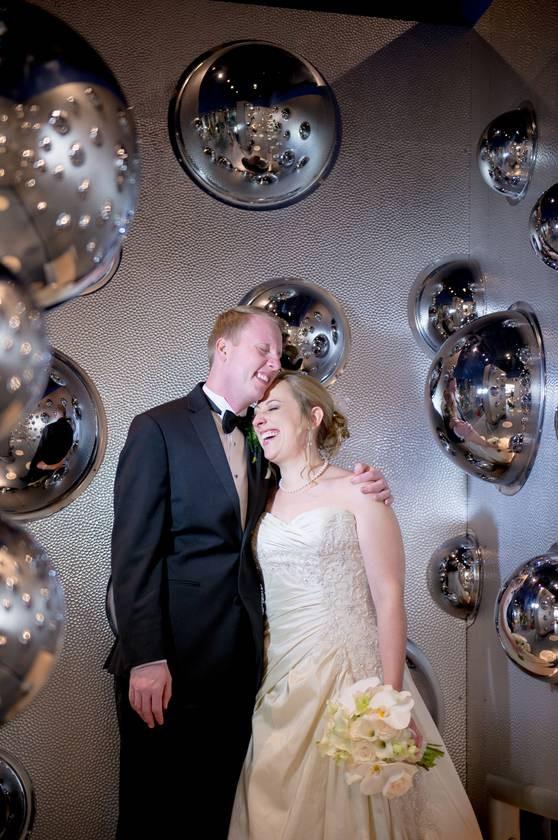 The Children's Museum of Indianapolis
This eclectic and unique wedding venue in Indianapolis is ideal for both the young and young at heart. The most popular space for weddings here is the colorful Sunburst Atrium and Mezzanine, home to famed artist Dale Chilhuly's largest permanent glass sculpture and featuring space for up to 350 guests. And from dinosaurs to a working carousel, there are so many incredible photo backdrops here for the fun-loving couple. The museum's exclusive caterer will help you customize a wedding menu to create the whimsical wedding of your dreams.
Learn more about The Children's Museum of Indianapolis »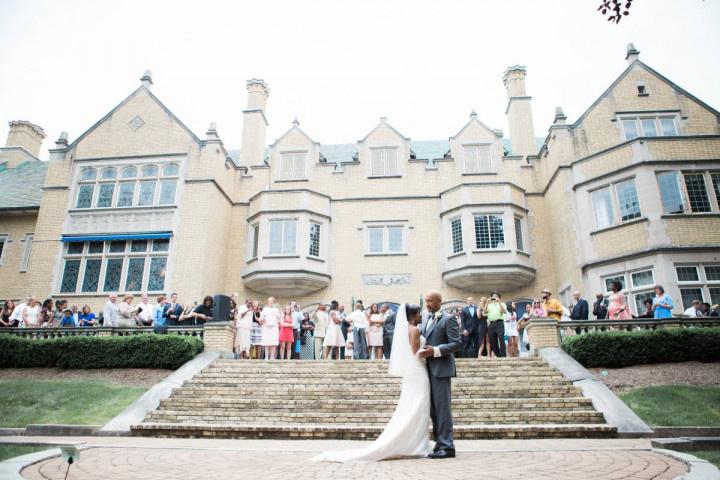 Laurel Hall
This early-20th century home in Indianapolis features both indoor and outdoor spaces for a totally unique, historic event. Host your ceremony in one of the beautiful on-site gardens, or in the stunning chapel with its vaulted ceiling. Receptions may be held outdoors or inside, and you and your guests will love all of the unique architectural details, from stained glass windows to grand mahogany staircases and more. This venue can host events for up to 200 guests, and provides you a list of approved caterers to choose from. Couples rave about this "magical" venue, particularly the accommodating staff.
Learn more about Laurel Hall »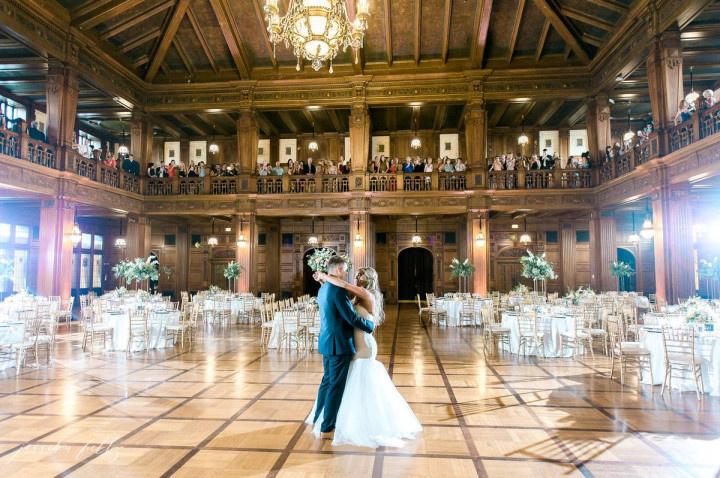 Scottish Rite Cathedral
If you're looking for a unique wedding venue in Indianapolis that's ideal for a 1920s-inspired wedding celebration, this is just the place. The Tudor Gothic building offers 116,000 square feet of space, featuring six event rooms adorned in marble, wood, and stained glass. The Grand Hall is the largest space, with room for up to 600 guests for a seated dinner. The Ballroom, with its hardwood floors, chandelier, and amazing windows, can accommodate up to 400 for a seated dinner. Smaller event spaces are also available. And the South Lounge features stained glass windows and a vintage feel—and you may be surprised to learn a Taylor Swift music video was filmed in this very room!