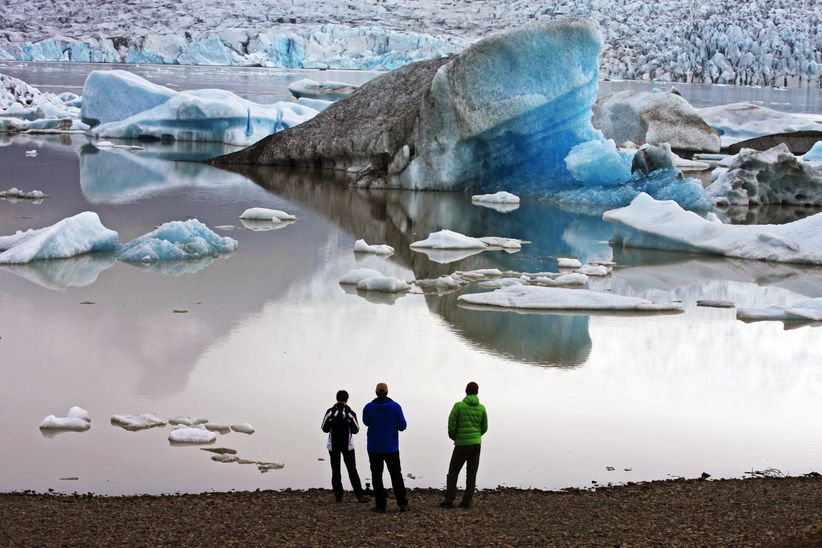 If you and your buddies are looking for something outside the typical Vegas trip, an Iceland bachelor party might be just the ticket. Trade the city lights for the Northern Lights, plus hot springs, volcanoes, icebergs, lava fields, waterfalls, and so much more. There's no denying you'll find plenty of outdoor adventure and natural wonders set on this Nordic island, not to mention great food and nightlife in the capital city, Reykjavik.
Think an Iceland bachelor party sounds right up your alley? Read on for your guide to a guys' trip done right.
What to Do
Kick off your time in Iceland with a loop around the famed Golden Circle. This route, which typically begins in Reykjavik, will take you across some of the most noteworthy sites of southern Iceland, covering roughly 300 kilometers in the process. You'll explore the beauty of þingvellir National Park, check out the actively spouting hot springs of Great Geyser and Strokkur Geyser, and of course, gawk at the incredible Gullfoss Waterfall. Rent a car for a self-guided experience or book a local tour to relax and enjoy the ride.
Outdoorsmen will find no shortage of activities in Iceland, with hiking, fishing, camping, snowmobiling and glacier ice climbing—just to name a few—all within reach. Consider a day on the water with a top-rated sea fishing tour or get your adrenaline rushing on a guided hiking trip through Sólheimajökull Glacier. Consider yourselves more into the golfing scene? Iceland offers more than 60 golf courses to explore, including The Arctic Open which was hailed as a bucket-list course by Golf Digest.
Once you've thoroughly exhausted your energy from all of the above, relax and recharge at the wildly popular Blue Lagoon geothermal spa. Not just for the ladies, this world-famous destination features an in-water bar so you can enjoy a drink surrounded by a volcanic landscape view.
When it comes to nightlife, you'll find all the best party spots for your Iceland bachelor party in bustling Reykjavik. Bar hop down Laugavegur Street for a mix of bars, pubs, and nightclubs, none of which typically charge a cover fee. Keep in mind that the summer months mean nearly 24-hours of daylight, so it's no surprise that the party scene doesn't really get going until well after midnight on the weekends.
Where to Eat
Learn to eat and drink like a local during your time in Iceland with a local tour of Reykjavik. This city beer tour will school you on Icelandic brewing history as you sample your way through 10 local beers during the three-hour excursion. Or, embrace your inner foodie with a taste of what makes this country's cuisine so unique.
A popular pick for a celebratory night out, The Grill Market serves up locally-sourced ingredients like Icelandic lamb, beef, trout, quail, skyr, and honey. Consider yourselves a crew of adventurous eaters? Try the "Whale, Puffin, and Reindeer" mini burgers for an out-of-the-ordinary culinary experience that many reviewers have hailed as a top dinner spot in the city.
If you're looking for a top-notch steak dinner during your Iceland bachelor party, you can't go wrong at Reykjavik's The Steak House. This family-owned establishment offers an impressive variety of meat options so every carnivore in your crew can find a menu option they'll love.
Where to Stay
Trade the tiny hotel rooms for a 2-bedroom apartment at the Reykjavik 4you Apartment Hotel. In addition to their centralized accommodations, they also assist guests by organizing day tours, car rentals, and airport transportation to make sure your trip goes off without a hitch. Bonus! Their deluxe 2-bed apartments are perfect for large groups, sleeping up to six guests.
The Hilton Reykjavik Nordica offers contemporary digs in a desirable location close to downtown. In addition to their sleek rooms and suites, they also offer on-site dining options plus convenient amenities like a sauna, hot tub, and a fitness center.
Set right on the main shopping, dining, and partying drag of Reykjavik, the Centerhotel Midgardur is an awesome pick to stay in the heart of the action during your Iceland bachelor party. Hit the bars of Laugavegur Street during your nights on the town and easily return to a hotel within close walking distance.