5 Reasons to Get Engaged Over the Holiday Season
Trying to figure out when to pop the question? There are so many reasons why a holiday proposal should be at the top of your list.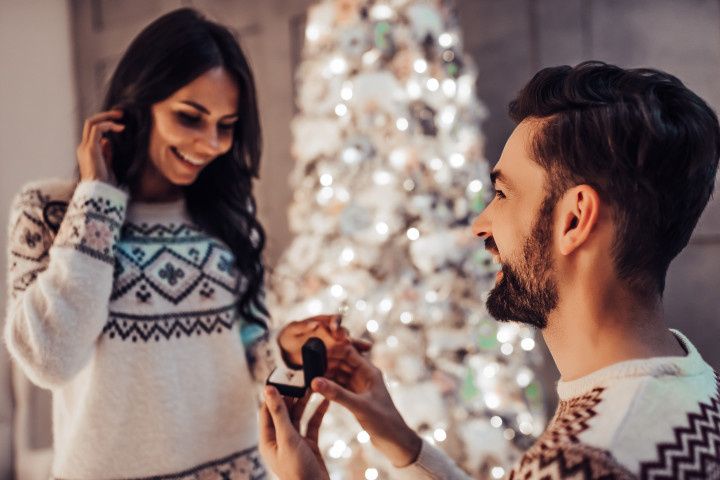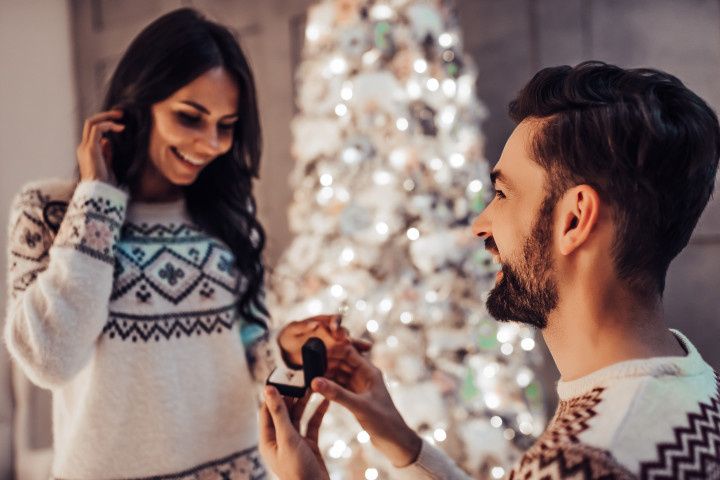 As the most wonderful time of the year, the holiday season adds a certain dose of magic around every corner. From the twinkling lights to the festive decor to the freshly fallen snow, it's hard to imagine a more romantic month to pop the big question, which is exactly why it ranks as one of the most popular times to get engaged.
While some worry a holiday proposal might feel overdone, couples can rest assured that their special moment won't feel any less significant. In fact, we're dishing out five reasons why a holiday proposal is an amazing way to make things official with the one you love.
Loved Ones Are Gathered
If you and your significant other envision your engagement to be a celebration surrounded by your favorite people, a holiday proposal is a natural choice. Your family, friends, and even grandma will be able to share in the excitement with you—whether they're present for the big moment or are involved shortly afterward. This is an especially wonderful option if you live far away and wouldn't normally get to include your loved ones in on the engagement festivities. Plus, rather than feel limited with a phone or video call to spread the happy news, you can hug, toast, and show off that new ring in-person for memories you'll cherish forever.
Extra Hands to Help
Planning an extravagant proposal and wishing you had more help with the logistics? Proposing over the holidays means you can easily enlist the efforts of your families instead of going at it all on your own. They can help with timeline details (like making sure your beloved stays distracted if need be), or set up the proposal site so you can stay relaxed and enjoy the moment. Chances are they'll feel completely flattered you thought to involve them and you'll greatly appreciate the extra support while planning.
Romantic Abounds
Finding just the right way to pop the question is no easy task, but a holiday proposal leaves you with infinite possibilities. Whether you decide to propose in front of a sparkling Christmas tree, ask during a New Year's Eve countdown, surprise with a sneakily wrapped present, or drop to your knee underneath the mistletoe, there are so many ways to make your engagement memorable when holiday romance is all around.
More Time on Cloud Nine
A holiday proposal allows more flexibility to take a few days (or even weeks) out of your usual work or school routine to truly soak up the excitement and enjoy. Rather than head back to "reality" in the day or two following your proposal, you'll likely have much more downtime to plan an engagement party (friends and family are already gathered!), escape on a mini-getaway, or simply enjoy the extra quality time with your soon-to-be. Additionally, this time off means you can get a jump start on wedding planning with online venue and vendor research if you feel up to it. No matter how you spend the days following your proposal, you'll love having some much-needed time to stay on cloud nine before normal daily routine take over once again.
An Anniversary to Remember
As the years pass by, it can be easy to forget about the day you got engaged. However, with a holiday proposal that memory will always be tied to such an important time of year. Just imagine reminiscing each Christmas about your holiday proposal, or retelling the story to future children and grandchildren while gathered around the tree. No matter how popular proposing during the holiday season may be, there's no denying the incredible romance of reliving your "will you marry me?" story year after year.