20 Magical Harry Potter Bachelorette Party Ideas & Decorations
Gather 'round, muggles. We're sharing the best Harry Potter bachelorette party ideas to help you throw a memorable (and magical) bash for the bride-to-be.
We have included third party products to help you navigate and enjoy life's biggest moments. Purchases made through links on this page may earn us a commission.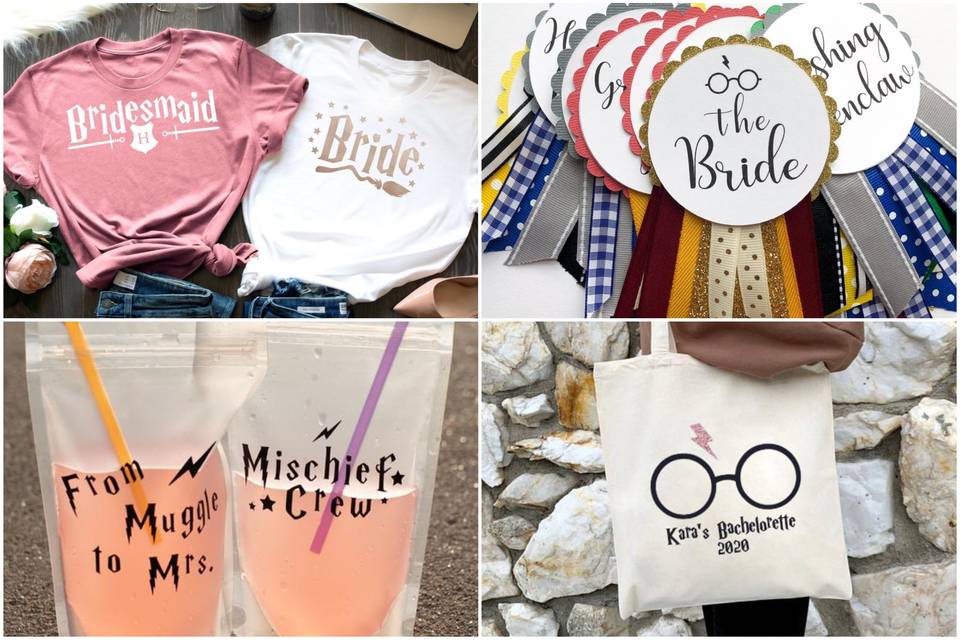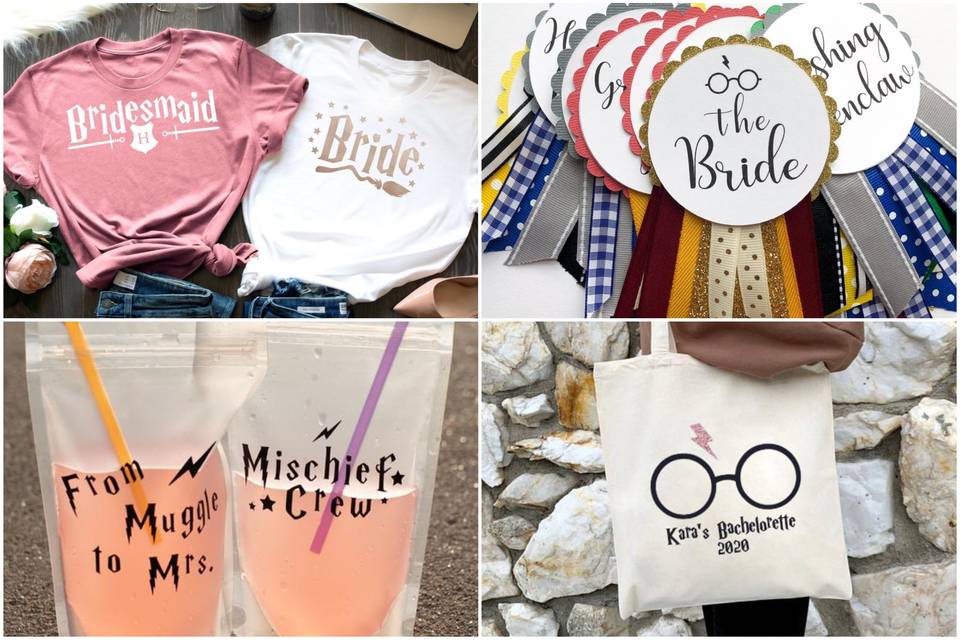 If you're planning a bachelorette party for a bride who's a die-hard Harry Potter fan, you'll be happy to know that there are tons of cute ideas and ways to surprise her when the big day arrives—and thankfully for us mere muggles, no charms or enchantments are required. For the ultimate Harry Potter bachelorette party, we recommend heading to the Wizarding World of Harry Potter, but even if you can't make it all the way to Hogwarts, we've got you covered with these fun ideas.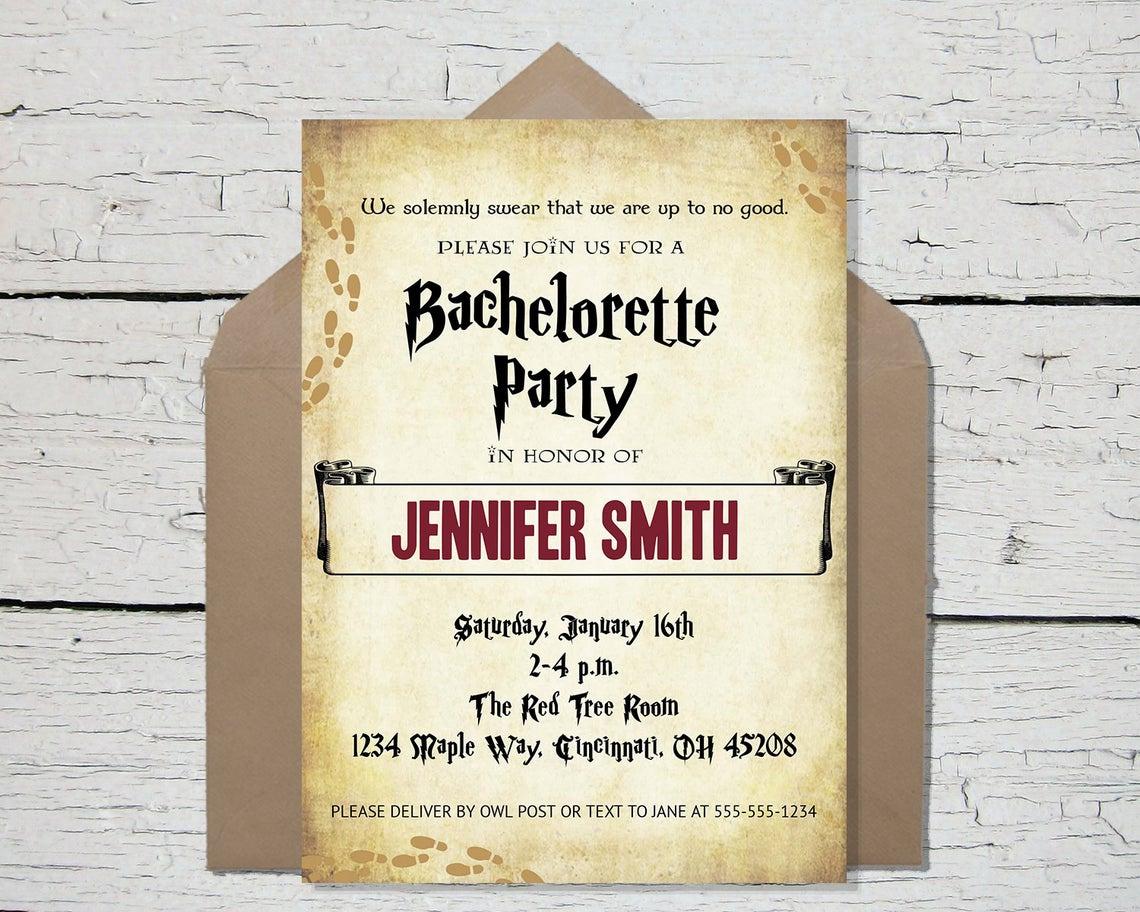 Kick off the bachelorette festivities by sending your guests Harry Potter-themed invitations. You can customize and download this printable option from home. It's so much more fun than a group text or email!
Create IT Prints printable Harry Potter bachelorette party invitation, $10, Etsy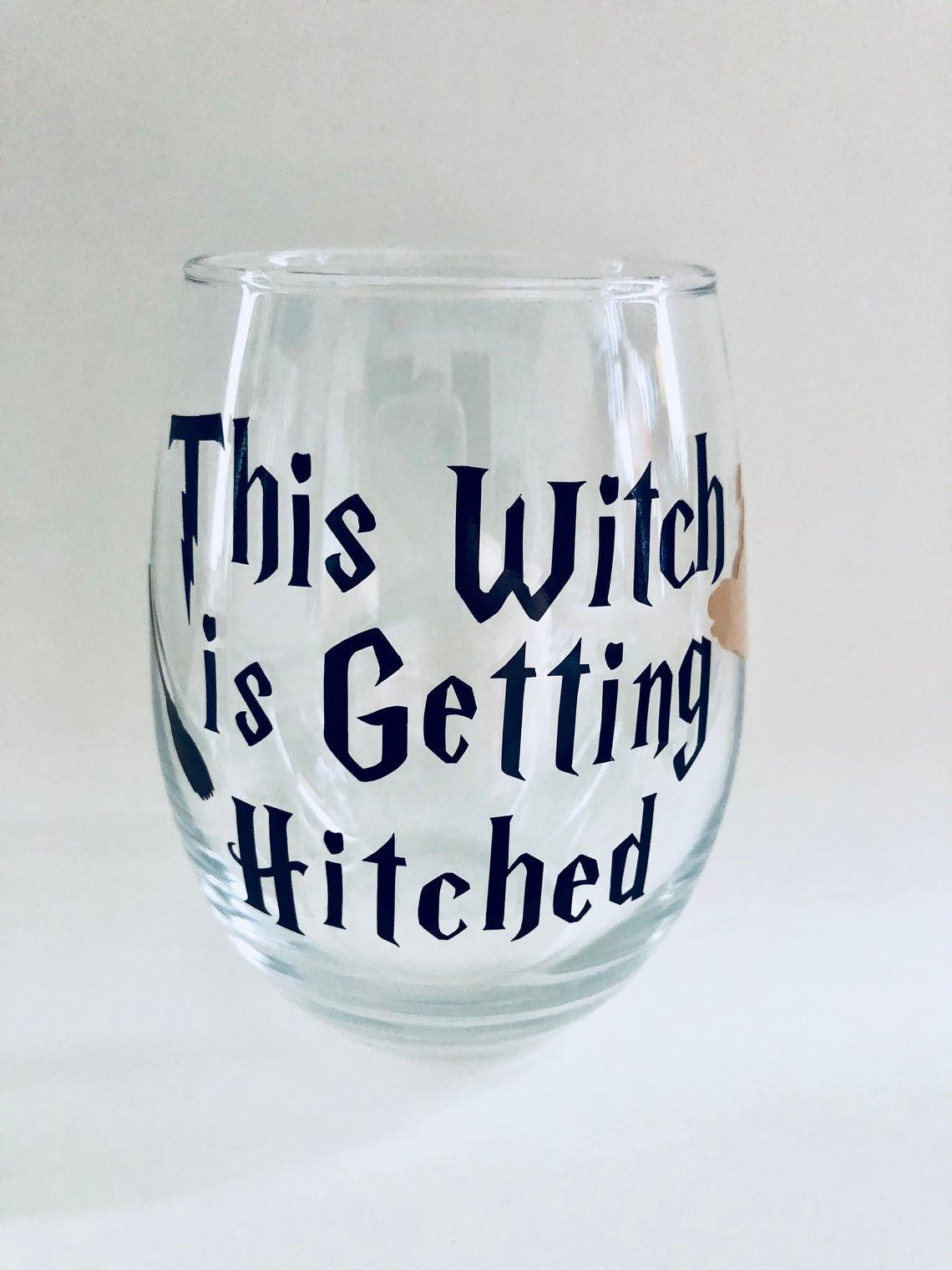 Once the party starts, greet the bride-to-be with a glass of her favorite wine served in this cute stemless glass that reads, "This witch is getting hitched." Broomstick and Sorting Hat motifs add to the Harry Potter theme.
Blissfully Chic Co. wine glass, $15, Etsy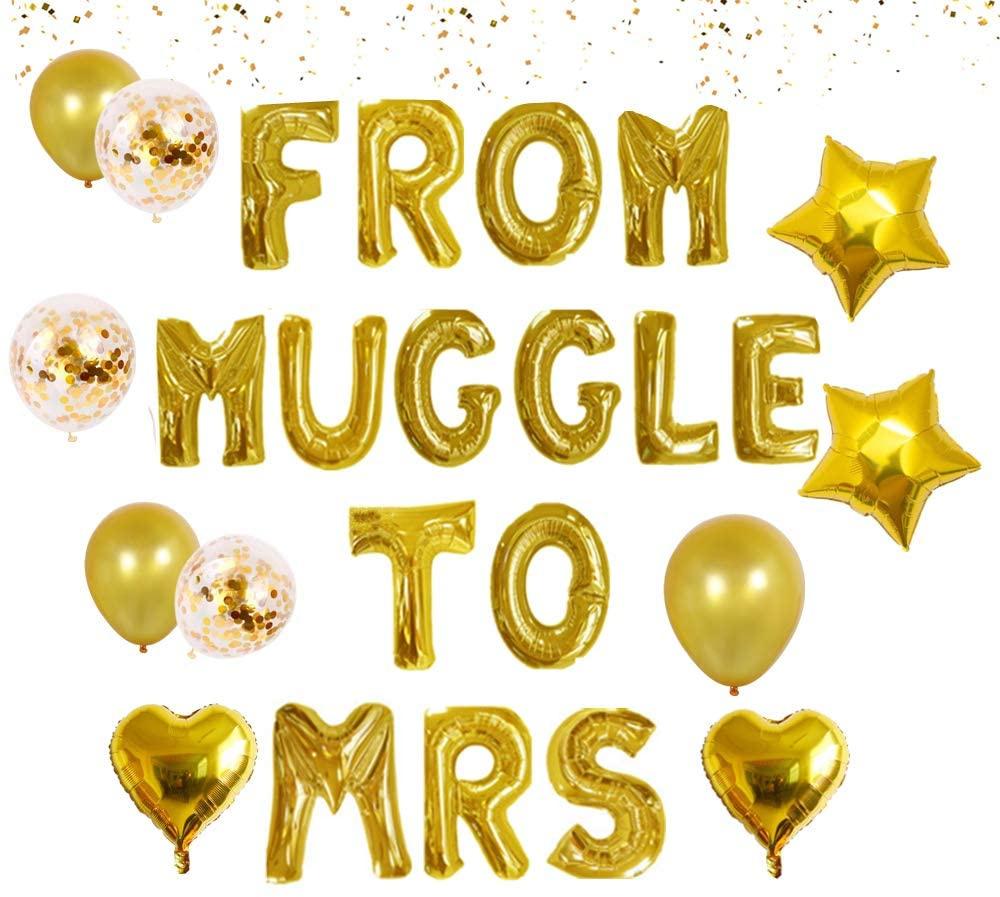 These gold letter balloons are an easy way to decorate any space, whether you're celebrating at home, a hotel, or a house you rented for the weekend. Use them as an accent above the table for drinks or food, or hang them on a blank wall for a fun photo backdrop.
LaVenty Store "From Muggle to Mrs." gold balloons, $13, Amazon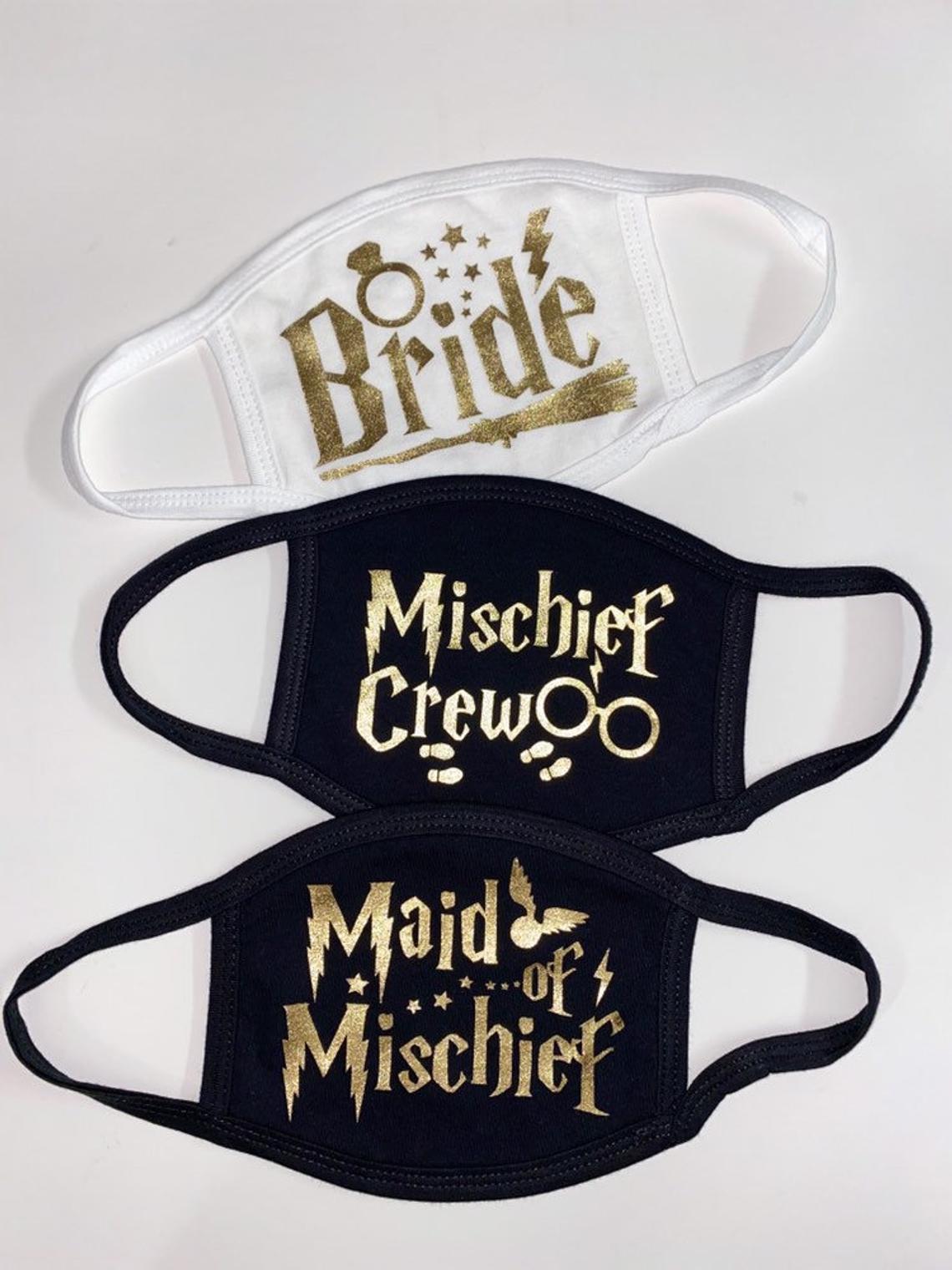 We're still in a pandemic, so no Harry Potter-themed bachelorette party would be complete without accompanying face masks. These masks are made from three layers of cotton and can be customized with silly quotes like "maid of mischief" and "we are up to no good."
My Party Tees face mask, $15, Etsy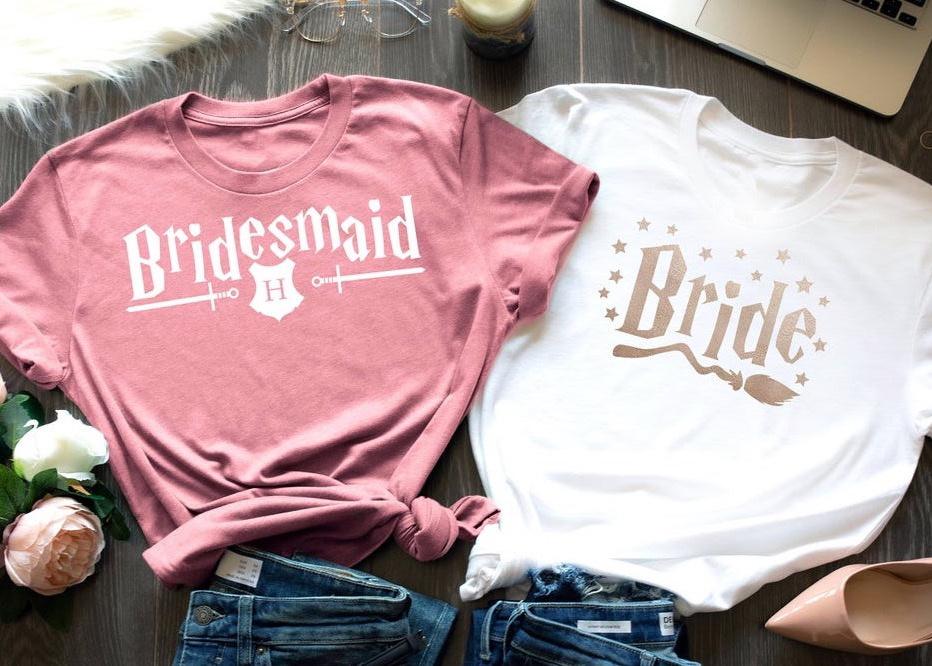 No matter your theme, cute t-shirts are another bachelorette party essential. We love these customizable tops—you can choose from dozens of different t-shirt and lettering color combinations, including glitter and metallics like rose gold and silver, or Hogwarts house colors if you're feeling extra-themed.
Quteez Harry Potter bachelorette party shirt, from $20, Etsy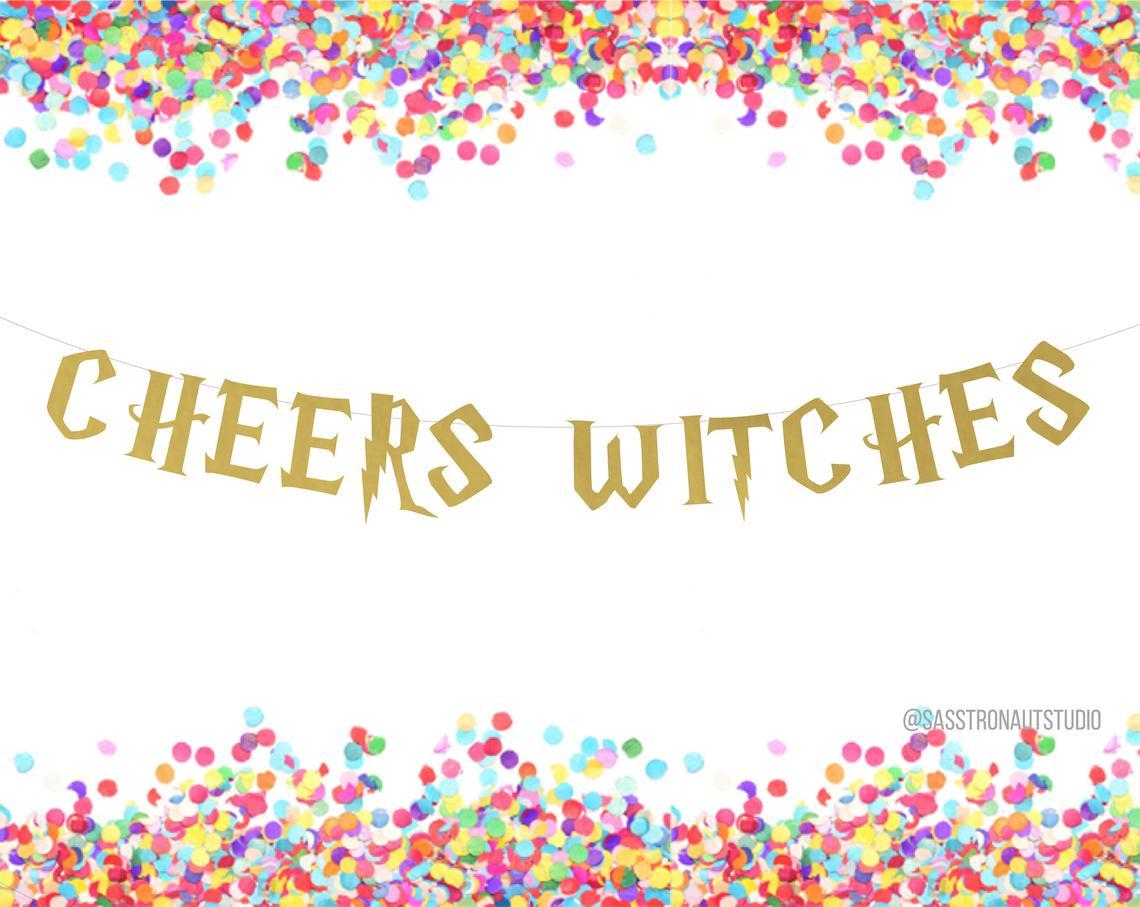 Grab your butterbeer and toast to the bride with this metallic gold "cheers witches" banner.
SP Company "Cheers Witches" banner, $19, Etsy
Use a life-sized Platform 9 ¾ backdrop to take your party decorations to the next level.
Chiazllta Platform 9 ¾ photo backdrop, $11, Amazon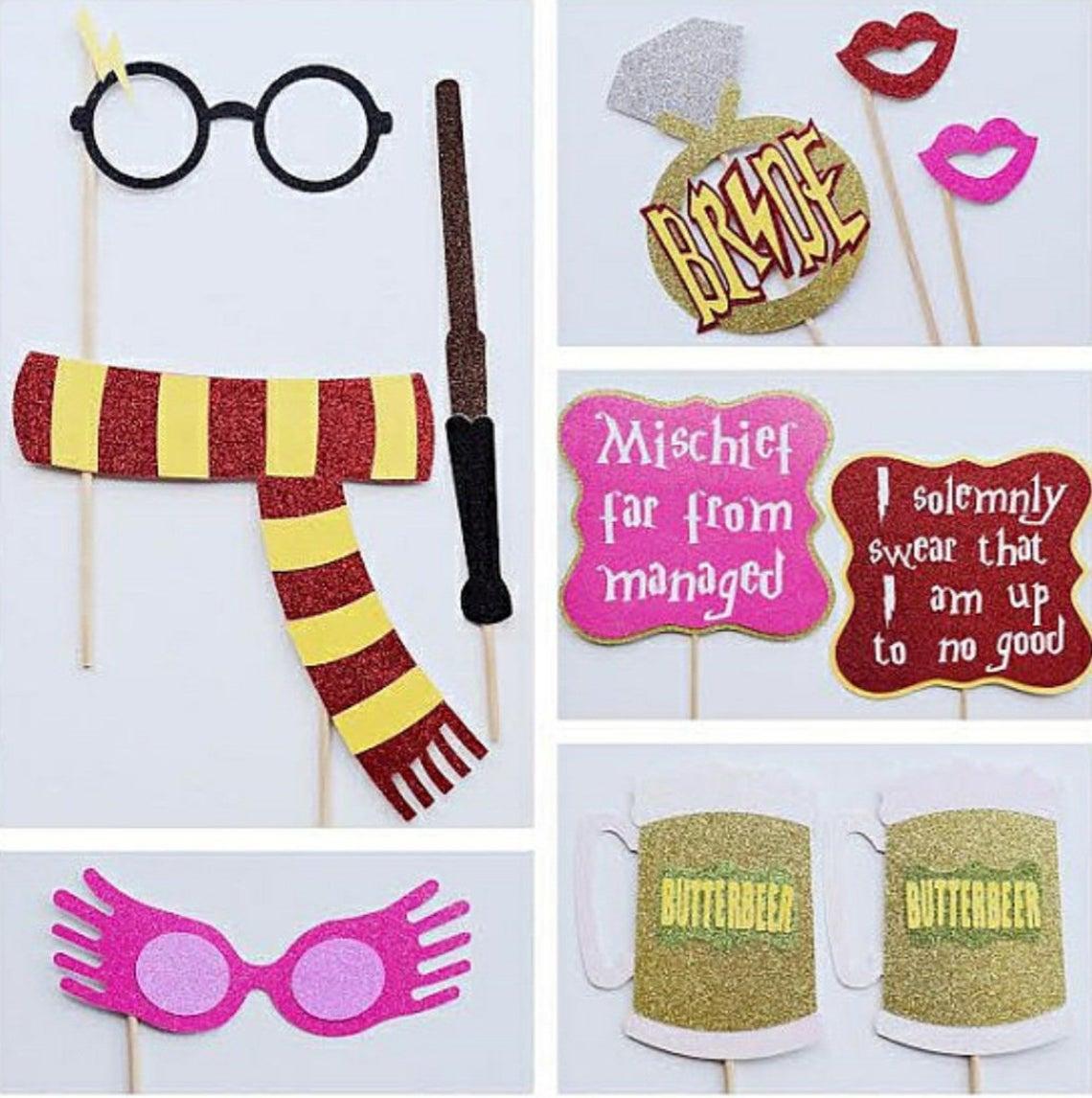 Keep everyone's selfies on theme with these Harry Potter photo booth props including Harry's glasses and lightning bolt scar, the Gryffindor scarf, butterbeer pints, and our personal fave, Luna Lovegood's Spectrespecs.
HM Creation City Harry Potter photo props, $37, Etsy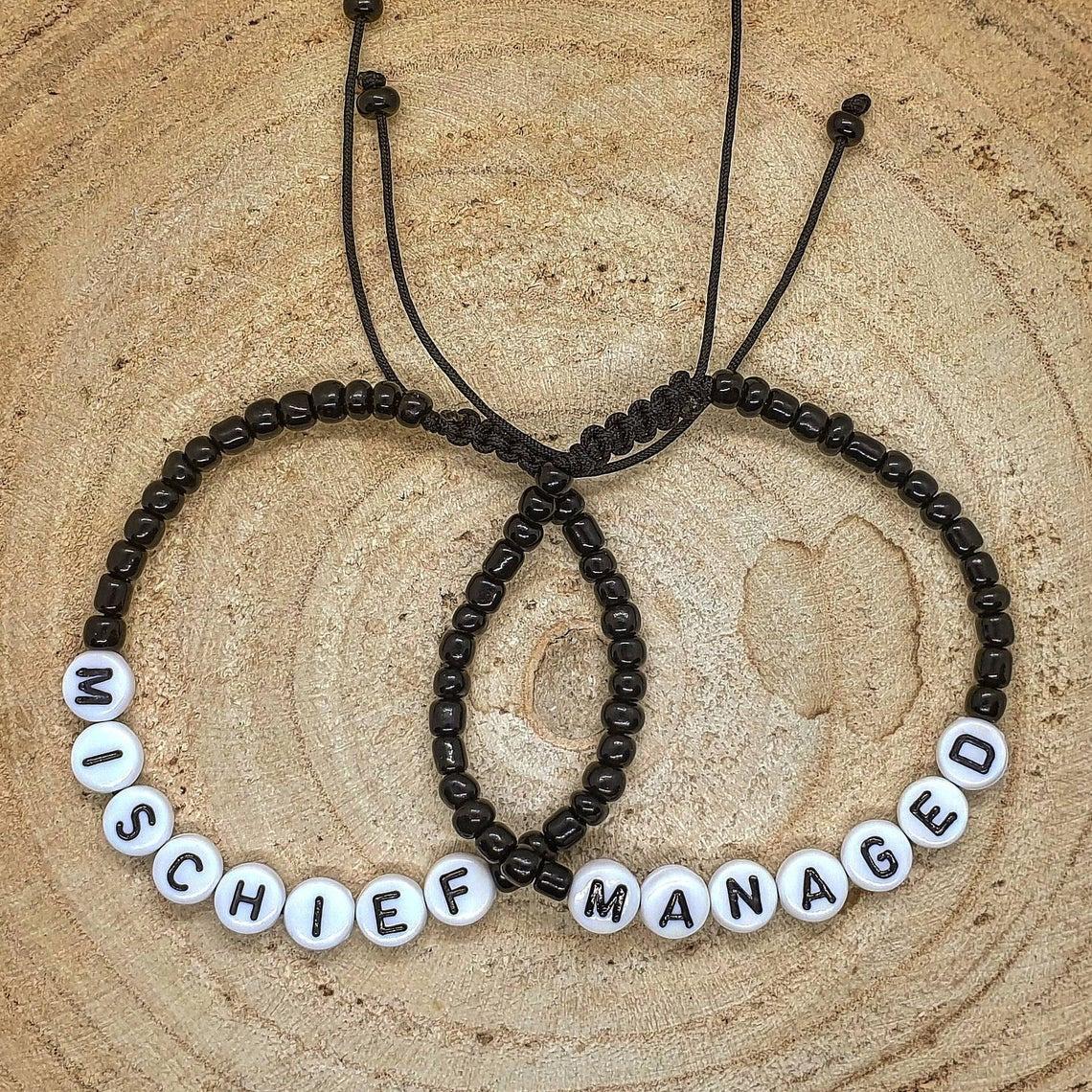 These cute beaded bracelets double as party favors that can be re-worn even after the bachelorette bash is over.
Glam Baby Jewelry "Mischief Managed" bracelets, $15, Etsy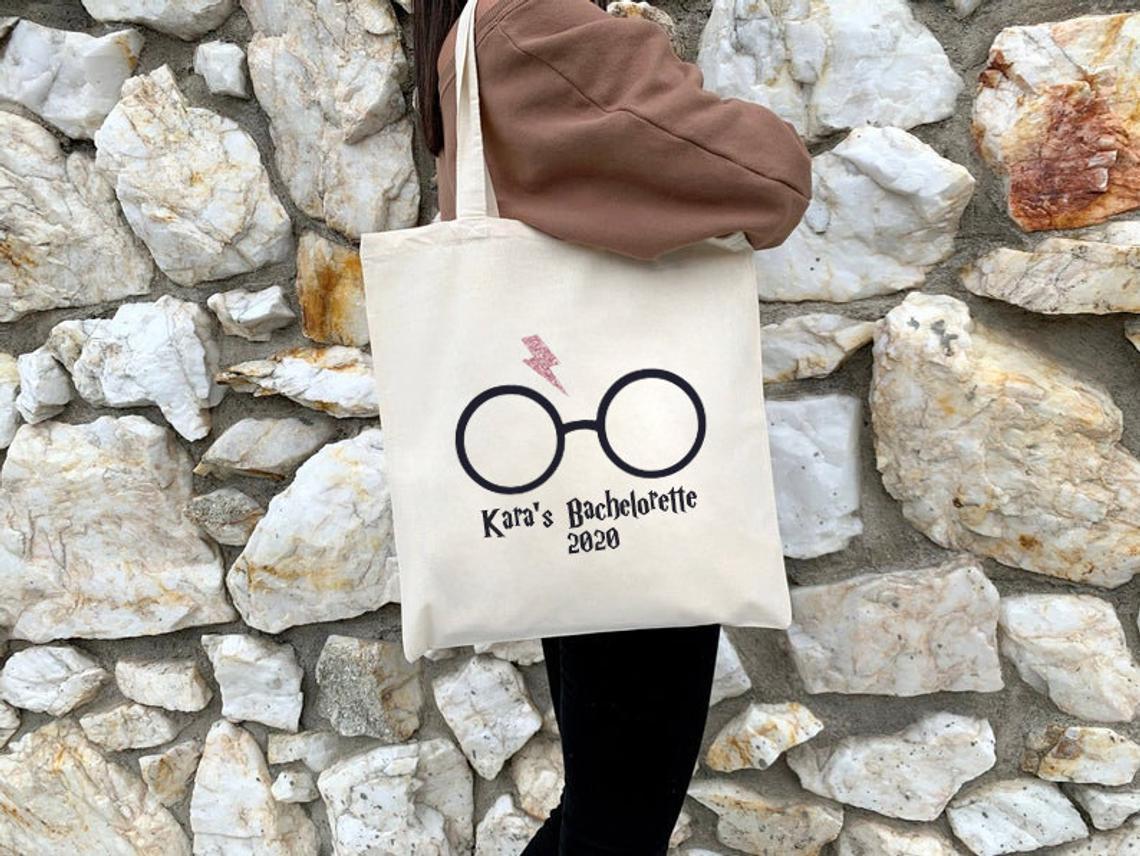 If you're handing out lots of swag for your Harry Potter Bachelorette party, give each guest one of these customizable totes filled with goodies.
Pressed Shop Harry Potter tote bag, from $7, Etsy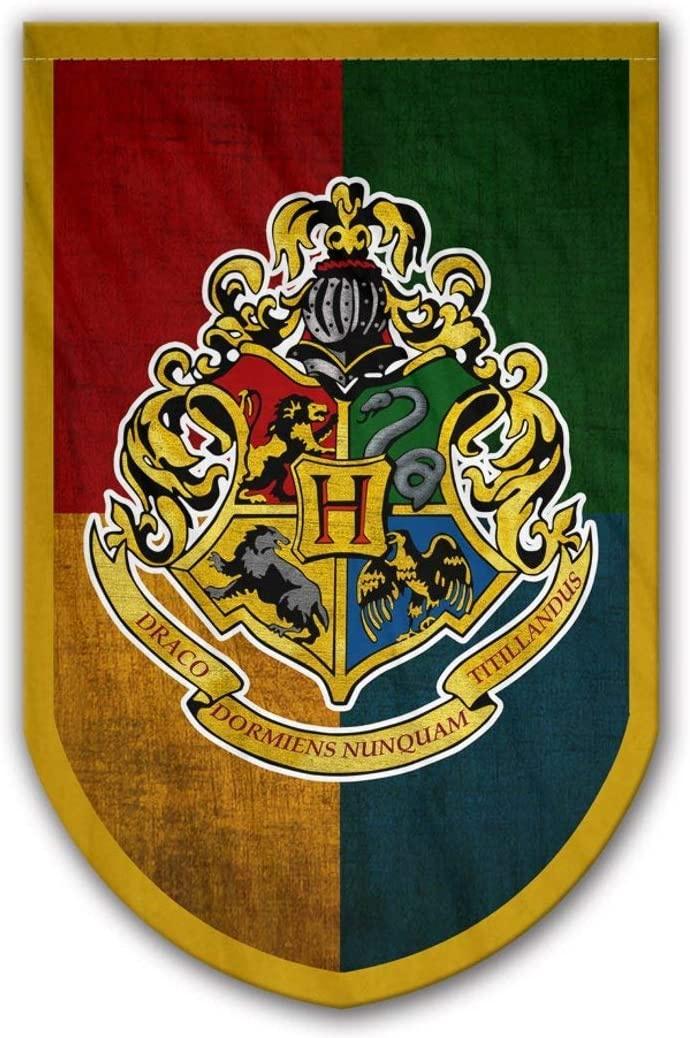 Need to spruce up your party space so that it feels on-theme? Throw in a Hogwarts banner (or two) for a quick fix.
Cussing Cups Hogwarts banner, $17, Amazon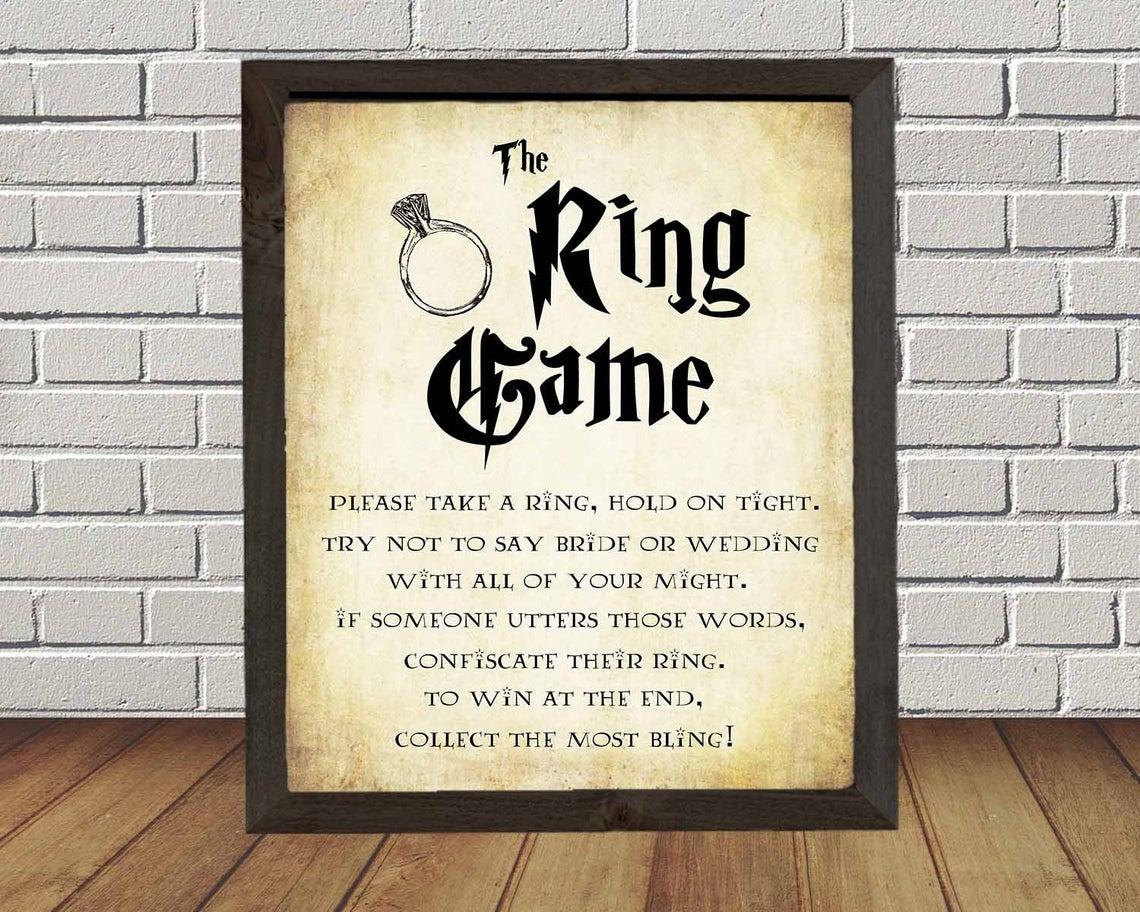 Play your very own version of The Taboo (from Harry Potter and the Deathly Hallows) with the ring game. The premise of this bachelorette party game: Everyone takes a plastic engagement ring shortly after the party begins. You're not allowed to say the words "bride" or "wedding" for the rest of the party—if you slip up, the person you were talking to at the moment gets your ring as their own. Whoever has collected the most rings at the end of the party wins!
Create IT Prints printable ring game sign, $4, Etsy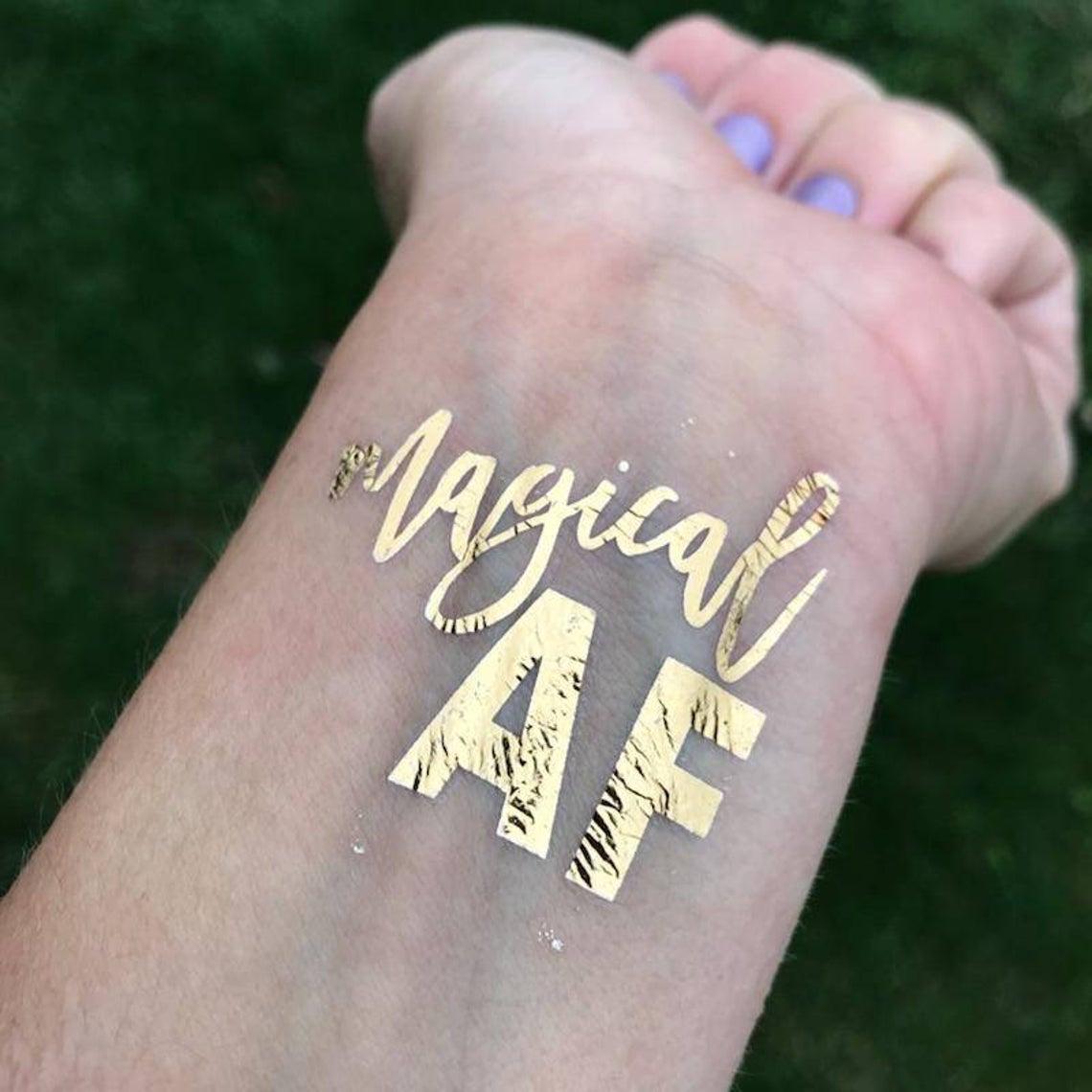 No Dark Marks here. This "magical AF" tattoo is a fun way to add some sparkle to your look before going out on the town.
White Rabbits Design "Magical AF" temporary tattoo, from $2, Etsy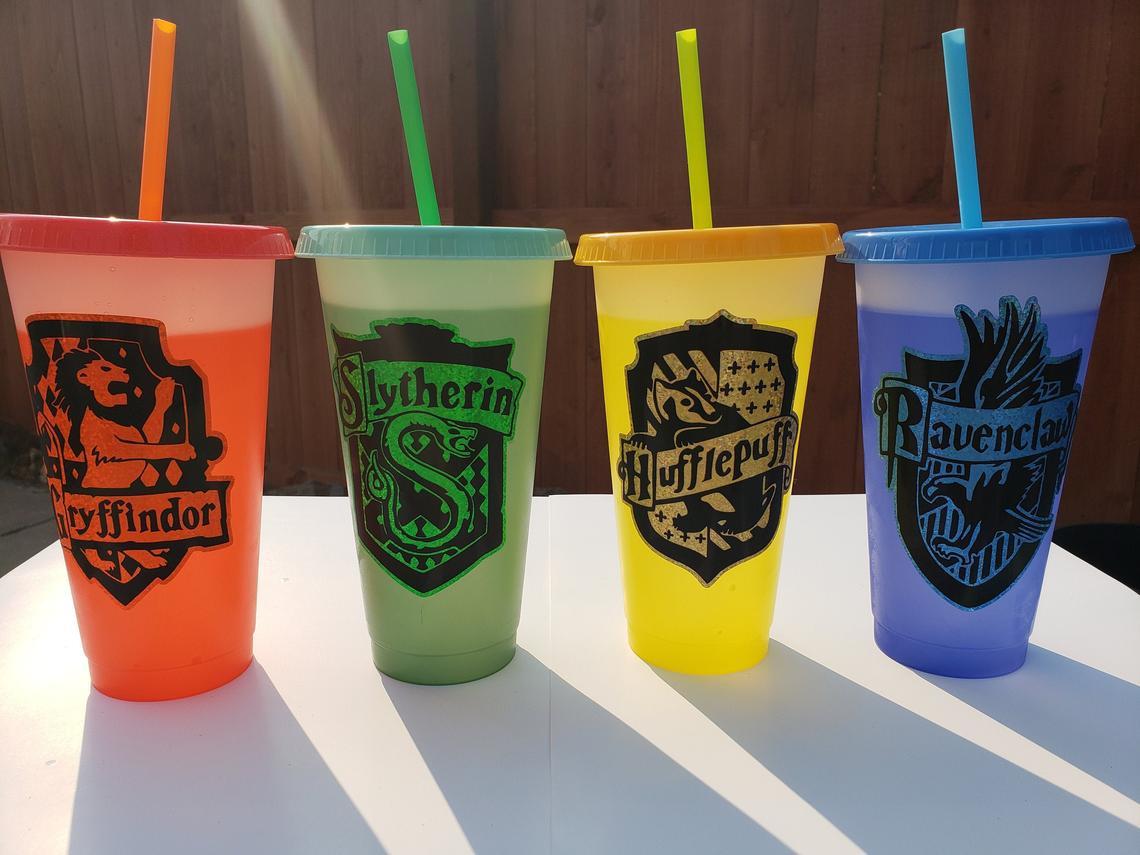 These Hogwarts-themed tumbler cups are perfect for lounging around the house or by the pool during your bachelorette getaway.
Honey May Designs reusable color-changing Hogwarts house cups, from $19, Etsy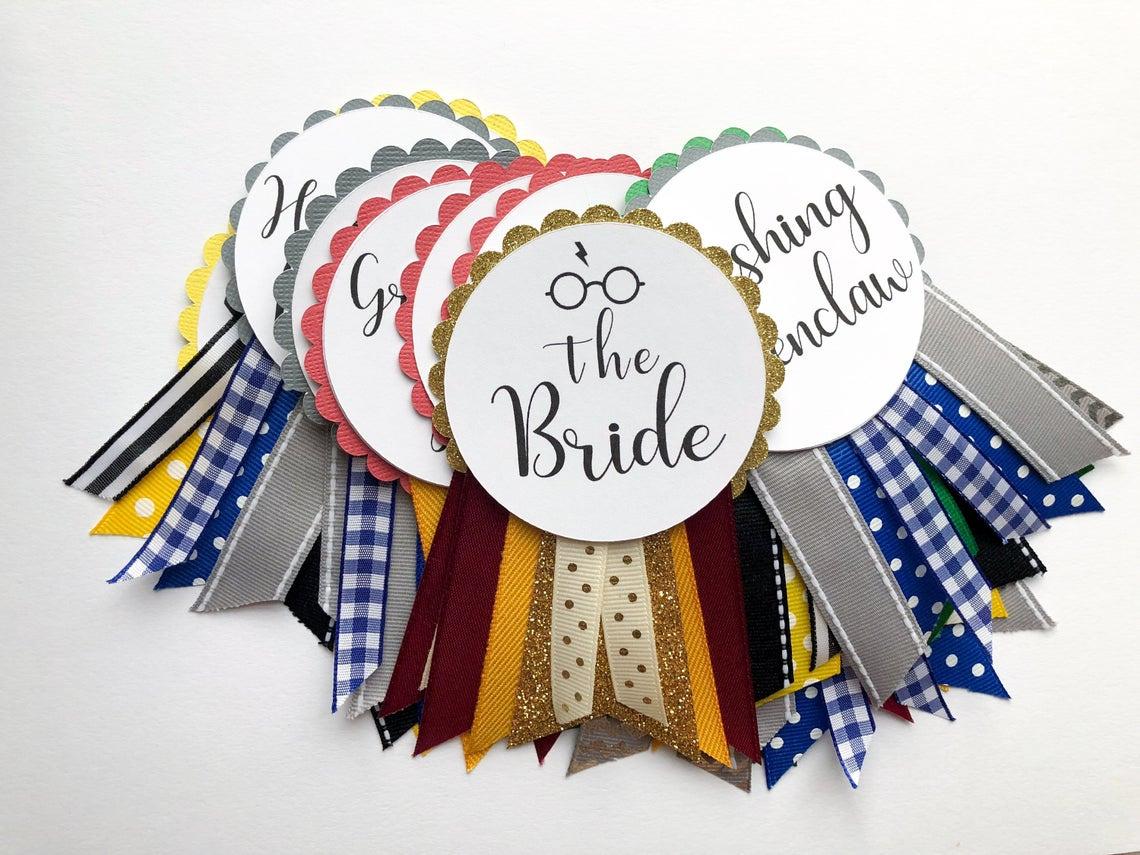 Whether you're in Gryffindor, Slytherin, Hufflepuff, or Ravenclaw, you can customize these bride and bridesmaid badges with colorful ribbons to match your house colors. They're like Prefect badges, but cuter.
The Brown Dog Design Harry Potter bachelorette party badge, $5, Etsy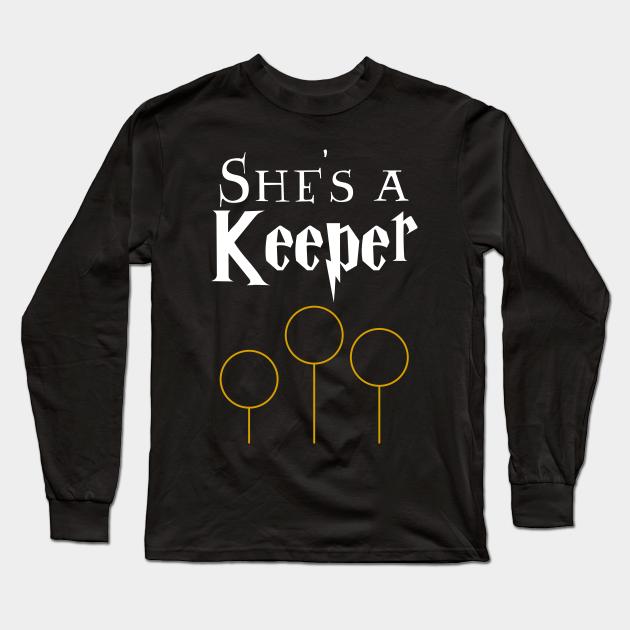 We're guessing that the bride's fiancé(e) will definitely agree: she's a keeper. Surprise your guest of honor with this cozy quidditch-inspired t-shirt that will remind her of her bachelorette party every time she wears it.
Fashions for Fans "She's a Keeper" long-sleeve shirt, $22, Teepublic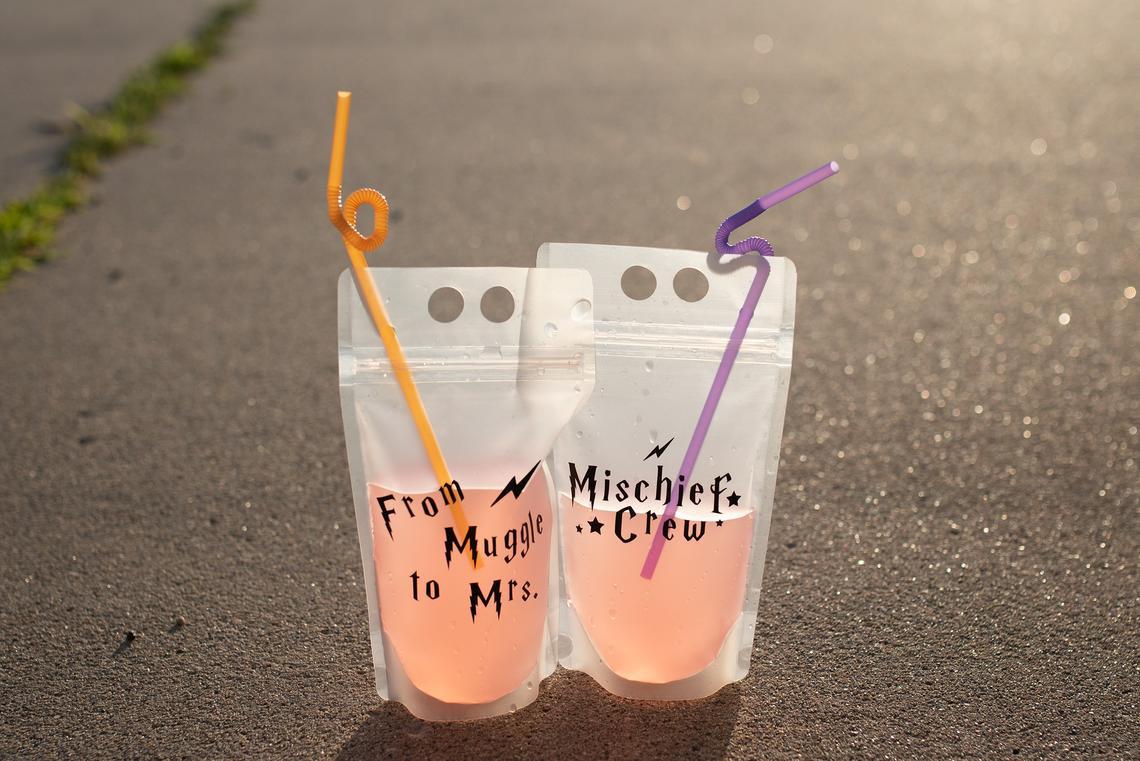 Accio wine. Whether you're sipping sangria, frosé, or something else, these reusable drink pouches are oh-so-cute, especially when you pair them with colorful crazy straws.
Crafty Corner Junky reusable Harry Potter drink pouch, $4, Etsy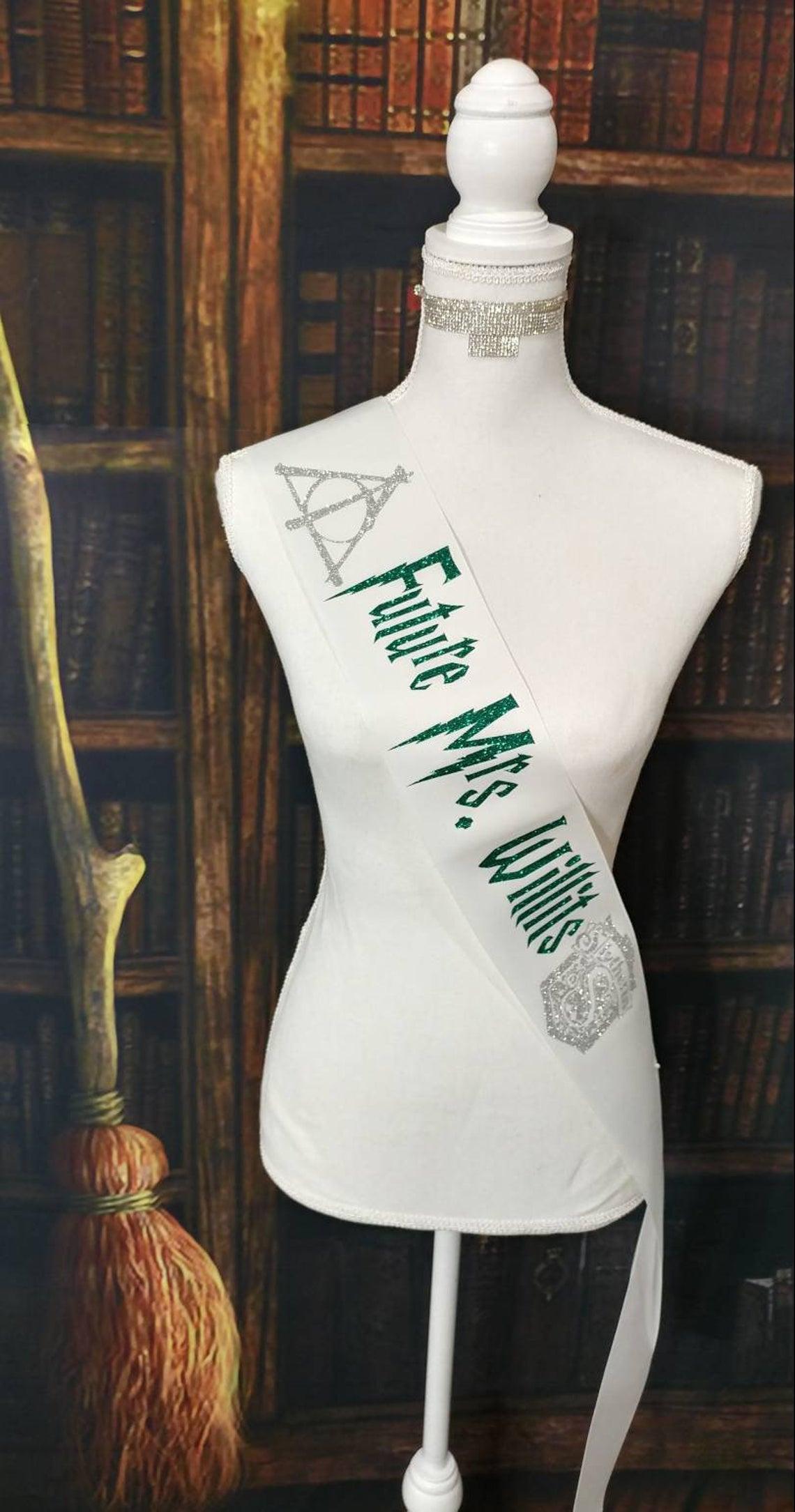 Make the bride-to-be feel extra special (or slightly embarrassed—it's a rite of passage!) with this bachelorette party sash that can be customized with her name and Hogwarts house colors.
The Vinyl Diva Harry Potter bachelorette party sash, $23, Etsy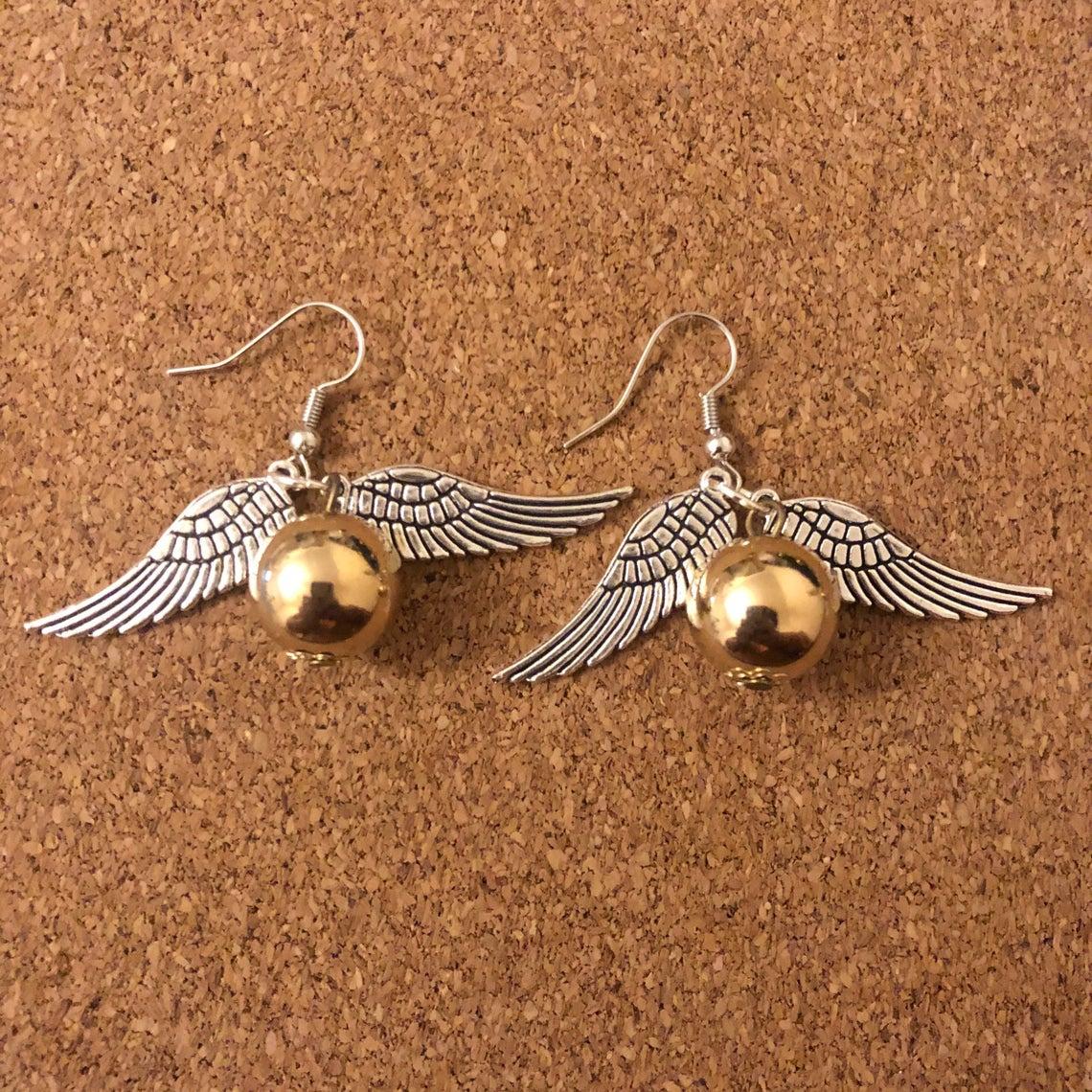 These adorable snitch earrings are a subtle and classy way to incorporate your Harry Potter theme at the bachelorette party.
Kizzlish Beauty golden snitch earrings, $13, Etsy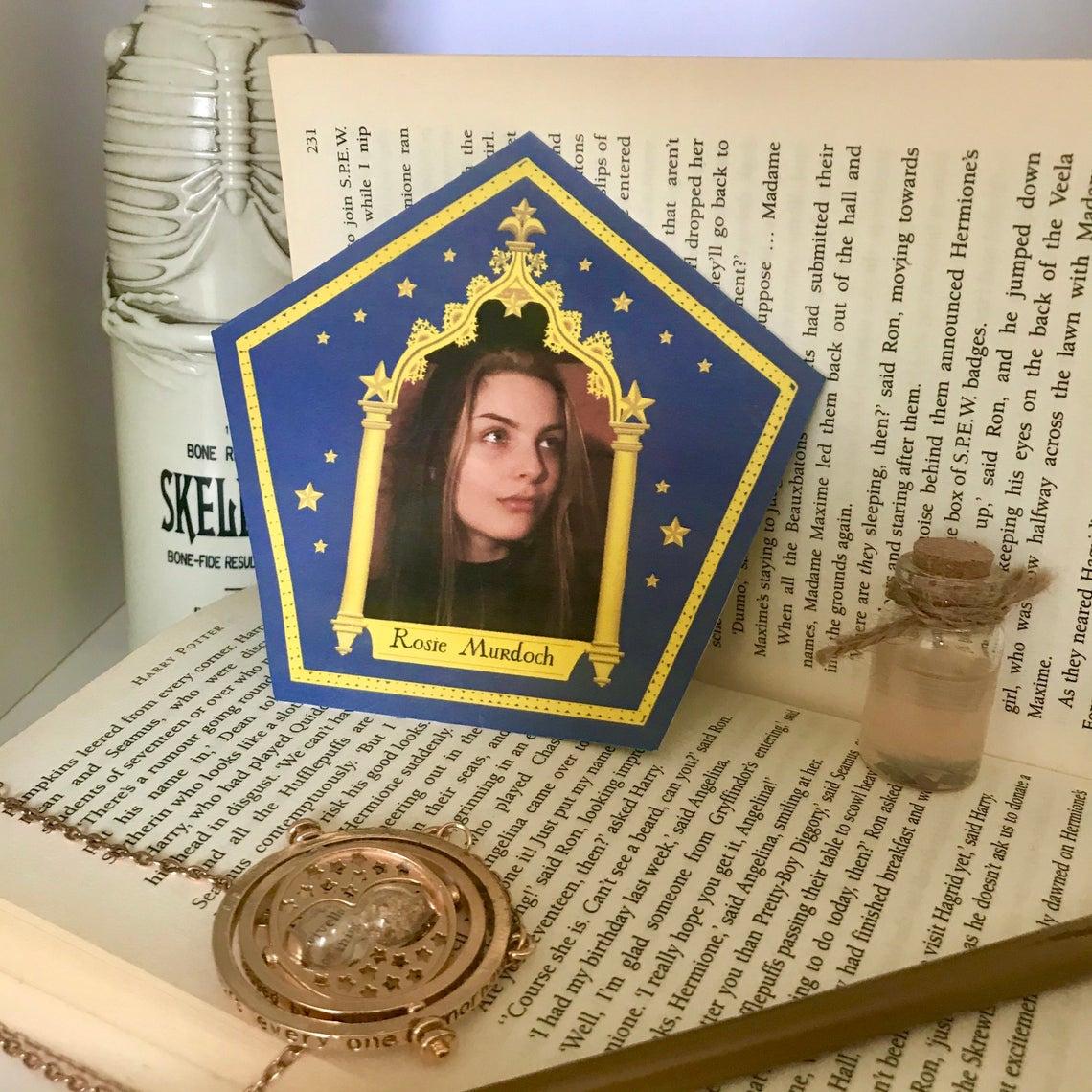 If everyone in your crew is a Harry Potter fan, these custom wizard trading cards are a cute keepsake for the bride and the bridal party.
Pheonix Felicis personalized wizard chocolate frog card, $8, Etsy