Why Getting Married Abroad is Hard in These 5 Places
Choosing a destination wedding location isn't just about picking the prettiest place—there are marriage laws to consider, as well.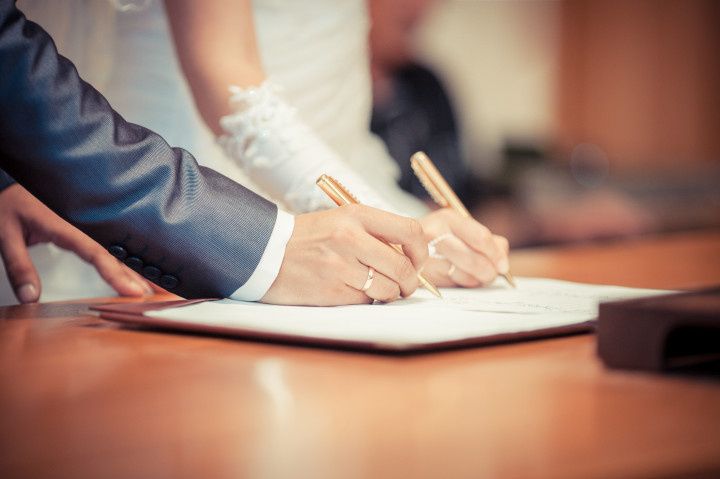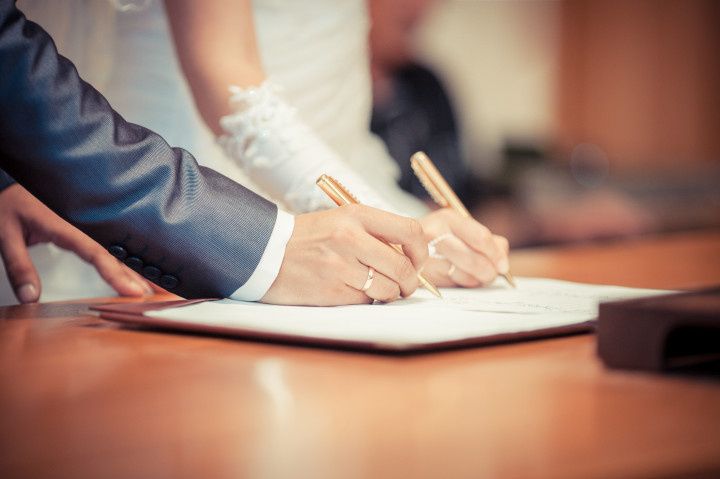 There's a reason destination weddings continue to be a go-to option for plenty of couples. Serving as an opportunity to escape from everyday stressors and responsibilities, getting married abroad not only provides picture-perfect scenery for wedding photos, but a vacation too. The one kink that engaged twosomes run into though is figuring out the legal jargon regarding making it official. While it is easy enough to figure out how to secure a wedding license in your state, once you leave the country, different rules apply. "Each country has their own process for documenting marriage, and generally there are additional legal requirements in the case of a destination wedding ceremony – especially if you're not a native citizen," explains founder of the Destination Weddings Travel Group Megan Velez. "This ensures that if you plan to go through measures to legalize your marriage in another country, it will also translate smoothly upon your arrival to your home country."
If you're considering getting married abroad, make sure to do your homework before sending out those save-the-dates:
Mexico
Whether you and your number one plan a barefoot beach wedding in Riviera Maya or decide to have a luxury affair in Los Cabos—the many corners of this country offer a romantic backdrop for getting married abroad. However, you might need to pack more than your wedding gown if you want to say 'I do'—or should we say 'Hago'? Velez explains the requirements vary by state, but some areas require everything from blood tests and chest x-rays to passports and birth certificates. And if you want to exchange traditional Catholic vows? You might need even more paperwork.
"Prepare to leave earlier in the week before your actual ceremony, as the blood tests and corresponding documentation have to be completed locally so they can verify authenticity. Usually, the time frame is expected to be three business days before the date of your legal ceremony," she suggests. And as a note, remember, Saturday and Sunday are not considered working days, and you'll be expected to bring along four witnesses with valid identification, she adds.
Same-sex couples will also need to research states within Mexico where civil unions are recognized before deciding on a venue. And regardless if you're heterosexual or homosexual, Mexico requires ceremonies to be conducted in Spanish by a judge and translated to English by a wedding coordinator, Velez says.
Costa Rica
There's plenty to explore in Costa Rica—from fascinating rainforest with monkeys and impressive flowers to black lava sandy beaches and some of the best coffee you'll ever sip on. But while the sunsets here definitely can't be beat, Velez encourages couples to keep a few housekeeping details in mind before getting married abroad in this Central America location. Especially if you and your partner want to marry in a church, she explains some areas require pre-marriage classes and extra paperwork to make it happen.
Following general documentation necessities, if a church wedding is a must-have, this can require pre-marriage classes and extra paperwork on your end. As a country, Costa Rica only recognizes Catholic priests as religious officiants—with a few caveats. You'll need the standard two witnesses present, but you can't be closely related to them. "This means no first cousins, great-grandparents, and so on. This shouldn't be much of an issue if you're bringing along a wedding party for the ceremony, as an unrelated best man and maid of honor would suffice," she explains.
Bahamas & Jamaica
Since it's not too far from the states—via plane or boat—both the Bahamas and Jamaica are some of the most popular wedding destinations in the Caribbean. Even so, that doesn't make it easy-peasy to set up your wedding. Much like other countries, you'll need the regular necessities, like a valid passport stamp. Velez notes it's important to arrive at least 24 hours before the big day to avoid an additional fee. Sailing in? You'll need the ship's purser or guest services to prove you've been drifting in Bahama waters for a day, too. Along with your 'Mrs' sun hat—pack two witnesses with you, too.
One big difference between the Bahamas and Jamaica though, pertains to your marriage history. As Velez explains, "If you're single and haven't been previously married, you'll need a declaration of that fact. This can be sworn before a notary public. Those that are divorced or widowed are required to bring documentation, such as a final divorce decree or a death certificate of the deceased spouse." In the Bahamas though, you don't have to prove you're single, while you do in Jamaica.
And, if planning any type of wedding seems stressful to you—hence why you're venturing to tropical oasis—Velez, Jamaica is an easy, no-brainer choice. Since Jamaican law dictates marriages that take place on their soil are recognized in the United States, it's a more seamless process. Your greatest hurdle will be contacting a wedding planning via the Registrar General's Department two weeks before the ceremony with proper paperwork two works before you kiss at the altar. Velez explains this includes birth certifications, photo ID, occupations of you and your spouse and of course, fees.
Europe
Though eloping to Europe is far less common than tropical destinations, plenty of couples dream of an Tuscan-inspired Italian wedding or a picture-perfect sunset in the South of Spain. Here's the most important piece of advice to follow: do your homework. While the majority of countries within the European Union allow and welcome engaged foreigners, the red tape looks different if you're in Czech Republic or Portugal. For nearly all regions, you'll need to have a birth certificate, passport, divorce papers, death certificate for widows and proof of a name change if it applies to you. Others might also require a certificate of 'no impediment to marriage' (aka, no reason why you can't say 'I do' in writing), an apostille stamp, or a sworn affidavit that you're single—and eligible for marriage.