Got an Awkward Gap Between Your Ceremony and Reception? Here's What to Do.
A gap between your ceremony and reception can feel like a bummer, but it can actually be a great opportunity to extend your celebration. Here's how.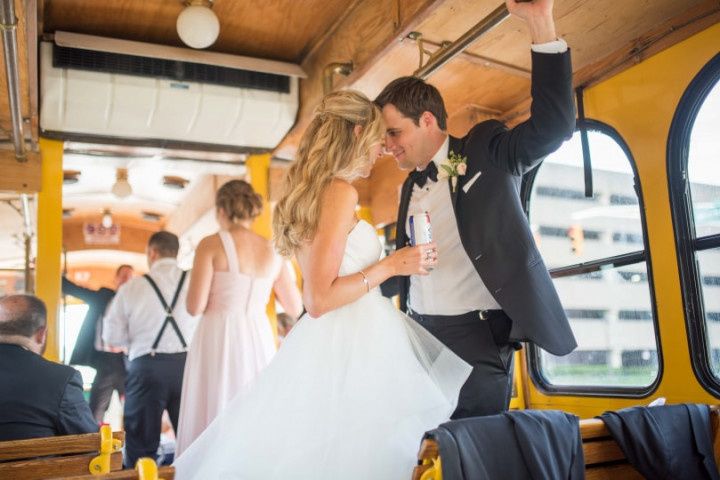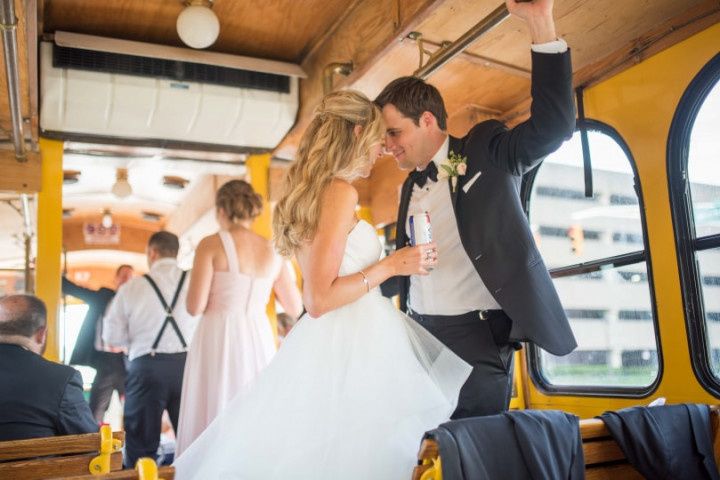 When to comes to ensuring that your guests have a great time at your wedding, timing is everything. And if you have a time gap between your ceremony and reception, it can feel like the whole day's schedule is awkwardly thrown off. Not to worry—turns out that having a gap between the ceremony and the reception is pretty common, especially at Catholic weddings that include a full mass and usually start earlier in the day. The big question is: What can you and your guests do to fill the time between the exchanging of vows and the big party?
Here are some ideas for what to do during a gap between your ceremony and reception.
Keep the gap as short as you can.
If your ceremony must start early in the day for religious reasons, but you want an evening reception, you will likely end up with a time gap between your ceremony and reception. We usually recommend that these time gaps last no longer than 60 to 90 minutes to avoid breaking up the flow of the wedding, but that isn't always possible. However, if there's a way to move up your reception to an earlier time to shorten the break, go for it. Long breaks between ceremony and reception can be a major guest pet peeve, so even if you're not a huge fan of a mid-afternoon reception, it may be worth it to keep your loved ones happy.
Organize a group activity.
One of the best ways to keep your guests busy during a gap between the ceremony and reception is to plan an activity, like a trolley tour of the city or a group visit to a local museum or garden. This is an especially good idea if you're hosting a lot of out-of-town guests who might be at a loss when it comes to figuring out what to do during the break. Provide transportation from your ceremony site to the activity and then to the reception afterwards, and be sure that snacks and drinks are included (no one wants hangry guests!). Your guests will appreciate your forethought and the activity will only add to the fun of your wedding day.
Provide activity ideas for your guests.
If a pre-planned activity is not possible, provide your guests with suggestions of things they can do during the gap between your ceremony and reception. These can include some of your favorite landmarks, museums, parks, and restaurants that are hopefully within walking distance to the hotels where most of your guests are staying. Print out a list of activities (you can be as creative as you want!) and include it in the welcome basket or have it available for your guests as they leave your ceremony. Your out-of-town guests especially will love having a plethora of ideas and can spend the time doing activities that interest them.
Host a "mini reception."
It's the "party before the party"! If a majority of your guests are staying at the same hotel, consider hosting a mini-reception at said hotel before the actual celebration begins. Most hotels have party rooms, bars, or restaurants where you can provide light snacks and beverages so your guests can mix, mingle, and get in the mood to party. Another option is to host a mini-reception at your ceremony location (in a church basement or backyard, for example) immediately following your "I dos". Then, provide a shuttle to transport your guests to the reception so that everyone is on time for the big party. Yes, these are added expenses, but will certainly help keep the mood up as you head into the reception.
Take your family and wedding party portraits.
The most obvious way for you and your new spouse to spend a gap between your ceremony and reception is to take portraits, both as a couple and with your family members and wedding party. Looking on the bright side, a long break between ceremony and reception means that you, your crew, and your photographer have the time to take photos at different locations, from a scenic park to your favorite spots in the city (make sure you have transportation for the whole crew to get from place to place!). You also don't have to do a first look before the ceremony if you don't want to, since you'll have plenty of time for portraits during the break.