Catholic Wedding Vows 101
If you're planning a Catholic wedding ceremony, you'll need to know what you can and can't do with your wedding vows.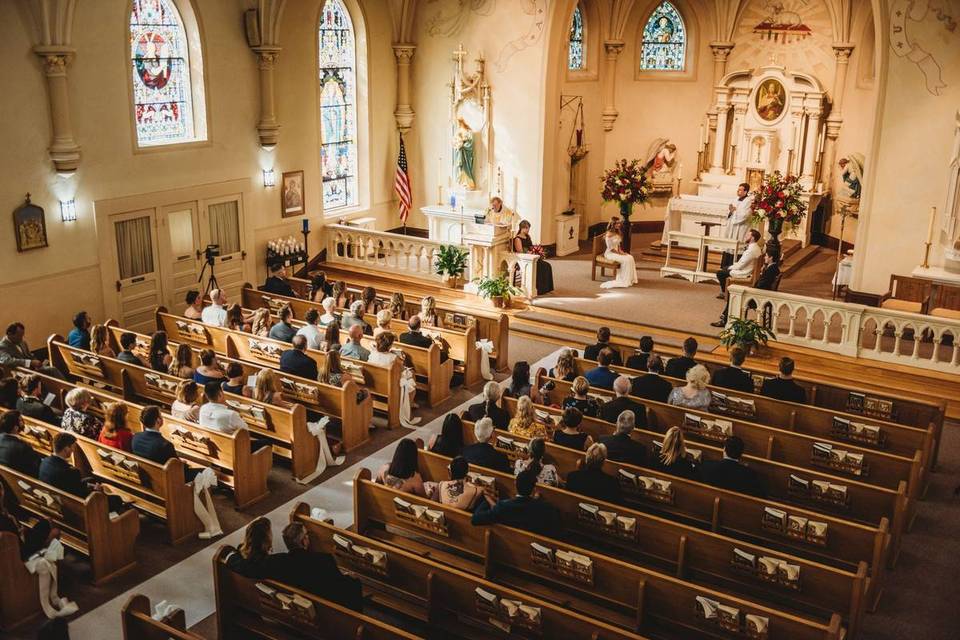 Whether you were reared in Catholicism or converted to the religion for your partner, you know that marriage is one of the most important events in the life of a Catholic and one of the seven sacraments of the Church. As such, Catholic wedding vows are part of a larger liturgy officiated by an ordained priest or deacon within a traditional wedding ceremony.
Here's what you need to know about Catholic wedding vows as you plan your ceremony.
What are Catholic wedding vows?
There are two sets of American Catholic wedding vows approved by the Vatican, and you can work with your priest to determine the best fit. The vows are:
I, (name), take you, (name), to be my wife/husband. I promise to be true to you in good times and in bad, in sickness and in health. I will love you and honor you all the days of my life.
I, (name), take you, (name), for my lawful wife/husband, to have and to hold, from this day forward, for better, for worse, for richer, for poorer, in sickness and in health, until death do us part.
When do I say Catholic wedding vows?
Your officiant will be a resource for you in creating a ceremony schedule, but in general, vows are said during the celebration of marriage in a Catholic wedding mass. The priest or deacon will ask you and your partner a series of questions, to which you'll answer yes, before beginning the vows. The questions are:
"(Name) and (name), have you come here freely and without reservation to give yourselves to each other in marriage?"
"Will you honor each other as man and wife for rest the of your lives?"
"Will you accept children lovingly from God, and bring them up according to the law of Christ and his church?"
Personalized wedding vows are almost as common as standardized vows. According to WeddingWire's Newlywed Report, 39 percent of couples write their own vows. However, Catholic wedding vows are part of a liturgy that's administered by the Pope, and adhered to by Catholics around the world. Technically, engaged couples, priests and others don't have authority within the Church to change the approved wedding vows. You may have attended Catholic weddings that have deviated from the script, even if by a word or two, but this practice is discouraged.
Though your officiant will likely insist on you picking one of the approved Catholic wedding vows, there are other ways you can make sure your wedding ceremony reflects you as a couple. Working with a family priest is a great way to guarantee the homily is personal to you. Also, you have the option to add important readings, cultural traditions and music to your Catholic wedding ceremony. You can also prepare a few things to say to your partner at your wedding reception, if you wanted to add to the vows experience.
What else can I expect from my Catholic wedding ceremony?
Your wedding will likely take place within a Catholic wedding mass, which includes many of the Sunday service components (like music and communion) along with the celebration of marriage. Your ceremony must take place within a Catholic church, but the reception location is all up to you!