The Pros and Cons of a Family-Style Wedding Dinner
Considering a family-style wedding dinner? Here's everything you need to think about before choosing this unique serving style for your reception.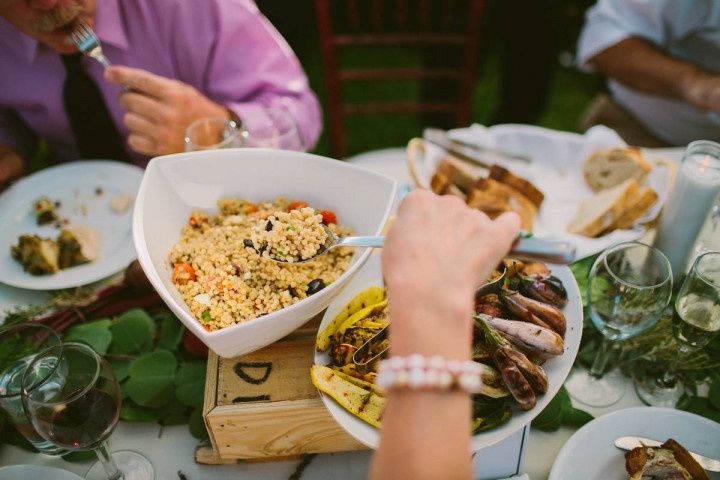 According to a recent WeddingWire study, one of the top things wedding guests remember about a reception is the food. That's likely why planning your dinner service can feel like a lot of pressure. And while you might have a hard time deciding between a buffet or passed entrees—the most popular dinner service options for weddings—a family-style wedding dinner is a third option that's absolutely worth pursuing.
Read on for the pros and cons of a family-style wedding dinner, and you might just find planning your reception dinner to be a little bit easier.
Pro: It brings guests together.
Probably the best part about serving a family-style wedding dinner is that it makes your guests feel like, well, family! Reception tables can be a little awkward, especially for those guests sitting next to people they've never met. But passing platters and serving seconds across the table with one another is a great way to inspire conversation, warm things up and break the ice. It sounds simple, but it's true—the act of physically sharing a meal with someone makes getting to know them so much easier. I'm not going to say that family-style wedding dinners will lead to a more populated, less inhibited dance floor, but it's highly possible.
Pro: It's more affordable than passed courses, but more elevated than a buffet.
Family-style wedding dinners are a great value, because you get all of the appeal of food served at the table without having to pay for a full-service wait staff. It's intimate and luxurious for your guests, but at way less of a cost to you than hiring all the manpower needed to plate and serve 150 dishes. And since everyone has everything they need right at their table, you'll have less to plan and pay for logistically (like being super-stringent about your seating arrangements, having enough staff to deal with guest requests, etc.).
Con: It's not great for guests with food allergies.
Today more than ever, food allergies are a real issue and quite pervasive. It's likely that there will be at least one guest, if not a handful, on your list that will be gluten intolerant, allergic to nuts, or dairy free. Serving passed entrees is a really smart way to ensure those food-sensitive guests can enjoy their dinners safely, without the risk of cross-contamination, while serving dinner family style is probably the least effective way to keep your these guests safe (because of all the shared serveware). To provide for these guests effectively, it may be worth working with your caterers to develop entirely separate meals for them and serve them exclusively a complete, allergy-free plated meal. This will be an extra cost on top of your family-style wedding dinner, but it's worth it for your loved ones.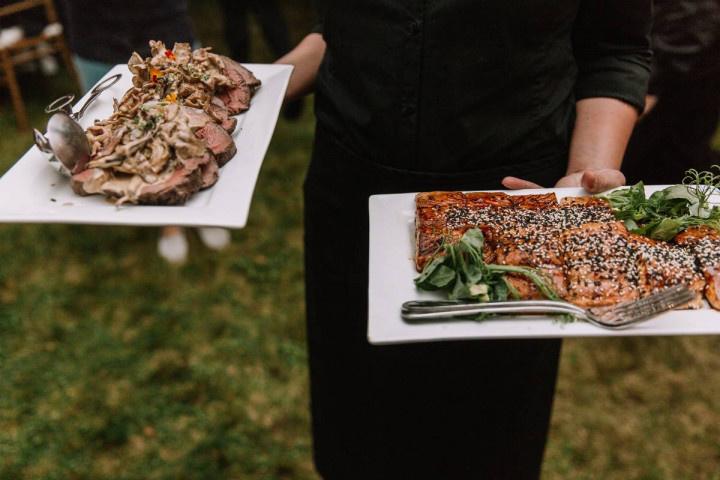 Con: There may be more waste.
For family-style service, you'll need to order large quantities of food, as with a buffet. But unlike with a buffet, you'll need to order a little more than you need for every table, rather than for just one buffet table. This could result in some not-insignificant waste, as it's always better to have a little too much food at your wedding than not enough. To curb the bad vibes of trashing pounds and pounds of your delicious wedding food, set up a stack of to-go containers and bags (extra points if they're brandished with your custom wedding monogram!) near the exit of your venue so that guests can take home leftovers with them. Another option would be to arrange donation of your wedding food to a local charity beforehand, and have a plan set up to get your leftover food there as soon as dinner wraps up, so it arrives hot and fresh to people in need, rather than going directly into a trash can.
Pro: It's memorable.
Family-style wedding dinners are still quite underutilized for receptions, with most couples opting for passed entrees or buffet service. Choosing this unconventional option will give your wedding that much more style and uniqueness, and will give guests the sense that you really thought out the overall experience at your wedding, rather than just going through the motions and opting for something conventional. It's just one more way to give your big day that special touch that sets it apart from the pack and that guests will remember for years to come.
Con: You'll have to think about serveware.
If you're putting a lot of thought into your tablescapes (which, who doesn't?) opting for a family-style wedding dinner will add a few more boxes to your checklist. You'll need to rent additional serveware items that you wouldn't have to think about if you opted for a different dinner service style, so keep that in mind. These platters, bowls and serving utensils will live on your tables throughout your entire dinner service, and will likely be photographed, so you'll have to spend extra time (and money!) picking out items that fit with your overall theme and design concept. If your budget is tight, or you're absolutely sick of making design decisions for your wedding reception, family style service may not be the best choice for you.