How to Plan a European Honeymoon on a Budget
If a trip to Europe is on your bucket list, these expert travel tips will help you plan the ultimate European honeymoon on a budget. Check out our ultimate travel guide.
We have included third party products to help you navigate and enjoy life's biggest moments. Purchases made through links on this page may earn us a commission.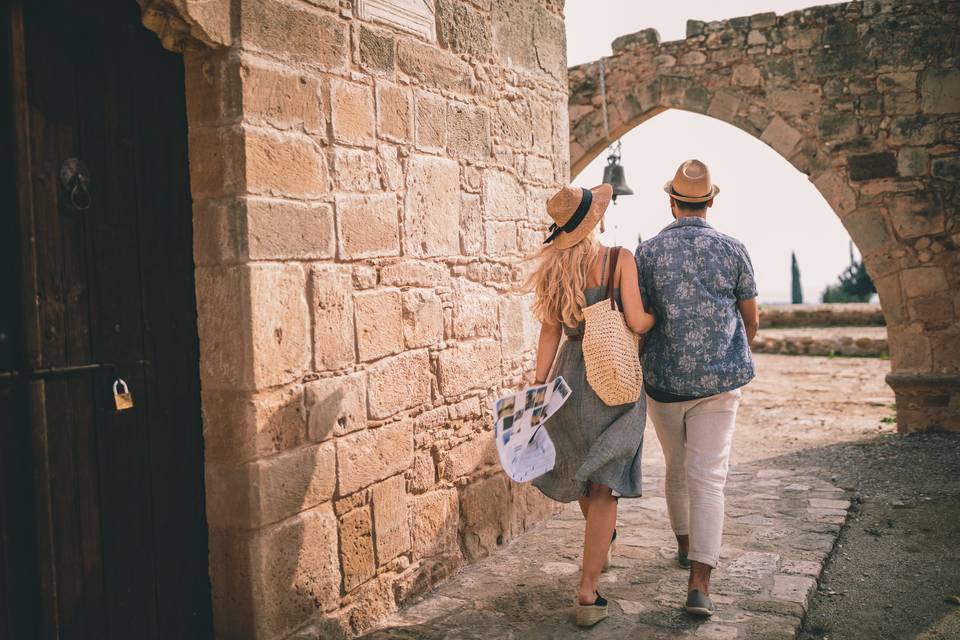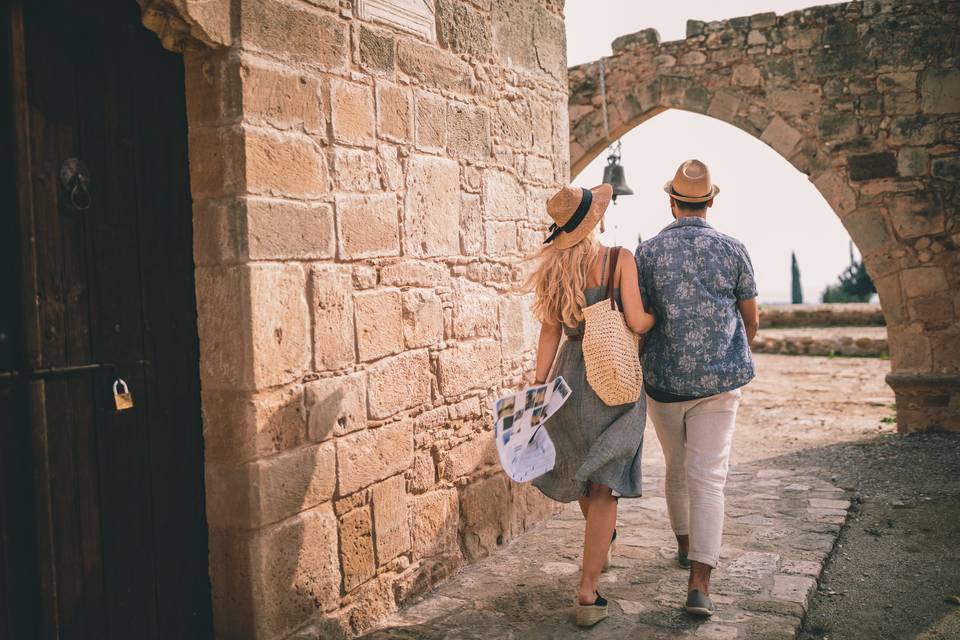 After a year of taking it slow, hibernating inside, and attempting to maintain sanity during the pandemic, the world is gradually beginning to open up. Whether you postponed your nuptials or you're wedding planning for the first time, you may be considering a European honeymoon. After all, there's so much romance to consider: the winding vineyards and wine tasting experiences of Tuscany and Florence, the jaw-dropping seasides of Santorini, Greece; Split, Croatia; or San Sebastian, Spain, or even the cobblestone streets of Prague or Vienna. There's no shortage of ways to celebrate the start of your marriage visiting European destinations — but many of these picturesque experiences cost a pretty penny. Also, it's vital to read the fine print, as many airlines, hotels and European countries have specific mandates. Here, a guide to planning your European honeymoon on a budget in 2021, 2022 — and beyond.
First: research before you book.
In mid-May, the European Union announced they would reopen to vaccinated Americans in the summer. Of course, this resulted in joyful cries of excitement from those eager to use their dusty passports again. However, it has also caused confusion since the rules vary from one country to the next. A helpful way to think about it is to compare the EU's role to the federal government in the United States. They can make recommendations for states on what to do in certain situations, but it is still up to each state to set its standards. The same is true for countries within the EU: they can decide if they want to open to vaccinated Americans (or any other nation) or not. So far, many have announced their reopening plans, including Greece, France and Spain. But many have not, so double (and triple) check before you book anything. The beginning of your first trip as a married couple shouldn't be full of disappointment if you're denied entry at a border. Instead, plan for what you know, pick the perfect destination, and savor being newlyweds.
Book now, even for 2022.
The summer of 2021 is still a hit-or-miss time to travel to Europe since opening plans vary greatly. If newlyweds can find a country that welcomes vaccinated travelers or those who test negative upon arrival, book ASAP, says travel expert Kathy McCabe. She says it is likely you can still snag bargains for 2021 since hoteliers and tour companies aren't getting the entire summer season in 2021, so they're offering incredible deals. However, 2022 is going to be a different story, she wants.
"People feel more confident about traveling to Europe in 2022 and are booking away. Families who were hesitant about traveling with unvaccinated children this summer have moved trips to 2022, as well as those who just simply didn't feel confident about playing a waiting game in 2021. They can book more confidently in 2022, and they are," she explains.
So, the advice for 2021 and 2022 is the same: the earlier you book, the more affordable your honeymoon will be.
Take advantage of deals for flights and hotels.
Regardless if you're getting hitched this year or next, McCabe says now is the time to book your flights. This is true for any class, but if you're going to splurge and fly business or first-class, the quicker you hit 'book', the more money you will save. As she explains, currently flights to Europe have not been this cheap in years. For example, a round-trip economy ticket to Rome from New York is as little as $635 later this summer. Also, there are incredible business class sales, especially from European airlines like TAP Portugal (to Lisbon) and Aer Lingus (to Germany or England), for as little as $999.
The same tactic is clever for hotel booking since nightly rates will increase as Europe opens more and more, says Sekou Saunders, the founder and CEO of The Destination Club. "Book soon to grab the lower pricing before everyone starts using their travel vouchers and credits, even if you plan on traveling later," he encourages. "Hotels haven't been able to work at full occupancy, and lately, they have lowered nightly rates. I believe it's to get people excited to travel again and give them an offer that's hard to refuse."
But next year, when more people are comfortable traveling and lots of people have been vaccinated, the room rates will be higher than usual because the demand is higher, he adds.
Consider staying at a spa hotel.
If you and your spouse-to-be have visited Europe many times, you probably don't imagine your perfect honeymoon as non-stop sightseeing. For those couples looking for a more relaxed, intimate experience, McCabe says to consider a spa hotel or resort for your honeymoon since they're often all-inclusive and more budget-friendly. "They are frequented by couples and can be found in some of the most scenic places in Europe, including Saturnia in Italy and Baden Baden in the Black Forest of Germany," she says. "It is a great way to honeymoon and experience European culture in a very authentic way."
Let the price guide your planning.
Would you consider yourself a bit of a risk-taker? Or, following the pandemic, you're more spontaneous than ever? If so, consider letting the airlines pick your perfect honeymoon destination. As McCabe explains, you can set up custom alerts on Scott's Cheap Deals, Google Flights, or another price-tracking website. Make a list of all European countries you would be interested in visiting, and wait for the email to come through, letting you know a flight is on sale. And hey, rather than trying to choose between honeymoon ideas, you let the magic of the internet do it for you!
"I know many honeymooners who have gotten crazy good deals on flights to Europe, and it just means you will have more to spend on the ground," she explains. "Scott's scours numerous sources for the best deals for major airlines. They also specialize in finding 'mistake fares.' Those rare gems that airlines usually honor: like NYC to Paris for $276 roundtrip."
Consider a vacation rental.
Some couples dream of staying in a luxury hotel or a boutique hotel in Porto, Budapest, Athens, Barcelona or another dreamy spot around the world. However, not everyone needs white fluffy robes or room service to experience a true romantic getaway. Rather than paying upwards of $500 a night for five-stars, book a vacation rental through VRBO to have an equally-exciting affordable honeymoon. Especially if you book ASAP, you can likely find a gorgeous home-away-from-home on the beach on a Greek Island or somewhere around the Mediterranean. You might even consider hopping around to various countries — from Spain to France and Italy — staying at beautiful beaches and buying local produce and fish to whip up at home.
Consider the off-season.
The busiest season of the year for European jetsetting is summer, from June to August. Following close behind is Christmas and New Year's. If you can, schedule your honeymoon around the off-season, in the fall or the spring, suggests Saunders. When you do this, you'll automatically save money since rates are higher. For those couples who don't mind a little cooler or unpredictable weather, your honeymoon can be just as lovely — and less expensive. (And hey, Europe is romantic year-round!)
Plus, visiting in the off-season means fewer crowds, so a road trip won't be full of bumper-to-bumper traffic. Or, you can tour through old town without worrying about bumping into other tourists. You can also enjoy nightlife, without feeling suffocated. Whether you tap into your Italian roots and visit Milan and Venice, or you track down your Ireland ancestors and venture to Dublin — the off-season is when you'll get the most bang for your buck.
Get personal.
Your honeymoon is a once-in-a-lifetime experience, and thus, it's personal to both of you. Saunders says to express this to your hotel when you're booking. You can share about yourself, the purpose of the trip, and any other details that you feel comfortable divulging. By booking directly with the hotel, you're more likely to receive an unexpected upgrade. Plus, it gives your more security and wiggle room with bargaining.
"Many hotels and resorts match prices, so try to find the property you want on a third-party site and then contact the property directly to see if they'll give you the same rate so you can book with them instead," he says. "It's always better to book directly with the resort or hotel in case anything happens, they're reliable, and they can't blame it on the company booked with."