Prague Honeymoons
Let Prague's old world charm and elegance be the stage for your European honeymoon.
Those seeking a classic and timeless city holiday experience should consider Prague for a honeymoon. Prague can suit virtually every budget, and experienced travelers will find it very reasonably priced compared with major cities such as London, Paris, New York, etc. Those looking for an easy trip will like that Prague is well-served by many carriers in the major airline alliances.
Once there, you can fall in love with this European gem and indulge in the beautifully preserved historic core. The Czech nation clearly values its historic and cultural legacy, so museums are in abundance with engaging collections. Those on a budget will enjoy the very affordable admission prices (typically only a few dollars admission). Otherwise, it's the perfect city to just wander, explore, and watch daily life around you. If you are in need of a rest, enjoy an authentic Czech experience at the city's beer halls offer traditional Czech beers and light meals. Head to the magnificent Wenceslas Square to take in the unfolding of the Czech Republic's modern and pre-modern history, and cruise down the Vltava to enjoy the night and each other's company.
There's so much to love about a Prague honeymoon. Here's how to start planning yours.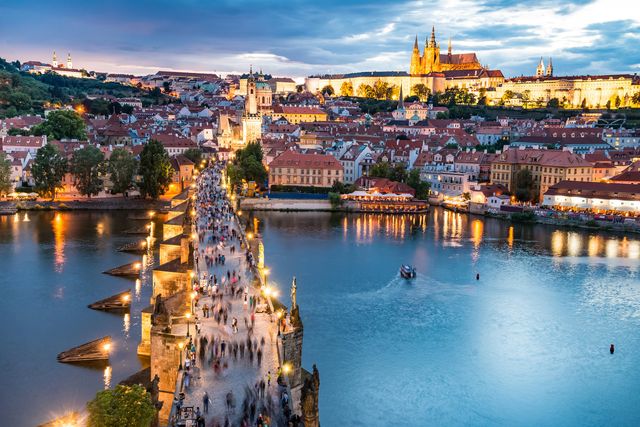 When to Go
Like much of Europe, the high season for visiting Prague will be during the period from May to September for pleasant, warm late spring-summer weather. Prices and crowds will reflect this. For someone wishing to travel outside this time, consider early-mid December for considerably lower prices and to see the city decked out for the holiday season.
Top Sights and Activities
Old Town Square: The historic center of Prague and the gateway to the most essential sights and buildings that define Prague – it is the gateway of your Prague honeymoon.
Museum of Communism: An interesting museum devoted to Czech's communist past until the 1989 Velvet Revolution.
Astronomical Clock: Also called the Orloj, this clock is a mechanical wonder that tells time in standard and old Czech hours, depicts the zodiac, predicts sunrise and sunset, and other significant functions.
Lobkowicz Palace: This palace, restored to its namesake family after the fall of Czech communism, houses one of Europe's finest art collections and is open to visitors as a museum.
Charles Bridge: Dating back to the 14th century, this bridge was of great importance to trade and city traffic, and its 30 statues make it an aesthetic must-see.
Walking Tour: Given the extremely pregnant history of the city, most visitors will benefit from a guide who can explain to overlapping histories and significance of the city's many sights.
Jazz Boat: A cruise down the Vltava River with wine and jazz could be a special high note of your Prague honeymoon.
Escape Room: A number of themed 'escape rooms' exist in Prague for groups of 2-5 to work through puzzles, hints, and clues to escape the room before the clock runs out.
Photography Tours: Prague's great architectural beauty makes it a paradise for those looking to indulge and perfect their photography skills on guided tours and workshops.
Prague Folklore Days: During the summer, Prague is home to one of the biggest folk song and dance festivals in Europe.
Beer: Prague is the de facto capital of pilsner beers, and beer connoisseurs will enjoy the variety of local beers and beer culture.
Wenceslas Square: Located in the "New Town" of old Prague (built in the 15th Century), this square was the site of anti-Soviet protests and today is home to hotels, casinos, bars, and restaurants.
National Museum: Located off of Wenceslas Square, this is a huge museum dedicated to history and nature.
Botanical Garden of Charles University: The Garden can provide a quiet respite from the busy city, as well as a warm spot if you're visiting in winter.
Prague Castle: Take a tour of this castle from the ninth century, the largest in the world.
Flight 3
- Remove Flight
+ Add Flight
Flight 4
- Remove Flight
+ Add Flight
Get access to travel deals when you book your honeymoon through WeddingWire