Czech Republic Honeymoons
This European destination is full of history, architecture, and culture—ideal for a fantastic honeymoon experience.
When you think of a European honeymoon, you likely imagine the quintessential romance of dreamy destinations in Southern Europe—from Croatia and Greece to Italy. But if you set your sights to the East, you'll find a slew of countries with a rich and fascinating history, featuring timeless architecture and interesting traditions. While a bit darker than its Southern neighbors, Czech Republic is a fascinating trip for newlyweds who crave intrigue. Or you know, who adore beer. Here, you'll find prized castles, medieval touches, gothic, renaissance and baroque architecture, as well as countless restaurants, shops, and even diversions into nature. For those who aim to extend their post-wedding travel for as long as they can, the country's capital—Prague—is a hub for plenty of planes, trains and automobiles.
Here, a guide to a Czech Republic honeymoon.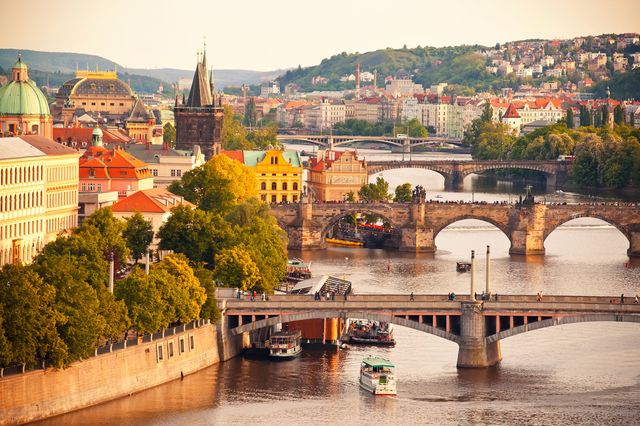 When to Go
If you're coming from the United States or other parts of Europe, you'll find the majority of Eastern Europe to be surprisingly affordable. As the saying goes—and rings true!—beer is often cheaper than water in the Czech nation. This means an 'off season' could really be anytime, though technically considered spring or fall, when the height of summer travel has yet to begin or has just ended. Thanks to its location, you'll find much of Czech to be chilly, even starting in September, making it a country that experiences all four-seasons. Unless you enjoy the chill, stick to summer, spring or fall for your romantic excursion.
Where to Go
From the wonder of the Old Town Square in downtown Prague to the spa town of Karlovy Vary, the Czech Republic offers a must-visit for every type of traveling couple. Because this country is relatively small, you can rent a car and venture through many different cities, towns and regions. Here, a few not to miss:
Prague
Widely known as a backpacker's paradise, thanks to a plethora of hostels, workspaces and of course, cheap booze—Prague is more than a study abroad destination, but can also make for a different take on a traditional honeymoon. When you're not touring through the Old Town or catching an early-morning sunrise to avoid crowds on the infamous Charles River Bridge, you can get lost in the labyrinth of alleyways or museums that reveal slivers of the city's past. From the holocaust to communism, history-buffs will fall in love with the transformation of Praha—and hey, maybe get tipsy at the many beer halls, too. As a bonus? PDA is common and welcomed here, so feel free to make out like you're teenagers.
Český Krumlov
In the South Bohemia region of Czech, you'll find this charming city with the Vlata River running through it. Most travelers trek here to tour through its famed 13th century castle that highlights the ornate details of gothic, renaissance and baroque histories, complete with an expansive garden and a 17th-century theater. While you're here, make sure climb your way to the top of the bell tower, where you'll see breathtaking views of the city below, all before grabbing a pair of brewskies to ring in another night as a married duo.
Karlovy Vary
After the chaos of wedding planning, the relief of your big day coming to an end is refreshing, at least. That's why a few days of your honeymoon should be spent in this west Bohemia spa town featuring thermal springs. You might recognize some of the sights from Last Holiday, where Queen Latifah choose to spend her 'dying days.' While you're here, make sure to see the Pramen Vřídlo geyser, revealing an impressive spout that reaches 12 meters into the air. Since you'll save money in Prague and other areas, here is where you should splurge on a luxury experience, including couples' massages and 5-star hotel suites.
Bohemian Switzerland
Do you and your number one love to hike? Take a day trip—or a weekend—to scale through the picturesque Czech Switzerland. You'll find these lush mountains breathtaking, with a variety of trails to choose from, making for an enjoyable athletic experience, no matter your fitness level. Pack a lunch—and maybe some beers—and make your way to the infamous rock formation, where a newlywed Instagram selfie is a must. To cool down from your exertion, pop by the many traditional Czech restaurants on your way back to Prague. Notice German fare, too? That's because you're right on the border, near the quaint town of Dresden. If you have time in your OOO, it is worth crossing over to add another stamp to your passport.
Article by Lindsay Tigar
Flight 3
- Remove Flight
+ Add Flight
Flight 4
- Remove Flight
+ Add Flight
Get access to travel deals when you book your honeymoon through WeddingWire