Split Honeymoons
The timeless beauty of Split will charm you from the first moment of your honeymoon.
Split, Croatia caters to a wide variety of honeymooners, as it will appeal to those seeking history and culture, outdoor activities, or simply some quality time relaxing at the beach. Most budgets should find Split within their means, as flights are in-line with most other US-Europe prices ($1k round-trip per person in Economy from a major US airport in July), though your dollar goes much further on accommodation than it would in London, Rome, or Paris.
Once there, you can indulge as you like. History buffs could spend the entire trip exploring the history of the city dating back to antiquity and not run out of sights, museums, or recent excavations. If you're more inclined to the beach life, the Adriatic coast has some of the finest beaches in the Mediterranean for you to luxuriate on. Foodies will revel in omnipresent local delicacies, and given that you're in the heart of Croatian wine country, you'll be spoilt for choice for something to wash it down with. The more adventurous and active will love the area's scenic hikes, urban exploring, snorkeling, kayaking, and windsurfing.
In Split, your honeymoon's potential is limited only by your imagination.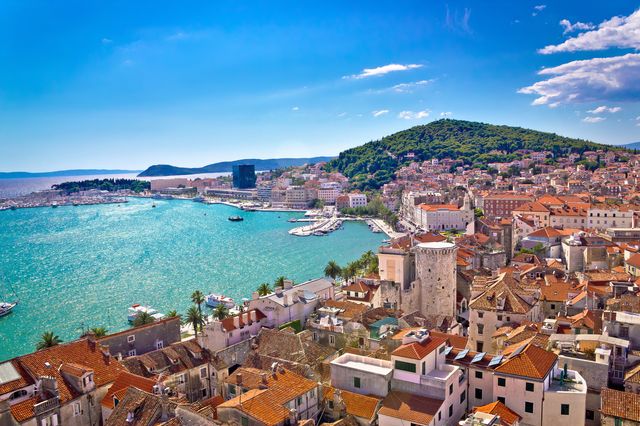 When to Go
As is the case for most of Europe, the high season for visiting Split will be during the period from May to September for a pleasant and not-too-warm late spring-summer Mediterranean climate. Flight and accommodation prices will reflect this. Winters are mild, and if you choose to visit during this time, you can expect temperatures from the mid-40s to about 60.
Top Sights and Activities
Diocletian's Palace: The prime attraction of Split, as the city as it stands today was built around Diocletian's seaside palace, dating from 305 AD.
Peristil Square: The main square of the Palace is the best-preserved part of the finest existing Roman palace left in the world.
Jupiter's Temple/St John's Church: This unique structure was an example of a Roman pagan temple converted into a Christian church during the late Roman Empire.
Beaches: A day on the beach at Bačvice is perfect for some needed R&R on your honeymoon.
Climb a Campanile: A 'campanile,' a freestanding bell tower, is a great ascent from which you can view the city from a high vantage point. The best option is the Cathedral's bell tower.
Green Market: If you want a fresh snack or some souvenirs, the green market is a great place to do some light shopping.
St. Duje's Cathedral: This converted Roman mausoleum has become the leading Catholic church for Split.
St. Jerome Caves and Church: One hour on foot from the Palace, these caves are on Marjan Hill and have a great view over the Adriatic Sea and nearby islands.
Sea Kayaking and Snorkeling: The waters of the Adriatic are perfect for snorkeling and kayaking for those up for a bit of activity
Prague Folklore Days: During the summer, Prague is home to one of the biggest folk song and dance festivals in Europe.
Rock Climbing: There are over 400 rock climbing routes around Split
Sailing: If you're looking for a yachting holiday, Split is a perfect launching point, as numerous options exist from a short sailing of a few hours to weeks or more.
Froggyland: This hilarious surprise is a collection of meticulously taxidermy frogs in all sorts of interesting anthropomorphic dioramas.
Grgur Ninski Statue: Rub Grgur's foot for good luck. You may need it!
Wine Tours: The Dalmatian Coast is famous for its wines, and Split is the perfect starting point for your own wine tour.
Flight 3
- Remove Flight
+ Add Flight
Flight 4
- Remove Flight
+ Add Flight
Get access to travel deals when you book your honeymoon through WeddingWire