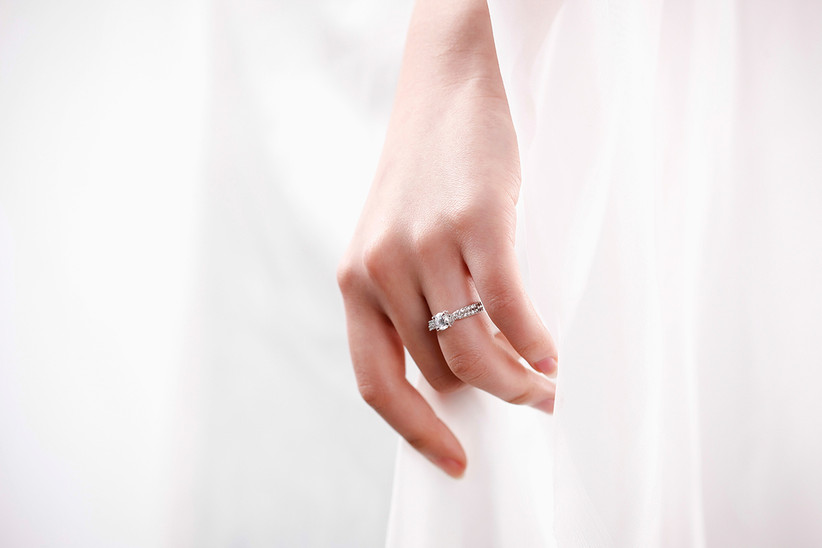 Whether you had a hand in designing your engagement ring or your S.O. found the perfect one on their own, this ring (that you'll wear forever!) reflects your personal style. That's exactly why it can also be a helpful starting point for choosing a wedding dress—with so many options out there, it's nice to have something to narrow them down. So consider what you love most about your ring: Does it make you feel fancy? Or maybe you love its simple elegance? Was it important that your ring be truly unique? Or are you happy it's a tried-and-true classic? With those thoughts in mind, let the jewelry on your left hand steer you toward your dream wedding gown.
Below, find your engagement ring style and the wedding dress picks to match.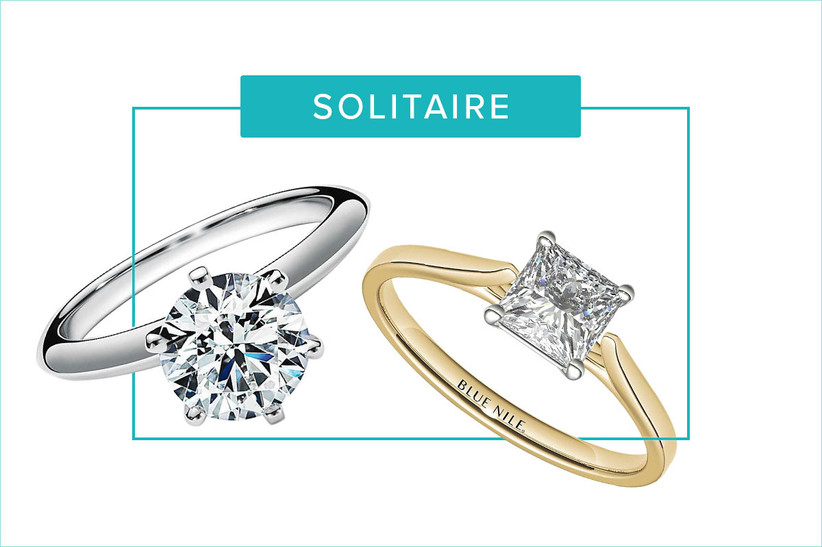 Ring style: solitaire
Classic, timeless and sophisticated: A solitaire ring is intentionally simple so the diamond can be the star. Similarly, you may find yourself attracted to a dress with a traditional silhouette (whether it's a curve-hugging fit-and-flare or a ball gown) that forgoes embellishment to put the focus on you. Look for a gown in a stand-alone material like rich organza or silk, without a lot of extras like lace or beading.
Our Dress Picks (from left): Allure Romance style 3303 and Allure Bridals style 9719
Rings: Tiffany & Co. Tiffany setting engagement ring and Blue Nile cathedral solitaire ring
Ring style: vintage
Whether your ring is actually an antique or simply vintage-inspired, the beauty of this style is in the details: delicately wrought metalwork, teeny-tiny pavé diamonds, or unusual shapes that work together for a sparkling effect. To match the vintage vibe, look for a wedding gown in a silhouette that's a bit of a throwback—think a sheath or A-line—with fine detailing that you notice best up close, like glittery appliques or a scalloped lace hem.
Our Dress Picks (from left): Allure Bridals style 9654 and Allure Couture style C562
Rings: Estate Diamond Jewelry Oakland ring and Quercus Babson ring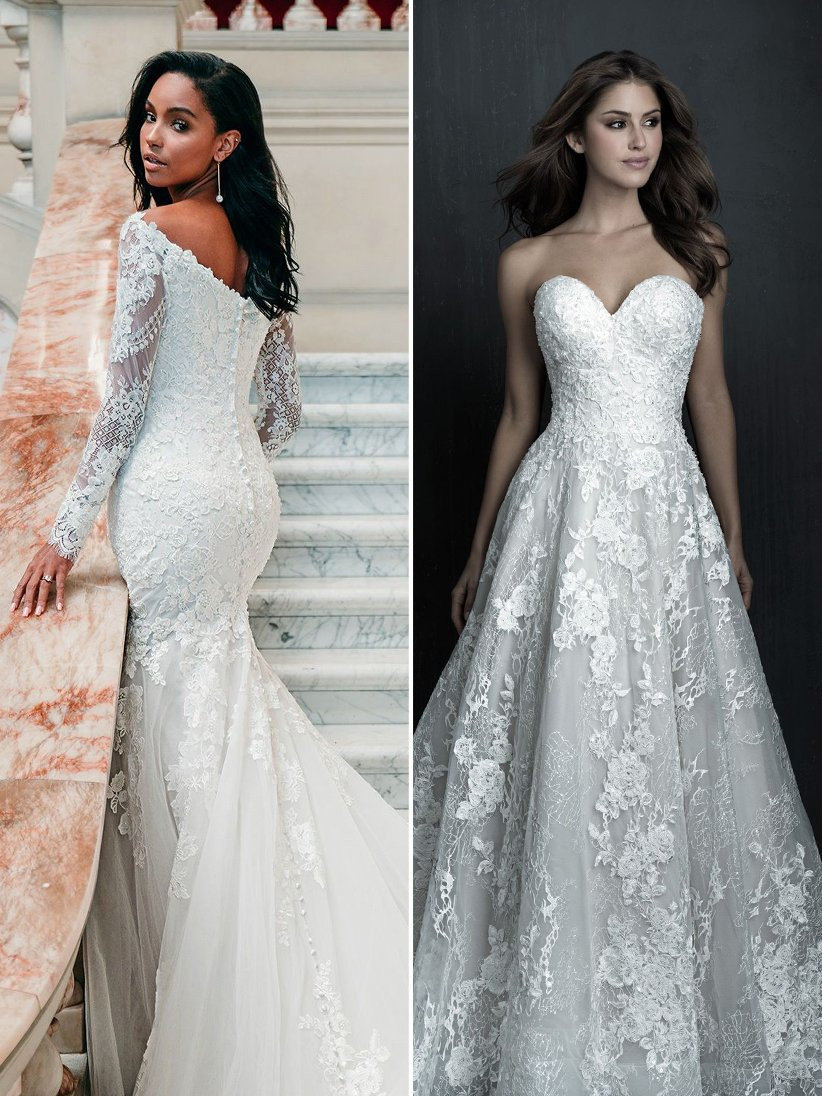 Ring style: halo
Somehow, a halo setting manages to be both sweet and fancy at the same time—maybe it's the way those delicate outer diamonds make the center stone sparkle even more? To translate that into a dress, choose a style that starts with a classic silhouette, then pile on the romantic details: a lace applique studded with beads or sequins, a train with a cascade of flowers, or lace sleeves that start just off the shoulder.
Our Dress Picks (from left): Allure Bridals style 9706 and Allure Couture style C567
Rings: Kwiat Ashoka ring and Brilliant Earth Waverly ring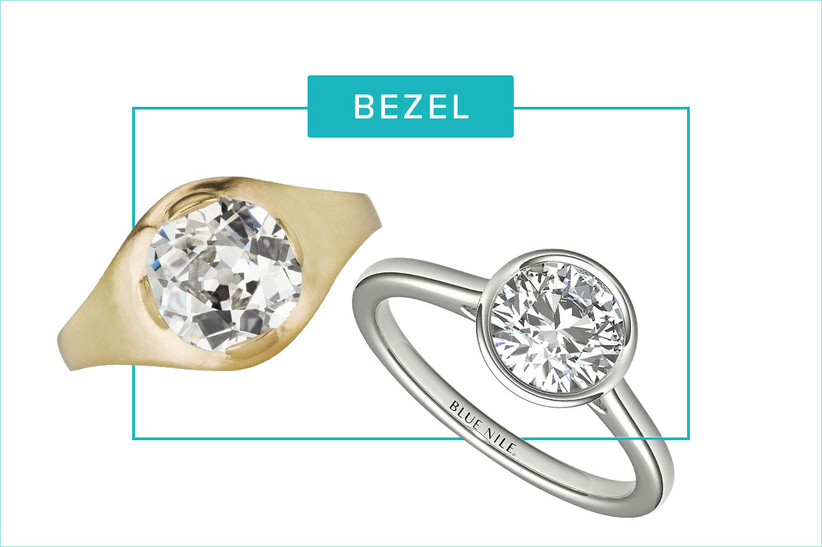 Ring style: bezel
This riff on a solitaire features a stone that's flush with the setting for a streamlined look and feel—you never have to worry about catching prongs on anything. Whether your ring has a modern, architectural feel or a clean and simple look, opt for a dress with a sleek silhouette and minimal surface details that could distract from the shape.
Our Dress Picks (from left): Allure Romance style 3318 and Allure Romance style 3306
Rings: V. Barbone Gadot ring and Blue Nile bezel set solitaire ring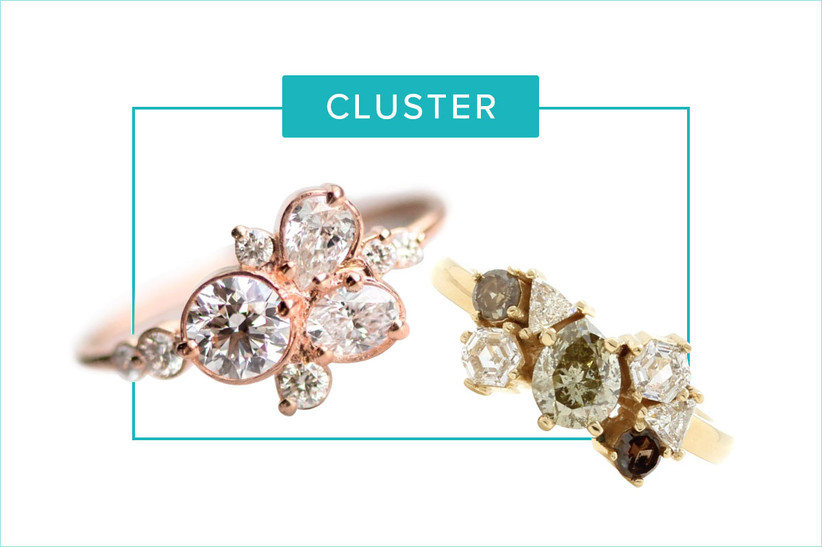 Ring style: cluster
This style isn't about finding one perfect stone, but instead grouping smaller stones together in an organic way. Similarly, a wedding gown inspired by a cluster ring pulls from an assemblage of shapes and fabrics that come together effortlessly. Consider a gown that layers unexpected details, like a sophisticated one-shoulder strap that ties with a playful bow, or a collage of sequins, beads and lace with a daring plunge.
Our Dress Picks (from left): Allure Romance style 3305 and Allure Romance style 3317
Rings: Melanie Casey Stars at Eventide ring and D&H Jewelers green pear cluster ring
Ring style: colored stone
A colored stone signifies a bride who's not afraid to take risks. If that's your typical M.O., you're probably in the market for a dress that truly stands out. Choose a showstopping silhouette, like a cascading skirt of banded organza, or go the other extreme: pants. No need to worry about being too trendy or bucking tradition—a colorful gemstone shows you've got the confidence to pull off any look you please.
Our Dress Picks (from left): Allure Couture style C561 and Madison James style MJ500
Rings: Blue Nile sapphire halo ring and Melanie Casey green sapphire distance ring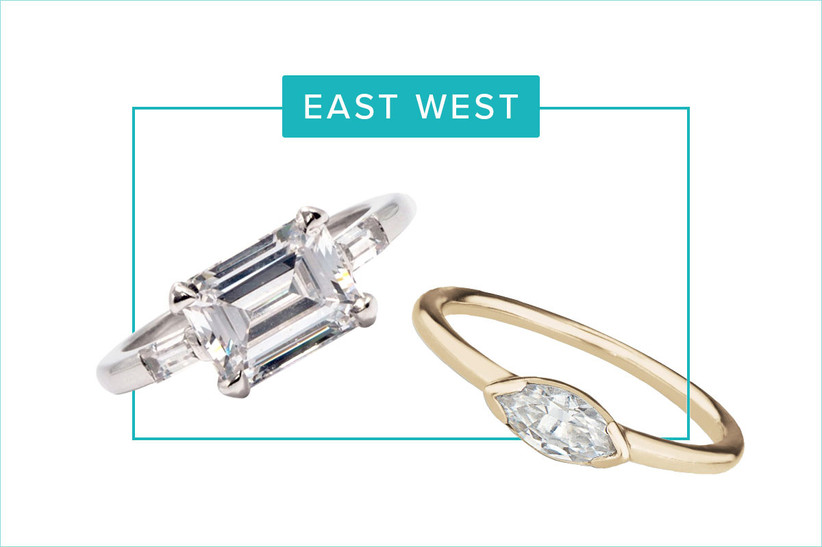 Ring style: east/west
A style that's gaining in popularity, an east/west ring is both simple and unconventional—it is, literally, a traditional setting with a trendy twist. Translated into a wedding dress, this means a design that puts a slight spin on what's expected. Think: a sleek ball gown with crystals floating atop illusion sleeves or a minimalist, plunging bodice paired with an over-the-top flouncy skirt.
Our Dress Picks (from left): Allure Bridals style 9726 and Allure Romance style 3319
Rings: Ashley Zhang Adela ring and Bario Neal Nikko ring