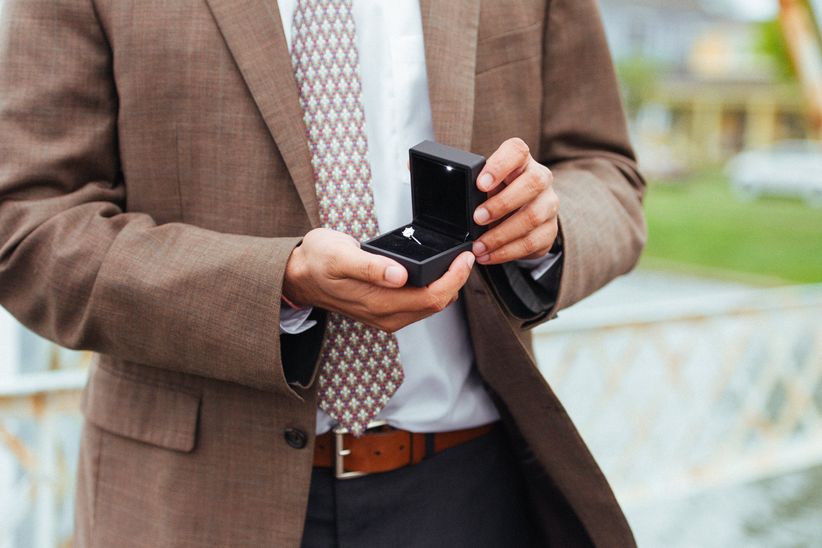 Photo: Christie Froom Photography
What is it about the '90s that instantly makes everything more sincere, more romantic and, ok, yes, a little more campy? Fervor to relive that decade of flannel and baggy denim hasn't missed weddings, as more fiancé(e)s-to-be are reaching into their '90s music CD cases for creative proposal ideas. If you're ready to pop the question and your beloved is a '90s music fan, you'll definitely want to peep some of these "Will you marry me" ideas. They're sweet enough to melt even the coldest new millennium heart!

Watch these 90s music-inspired creative proposal ideas!
Mint Condition Marriage Proposal
The 1993 music video for Mint Condition's "You Send Me Swingin'" is peak '90s, from the vests to the harmonized bops. But for one groom-to-be, there was no other way to properly propose to his girlfriend, so he grabbed his friends and created this super-sweet music video-style proposal video. (Spoiler alert: She said "yes!")
Backstreet Boys Proposal
True Backstreet fans will know "Shape of My Heart" was officially released in 2000, but we couldn't not include one of the cutest and most unique proposal ideas we've seen. With a careful eye toward the Backstreet Boys' Last Vegas show choreography, this creative groom and his best friends/backup dancers were guaranteed to get a "yes!"
Music Video-Style 90's R&B Proposal
Remember the late '80s/early '90s R&B group Troop? Well this groom definitely does. He recreated the music video to the group's breakout hit, "All I Do," with a twist — asking his girlfriend to marry him! Talk about advance planning, future groomsmen coordination and video production skills. This video is definitely in our creative proposal ideas hall of fame.
"This I Promise You" Proposal
Who among us can resist the sweet sound of a teenaged Justin Timberlake? Who doesn't recall those cozy turtleneck sweaters from the "This I Promise You" video? When it comes to creative proposal ideas, nostalgia goes a long way. Just ask Landon, who proposed to his girlfriend Ashley with an a cappella version of NSYNC's hit love song.
Boyz II Men Proposal — With Boyz II Men!
There are creative proposal ideas that involve '90s music and then there are unique ways to propose that involve '90s music stars themselves. This personalized proposal took place at a Boyz II Men concert and when the bride-to-be thought she was setting up for a photo with the group, her boyfriend got down on one knee and proposed — in front of Boyz II Men. All of our '90s dreams just came true.
'90s R&B and Chill Proposal
If ever there was a great reason to harmonize on a park bench with your best friends, it would be to pull off a perfect '90s R&B music video proposal. With the help of his friends and his girlfriend's friends, this stylish groom perfectly re-enacted Guy's "Let's Chill" video with a twist — a surprise proposal!
Michael Jackson-Approved Proposal
The mark of true love has to be a willingness to learn complicated dance choreography from a '90s Michael Jackson video. Just ask this talented groom who took creative proposal ideas to the next level by recreating the Egyptian-themed "Remember the Time" video before proposing to his girlfriend. Needless to say, he got that "yes."