18 Amazing Quarantine Marriage Proposals That Will Totally Warm Your Heart
Staying at home doesn't mean proposal plans have to be put on hold. These couples prove that quarantine marriage proposals can be even more romantic than their pre-pandemic plans.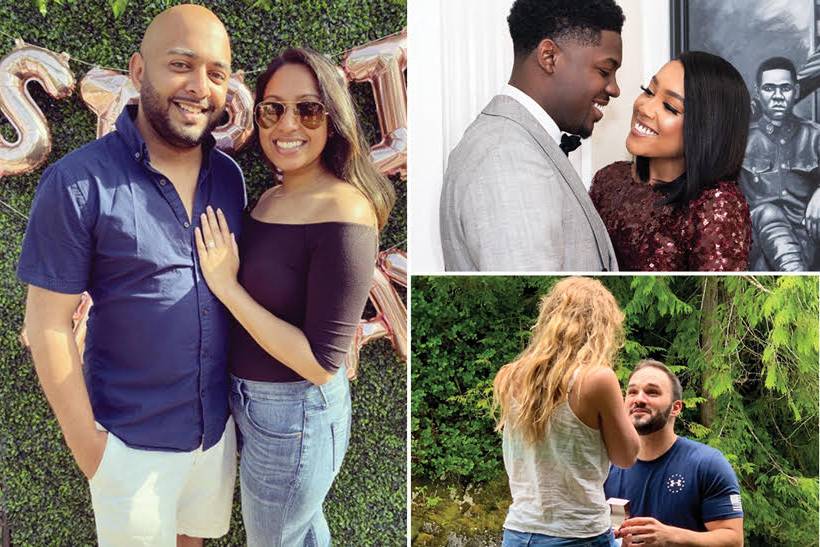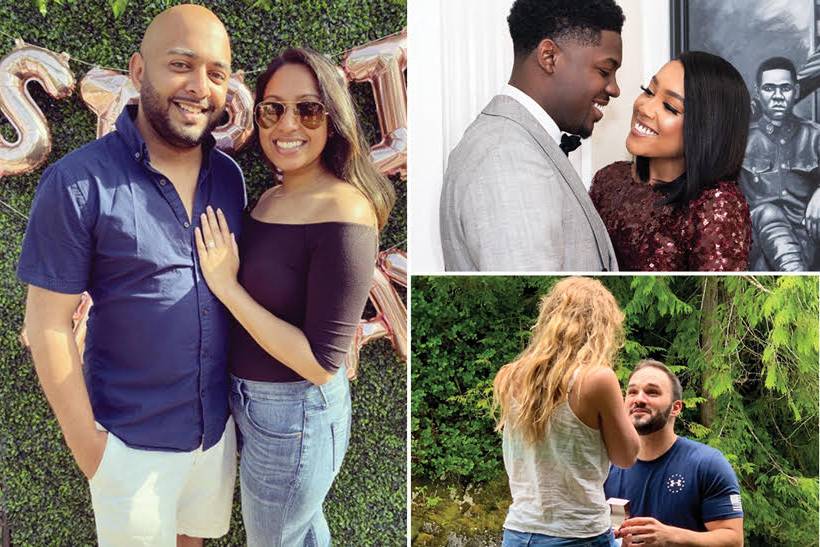 A pandemic can't stop great love stories. In fact, a curveball can bring happy couples closer—and create some mighty interesting plot twists and unique quarantine marriage proposals. These newly engaged duos are proof since they all decided to take their relationship to the next step during this unprecedented time.
From epic 'Amazing Race' style scavenger hunts throughout a city to sweet at-home surprises, let these 18 tales of quarantine marriage proposals lift your spirits.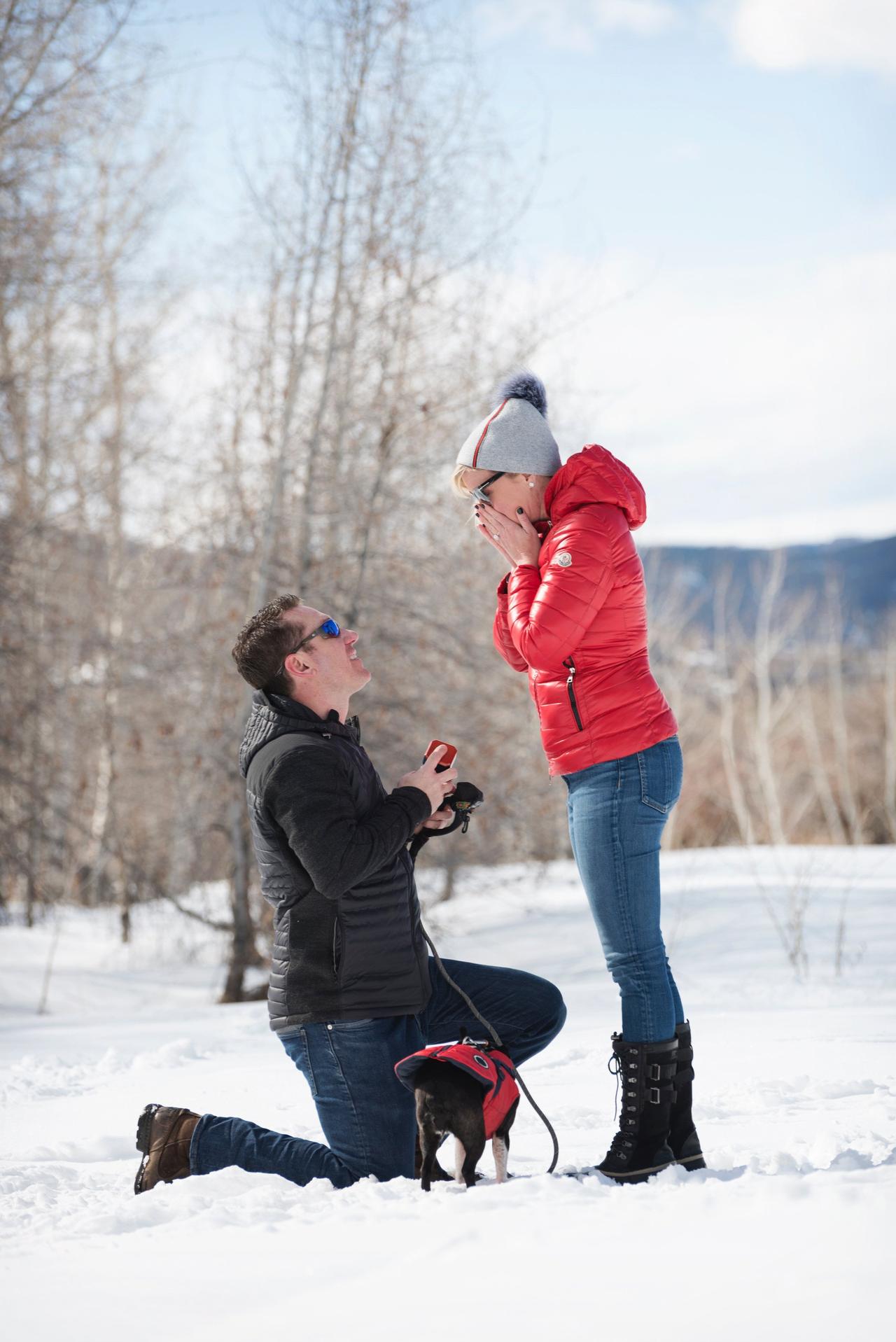 Love in the Mountains
Blair and Seth
Engaged April 3, 2020
For months, Seth Owen planned a carriage ride proposal with his girlfriend of one-and-a-half years, Blair Palmer. He was going to fly in friends and family for the big event, and it all fell apart in an instant due to COVID-19. That's when he turned to Plan B. Here's how it went:
"Seth said he wanted to take a walk with Finley, our Boston Terrier, who was also in on the plan. We live in Aspen, Colorado, so getting outdoors is part of our daily routine. Off we went on the trail, which ended up in a surprise proposal at Marolt Open Space. Seth even had our dear friend and photographer, Brenda, hiding in the bushes to capture the moment. Back at home, in true quarantine style, socially-distanced chilled champagne was waiting. The evening was capped off with a door-delivered special gourmet dinner for two, and a surprise congratulatory video from our friends and family. It was perfect, so simple, and I loved that our doggo was a part of it. In the snowy sunshine, surrounded by the mountains but completely out there by ourselves, was magic. Everything I love about Aspen was encompassed at that moment. In a time of such uncertainty, we knew we were certain about our future together."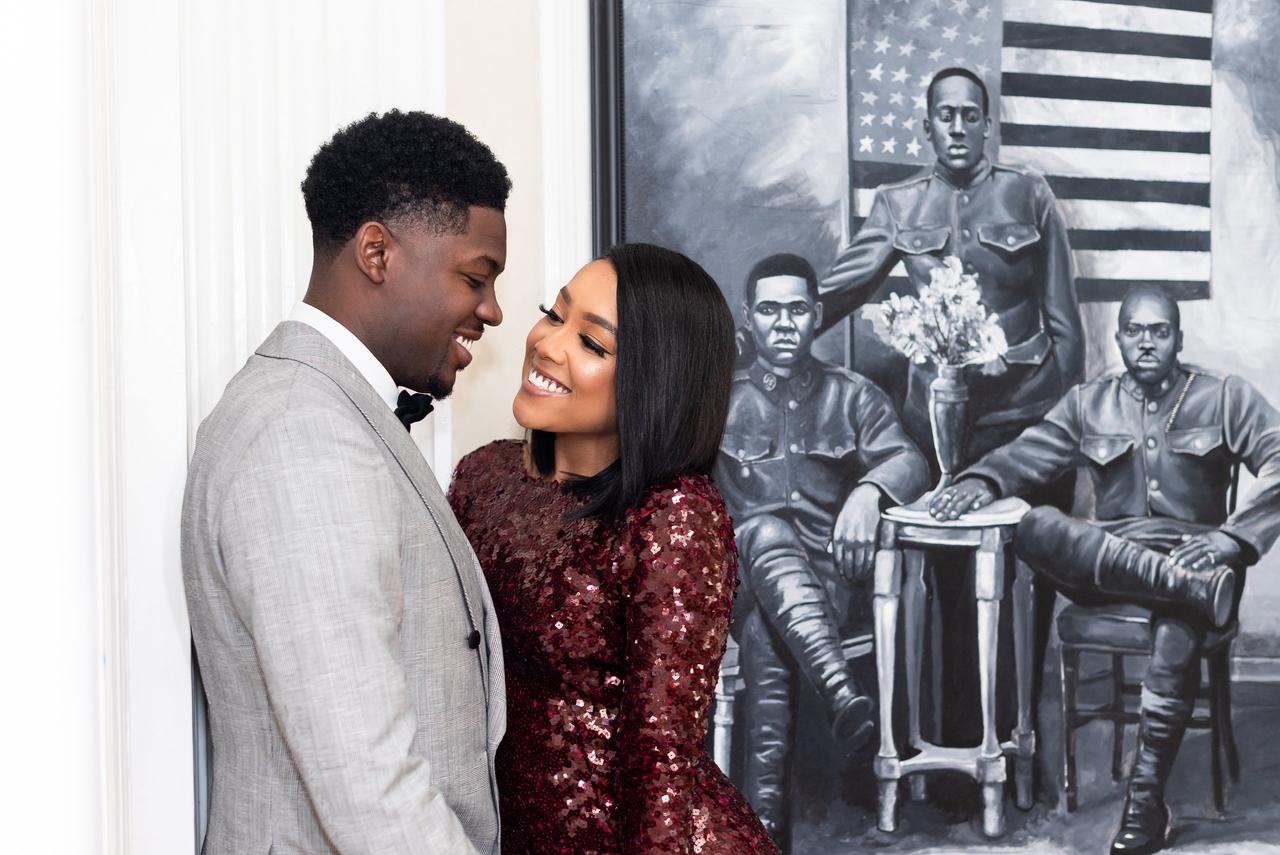 A Modern Loft, Games, and Cake
Koereyelle and Kendrick
Engaged April 4, 2020
While Kendrick Mallard planned a big Vegas surprise proposal to his girlfriend of two years, Koereyelle DuBose, he still managed to trick her and pop the question during the quarantine. Here is how the once-in-a-lifetime moment happened:
"He told me we were going to the drive-in movie, and instead took me to the cutest loft in the city! He had flowers on the stairs, candles everywhere, K+K in a heart, 'I love you' written in rose petals, and he set up a private picnic on the roof. He had taken out from my favorite restaurant and flew in a chocolate cake from Portillo's in my hometown of Chicago. Then, we played my favorite game, Uno, and sealed the night with a proposal right after midnight. The next day he had a vegan chef prepare lunch—the same chef whose cooking class we attended on their first Valentine's Day. The next day, He arranged for a makeup artist to come, followed by a photo booth, and invited two of my best friends to celebrate. He managed to create the most perfect quarantine marriage proposal."

Picture-Perfect Proposal
Ammar and Nimra
Engaged April 4, 2020
Though they had only been dating for eight months at the time, Ammar was sure Nimra was the person he wanted to share his life with. Since Jersey City has always been her favorite spot, with the captivating silhouette of the New York City skyline, he made reservations for dinner with a view. Friends and family were going to join—and then COVID-19 cases sky-rocketed, and everything had to be canceled. Until he got another idea:
"With the uncertainty of the situation, I was very certain of one thing--that I wanted to spend the rest of my life with Nimra and ask her to marry me. With that, I was back at the drawing board trying to come up with an idea to propose to her. After much thought, I decided that I will ask her to go by the Jersey City waterfront, walk around and 'take a picture' with the NYC skyline in the back. Little did she know, I planned to propose to her. We drove out to Jersey City, and I brought my tripod with me so we could take our picture together with the skyline in the back.
I set up the tripod and actually started recording a video while she thought it was a picture, and after a little bit, I told Nimra I had brought her there for another reason. I told her how much I loved her and that I wanted to spend the rest of my life with her. With the Brilliant Earth ring in one hand and being down on one knee, I asked Nimra to marry me, and she said 'yes'!"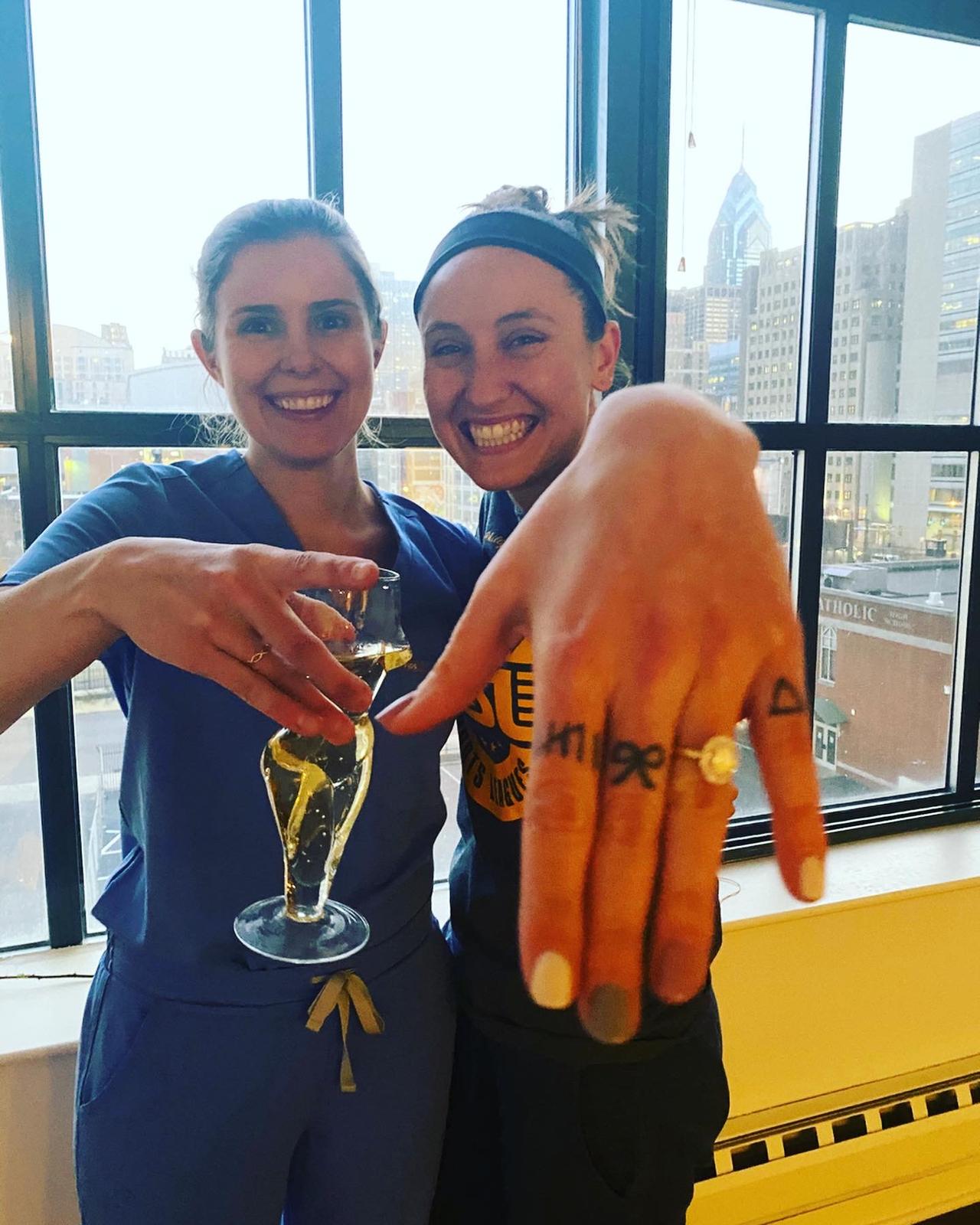 Her Healthcare Hero
Brittoni and Anika
Engaged March 21, 2020
This happy duo met on Bumble two years ago, and by the fifth date, Brittoni knew she was the one. But, as life always does, it threw them a curveball. In mid-March, they planned to pack up their apartment to move into a temporary Airbnb while waiting for construction to be completed on their first home. During this time, they had planned a vacation to Mexico with friends, moving into a new house, and celebrating the end of Anika's second year of internal medicine residency. Then, Philadelphia closed all non-essential businesses, forcing them to postpone their trip. Then, they contacted their building to extend their lease and were surprised to find it had already been rented. A few frantic hours later, they offered them or of the remaining two apartments left… and then some magic happened:
"We were extremely grateful to stay in our comfort zone with a more permanent timeline, even though it now meant retrieving furniture back from the storage unit. We were preparing for what COVID-19 would look like in Philadelphia while watching it consume NYC. About two days after being granted access to the apartment, we sneaked down to check it out (sorry management!) since they leave the empty units unlocked. I told her we should come back in the light so I can measure next time. The next day was Saturday, March 21, she was working all weekend, but got home, surprisingly, at a reasonable hour.
She came in and immediately wanted to visit the new apartment. I told her we were just there last night, and I hadn't had time to measure the furniture. She was pretty intent ongoing, so I begrudgingly caved, mainly so she would stop asking. We went down the hall, and she pushed the door open. There were rose petals on the floor, a candle, and some champagne corks I had saved and written notes on in permanent marker. All I could think to myself was, 'Damn, she is like, really, really excited about this new apartment.' It didn't click until she grabbed a box off the kitchen counter, and her eyes started to tear up.
She took me to the middle of the room and got on one knee. She confessed that her original plan was to ask in Mexico, but when everything was shutting down, only one thing mattered. In scrubs, between shifts in ICU, with a Philadelphia skyline, she proposed with a ring from Brilliant Earth. It was the best 'yes' in my life.
She is my healthcare hero, and one of the many who has seen this pandemic firsthand. I am so happy that we were able to capture exactly how we will remember this time: in scrubs, old slippers, sweatpants, messy hair, t-shirts, between shifts, and packing to move. We've been through a hospital closure, uncertainty on so many levels resulting from that closure, switching residency programs, two moves, and a pandemic. It was only fitting to get engaged in the middle of it."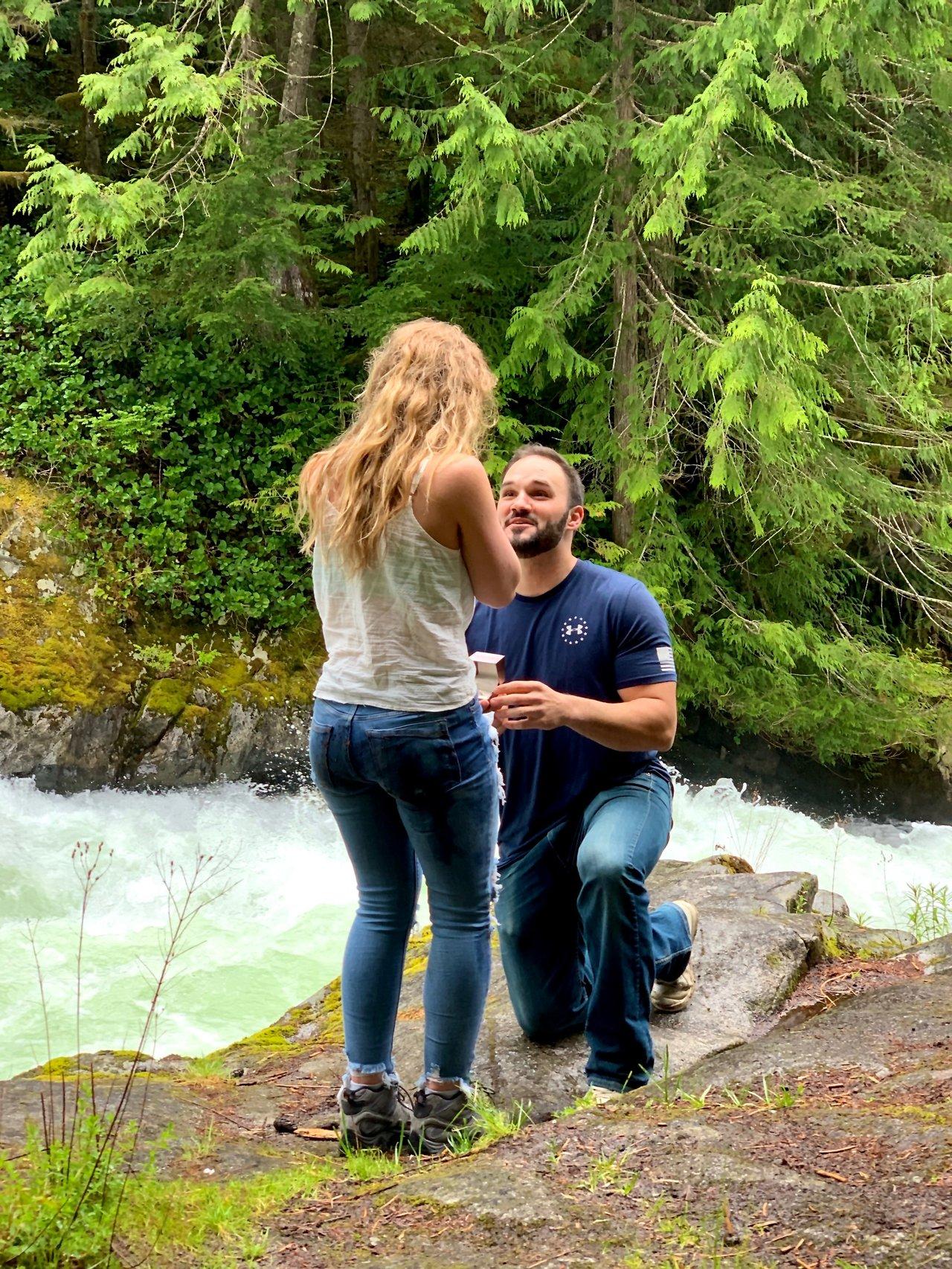 Opposites Attract
Christina and Issac
Engaged May 21, 2020
If you ask Christina, their proposal began five years ago because from the moment she saw him, she somehow knew they'd end up together forever. Even though they are the complete opposite—he's logical and grounded, she's a dreamer that's overcome a traumatic brain injury—somehow, it works. Five years in and inching close to Christina's 'deadline' for Issac to propose (she gave him five years), 2020, might have brought a pandemic and happy news. In addition to getting a new job, Issac also asked the most important question:
"May 2020 comes around, and Issac suggested that we take a vacation as we both need it. We decided Washington since it's remote, filled with nature, and we had friends out there that we could visit. I was super excited, and Isaac was just as ecstatic to relax with me and be in nature. The drive was supposed to be 26 hours, but fortunately for me, Isaac demanded driving the whole way, and we got there in 20 hours, with our two large fur babies in tow.
We stayed at the most beautiful Airbnb cabin secluded up in the mountains with a hot tub and a porch overlooking the trees. About four days into our trip, we decided to go on a hike to Alpine Falls, where he suggested we take photos. Unfortunately for me, when I saw these waterfalls, my foot slipped out from underneath me, and I slid down into the rapids. Thankfully, Isaac was super-fast and grabbed me quickly, and got me away from the edge. He literally saved my life!
We continued our hike and went on taking more modeling pictures, then Isaac kept pushing me to change my pants as they were filthy from the fall. I refused because I thought the messiness looked authentic in the photos. Unbeknownst to me, he was able to get my friend Lauren to convince me to change. After doing so, I joined Isaac back in front of the rapids, being cute, hugging, laughing, kissing each other. When all of a sudden, he bent down. I immediately became concerned and thought he was hurt and asked, 'Oh babe, are you okay? Is it your sciatica?!" He grinned at me and pulled out the ring box.
I think I was in shock, because the first thing I said was, 'No f****ing way.'
Love is different for everyone. There are all types of love. As I mentioned above, we're total opposites; we even look totally opposite. However, our values and morals are pretty much the same. Isaac doesn't just make me want to do better for myself, I believe he makes me the person I want to be, and I know I make him the person he wants to be."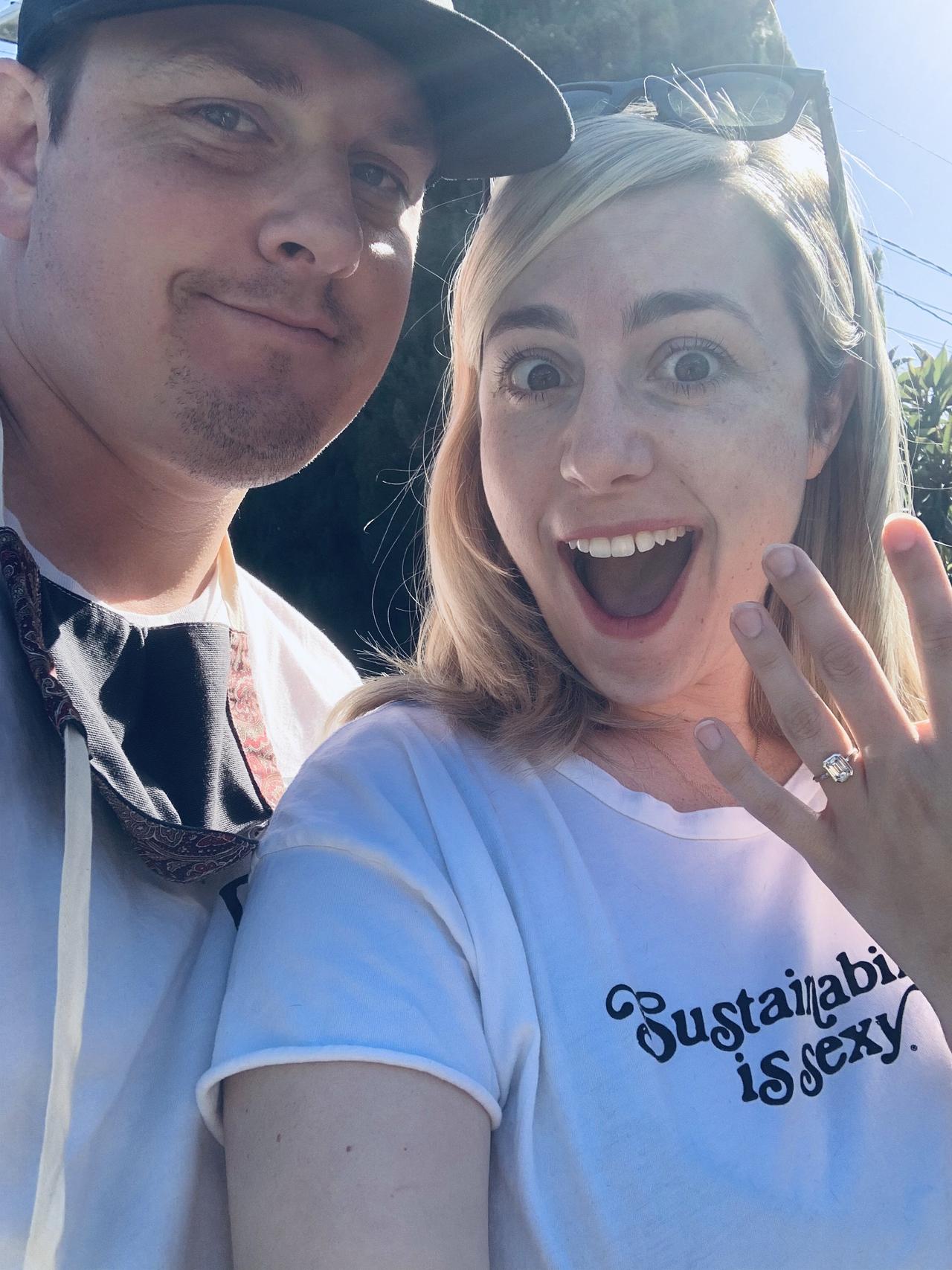 "True Love Reigns"
Taylor and Brennan
Engaged June 7, 2020
After seven years of dating, Taylor Morgan knew her boyfriend, Brennan Clarke was designing a rink with her friend Chelsea from Starling Jewelry, but he had no idea when he was going to ask her. Luckily, he wasn't going to let a pandemic stop him:
"He couldn't stop smiling the day he got the ring and was wearing somewhat form-fitting Outdoor Voices shorts that revealed a square box in his pocket. I felt nervous like I did when he picked me up for our first date at 16. We walked into the garden, and he got down on one knee. He talked about our past, present, and future lives together. It was authentic to our relationship, spontaneous, and everything I could have hoped for. It feels more fitting than not that we got engaged during a global health crisis. These are the times when our truest versions of self can't be disguised, when priories become most apparent, and when true love reigns."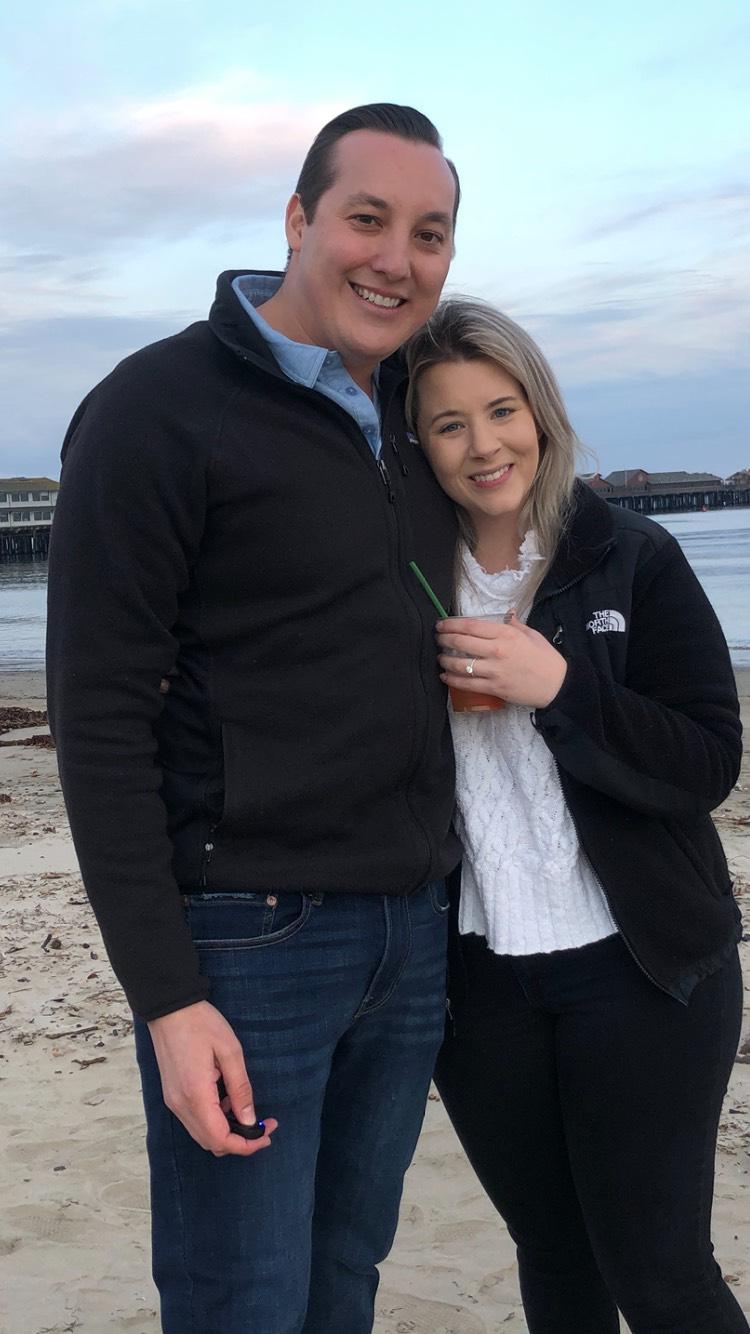 Beach Romance
Alexa and Patrick
Engaged March 28, 2020
For the past three years, Alexa Forshay and Patrick Salcido have built their life together. Like many other people, the pandemic turned everything upside down. Not only did she lose her job, but their cat, Maggie, was also sick. However, they had a planned trip to Santa Barbara coming up, and after much thought (and good news from the vet!), they decided to continue.
"We packed up our overnight bags—one was dedicated to PPE and cleaning supplies!—and headed just up the road from LA to Santa Barbara for the weekend. Patrick had booked a room at the Harbor View Inn, and upon arrival, we were instantly upgraded. Knowing we wouldn't be able to do much, we decided to cruise around town then up the coast to check out the area.
We stopped at a cute little beach and took a few photos with this super cool tripod/selfie stick thing Patrick found. He attributed the purchase to COVID-19 social distancing and the fact that we couldn't ask anyone to take our photo, which went right over my head. We headed back to the hotel and decided to go on the hunt for some to-go cocktails that we could enjoy before taking a walk to the beach across the street.
When we got down there, we played around with a few photo angles, set up the tripod, and took some photos. When we finished, Patrick turned to me and said, 'Babe, you love me forever, right?' I told him that 'Of course! Why would you even ask me that? He continued with, 'Well, there's just one thing left to do then…' He got down one knee and asked me to marry him. Before even saying yes, I said, 'Are you kidding me?' but once I took it all in, I accepted. At that moment, the purpose of the tripod had become perfectly clear."

A Dress-Up Day Surprise
Charlotte and Sam
Engaged April 11, 2020
Back in November, Charlotte Felter and Sam Oppenheim looked at rings together. After dating for five years, she was confident it would happen shortly after. Then, the pandemic hit—and she was convinced he would wait until everything returned to normal to pop the question. She was wrong:
"I am a physical education teacher, so my attire before the pandemic is workout clothes, but it became pandemic routine Monday through Sunday to be in cozy clothes. With nowhere to go, I was dying to have one day to get out and be dressed usually. We decided to make a day out of it. We got dressed up, I put on a full face of makeup and did my hair.
We decided to go down to the water in Hoboken, New Jersey, and walk around Frank Sinatra park. It was beautiful out. Not a cloud in the sky, and the temperature was perfect. We walked until it was a dead end and turned around to head back. Heading back, I told Sam we needed a photo because being dressed normally was rare during a pandemic. He gladly said sure and handed our phones to some people on the bench. Little did I know they were friends of Sam's, and my best friend was around the corner, ready with her phone. I signaled Sam to come closer, but he was looking elsewhere.
I look to see what he sees, and there are my best friend and her husband. Shocked, I turned to Sam, and there he was on one knee! I never saw it coming! Sam had been planning this since September, and both of our families were highly involved, especially his grandma, who lied to me saying she needed a needle and thread back in November and had me drive her all over town. She did this so Sam would have the chance to ask my mom and brother for permission. Sam took the time to design the ring himself and made sure to have a tribute to my dad and incorporated green emeralds in the ring. My dad passed when I was younger, so I knew I would not have him walk me down the aisle, but the green in my ring is like he is always there."

Breakfast in Bed
Jessica and Todd
Engaged April 12, 2020
After three years together, Todd Klavens was planning on proposing to Jessica Pollack in March, but then, of course, COVID-19 took centerstage. He returned to the drawing board and decided he would propose before her 40th birthday on April 18:
"He woke up before me, which usually does not happen. When I asked what he was doing, he said he would make breakfast for them and told me to get more sleep. He made a yummy meal and brought it to me on a platter with a rose, and he placed it down on the nightstand and then dropped to one knee. It was perfect."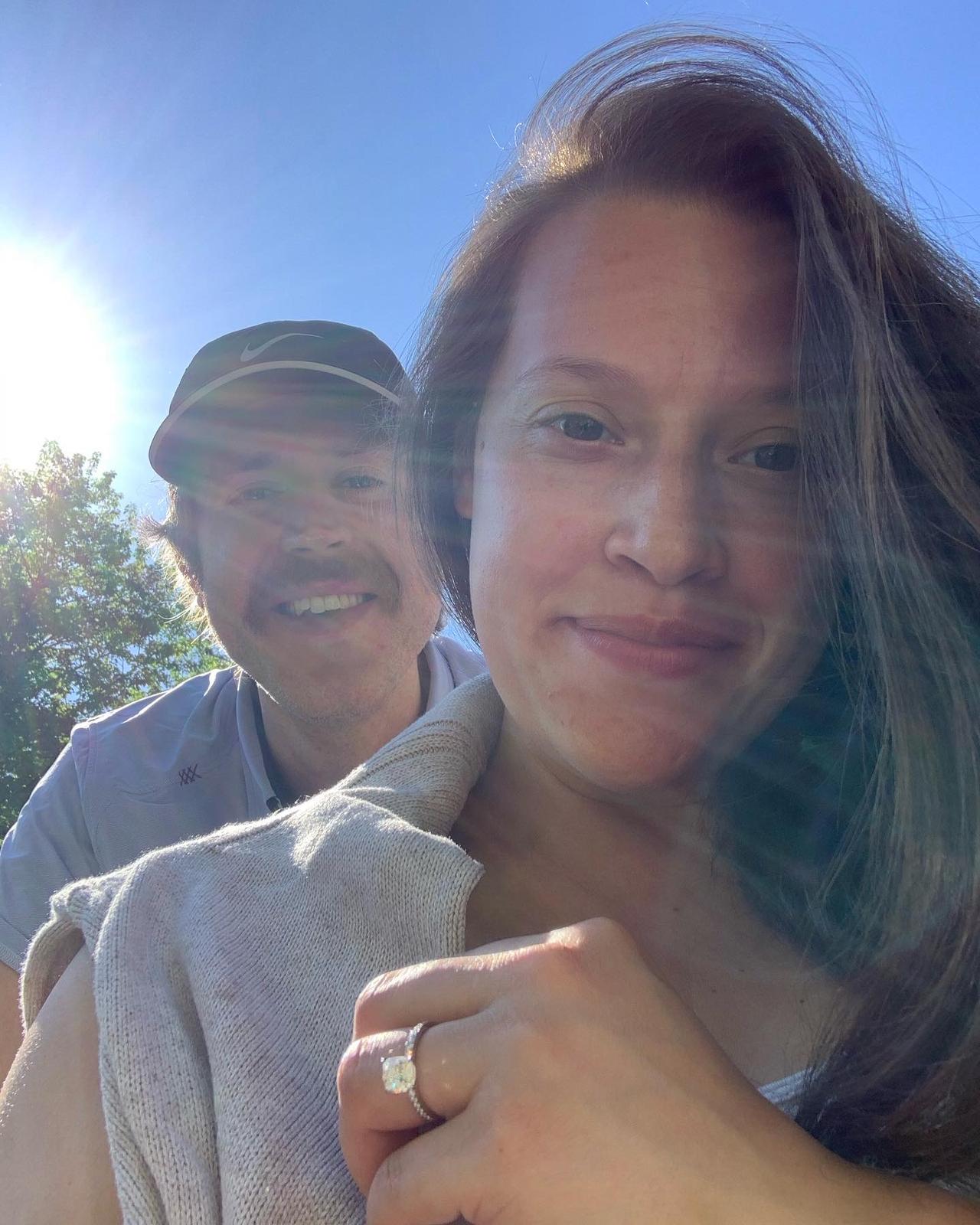 Short-Notice Trip
Ariele and Mike
Engaged June 10, 2020
Ariele Gonzalez and Mike Jones met at work in 2011, but it wasn't until this March that he decided to pop the question. He had laid out a masterful plan, but when COVID-19 started to shut down businesses, it was a mad dash to secure the ring he ordered. Once it was in hand, he planned a short-notice trip upstate, and the rest is history:
"Mike surprised me with a very last minute, very impromptu quarantine trip to Woodstock, New York. Convincing me he got a fantastic deal at a newly re-opened hotel in Woodstock's heart (a favorite upstate-NY town of ours), Mike quickly got me on board to leave busy NYC and escape real life for a few nights. Upon arriving at our private cabin at Woodstock Way Hotel, we were greeted with a beautiful set up of Veuve Clicquot and dark chocolate."
Thinking this was simply a nice touch from the hotel, I jumped in on the champagne. With dinner ordered, Al Green played in the background and the sun setting, and we were on their private patio enjoying the stream's sounds. he took my hand and said, 'I had an ulterior motive for bringing you here.' He then pulled out the most gorgeous LJ West custom-made diamond ring, got down on a knee and asked me to marry him. Overwhelmed with shock and joy, I hugged Mike, cried and said 'Yes!'"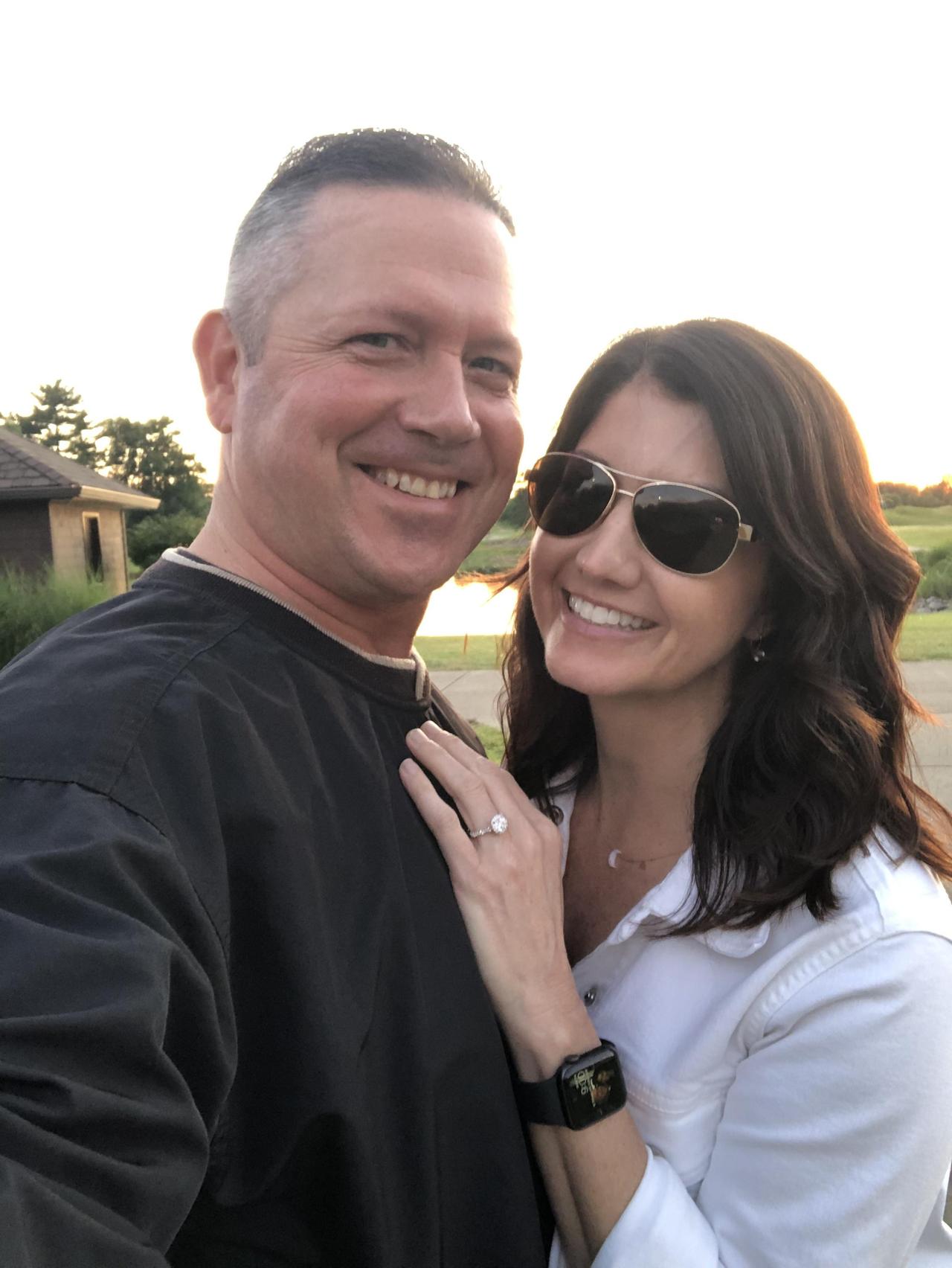 A Golf Course Proposal
Julie and Bryan
Engaged June 14, 2020
Though they've known one another for five years, Julie Crawford and Bryan Smith officially started dating in October of 2018. The pandemic changed many aspects of their day-to-day routine, most notably, less travel. Typically, Julie is away from home most weeks for work, and then their weekends are spent shuttling their kids to sporting events. Between the two of them, they have five children, four of whom are active in athletics. March came, and there were hours for quality time—and a proposal!
"We started spending several days together versus just a few hours here and there. In the first week of April, my house flooded, and I had to leave for six weeks to renovate. I then moved in with Bryan temporarily, and we had Sunday family dinners with all of our kids for the first time since they've been dating. The time together brought us closer together than we ever imagined.
Then, I got the news one day that her house was nearing completion, and we both decided we didn't want things to go back the way they used to be. So, we looked for a house to accommodate our family of seven—and within just a few weeks, we bought a new home and sold each of ours. After a long stressful weekend of moving into our new home in a golf course community, he said we needed a break from the move and wanted to show me around the course. He took me around all 18 holes on a golf cart, perfectly timed to end on a long bridge across the lake right at sunset. He stopped on the bridge and surprised me with the most beautiful proposal I could have ever imagined."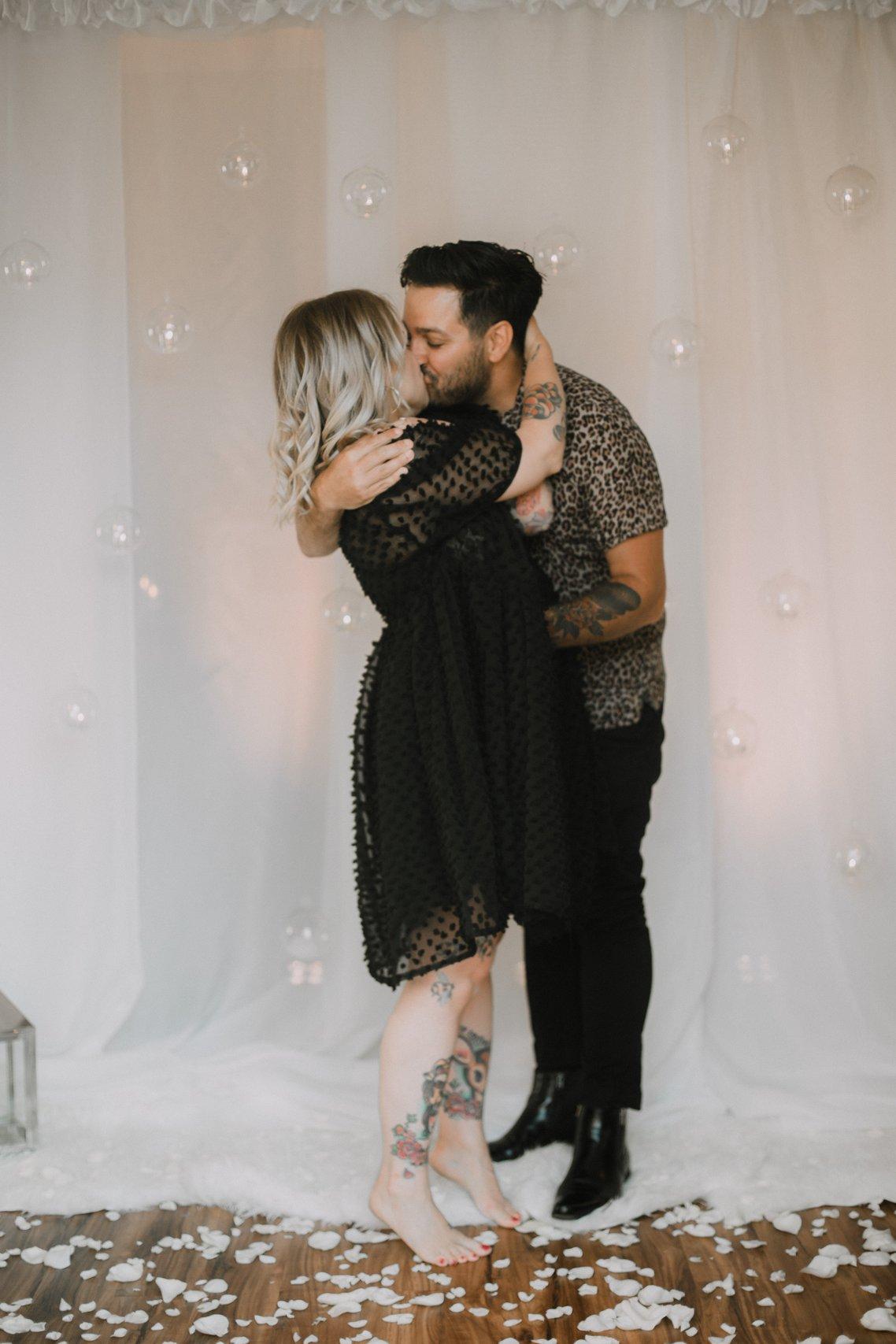 A Next-Level At-Home Proposal
Stefani and Daniel
Engaged June 13, 2020
For the past two months, Daniel Lannon has been planning the perfect—yet socially responsible—proposal to his girlfriend of one-in-a-half years, Stefani Rose. He hired an event planning company to help him pull off the surprise and secretly bought an engagement ring he kept hidden in their modest one-bedroom apartment. After setting up a sitter for their three-month-old puppy, Ollie, he put his plan into action:
"I took Stefani out on a drive to all her favorite places in Pittsburgh. We went to the West End Overlook with a beautiful view of the city and the point where the three rivers meet, walked down by the water, picked up a to-go order of mini doughnuts, picked up Thai food to go and slowly made our way back to our apartment.
Meanwhile, the event planning company, Luxe Creative, had been working all day for four hours, sending me updates on the setup's status. They placed candles leading up our back deck, hidden cameras, and had an elaborate backdrop with candles all over the apartment. On the stereo was the Toy Story song 'You've Got A Friend In Me.' It's meaningful because I used to hack her Google Home when I would arrive at her place back in Bushwick, NY, so she would know I was out front and play that song. I walked her up the stairs, and as she saw the candles, she asked: 'What is this?' I opened the door, got on one knee, and popped the question. She happily said, 'yes!' The next couple of hours were filled with FaceTime, Zoom, and Houseparty hangouts with friends and family. We couldn't be happier."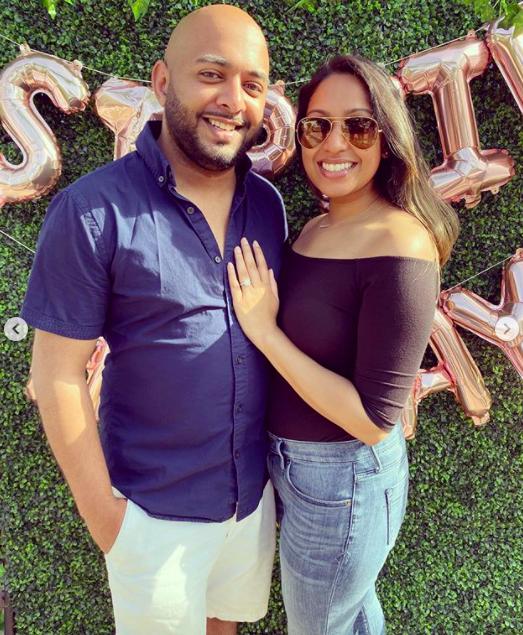 No Mani, No Problem
Nirmala and Ganesh
Engaged on May 24, 2020
Ganesh knows his girlfriend of six years, Nirmala loves manicures, pedicure, and a blowout. With the pandemic, those pampering experiences were out of the question, but he didn't want to delay asking her the most important question of their lives. Even though she missed out on the sparkly engagement ring hand photo, she was still over the moon:
"Ganesh is my best friend and understands me in ways I never could. We met through my brother-in-law, and we have been inseparable since. On our first date years ago, we had a picnic on Nickerson Beach, Long Island. To kick off the summer every year, we go back to the same beach for a picnic. This Memorial Day weekend, we went to the beach as tradition, and he asked to take a walk by the water. We were with another couple, so I didn't suspect anything. The next thing I know, he says, 'I have to tell you something,' and goes down on one knee.
I was in mental and physical shock. I was thinking, 'Holy moly, this is happening right now? In the middle of a pandemic? Did you ask my parents for permission? My sister? Is the man with the camera the hired photographer? Is this why you got a shape-up on your beard yesterday? My nails aren't done...the answer is still 'yes'!'
Of course, this was never the plan, and I always had my mind set on looking my absolute best, but at the end of the day, it's not only about you, but it's also a step for the both of you. And now, this pandemic will always be a part of our story."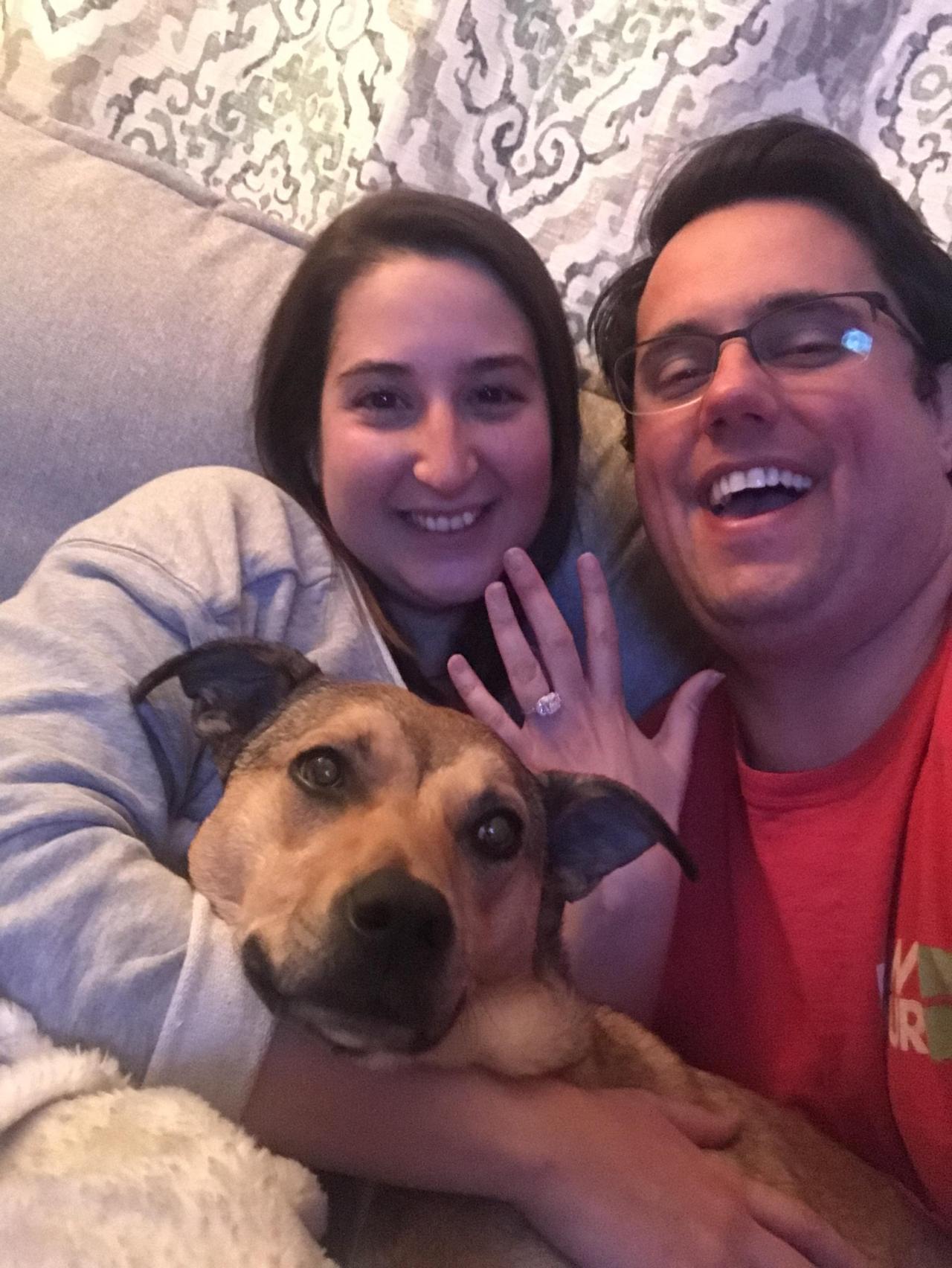 Backgammon Family
Samantha and Will
May 8, 2020
Though Samantha Galvin and Will Holdsworth talked about marriage for a while in their 3.5-year relationship, she didn't think it would happen soon. And definitely not during the pandemic. However, he surprised her in the best way:
"I didn't do my hair or my makeup! It was like 294389573948th day in quarantine; it was a battle for him just to convince me to put real pants on! We love games, and because he grew up playing Backgammon, he taught me how to play early in our relationship. At almost every family function, it is the highlight of the event to have a Backgammon competition.
On a rainy Friday, we got back from grocery shopping, set up the game, popped a bottle of bubbles, and started playing. His first roll came up, and the ring came out. I was shocked! He got down on one knee as I cried like a baby as he proposed. It was amazing and so unique, and what touched me most about it was him telling me after that he wanted to do it this way because it is a family game. And because he taught me, proposing during Backgammon made it seem like he was officially asking me to be a part of his family."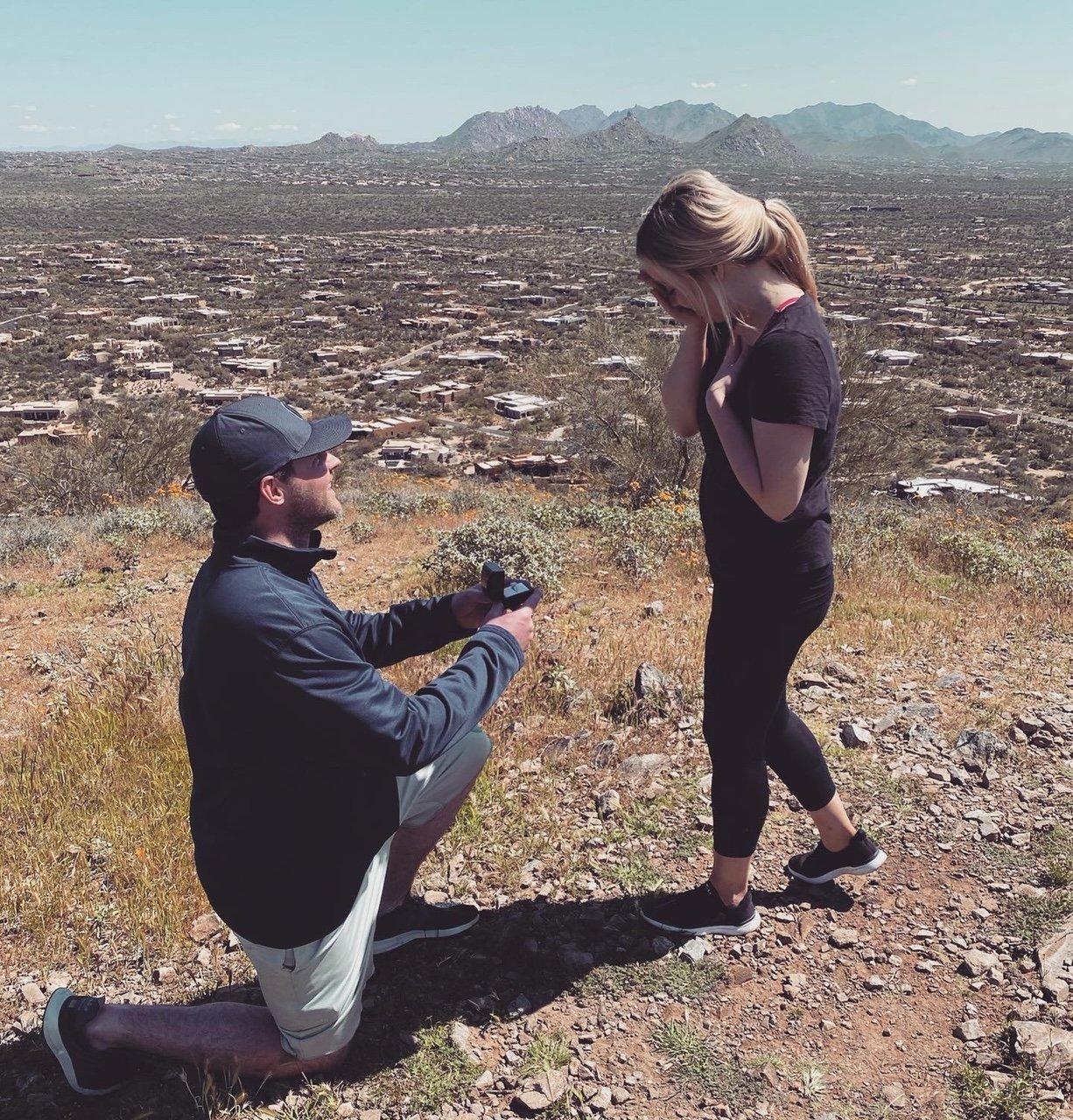 A Spontaneous Hike
Kendal and Garrett
Engaged March 21, 2020
Two and a half years into their relationship, and at the start of the pandemic, Kendal and Garrett decided to drive to Arizona to visit family. One day, Garrett said he was going to the driving range with his younger brother, but in reality, he was picking up the ring from a jeweler. Since May of last year in Sedona, he had been planning a proposal, but COVID-19 caused him to rethink his plans.
"When he picked up the ring, he said he felt like he wanted to give it to me right away and didn't risk having to wait several months. So, when he came back, he asked if I wanted to go on a hike, and we hiked to the top of Lone Mountain in Scottsdale. There were a few other people at the top, and a lady tried striking up a conversation with us, and I couldn't understand why he was so short with her.
His younger brother, Parker, asked if we wanted to take a picture together at the top of the mountain, and he got down on one knee and proposed! I was so surprised, and he likes to joke that even he didn't know he would be proposing that day when he woke up in the morning."
Safety First
Brigitte and Zack
Engaged May 29, 2020
Zack's original plan was to propose in April during a camping trip. But after 5.5 years together, he knew he didn't want to wait any longer to move to the next step in their journey. Also, since Brigitte admitted she was suspicious of an upcoming proposal, he changed tactics on a whim:
"He called the restaurant where we first met and had our first kiss and asked if he could stage something on their outdoor patio the day of. They agreed, and after I got to the restaurant to 'pick up our dinner,' he was waiting with a bouquet of roses and champagne. And yes, we wore masks when he got down on one knee. I like to think the absence of people made it feel like he rented out the entire restaurant just for me instead of because of CDC guidelines. It's just more romantic that way."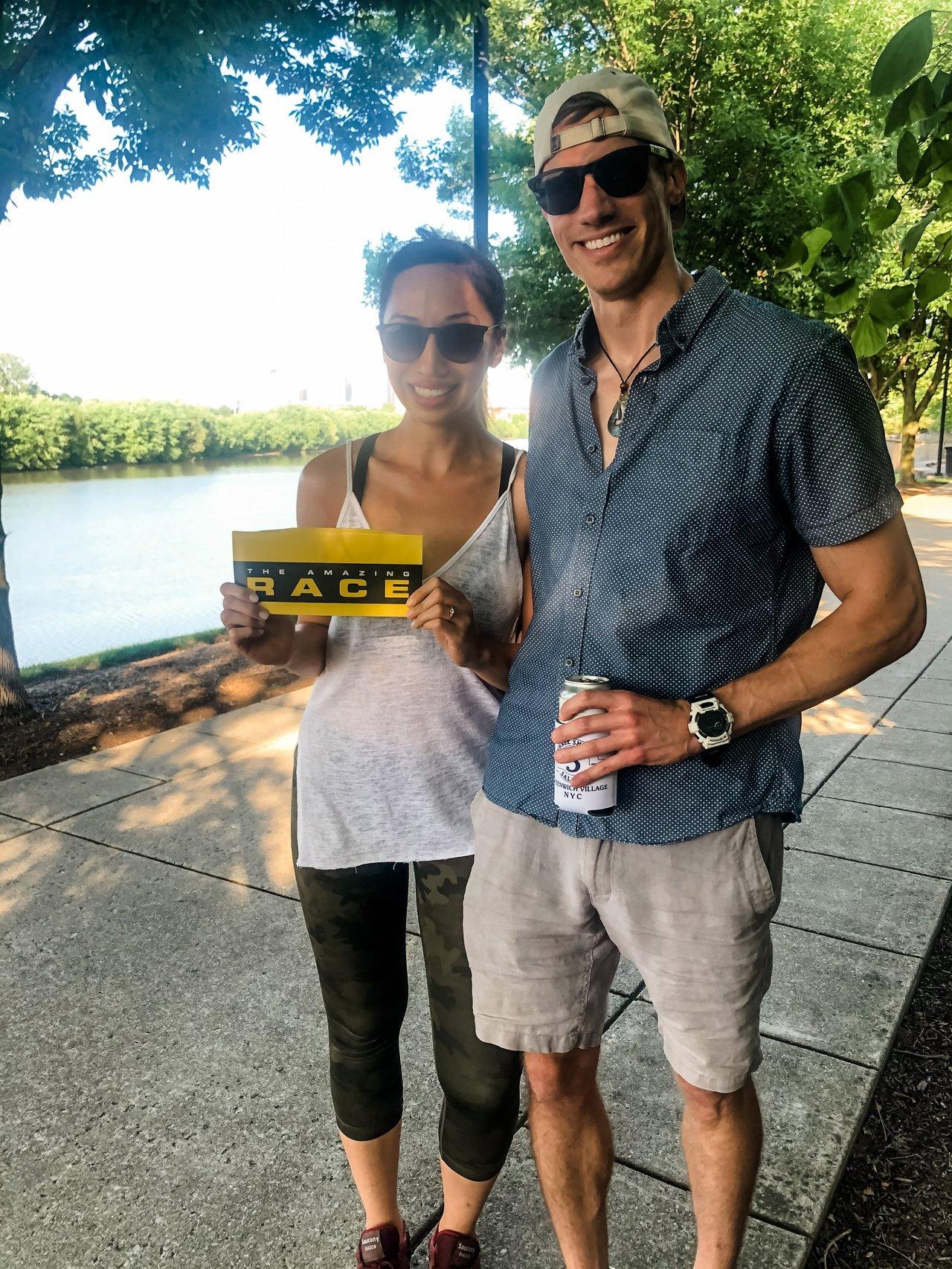 The Amazing Proposal
Vanessa and Brandon
Engaged June 6, 2020
When Vanessa Jennette and Brandon Miller began their quarantine, they quickly grew addicted to 'The Amazing Race.' They started back in 2001 and have been binging to pass the time. It's gotten them through some disappointments, like not being able to take their fifth-anniversary trip, as they had planned to do since it landed on a Saturday this year. Luckily though, Brandon made the day more incredible than anticipated:
"On the morning of June 6, Brandon surprised me by playing a video he put together that introduced me to my very own Amazing Race challenge to celebrate our anniversary social distancing-style. Meanwhile, he was wearing the shirt he wore on that date, along with a fish hook necklace inspired by Amazing Race host Phil Keoghan.
Brandon had set up ten tasks hidden in envelopes—consisting of Detours, Road Blocks, and even a Pit Stop—throughout the city of Indianapolis. Tasks ranged from frisbee-throwing to picking what to eat for lunch. After a full day traversing across town by foot, car, and bike, and completing challenges, I made it to the tenth clue envelope. It was the final clue before the Finish Line.
The final envelope read, 'Will you marry me?' Brandon got down on his knee, and a couple of friends emerged from their hiding places—in disguise and all!—to take photos and pop the champagne. It was an exhilarating and unforgettable day!"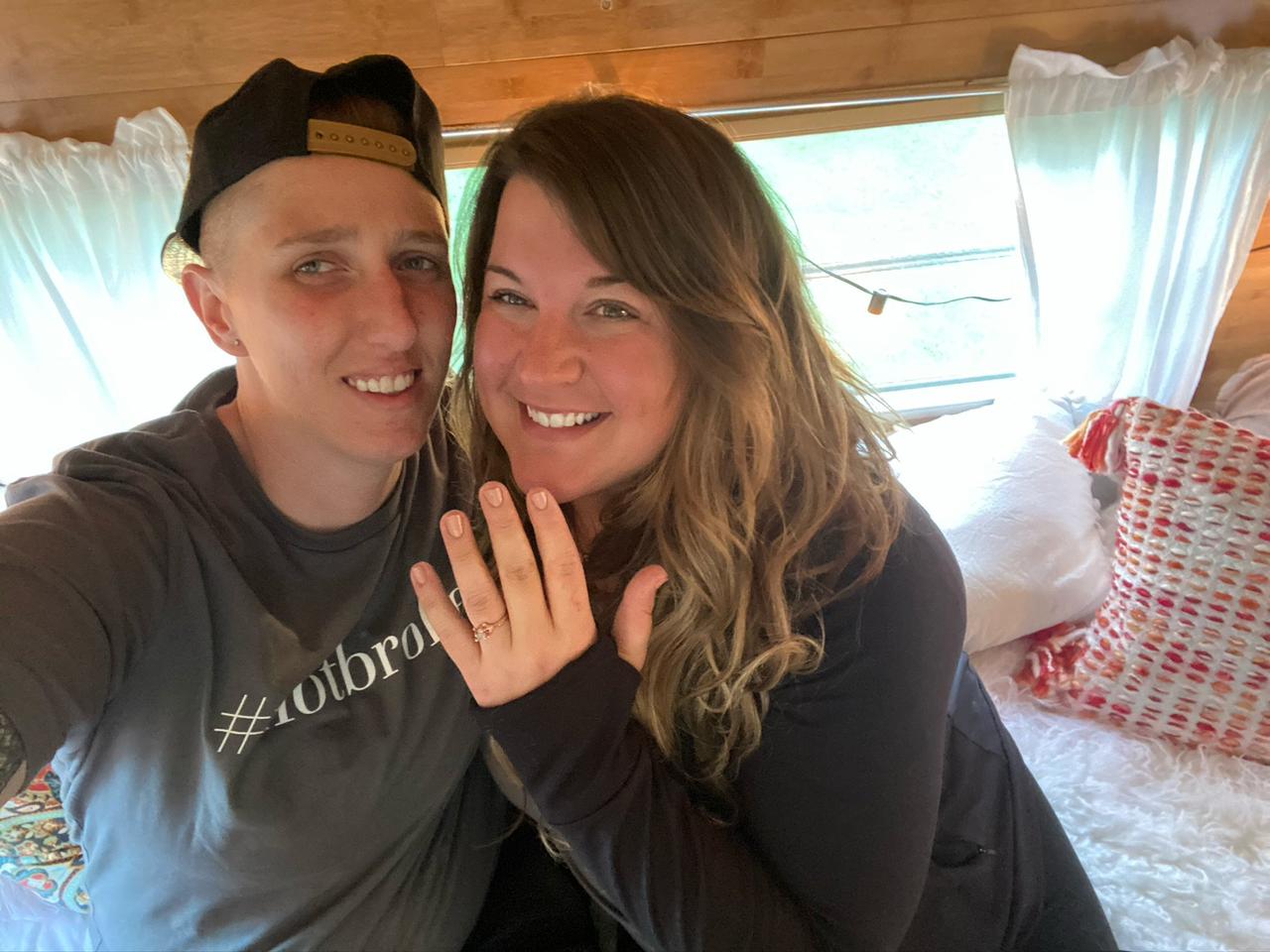 A Memorable Mother's Day
Jenny and Mallory
Engaged May 10, 2020
Shortly after Jenny moved back home to Maryland after ten years in Jacksonville, she met Mallory. And to their surprise, they realized they both moved to Jacksonville in 2009 and had six years for their paths to cross, but they never did. It wasn't until fate intervened and brought them together, and a year later, took their relationship to the next stage:
"A traumatic experience brought Mal to Maryland, and I moved back to help take care of my family after my mom had a stroke. We genuinely believe that our story is way longer than the year we've been together, but we had to go through all we did to meet as the people who were are today—shaped by our own experiences.
Since meeting, we have been through so much together in one short year. There is no doubt that we are soul mates, which is the person I'm meant to share my life with. Mal proposed on Mother's Day when our families got to meet for the first time at a small get-together/cookout. She had initially planned to pop the question on a vacation we are taking in May. But on that day, our families were together, and she did it at our lovely home. It couldn't have been more perfect, and I couldn't be happier."