The Craziest Requests Wedding Caterers Have Ever Received
Many couples work with their wedding caterer to create a menu that's customized to fit their tastes—but some couples take it a bit too far.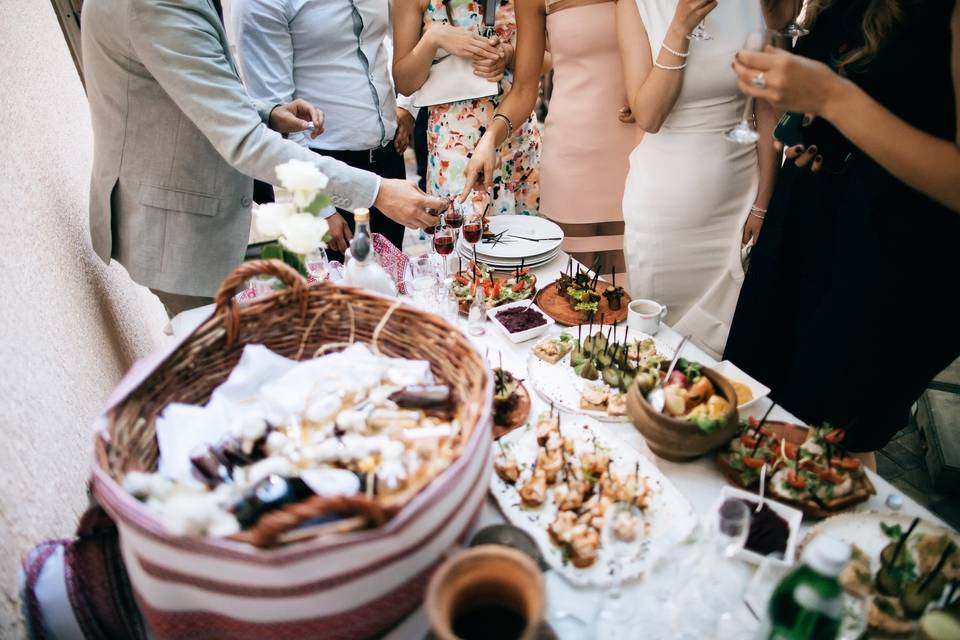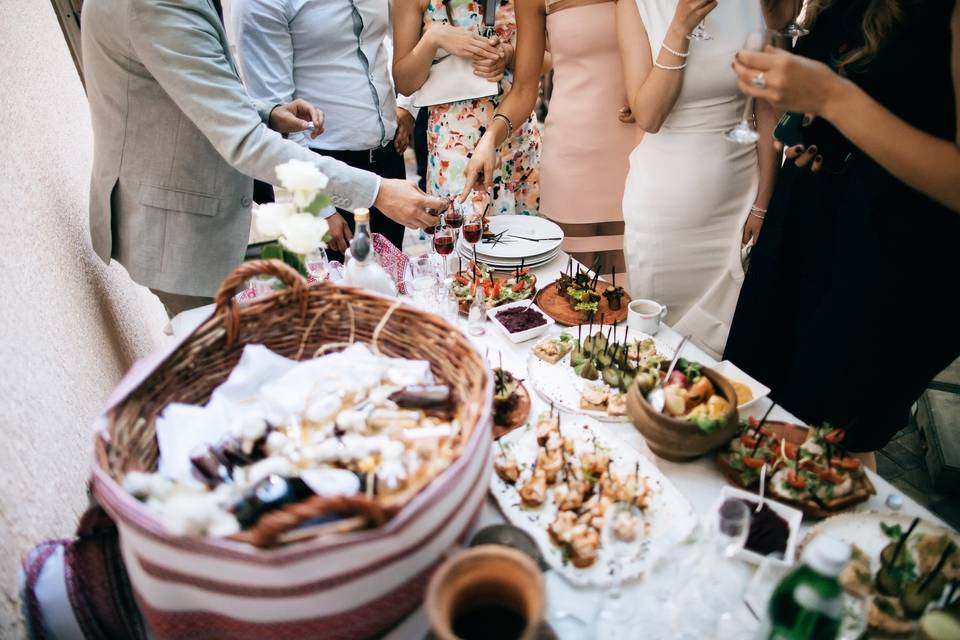 Any monumental moment in our lives calls for the very best of food and drink. A wedding is no exception — and sometimes, perhaps in an effort to make their wedding stand out from the rest, couples are guilty of making some pretty crazy requests of their wedding caterers. Some of these dreams the pros are able to deliver on, while others… well, it just wouldn't be sanitary.
From a duo who wanted a 14-course meal with short notice to another who wanted to bring in — wait for it — live chickens for their big day, here's some of the most outlandish requests wedding caterers have ever received.
The one who wanted to bring live chickens for dinner.
Many times, weddings are an opportunity to pay tribute to the couple's background, and the journeys they had to take to find one another. This might include keepsakes from childhood in the form of photos or a spin on Grandma's signature apple pie — but one couple wanted something that stretched a little far. As the president of Blue Elephant Events and Catering in Saco, Maine, Fausto Pifferrer shared, he once had a client who wanted to provide chicken from her parent's farm for her wedding. "Though I would never allow that for sanitary reasons, I was trying to appear agreeable, so I asked how the meat would be delivered," he continued. "She responded with: 'The birds come three to four to a crate.' I realized that she was planning to bring me live chickens to slaughter. That ended that discussion."
The one who needed a very specific type of water.
Truth be told, couples are usually picky about the type of beverages served at their grand affair. This is normal, sure, but what about a duo that was specific about ... water? One wedding caterer — who preferred to be anonymous — said a client was super-vocal about only being served Acqua Panna. Mind you, this wasn't for their guests… but only for them. "This was a full service hotel and they hosted everything with us so we're talking about the wedding rehearsal dinner, water in the hotel room while getting ready, etc. What's funny is that they weren't particular about anything else- they actually requested pretty terrible wine to have on the bar even," they shared.
The one who wanted everything — and we mean everything — unicorn-themed.
Every couple has their own unique style. And wedding planners, caterers and florists are tasked with executing on their vision. Even if it is sometimes… out of this world. Angie Schembs Smith, the event manager for The Notary Hotel in Philadelphia once had a couple who wanted their wedding to be as magical and elusive as a unicorn. "All elements of the big day played into this theme. From a catering standpoint, the couple requested a unicorn cake, unicorn cocktails and even unicorn straw," Smith shared. "In addition to unicorn-themed F&B elements, their officiant wore a unicorn-costume and a three-song medley that included Taylor Swift's 'Enchanted,' Maroon Five's 'Sugar' and Olly Murs' 'Dance with Me Tonight.'"
The one who asked the family chef to help the executive chef.
Most seated dinners at a reception include appetizers at the cocktail hour, followed by a salad, main and dessert. But sometimes, a family wants to ensure everyone is not only satisfied — but stuffed. One time, Peter Betz, the executive chef of InterContinental New York Barclay, had a guest asked for a 14-course meal with 350 people… on three-week notice. Betz worked with a Russian chef to ensure every detail was right, and eventually, they developed a game plan that included 150 pounds of caviar, 200 pounds of Wagyu beef, and 20 action stations with 20 chefs live cooking in front of friends and family members.
The one who was caught in the middle of major family drama.
Having parents that are divorced can be tricky for a child when they plan their big day. Not only do they want to avoid playing favorites or hurting feelings, but they are tasked with keeping drama to a minimum. Or… they ask their wedding caterer to handle it, as in the case of Pifferrer. To start things off, they requested their parents (and their new spouses) be seated on opposite sides of the room. "To go along with this, the mother and father's plates had to hit the tables at exactly the same time during dinner service, because spies were watching to make sure that no one received 'special treatment' at the wedding. The bride and groom were so over it that they ended up eating upstairs by themselves, and had a lovely time," he shared.
The one who didn't know what 'kosher' actually meant.
Due to religious practices, sometimes couples require kosher meals for themselves and their families. This happened with one caterer, who asked to remain anonymous, and thought it was a status-quo ask. That is until the mother of the bride realized it couldn't be served on their china. "It couldn't because it needed to be wrapped and served a certain way. So she asked several times if I could simply unwrap the food and move it to our china, which would literally mean it would no longer be kosher. I, of course, refused- but couldn't believe how insistent she was that we consider it," she shared.
The one who pulled it off without running water, electricity or light.
Weddings often come with hiccups that no one can predict or plan for, creating much anxiety for the couple and their loved ones. However, it's the best wedding caterers who can step in and save the day, even with little resources. The team at Purslane, Brooklyn, New York's zero-waste and carbon-neutral wedding caterer was once tasked with a last-minute switch, due to a venue closing. One of their couples intended to have their entire wedding weekend at an estate — wedding party staying in the mansion, rehearsal dinner, ceremony and so on — but the venue shuttered their doors three months out. Luckily, their planner was able to secure the Storm King Art Center for the affair, but that posed quite the task for the food professionals. They were given a few weeks to restructure all of their plans, and devise a way to serve out a reception in the middle of a field with no running water, no electricity, and no light. Somehow, they pulled it off.
The one who didn't believe all should get great wine.
Having a refined palate is a fantastic skill that takes time to nurture. Most of the time when this happens, the vino-lover wants to do all they can to share their taste buds with the world. Other times, not so much. One wedding caterer, who decided to be anonymous, had a father of the groom with a fantastic taste in wine, and a budget to accommodate it. "The only problem was…. he didn't want to pay for all the dinner tables to have the upgraded wine. So he made us serve house wine — which was pretty terrible — to his guests, while he and his best friend got the $200 bottles of wine. It made it very awkward for the servers," she shared.