6 Ways to Save Money on Wedding Catering
These easy-to-follow suggestions will help you save money on your wedding catering while still serving a memorable and delicious meal.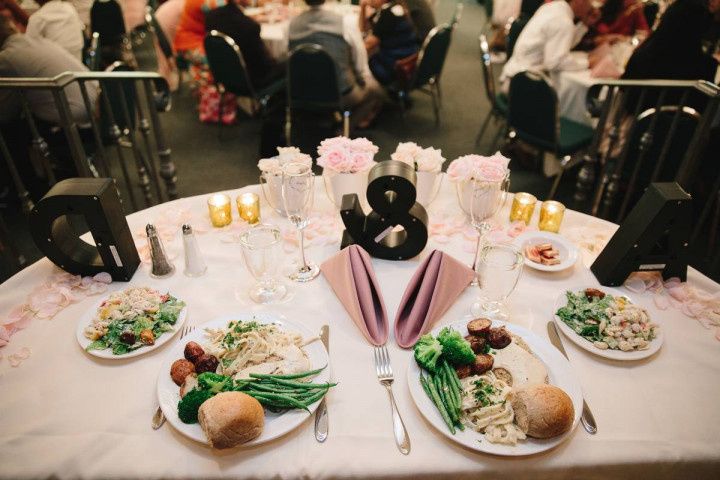 As one of the biggest expenses in your overall wedding budget, some couples find catering costs to be a bit more than they'd anticipated. While every couple should expect to allocate about half of their total budget toward reception costs—catering services included—there are ways to save money on wedding catering without sacrificing a delicious meal for all. Experts agree that if a couple is willing to build a strategic menu, skip the plated dinner, and think outside the box, there's plenty of room to keep catering costs right on track.
Ready to save yourself some money while still serving up something great? We've got the top clever ways to save money on wedding catering, straight from the pros.
Book special offer rates.
If you're looking to lock in the very best rate, try attending various wedding shows and expos in your local area. Jeremy Michalski of Cutting Edge Catering in Rancho Cucamonga, California says couples who book on the spot or right after a wedding show often get to take advantage of the amazing promotions and special discounts catering companies offer.
Jeremy Michalski added that some catering companies offer special military rates for any active or retired military personnel, so you should always inquire if this is applicable.
Go for budget-friendly foods.
Saving major money on your catering costs all comes down to making strategic menu selections. Michalski advises couples to opt for budget-friendly entrée such as pork, chicken, or turkey over more expensive menu selects like steak or lobster. The same goes for appetizers, sides, and desserts.
Similarly, Emily Stellick of Savory Cuisines Catering in Boulder, Colorado told couples to keep the food simple but delicious. "There is nothing wrong with a traditional dinner of chicken, potatoes, and vegetables. Just focus on hiring a caterer with well-cooked, flavorful food; so even a simple menu will impress your guests. This is why tastings are so important and we encourage couples to taste their menus!"
While budget selections may not be the foodie experience you originally had in mind, rest assured that a great wedding caterer can turn any menu into a stand-out meal.
Skip the plated full-service dinner.
"If you are looking for an easy way to save money on your wedding catering, one of the best options is to opt for a buffet," Emily Stellick said. "This style of service requires fewer staff compared to a plated or family-style dinner; saving you hundreds of dollars in labor costs. A buffet may also reduce the amount of rentals needed, as well. For example, if you decide on a plated dinner, a salad course is typically served first. This would require you to rent not only a dinner fork and dinner plate, but also a salad fork and salad plate."
"However, be careful, as it can be easy to confuse a buffet service with stations. Stations can rack up the costs quickly as it requires experienced chefs to manage each station. The menu also becomes longer when several foods are offered at each station, thus increasing your food costs."
Opt for a weekday.
It's no secret that getting married on a weekday (especially Monday through Thursday) can save couples major money, and according to Jeremy Michalski catering costs are no exception. "We often discount our services if the wedding is not on a Friday, Saturday or Sunday," he said. Consider this yet another pro of opting for a weekday wedding.
Consider disposable dinnerware.
A lot goes into catering expenses, including the cost of plates, flatware, drinkware, and napkins. While fine china and linen napkins are non-negotiable for some couples, others are able to explore alternatives for a more casual wedding and cut a considerable amount of costs in the process.
As a way to save money on wedding catering, Jeremy Michalski suggests serving appetizers or the wedding cake on disposables and keeping the real china for dinner service only. "Serving your guests on fancy, high-end disposables—we recommend biodegradable materials to keep things eco-friendly—will save you a bunch of cash you can use elsewhere," he said.
Go casual for cocktail hour.
Hors d'oeuvres for the cocktail hour are also a part of catering that can increase your total cost. These small bites are often intricate and more labor-intensive, requiring additional prep time in the kitchen This will be reflected in the pricing," Emily Stellick said. "If you want to serve snacks during cocktail hour to tide your guests over until dinner is served, consider offering platters and dips. Hummus and crudites or chips and guacamole are both great options. (And who doesn't love chips and dip?) Or, a more elegant choice could be a charcuterie board filled with jams, cured meats, fruit, and cheeses. These dishes require less labor, thus saving you a little money."
To save further, Ann Bloomquist Jarema of This Little Piggy Catering in Saint Paul, Minnesota also suggests couples consider providing their own non-perishable snacks. As long as it's approved by your catering company in advance, couples could bring in their own crowd-favorite bites like nuts and snack mix varieties to tide over guests until dinner.