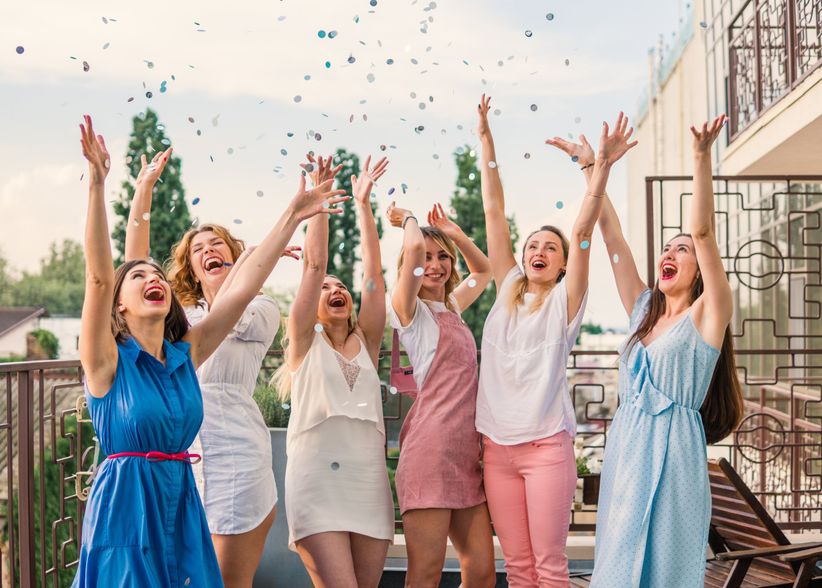 A Charlottesville bachelorette party is a great choice for wine lovers looking for an East Coast destination to celebrate. Charlottesville, Virginia (or known as Cville if you're a local), sits along a section of the Blue Ridge Mountains and is filled with vineyards and wineries that you can check out during your girls getaway weekend. Along with its winery and vineyard options, Cville is also home to the University of Virginia — Go Hoos! — and other must-see sites and attractions. So, if you're thinking about throwing a Charlottesville bachelorette party and need some help when it comes to where to stay or what to do, we've got you covered.
Start planning your Charlottesville bachelorette party by following this go-to guide.

What to do
Since Charlottesville is filled with some of the area's best vineyards and wineries, we definitely suggest planning a winery tour during your trip. Just reserve a taxi or bus, like the popular Wahooptie Taxi, and spend a day bee boppin' to all the different wineries. From the beautiful Pippin Hill Farms and Vineyards to the family-owned Veritas Vineyard and Winery, The wineries on the Monticello Wine Trail are a must-see during your Charlottesville bachelorette party.
After a day filled sampling various flavors of vino, we suggest spending some of your time exploring the Downtown Mall. It's one of the longest pedestrian malls in the United States and has plenty of boutique stores for shopping, as well as, a killer selection of restaurants to stop in for something to eat.
The University of Virginia is also located right in the heart of Charlottesville and and has a gorgeous campus that can be explored during your bash. Whether you're looking for a morning stroll after grabbing some coffee with your girls or want to just get out of the house or hotel before your dinner reservations, UVA is easily walkable and provides plenty of photo-ops. Our favorites include the Rotunda and The Lawn.
Where to eat and drink
You definitely will have plenty of options when it comes to where to eat during your Charlottesville bachelorette party. From fine dining, to fast and casual restaurants, here are some of our recommendations:
If you're looking for an upscale dining experience for one of your nights in Cville, then these restaurants are absolute musts:
C&O: Located right near the Downtown Mall, C&O offers a delicious selection of country French fare and a fab wine list making it a great choice for celebrating your bach party.
The Ivy Inn Restaurant: Featuring locally-inspired American cuisine and set inside a 19th century historic home, The Ivy Inn Restaurant is another one of Cville's treasures.
Hamiltons' at First & Main: Hamiltons' is nestled right in the heart of Charlottesville's Downtown district and provides a cheerful and cozy atmosphere for dining.
Public Fish & Oyster: Seafood lovers should definitely check out this rustic-chic spot. It offers fresh East Coast seafood, a raw bar and wide variety of craft beer and cocktails.
Hoping to grab just a quick bite to eat before one of your bachelorette party activities? Check out these cool spots:
Bodo's Bagels: If you love bagels then we highly recommend grabbing breakfast or lunch here.
Citizen Burger Bar: This is a popular burger joint that is located right on the Downtown Mall.
Littlejohn's New York Deli: A New York-inspired deli that has some of the best sandwiches in Cville. It's also open late night, too!
Want to hit the town for a cocktail beverage of your choice? Definitely hit these bars during your Charlottesville bachelorette party:
Commonwealth Skybar: The stylish venue has an awesome rooftop bar that's a great spot for a night cap with your gals.
Boylan Heights: This prep-school-themed sports bar is known for being a fun spot to party late night.
Oakhart Social: Set in a modern restaurant, Oakhart Social has a fab array of craft cocktails, wine and beer.
The Biltmore: The outdoor patio at this bar and grill should definitely be added to your Charlottesville bachelorette party itinerary.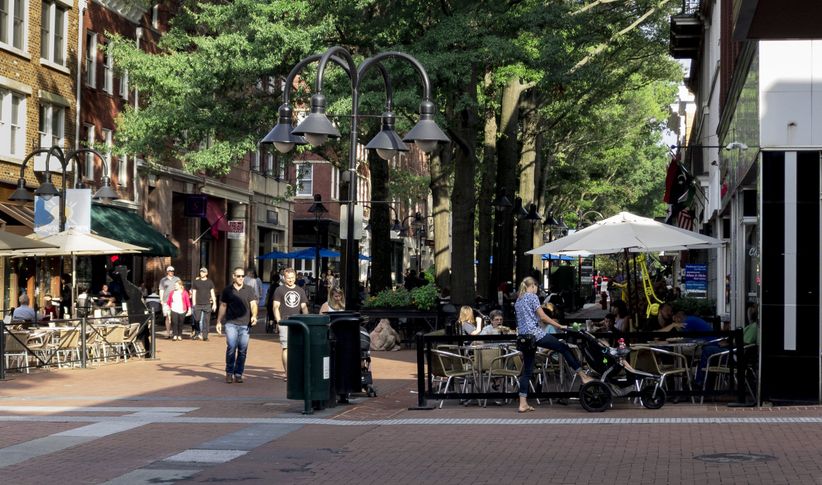 Where to stay
There are tons of hotels, bed and breakfasts and other rentals to stay at during your Charlottesville bachelorette party. The Graduate Hotel is a popular hotel choice, since it is located across the street from the University of Virginia campus and gives off a hip and retro vibe for your stay. The Townsman and Omni Charlottesville Hotel are two other great hotels to book for your weekend getaway, as well. As for B&Bs, our go-tos include the Victorian-inspired 200 South Street Inn and the Craftsman-Inspired Oakhurst Inn.