Looking for ways to really make your nuptials in the Queen City stand out from the rest? You're in luck, because there are plenty of unique wedding venues in Charlotte, NC! These venues go beyond the average spaces to give your big day a bit more personality through unique architecture, unconventional wedding backdrops, and more. From Uptown to the South End, you'll find interesting and out-of-the-box venues all over town — the hard part is choosing just one.
Check out these unique wedding venues in Charlotte, NC.
Aria at Founders Hall
A domed glass ceiling is the wow factor at this unique wedding venue in Charlotte, NC. Italian restaurant Aria is part of Founders Hall, an impressive multi-level atrium housed inside Charlotte's tallest building. Along with the glass ceiling (say hello to perfect natural lighting) the space is accented with marble floors, trees, fountains, and a curved staircase, making this venue classic with a twist. In-house catering is provided by Aria, which specializes in Tuscan-inspired cuisine with a focus on local ingredients and seasonal menus. Be sure to bring your appetite!
Learn more about Aria at Founders Hall »
The 658 Center
If you're looking for a blank slate venue in Charlotte with industrial vibes, check out The 658 Center. This is no ordinary community center — the warehouse-style venue features modern details such as polished concrete floors, spoke chandeliers, and cool refurbished wood accents on the walls. With a 7,000 square-foot banquet hall, it's one of the larger unique wedding venues in Charlotte, NC and can host events for up to 325 people. The 658 Center is also an all-inclusive venue, with catering, tables and chairs, decorative items, and setup/cleanup staff included in your rental fee. Most importantly, the venue uses its funds to give back to the Charlotte community by providing meals and resources for those in need.
Learn more about the 658 Center »
Catawba Brewing Company
It's no secret that Charlotte has some pretty amazing craft breweries, which can also be fabulous wedding venues for brew-loving couples. The Catawba Brewing Company in Uptown has three event spaces to choose from, including two smaller options in the taproom and a large area in the barrel room, which has a max capacity of 230 people. A rooftop lounge has unbeatable views of the Charlotte skyline. Inside, domed ceilings, exposed ductwork, and steel beams give the venue a laid-back industrial feel. Catawba Brewing Company will provide event rentals, setup/cleanup, lighting, and of course plenty of beer on tap for your big day.
Learn more about Catawba Brewing Company »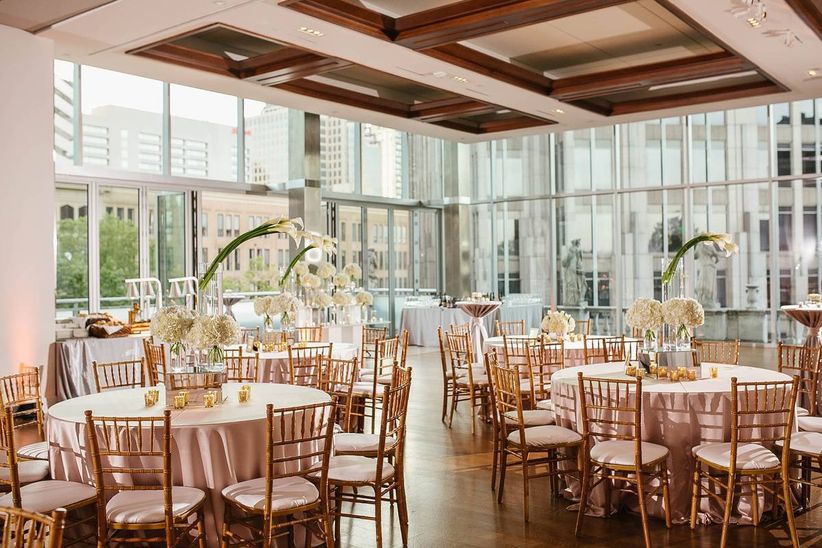 220 North Tryon at Foundation for the Carolinas
This Uptown Charlotte venue has several unique event spaces, including art galleries, an outdoor terrace with a vertical garden, and a solarium featuring floor-to-ceiling windows. The sleek yet colorful venue is ideal for modern couples in search of a space that feels sophisticated but not stuffy. Capacity at the venue ranges from 80 guests for seated layouts to 250 people for cocktail-style events.
Learn more about 220 North Tryon at Foundation for the Carolinas »
The Terrace at Cedar Hill
The Terrace at Cedar Hill puts a contemporary spin on rustic Southern style. Dark wood floors and iron chandeliers in the main reception space add country-inspired flair, while exposed ducts, wraparound windows, and an open layout make the venue feel modern and chic. If you're a Carolina Panthers fan, you'll love the fact that the venue is located directly across from Bank of America Stadium (you can even see it from inside the reception space!). A 2,000-square-foot terrace off the banquet hall provides even more incredible Charlotte views.
Learn more about The Terrace at Cedar Hill »
NASCAR Hall of Fame
Whether you're a die-hard racing fan or are simply looking for a one-of-a-kind space, there's no question that this is one of the most unique wedding venues in Charlotte, NC. The NASCAR Hall of Fame is an interactive museum filled with racing memorabilia, stock cars, and other exciting features that will surprise your guests on the big day. The venue's Great Hall is home to Glory Road showcasing a collection of 18 famous cars displayed against a racetrack grandstand. There's also the Hall of Honor, the Legends Room, and the Heritage Speedway where guests can try their hand at racing simulator cars. The NASCAR Hall of Fame offers in-house catering and beverages, along with tables, chairs, decor rentals, and event coordination.
Learn more about NASCAR Hall of Fame »
Bechtler Museum of Modern Art
Artists and quirky couples will be charmed by this whimsical venue in Uptown Charlotte. Choose from indoor and outdoor spaces at The Bechtler Museum of Art, including the museum's airy two-story lobby, which is filled with natural light thanks to a 23-foot wall of windows. If you'd prefer to get married outside, the second-floor sculpture terrace is ideal for smaller groups (up to 50 people) and has views of The Green, situated right on the other side of Tryon Street.
Learn more about Bechtler Museum of Modern Art »
C3Lab
This funky gallery in South End is full of colorful, urban-inspired details (just check out the paper chandelier, pictured above!). The 2,500-square-foot space features tall ceilings and an adjoining patio that can be used for outdoor ceremonies or small reception parties. When there's not a wedding taking place, the venue serves as an artist workspace, making it one of the best unique wedding venues in Charlotte, NC for creative couples. The flexible space can be transformed and customized to fit your wedding size and style.
The Design Center Atrium
Built in 1929, The Design Center Atrium is a unique wedding venue in Charlotte, NC with lots of historic charm. The former textile mill has an open two-story event space with an interior wraparound balcony, grand staircase, and industrial finishes, like polished concrete floors, bistro string lights, exposed brick, and steel beams. The Design Center Atrium can host weddings for up to 400 people.
Learn more about The Design Center Atrium »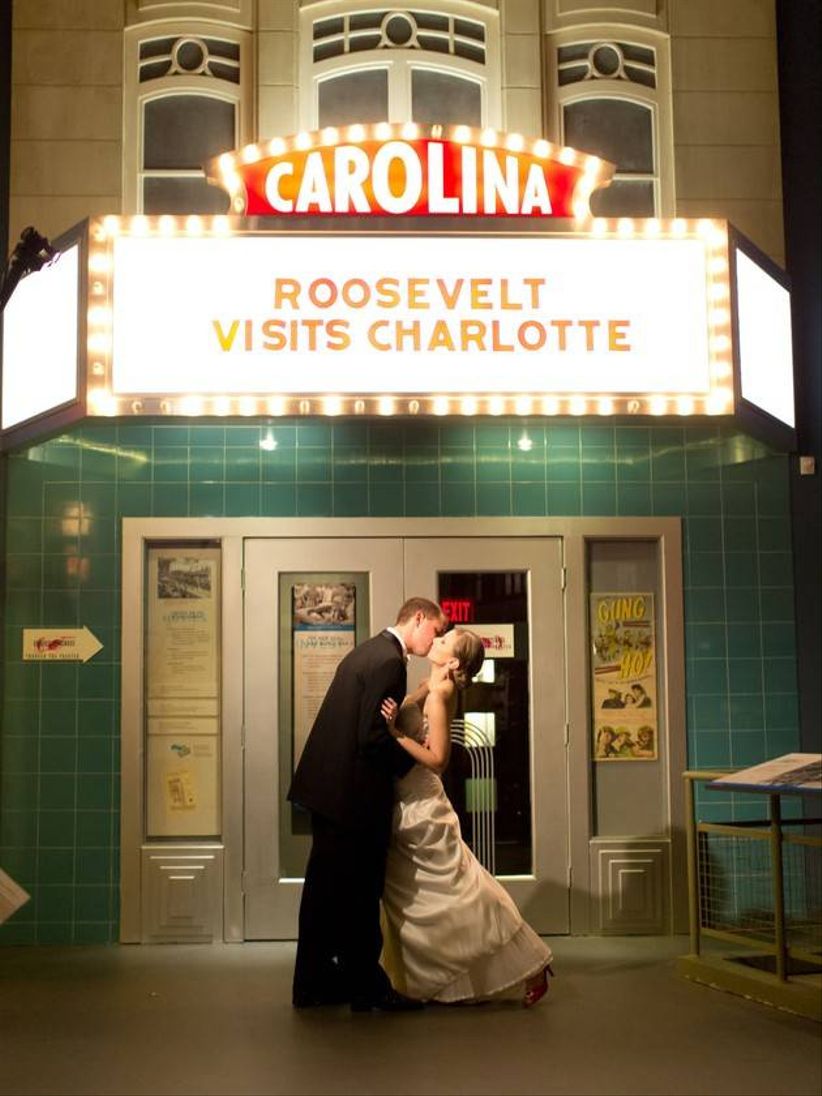 Levine Museum of the New South
From the interactive exhibits to the stunning event atrium, there's a lot to love about this Uptown Charlotte wedding venue. One of the best parts? The Levine Museum of the New South features dozens of unique backdrops for your wedding photos — a vintage movie theater marquee, department store, and farmhouse are just a few. The museum is one of the biggest Charlotte wedding venues, with a maximum capacity of 600 guests if you rent the entire museum.
Learn more about Levine Museum of the New South »