On the Yucatan Peninsula along the crisp, vibrant waters of the Caribbean is one of the most well-known cities in Mexico: Cancun. Even if you spent more spring breaks than you'd care to admit in this party-scene destination, once you've collected a few more candles on your birthday cake and can spend a bit more money, the beaches of this area can make a dreamy background for a Cancun destination wedding. With some of the whitest sand in the world and see-through waters that reflect colorful, dynamic sunsets, don't let your memories from high school and college discount the charm of the region.
Here, the essential guide to planning an elegant Cancun destination wedding your guests will be talking about for decades to come.
Best Time Of Year to Get Married in Cancun
You don't need us to tell you some of the busiest times to visit Cancun is when the students are away from their desks, making peak season from mid-December until mid-March. For a less expensive time to plan your big day, consider the months between May and November, as the Caribbean sun and humidity grow steamier by the day. Though September and October are the least inexpensive of all, remember Cancun has a prime spot in the hurricane belt, so you may face unexpected rain, wind and at worst, destruction. Wedding pros say early December and April are some of the best shoulder season months to consider, away from the storm and the crowds.
Marriage Laws in Cancun
Though your preference is to waltz through your fairytale day without a care to spare, since marriage is a legally-binding contract, there is paperwork to consider. Every country holds its own set of rules and when you're planning a Cancun destination wedding, you need to consider Mexico's laws. Much like the United States, this Caribbean country is comprised of states, all of which require various documents for foreigners seeking to wed abroad. From passports and blood tests to divorce certification if they apply, make sure to read the fine print, since Cancun covers a large stretch of land.
Best Venues in Puerto Vallarta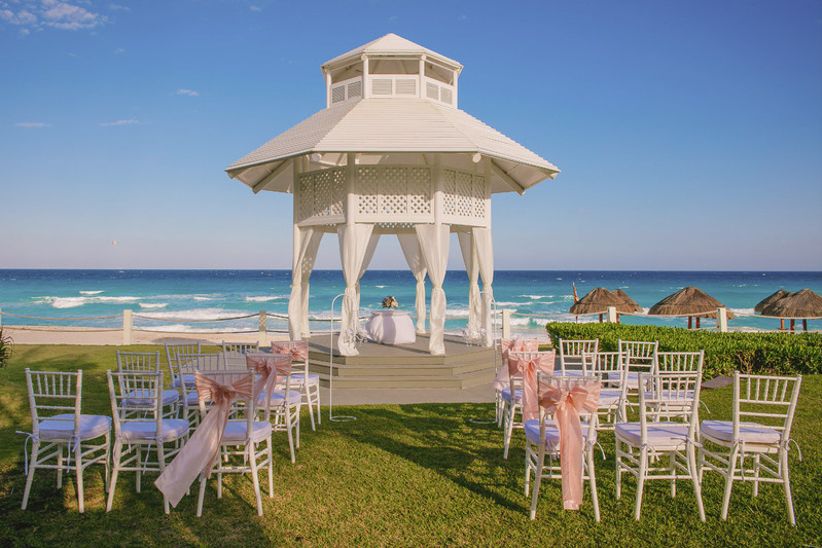 Paradisus Cancun Resort
When twosome are getting hitched, they aren't only combining their individual lives together, but those of their extended community—from beloved family members to lifelong friends and beyond. This is part of the appeal of a wedding away from their hometown: it feels more like a vacation than a simple Saturday afternoon. If you want to be mindful of budgets and allow your guests to not stress once they land, consider booking an all-inclusive like the Paradisus Cancun Resort one for your Cancun destination wedding. Here, the unlimited experience is upgraded, with high-quality fine dining and modern, clean finishes. Pledge your love and commitment to one another on the beach, on an oceanfront terrace or a ballroom, all personalized to characterize your romance.
The Grand at Moon Palace
When you imagine your Cancun destination wedding, do you want to have all of the bells-and-whistles and offerings of a cruise ship, but stay on land? That's what you'll experience when you choose to host one of the most magical days of your life at The Grand at Moon Palace. This expansive property features more than 1,000 guests rooms, 14 gourmet restaurants, a 27-hole Jack Nicklaus Signature golf course, a nightclub, a water park, a sprawling spa, an adult-only section for hookah and fun—and so much more. The property hosts a wedding a day, making their on-site planners extremely experienced on ensuring every last detail is checked off and magical. Whether you choose the Catholic chapel, a beachside terrace, an indoor ballroom or a seaside gazebo, weddings of any size are welcome here.
Sandos Cancun Lifestyle Resort
Your best friend and her partner might be more of a wine-and-tapas couple, but you and your partner? You would rather have a shot of tequila with your guacamole. For a wedding celebration that dances its way through the weekend, consider booking your big day at Sandos Cancun Lifestyle Resort in the heart of the hotel zone. With several packages to choose from, all of which bring life to your love story, you can choose to wed on the beach, in an expansive penthouse or on the rooftop terrace. As a bonus for your guests, the all-inclusive rate makes it easier to sit back and soak up the sun rays, without worrying about additional fees.
The Ritz-Carlton Cancun
For many couples who want to exchange their personal vows with the cascade of the ombre-blue Caribbean waters behind them, there's nothing as effortlessly opulent as The Ritz. From impeccably-decorated grand ballrooms to a whimsical courtyard adorned with tropical blooms or a white sandy beach, their onsite wedding team assists couples in making their dream day a reality. As you would expect from a five-star brand, the appeal of this venue for a Cancun destination wedding is found in the details: customizable menus, creative wedding cakes, extensive flower selection and comprehensive services set this resort apart from others. Before or after your ceremony, consider spending a day at their highly-recommended and luxury spa, where you and your number one can prepare or detox from your celebration.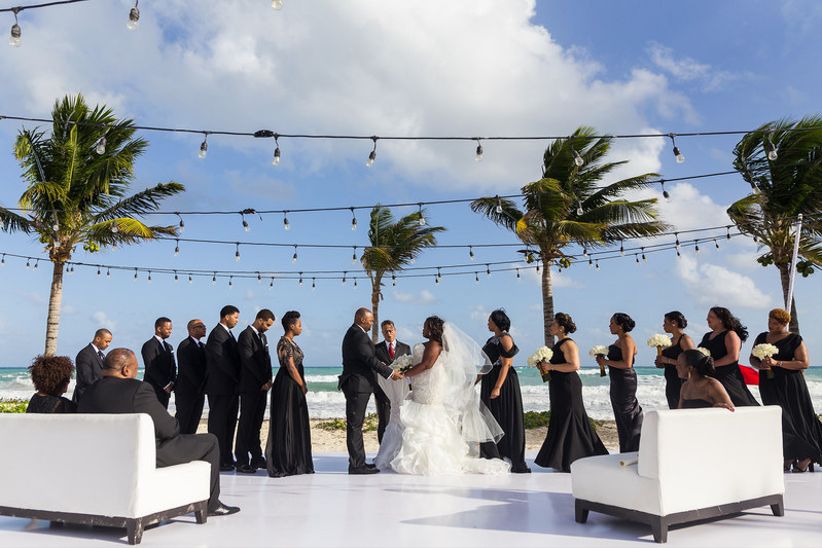 Grand Residences Riviera Cancun
If part of the appeal of a Cancun destination wedding is keeping your celebration intimate, remember little details are sometimes found in, ahem, grand places. Twenty-five minutes from the airport, nestled between Cancun and Playa Del Carmen, you won't feel the rush of the party scene when you book your wedding at the Grand Residences Riviera Cancun. Because of its location, it's sitting on a protected stretch of coral reef, allowing you and your guests access to native nature. This also gives you the opportunity to wed amongst the jungle and serve freshly-caught seafood for your reception, caught daily from the nearby beach village of Puerto Morelos. Talk about picture-perfect nautical romance!
The Westin Resort & Spa, Cancun
Set on a private beach, a Cancun destination wedding at The Westin ensures you'll have great views, great food, great music, and of course, a great time. Depending on how your special twosome envisions your celebration, you can tie the knot by the beach, on a terrace overlooking the sea or a nearby lagoon, or inside a ballroom, if you prefer. Their multilingual wedding team can plan grand affairs up to 250 guests, and are more than happy to meet your requests, no matter how big or small. For brides who want to bring together their beloved female companions, consider booking out the luxury Heavenly Spa, for a day of pampering and preparing for the next chapter of your life.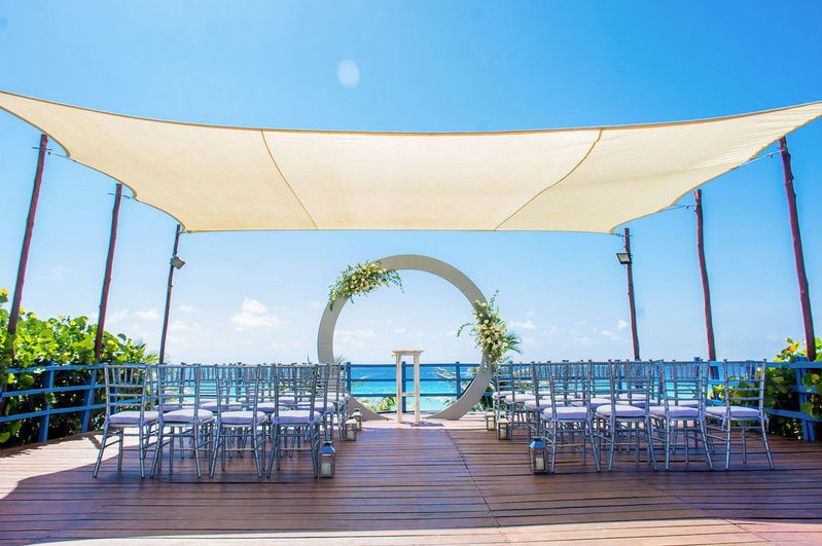 Grand Oasis Cancun
There's an option for every couple at this oversized resort in the middle of resort row. They cater to every size Cancun destination wedding—from 400-guest affairs to simple, sweet vow exchanges—through six pre-planned wedding packages. For couples on a budget, their 'O Remember' package comes free (yep, you read that correctly!), when a certain amount of guests book a certain amount of nights. If none of these deals work for you, their onsite coordinator can create a custom event that fits your love story and financial constraints. Especially for couples who imagine becoming lifelong partners with their toes on the sand, the Grand Oasis offers the largest beachfront in Cancun, making it a solid choice to make your fantasies a reality.
JW Marriott Cancun Resort & Spa
Falling in love with the person you'll greet at the end of the aisle was an experience you could have never predicted. Now, as you attempt to recreate your own version of paradise as you cement your relationship as lifelong, this five-star property can help you recreate some of the magic. Featuring more than 4,000 square meters of indoor and outdoor space, your rehearsal dinner, ceremony, cocktail hour and reception can all be in different areas of the JW Marriott Cancun Resort & Spa, allowing a natural, graceful flow. For your wedding night, don't miss out on booking their best suite, allowing you and your new spouse to indulge in the lifetime that awaits you.