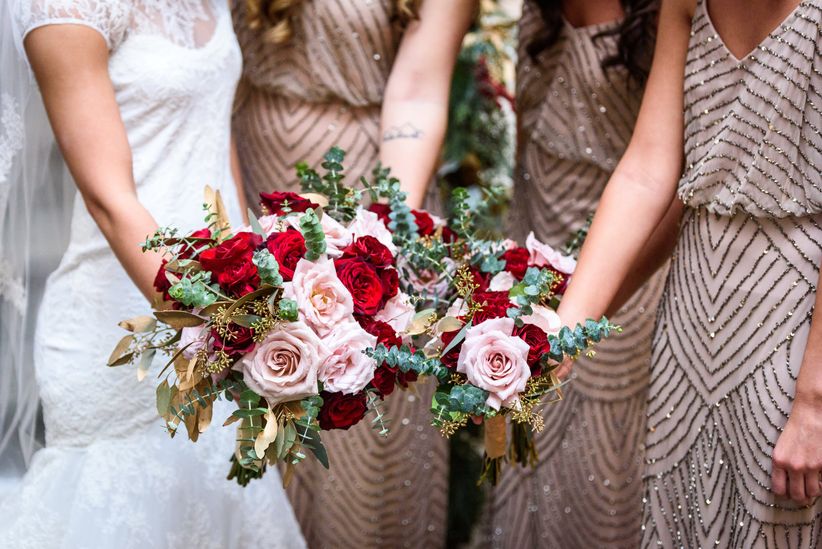 It's the double-edged sword of being a great friend: you're so supportive and kind your gaggle of girls want you to stand by them on their big day…but it doesn't come without a hefty price tag. Because most weddings tend to be a grand multi-month production of various celebrations and events, bridesmaid on a budget aren't only tasked with purchasing a matching dress, but countless other expenses. From planes and hotels for bachelorette parties and engagement soirees to gifts, hair, makeup and surprises for the bride, it's quite easy to shell out a cool $1,000 or more, per wedding. It can be an overwhelming cost for most but one, according to seasoned bridesmaids, that's manageable if you apply the right strategy.
Here, several women who have served as a maid, a matron or at the highest level of honor for their besties reveal their secret tips for the bridesmaid on a budget.
Shop smart for the bridesmaid dress.
Though not every bride is laid back about the gowns her friends will wear on her wedding day, if you're a lucky bridesmaid on a budget, you might be offered the option to pick your own. Melissa, a five-time bridesmaid who estimates she's spent $13,500 over the years for her friend's big to-do's, says there are many options for dresses. In recent years, more engaged ladies have become more comfortable with picking a color but not the cut, allowing everyone to choose the style that looks the best on them. If you're presented with this opportunity, Melissa suggests an the ShopStyle app. She explains it creates alerts on dresses when they got on sale, which could potentially save you hundreds. She recently snagged a deal for $65, with an original price tag of $350. With two weddings coming up, she'll be putting it to good use again (and again).
Book travel with people in your area.
While some brides have bridesmaids scattered about the country (or planet), others have them congregated in the same community, making air or car travel a bit easier. Even if you're not in the main hub, Melissa says to seek others commuting from your city to cut down on cost. This is especially true in terms of arriving to the airport and returning to your apartment. "I recommend looking beyond Uber/Lyft for getting to and from the airport. Most major cities have great options like taking the train that are significantly less," she adds.
Start saving right away.
Seven-time bridesmaid on a budget Emily has spent between $500 and $2,000 per wedding, depending on the preferences of her friends. While some have selected inexpensive dresses and bachelorette destinations, others have decided boutique finds was the way to go and Miami was ideal. Regardless though, Emily's best advice is to start counting those pennies as soon as you say 'yes!' "Right away, begin setting aside money as soon as you commit to being a bridesmaid—a little every month—until you get to whatever amount you're looking for," she explains. And since she is your best friend after all, Emily adds it can be helpful to get a sense of her plan so you aren't hit with any pricey surprises. "if you can ask the bride early on about her expectations—bachelorette party, bridal shower, dress, shoes—that'll help you know how much to save."
Don't feel obligated for hair and makeup.
Shana has spent plenty supporting and celebrating her friends as they move to the next stage in their relationship. She figures she's shelled out $10K as a bridesmaid seven times and a maid of honor twice. One tip she has, dependent on the bride of course, is to reconsider paying for hair and makeup. Though some women do want everyone to be professionally styled, others could care less, as long as you look presentable and polished. Though Shana usually opts for hairstyling, she skips the makeup, which can save her up to $100 per wedding.
Work out a deal with a seamstress.
One of the underrated expenses for a bridesmaid on a budget is dress alterations. Since it is rare for a dress to fit you perfectly out of the box, many are forced to enlist the expertise of a seamstress to ensure everything hugs in the right places. Shana says alterations can add up, and using a family friend to do the sewing for her has saved her hundreds over the years. If you don't have a pal with this particular talent? Consider working out a bulk deal with a local shop near you, or talking with other bridesmaids on how they plan on fixing up their gowns.
Get creative with gifts.
If your pal is an understanding and thoughtful type of bride, she won't mind if you get a little creative with your wedding gift. After all, since you are paying for the shower, the bachelorette party and every other detail of her day, she probably won't mind if your present leans more on the sentimental side. Shana warns it could ruffle some feathers, but as long as you put effort into the process, your friend will appreciate the gesture.
Set boundaries.
The bottom line? You can only afford what is in your budget. It's a tough pill to swallow sometimes, but going into debt for a friend's wedding isn't worth it, and more often than not, the bride will understand your limitations. That is if you communicate them, according to Anne Marie, who has been a bridesmaid four times and spent around $700 each go-round. "Be honest about what events you can and can't participate in," she reiterated. And while you don't want to be inherently cheap, as long as you still make her celebrations special—with a card or another inexpensive token—your friendship will remain intact long after her wedding day.