13 Black-Owned Wedding Businesses Every Couple Should Know (and Follow on Instagram)
There are lots of Black-owned wedding businesses in the U.S.—here, we spoke to just a few of the top-rated pros.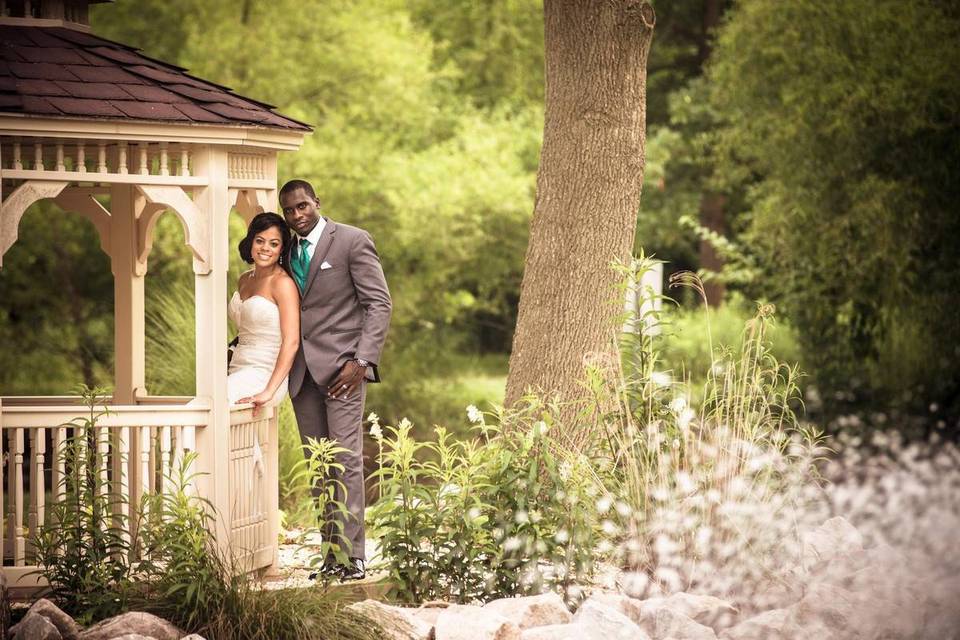 The Black Lives Matter movement has placed a magnifying glass on the immediate importance of carrying on the conversation of racial disparities in this country. It has also displayed how that disparity directly impacts the wedding industry, notes Bron Hansboro, owner of The Flower Guy Bron in Richmond, Virginia. Since the death of George Floyd and increased attention on Black businesses in social media, he has received inquiries from potential clients who have told him they intentionally chose him after researching Black-owned businesses.
Angelica Lee Laws, owner of Angelica & Co. Weddings, has decided to fully support and speak up both personally and professionally. "It's been wildly important to me that my morals and values across the board are heard, implemented, and respected," she says. "Attracting like-minded couples is a big part of overall business success; this is not the time to be silent."
Outside of the increased discussion of race relations, Joanna Sheppard, event designer and lead planner at Valia Rose Events, points out that things are overall the same for her. "I am a Black woman-owned business today, as I was two weeks ago," she says. "There will not be direct progressive changes for myself or minorities until there are honest efforts to consider creatives, like myself, by promoting and celebrating diversity." She is immensely thankful for the vendors and clients who choose to hire her based on merit and not the color of her skin. "It is my prayer that more businesses become committed to a society that is diverse, inclusive, tolerant and respectful."
If you're wondering what you can do to be a catalyst for change, consider starting with hiring pros from communities of color. Check out WeddingWire's new Diversity filters, which offer couples the opportunity to serve as allies for wedding pros from underrepresented communities. Wedding pros can now identify their businesses as Asian-owned, Black-owned, Hispanic or Latinx-owned, LGBTQ+-owned, Native American-owned, Veteran-owned and Woman-owned on the WeddingWire Directory so couples can easily search and book wedding professionals. To help inspire you to find your perfect wedding planner, DJ or florist, we're listing some of the top-rated Black-owned businesses in the industry.
A visionary in the floral arts, The Flower Guy Bron has been creating bespoke design and styling experiences clients from various backgrounds for 6 years. That's what's earned him 84 nearly 5-star reviews. He offers everything from aisle decor and bouquets to boutonnieres and corsages, all with a boutique business approach that he is immensely proud of. His motto, "We don't sell flowers, we sell experiences" speaks to his commitment to not only transforming spaces, but also to our commitment to transforming the client throughout the process.
"I am passionate about flowers and design and serving a very diverse client base is a personal commitment," he tells WeddingWire. "More than anything, I love people and my work reflects my love for humanity."
This design firm with locations in both NYC and Maryland was established in 2004. They specialize in pretty much everything—event planning and design, floral design, and interior design, you name it. Co-owners (and sisters) Carine and Farah Saint-Jean are known for creating beautiful, one of a kind wedding experiences that reflect each client's individual style and personality.
"Our ability to provide planning, design and florals allows for the delivery of an extremely cohesive and harmonious style —resulting in a magical experience for our clients and their guests," says Carine. "Being sisters and our strong love for family makes us unique and special—we understand family dynamics and can help brides, grooms and their family navigate very difficult situations during the planning process up to the very day of the wedding."
If you live in Central Pennsylvania, this is one wedding photographer to know about. He's traveled all over the East Coast to document couples in love and prides himself on both his artistry and incredible attention to detail. "Couples who hire me love my natural and authentic approach to photography," he says. "My goal is to accentuate your story and highlight not only you, but the everything that makes your wedding unique." Want to look back at your wedding album and feel like you're reliving the day all over again? Davis makes it his mission to help you do that year after year.
When hiring a wedding planner, you want the experience to be seamless and sophisticated, which is what you get by hiring Joanna Sheppard, event designer and lead planner or Valia Rose Events. "We forge a bond with our clients and incorporate details that reflect their personal style," she says. "Every logistical element serves a purpose for a celebration that speaks to you, your family and your guests for generations to come." Everything she does comes from a place of immense passion. In fact, that's how she started her business in the first place—by planning an intimate event for a dear friend as a hobby. "The organic growth of my business emerged from the desire to create magical moments, enlightened guest experiences and memories to last a lifetime," she says. "There is love poured into every Valia Rose fete that attracts clients worldwide."
Guerdy Abraira's extensive experience in hotel services and catering has granted her full capacity in executing both destination and local weddings that scale far beyond Miami Beach. From navigating hotel room blocks to creating design concepts and guest experiences that cater specifically to her clients, her expertise far exceeds the standard event planner. In addition to basic event planning, she creates full-bodied conceptual design for her clients. Last, but certainly not least, she believes her global palette and Haitian, French and American background have also played large roles in her ability to facilitate boundless events worldwide.
Finding the right wedding officiant is no easy feat. It's important that you find someone who shares your values and someone who you feel like you can trust with carrying out one of the most important ceremonies of your life. In addition to choosing an officiant with experience, you want to choose someone with heart, like Minister Sharnise Sears, who, in addition to being a professional wedding officiant, is also a premarital coach licensed in the state of Ohio. She works closely with her couples to get to know their cultural backgrounds, religious traditions and unique identities to create an unforgettable ceremony that reflects their love story.
This boutique planning and design company is based right out of Washington D.C. and specializes in uniquely personalized weddings with creative design elements. They understand that every wedding is different, as is every couple, and are committed to creating a balance between important wedding traditions and honoring the couple's individual voices and charm. "We pride ourselves in serving all couples, including our LGBTQ+ family, as well as planning for all cultures and their traditions with designs that are meaningful, stunningly beautiful, and extremely intentional," she says. One advantage she feels she has over other planners is that she's been all over the map in the wedding industry. "In past lives, I've been a Catering Sales Manager and also a Venue Coordinator, so I have a firm understanding about how all parts of couples planning processes work together as a whole, which gives me a massive advantage in ensuring that their days are well thought out and smooth sailing on all sides," she says.
Run by a former teacher, penn•manship calligraphy has truly mastered an understanding of what couples look for in a calligrapher. As owner Tasha Pennington puts it, she is saving couples from ugly signs one event at a time. She understands the disparity of resources in urban education, and has made it her mission to not only create beautiful works of art for couples to showcase on their wedding day, but also for that art to serve them years to come—as staples of their household. As an added bonus, penn•manship uses a portion of earnings to support a middle school science classroom so your biggest day can also be an impactful day!
This wedding planning company of the Golden Isles, which also serves Savannah and Jacksonville, offers upscale service and incredible attention to detail to their clients. They appreciate and make sure to celebrate the simple, yet incredibly important, aspects of your big day, from the look on your partner's face as you walk down the aisle to the way your father holds you during your dance. "We understand your day is so much more than just a date on the calendar— it's a combination of moments, memories, family and friends, all woven to complete another chapter of your love story," says owner Terrica.
Details Made Simple is an award-winning day-of coordination company that not only provides assistance and guidance on a couple's wedding day, but throughout the planning process as well. "We are a women-owned, Black-owned company who believe in inclusion no matter what," says owner Carla Friday. "We have a huge network of vendors to recommend for any type of event, many talented coordinators on our team each with an undying passion for weddings of all kinds." If you want to give yourself the gift of not having to worry about a single thing on your big day other than enjoying yourself and relishing in the love you feel for your partner, hiring Details Made Simple is a great start.
This boutique destination wedding planning and event design firm is based in both New Jersey and South Florida. They offer a wide range of services that are tailored to the needs of their individual clients. "We handle the logistics for both our international clientele who are getting married here in the U.S. as well as our U.S.-based clients who need someone to handle the complex logistics of planning and an event abroad," she says. Owner Oniki Hardtman and her team handle everything from site selection to wedding planning to event decor and design for multi-day weddings and events. "Whether our client is looking to plan a destination wedding or an event that is destination-inspired and closer to home, we put our heart, creativity and expertise into everything that we do," she adds.
If you're looking for a wedding planner in the Bay Area with years of experience, turn to Ivy Summer, owner of Voulez Events. She's been working with budget-conscious brides for more than a decade and has recent experience in luxury, celebrity, and destination wedding planning. She's also an independent travel agent who specializes in Italy, Greece, Scotland, and Ireland. "I offer an on-demand consultant feature that makes couples feel like they've got a genie in a bottle at their convenience for any of their wedding planning needs," she says. "I'm on-call during the vendor meetings that I book on a couple's behalf, so they have me in their pocket whenever they need me."
P3 is unique in that they offer planning, design, floral, rentals and day of coordination in one place and with one person (yep, owner Lindsay Gloria Parrott-Masiewicz is a one-woman show). "While I have support internally and externally, my clients only deal with me throughout the entire process," she says. "When you work with P3 you get a detailed and bespoke event designed with your thoughts, ideas and personality in mind every time."