This "Black Love Matters" Proposal Is Serving Major Inspo, Here's How to Recreate Your Own
This surprise proposal, featuring a gorgeous couple and talented wedding pros, is giving us the joy we need to close out 2020.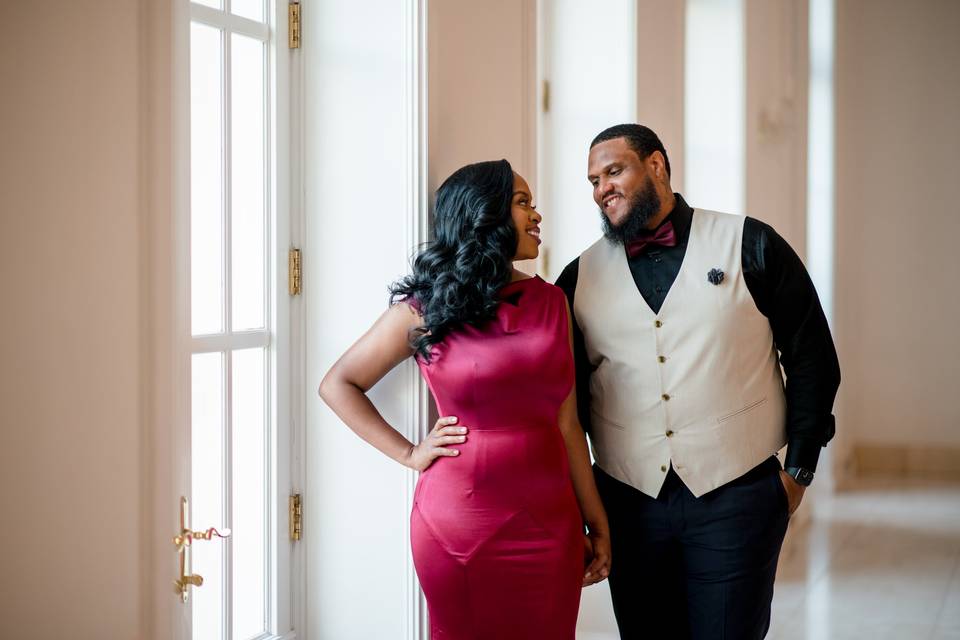 With most marriage proposals occurring between November and February, we're about to enter a proposal season like no other. Public proposals may not be possible during COVID times, so couples are taking private proposals to the next level—enlisting professionals to create an amazing experience that's tailored to their relationship. To help inspire couples as they plan their 2020-21 proposals, wedding planner Erica Gordon of Elite Eventz in Houston, created a proposal for couple Juan and Tamika that was picture perfect down to every detail. Gordon enlisted a talented team of Black wedding pros to plan an incredible proposal for the couple, inspired by the theme Black Love Matters.
With Juan's help, Erica convinced Tamika to model for a styled photo shoot—which ended up being an elaborately staged proposal at an estate venue. The proposal featured floral decor, live music, dinner, and dessert. The whole event was filmed and photographed, so the couple would have a lasting memory of the special occasion. Needless to say, Tamika was totally surprised—and of course, she said yes!
We know that creating a luxe proposal like this one may seem like a lofty goal, but selecting a few important details and hiring professionals to help can make all the difference. Here's how to create the ultimate private proposal during this unique season.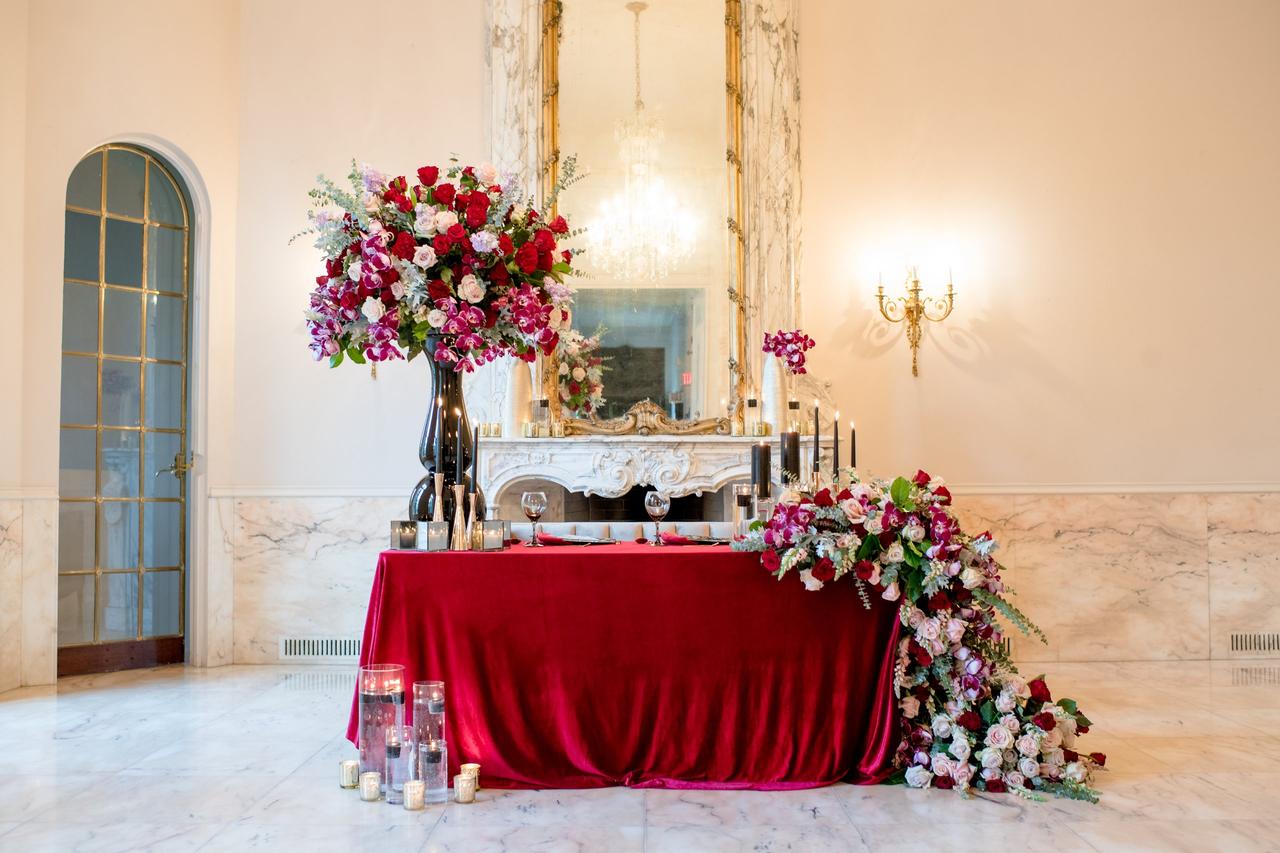 Find your style inspiration.
If decor will be part of your proposal plan, start by coming up with a design style and color scheme. For the Black Love Matters proposal, the color scheme was inspired by the deep red Black Magic rose. Rich burgundies were paired with accents of lighter mauve and blush for a bold, yet elegant look. And if the idea of decor sounds foreign to you, a professional florist or event designer can work with you to tie everything together.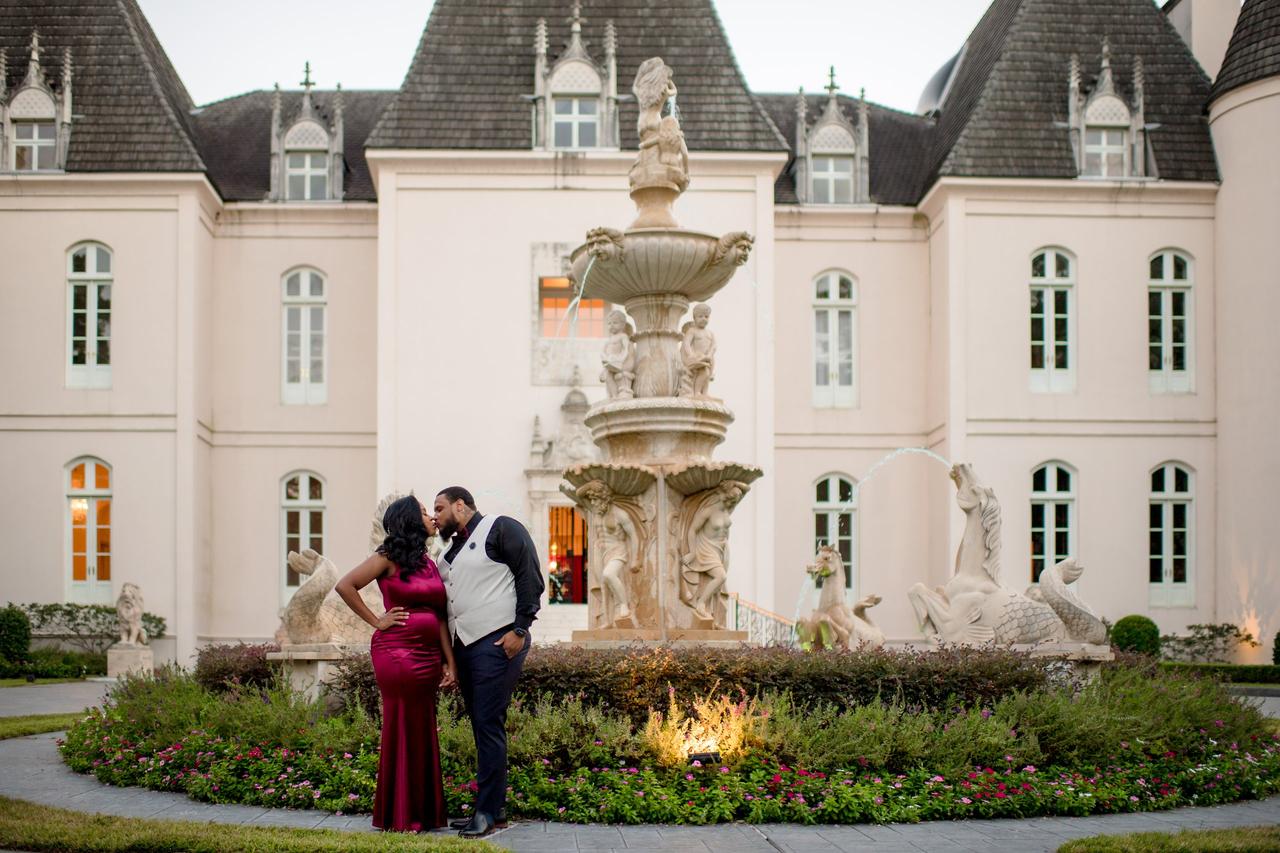 Book a venue.
While many couples are opting for an at-home proposal, booking a private venue (like the Chateau Cocomar) has its advantages, too. You can set up without getting your partner out of the house, and it adds a luxurious touch while remaining safe. Small wedding venues are certainly an option, but so are rooftops, restaurants, rental homes, and more.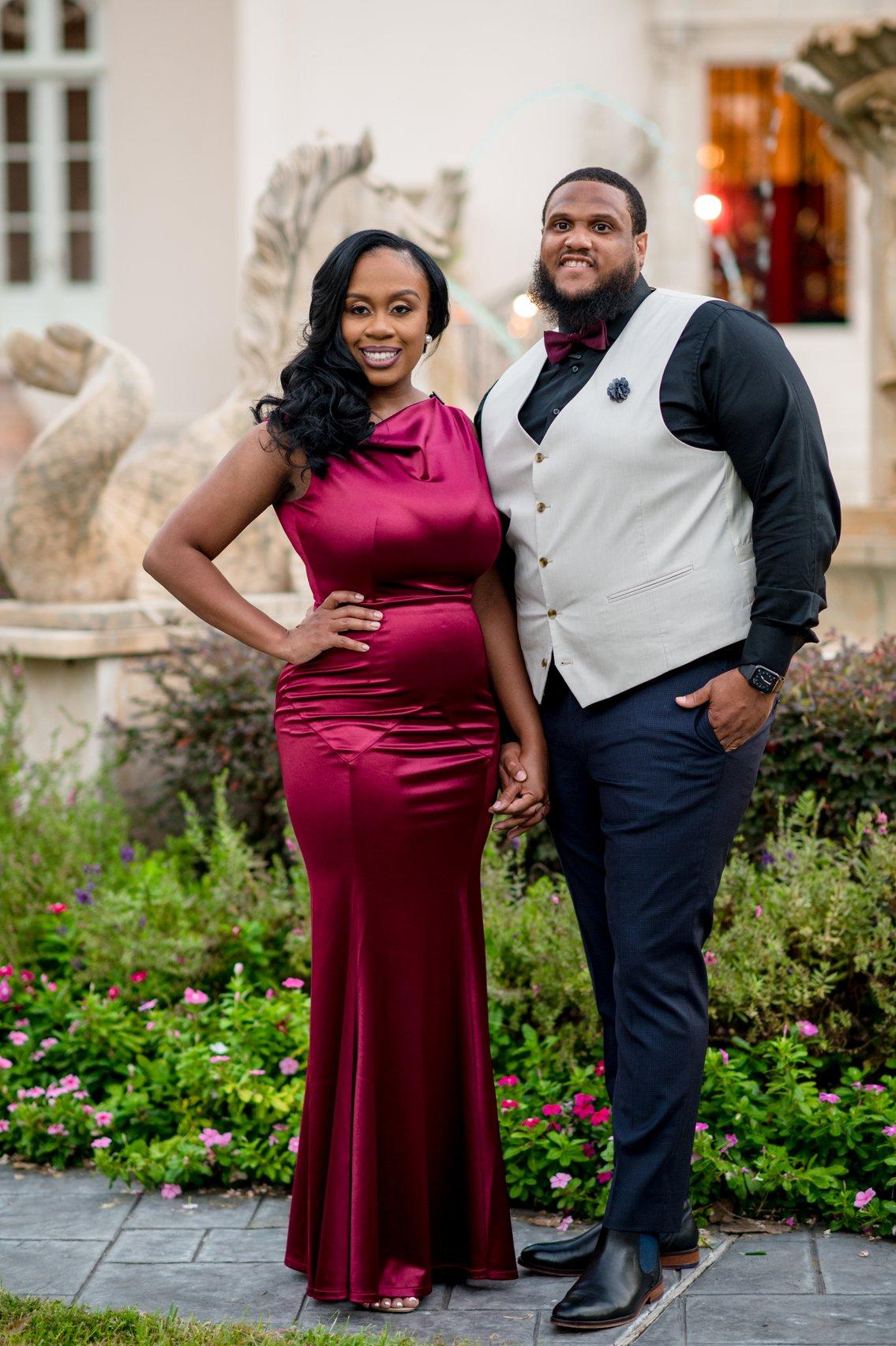 Dress accordingly.
Your partner will likely want to look their best when you pop the question, but you don't want to spoil the surprise. Erica and team told Tamika that she was modeling in a styled photo shoot, so she wasn't suspicious when the hair and makeup pros from Ashley Adams Beauty and Ashley Mitchell Salon & Spa were on hand. Tell your partner that you're going out for a special date or fancy dinner so they'll prep accordingly.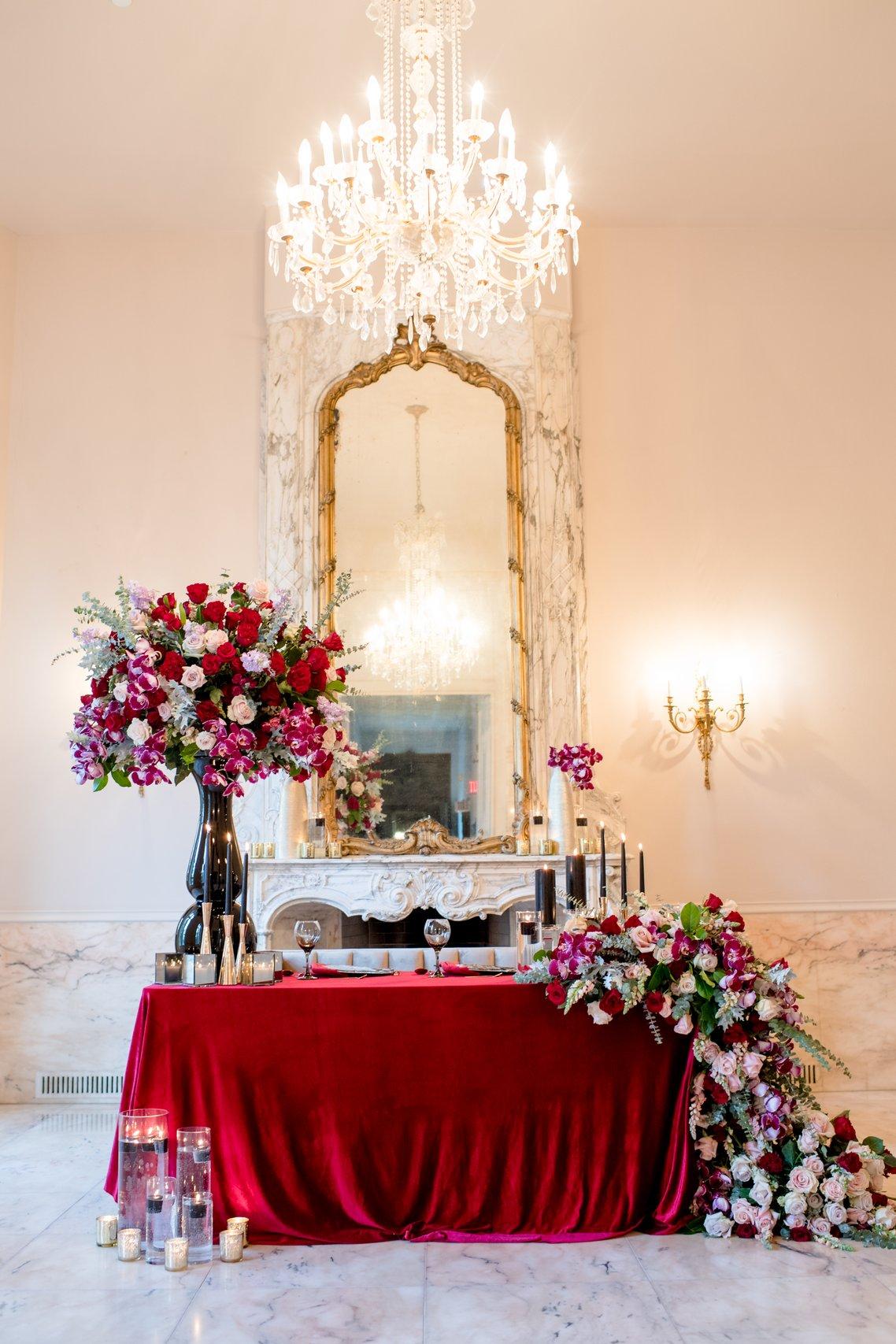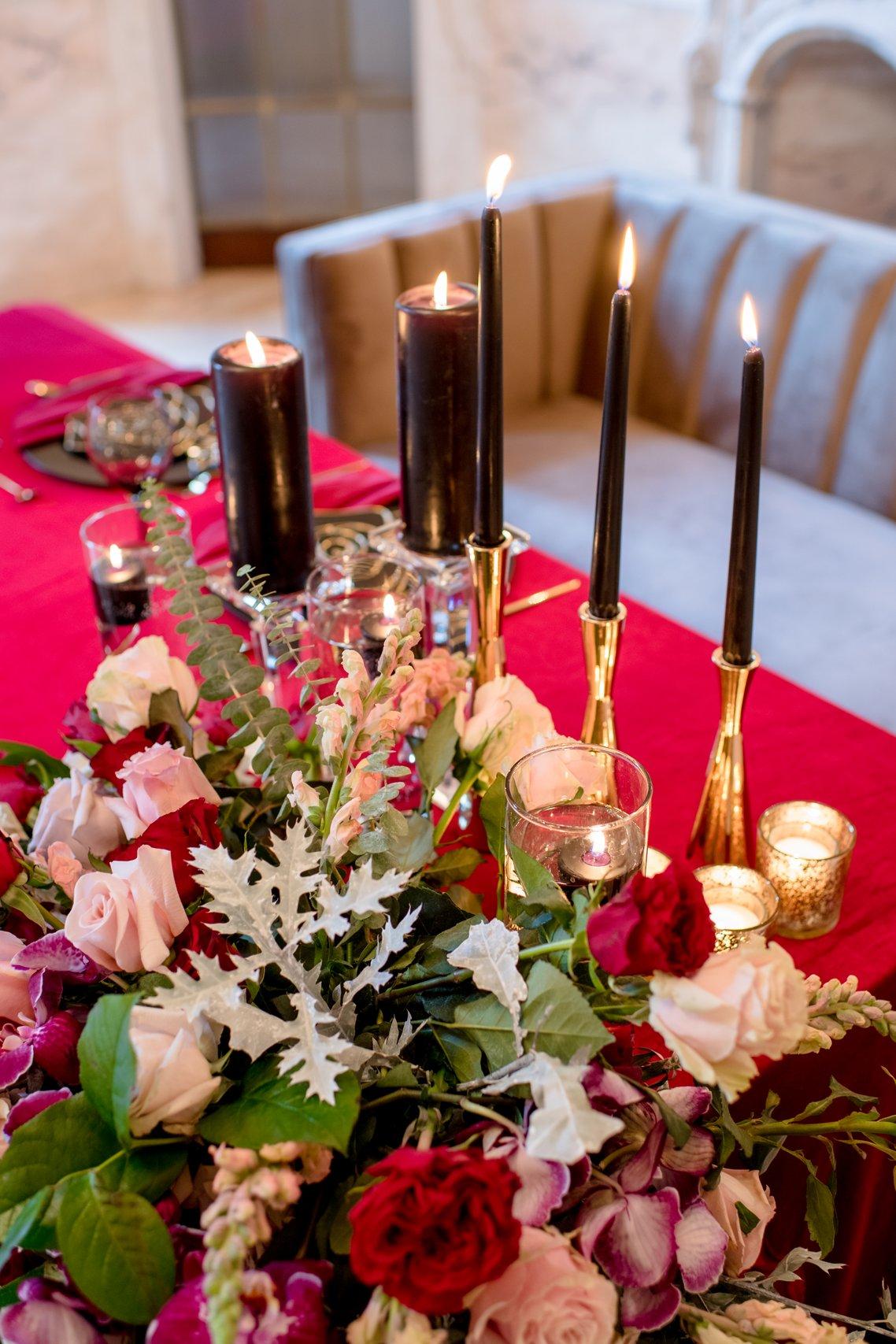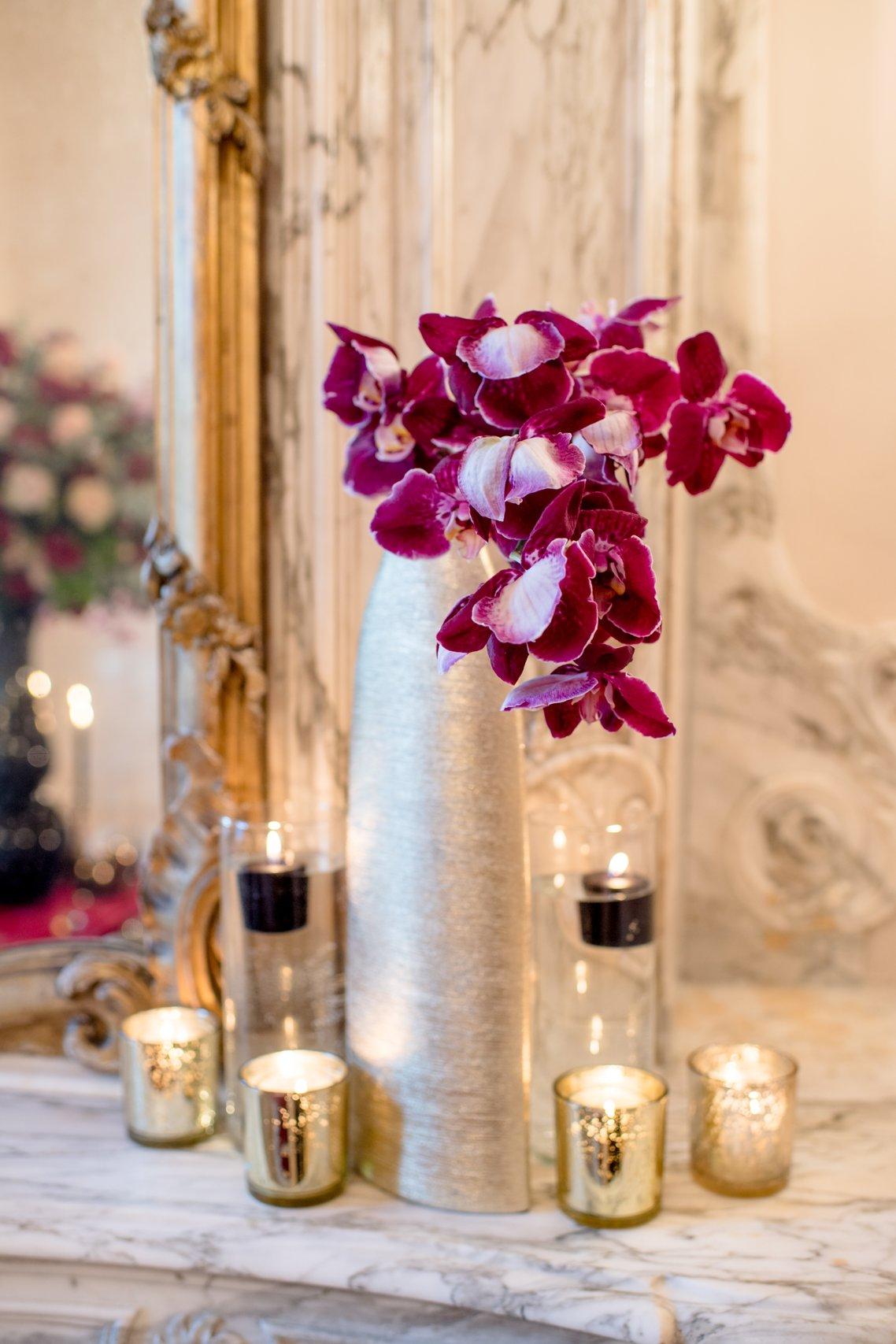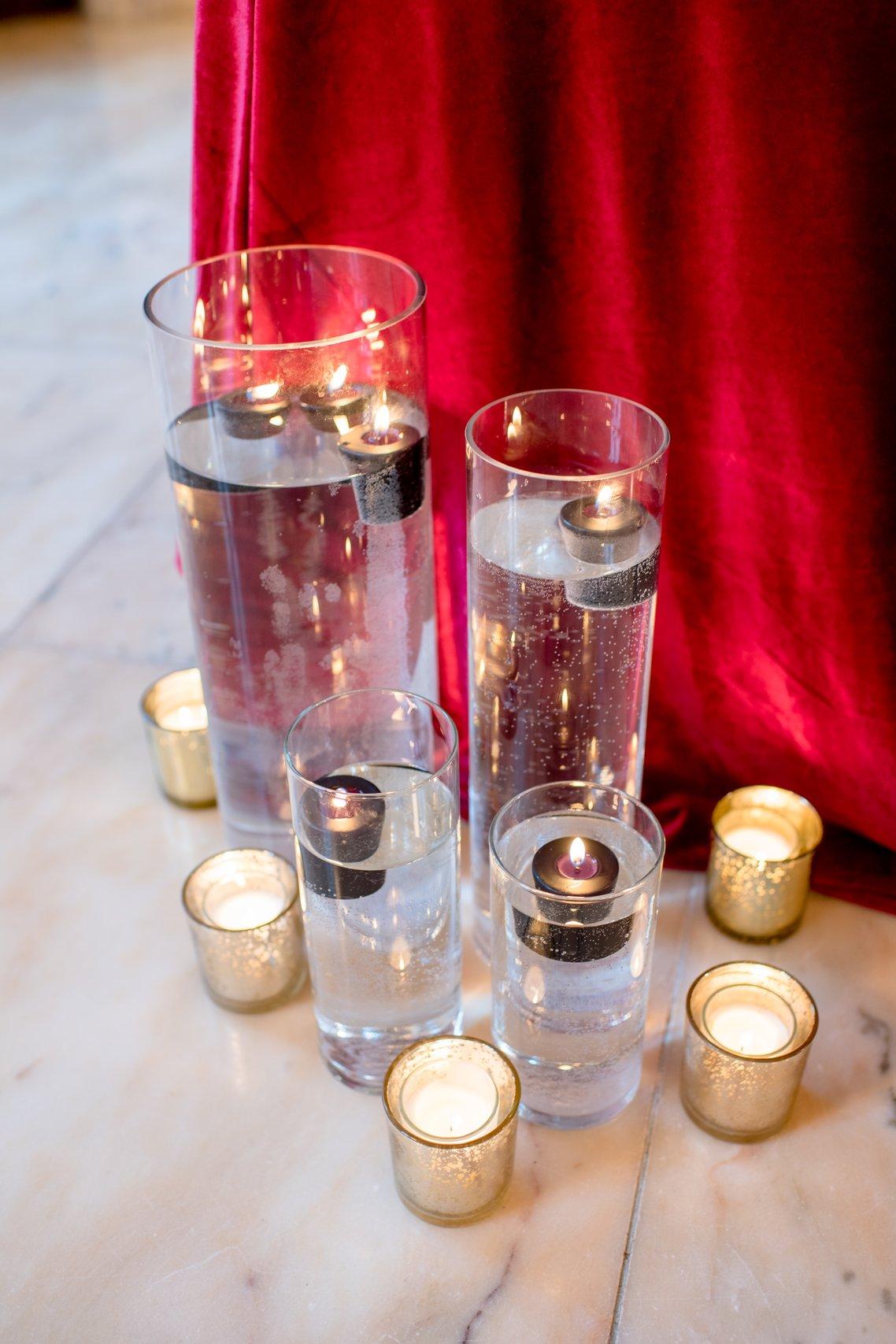 Take the tablescape to the next level.
A single sweetheart table is a unique opportunity for gorgeous decor, from lush floral centerpieces to candles to velvet table linens and more. This tablescape by Keisha's Kreations is rich, romantic, and definitely sets the mood for the big moment ahead.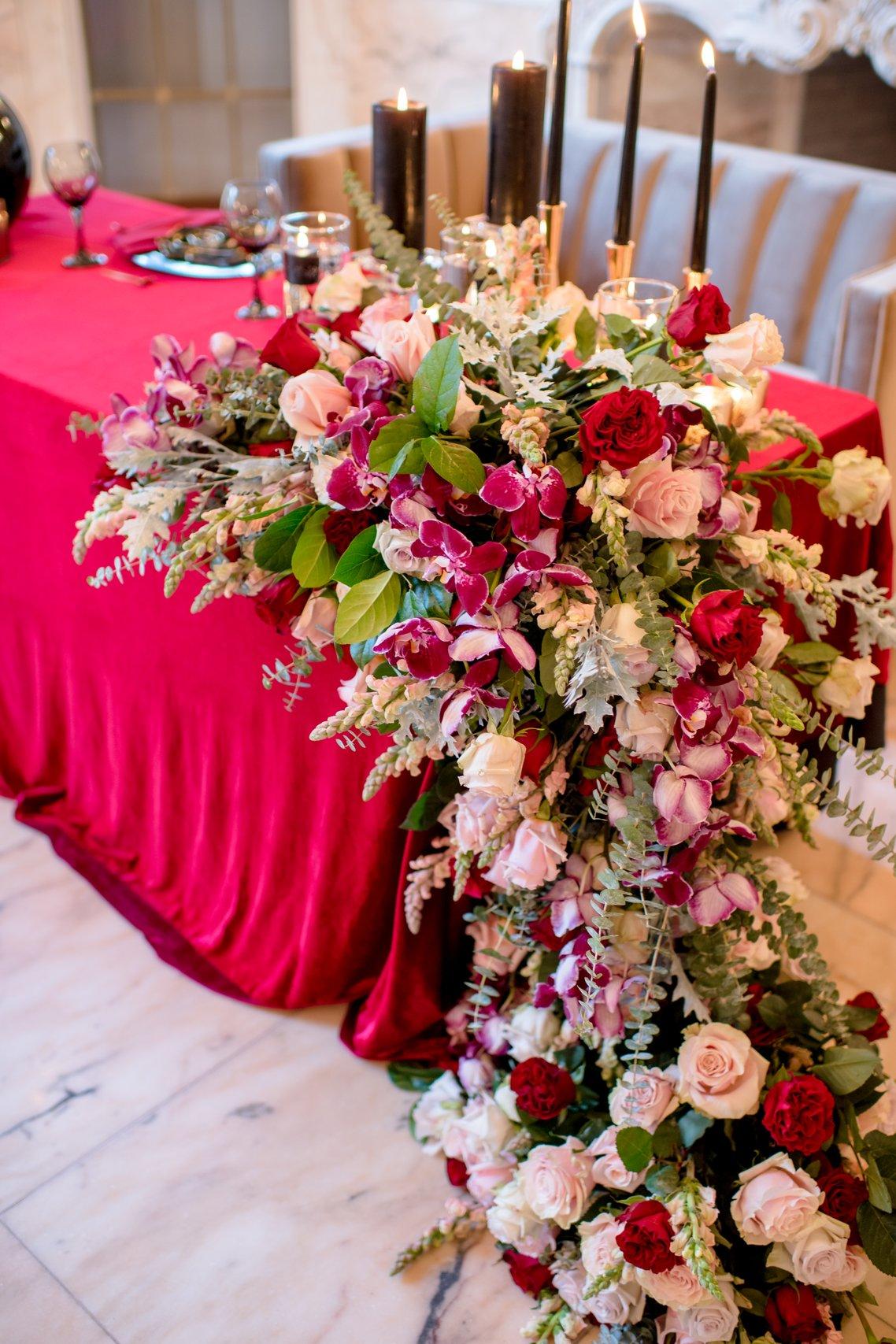 Go big and bold with flowers.
Don't be afraid to take your flower arrangements over the top for your proposal. This abundant draped floral table runner, featuring roses, orchids, and greenery, makes a luxurious statement.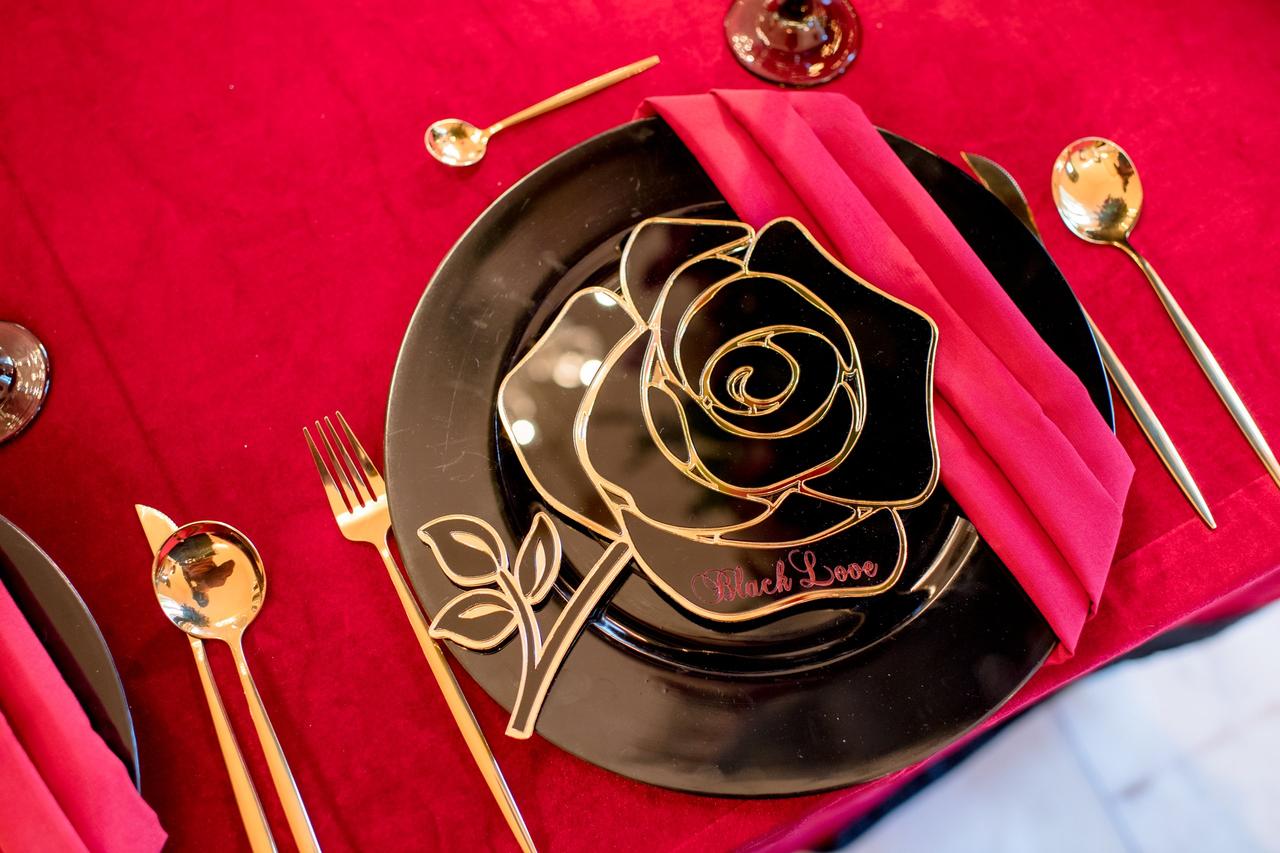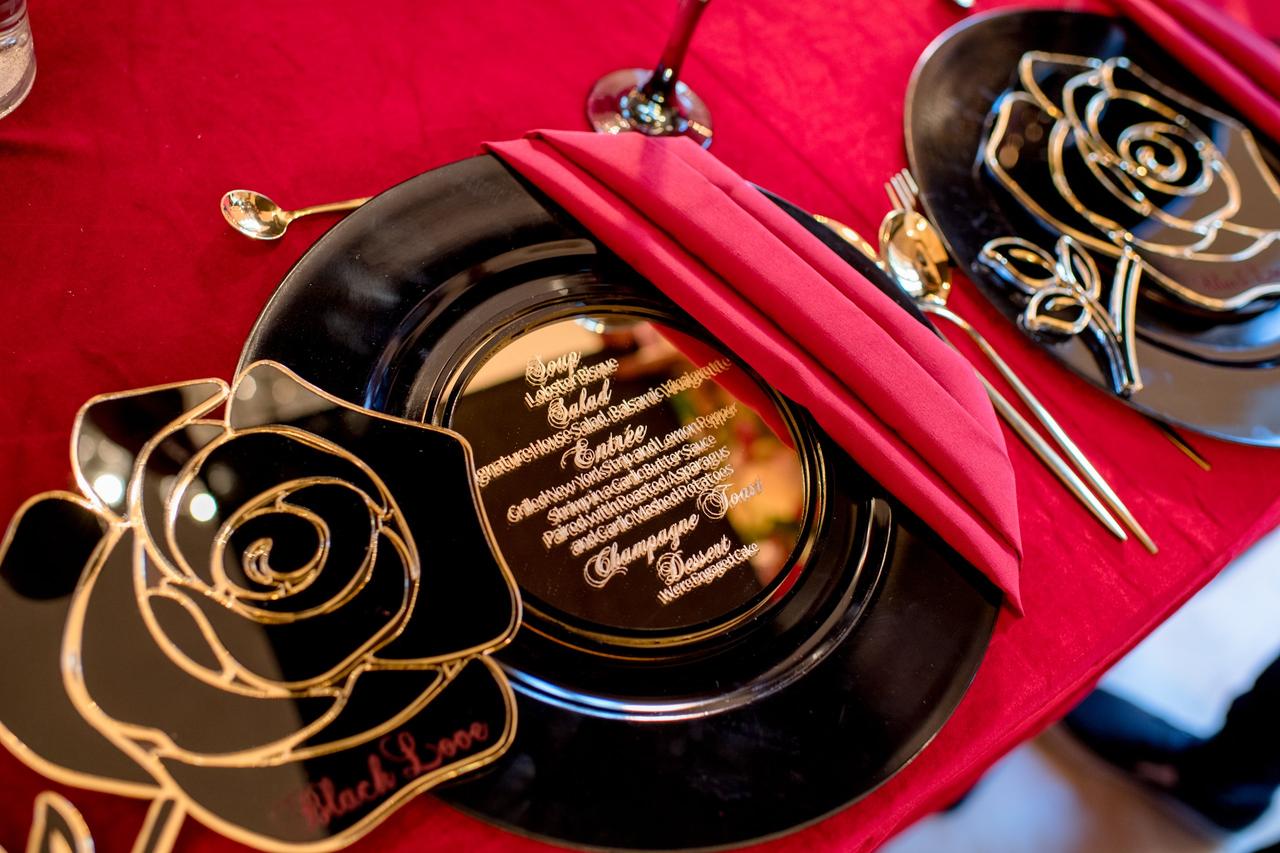 Stationery can serve as special keepsakes.
Stationery, like the acrylic Black Magic rose-inspired menu cards by Delightful Details here, make perfect keepsakes to remember a special proposal. Fun fact: After the question was popped, circular acrylic menus were revealed detailing the meal ahead.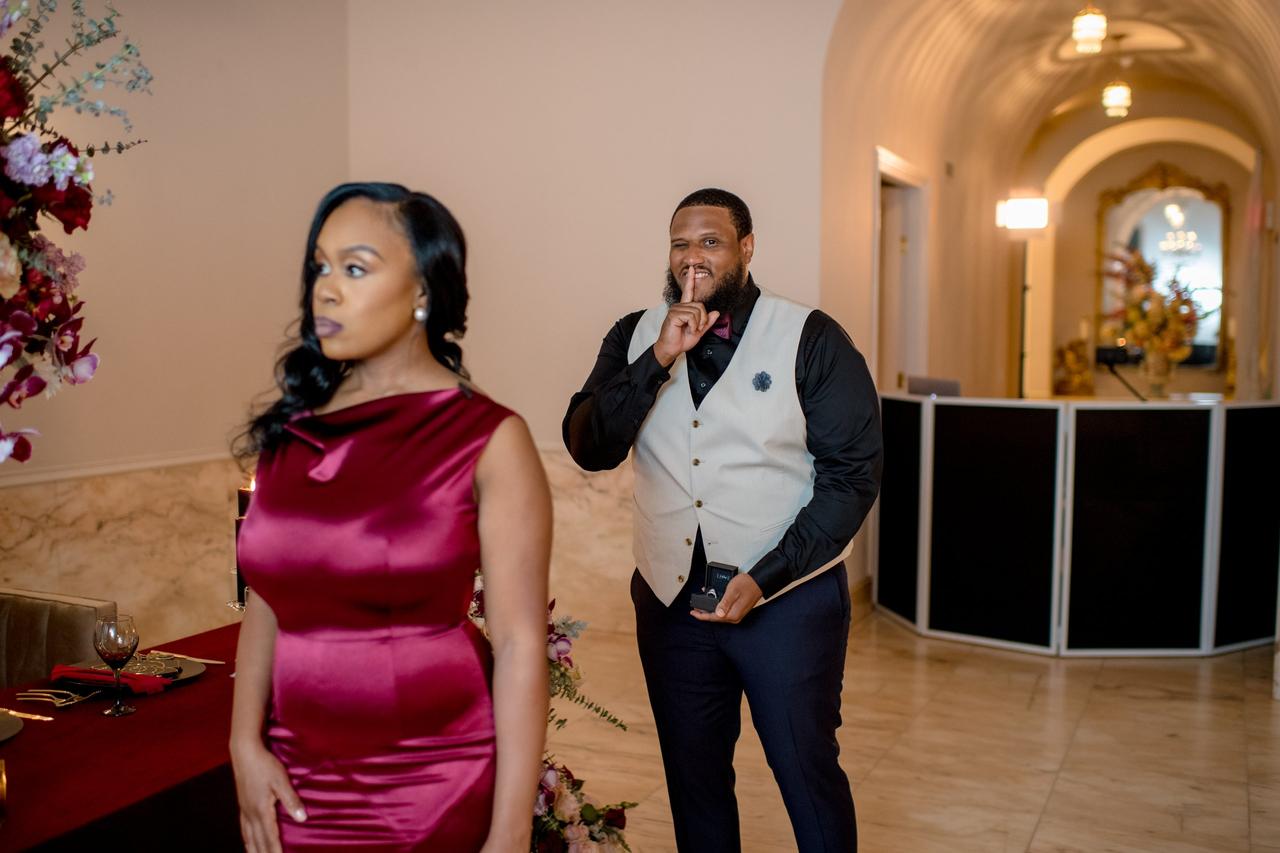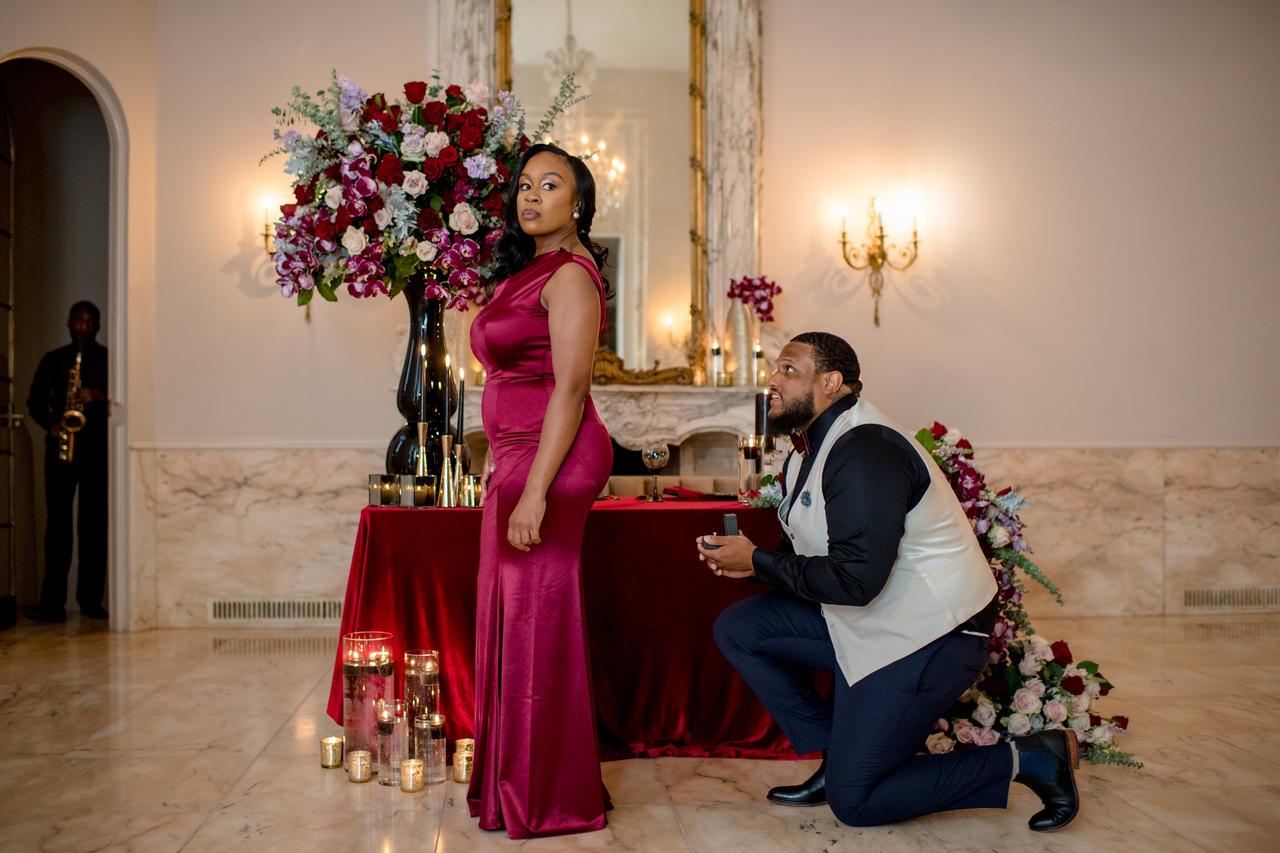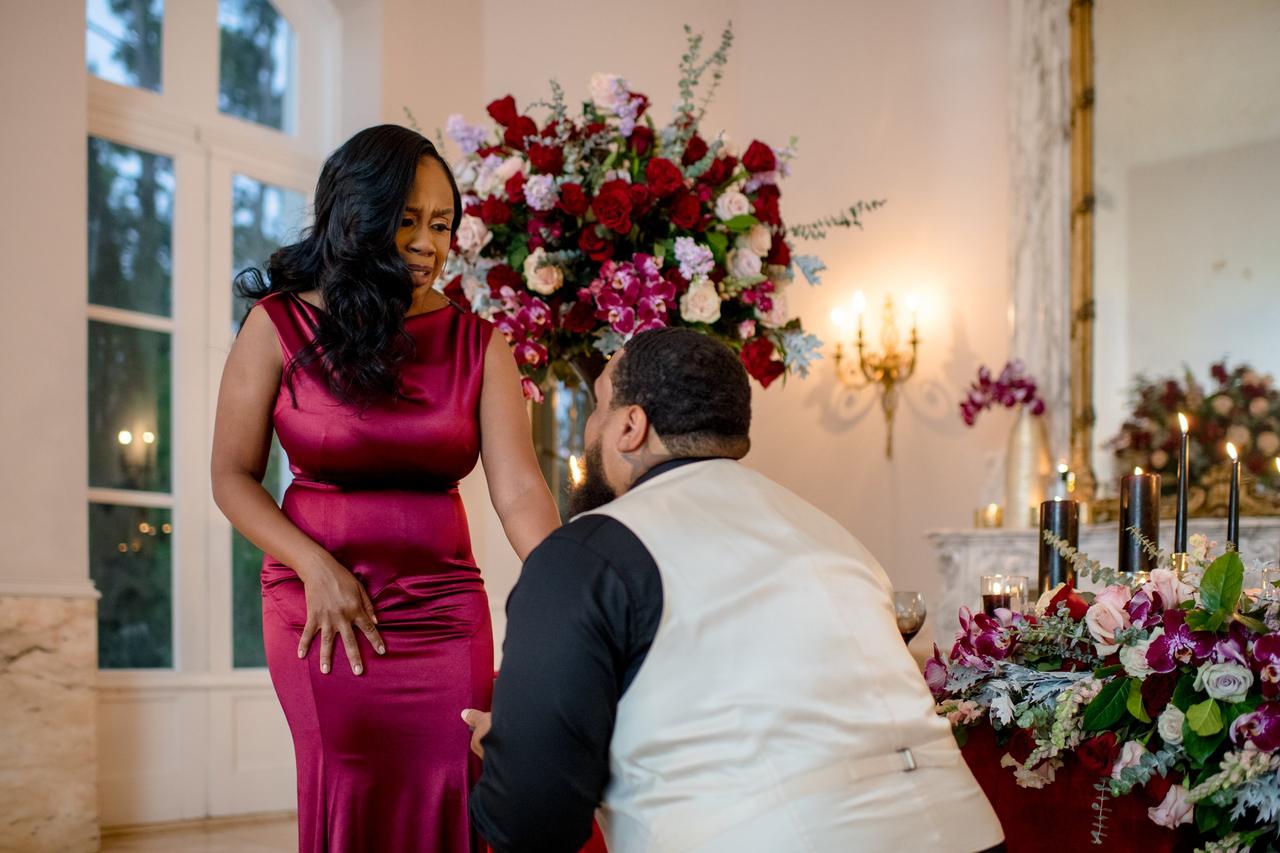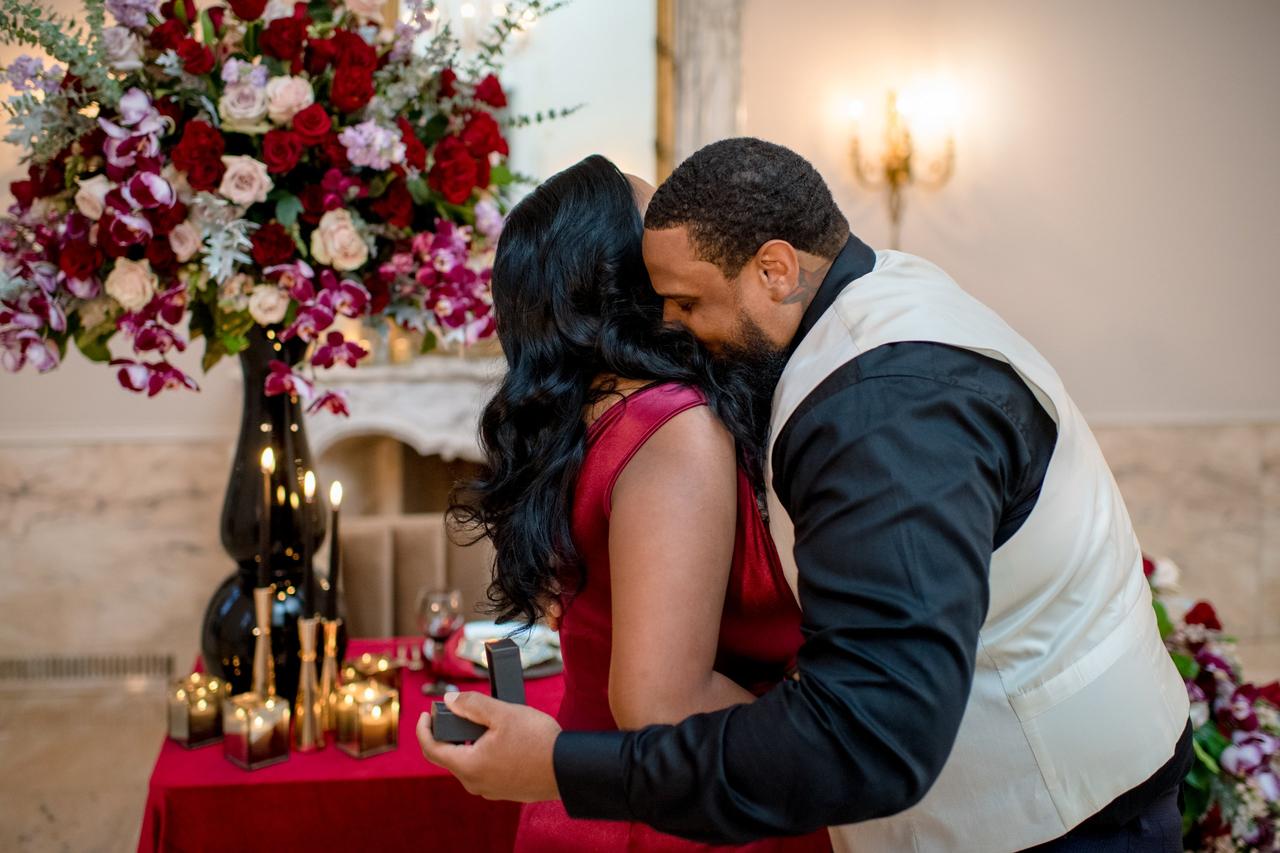 Plan ahead with your photo pros.
Having a professional photographer (and/or videographer!) on hand for your proposal is pretty much a given these days. Make sure you work with your photo pros in advance to ensure they're in the right place at the right time to capture the big moment. Fortunately for Juan, Tamika was already in model mode, so he was easily able to surprise her by getting down on bended knee while she posed—and the photo and video team from JF Studioz captured it all!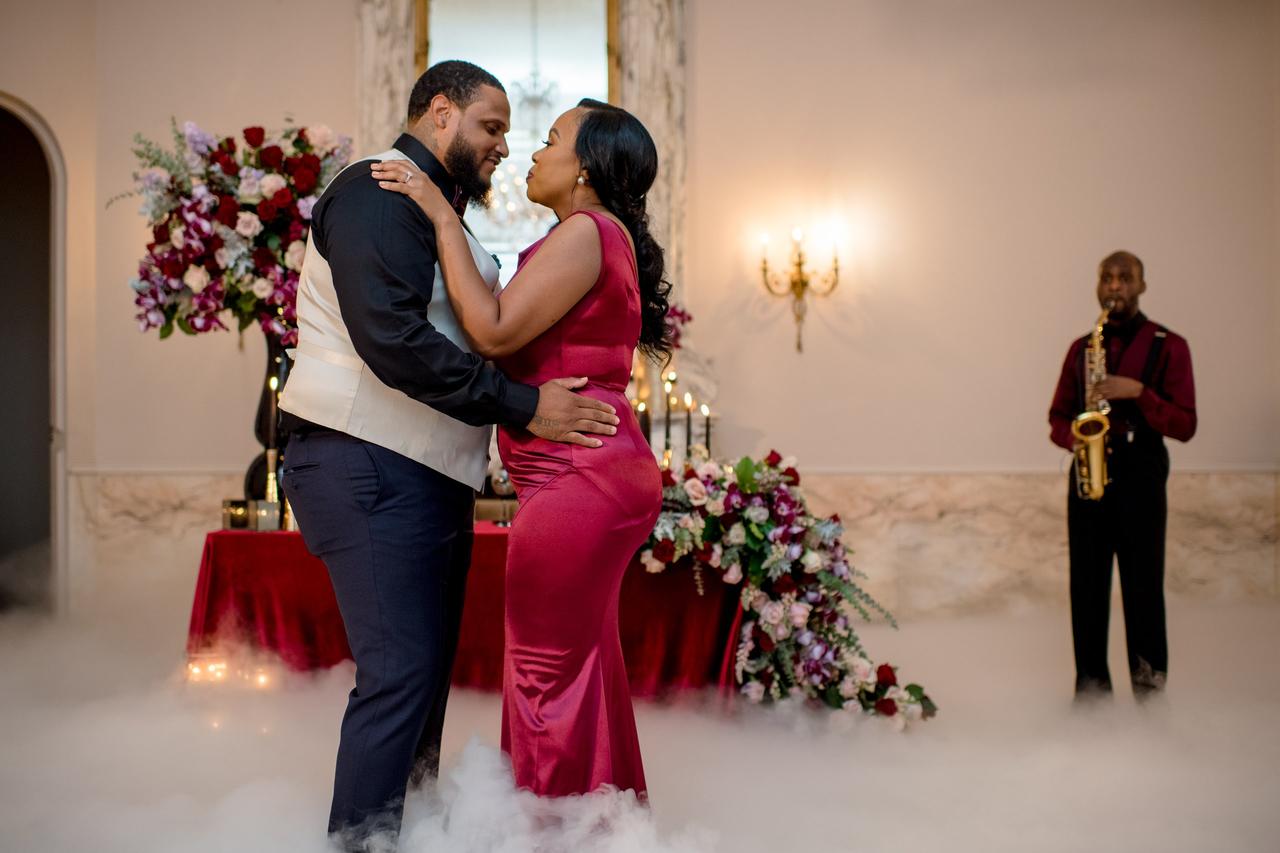 Music can make or break the big moment.
Live music adds a romantic touch to any proposal (just ask Kim and Kanye!). Here, a saxophonist from Signature Eventx performed Major's "Why I Love You" as Juan popped the question—and then played "All of Me" by John Legend as the newly-engaged couple shared a dance together.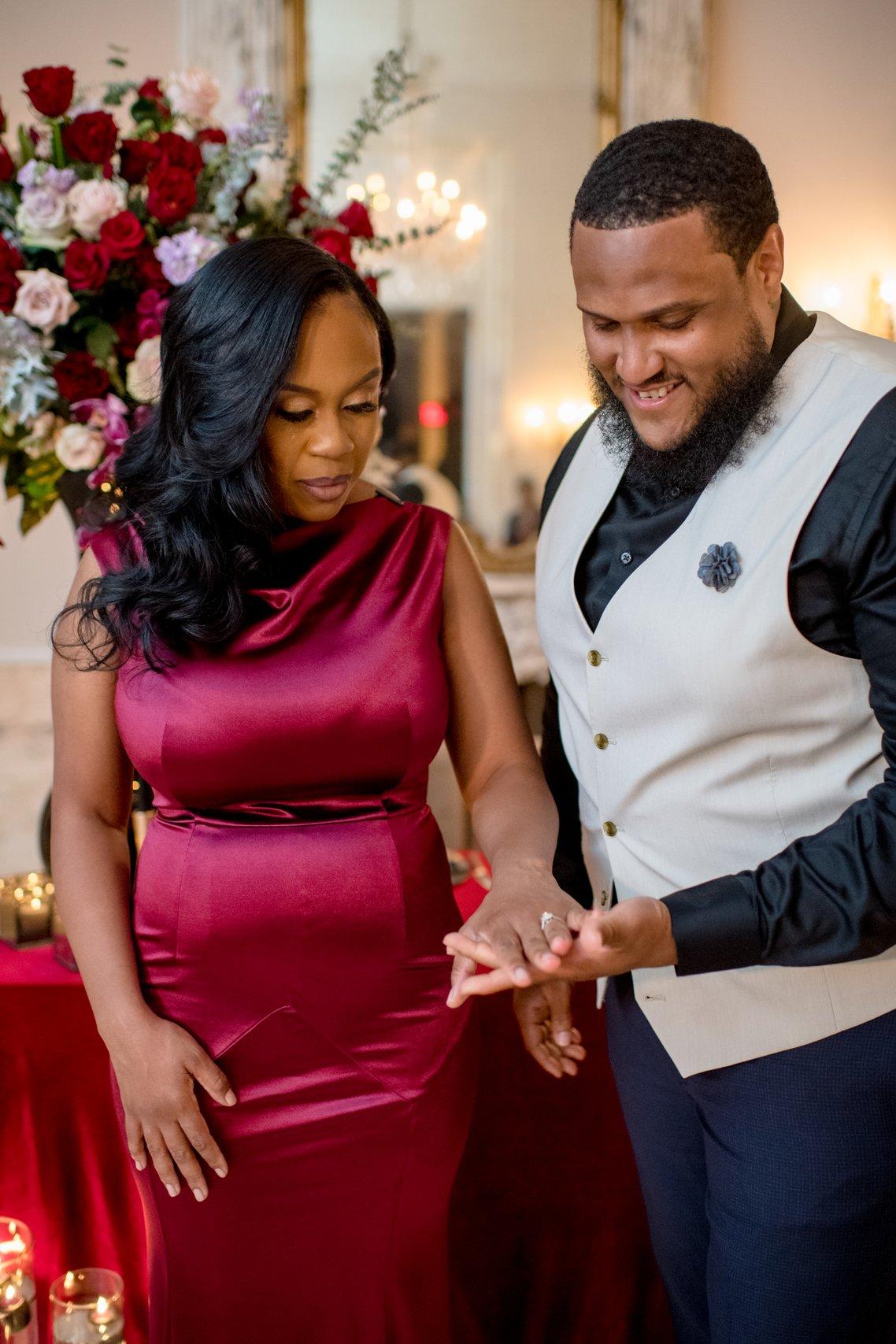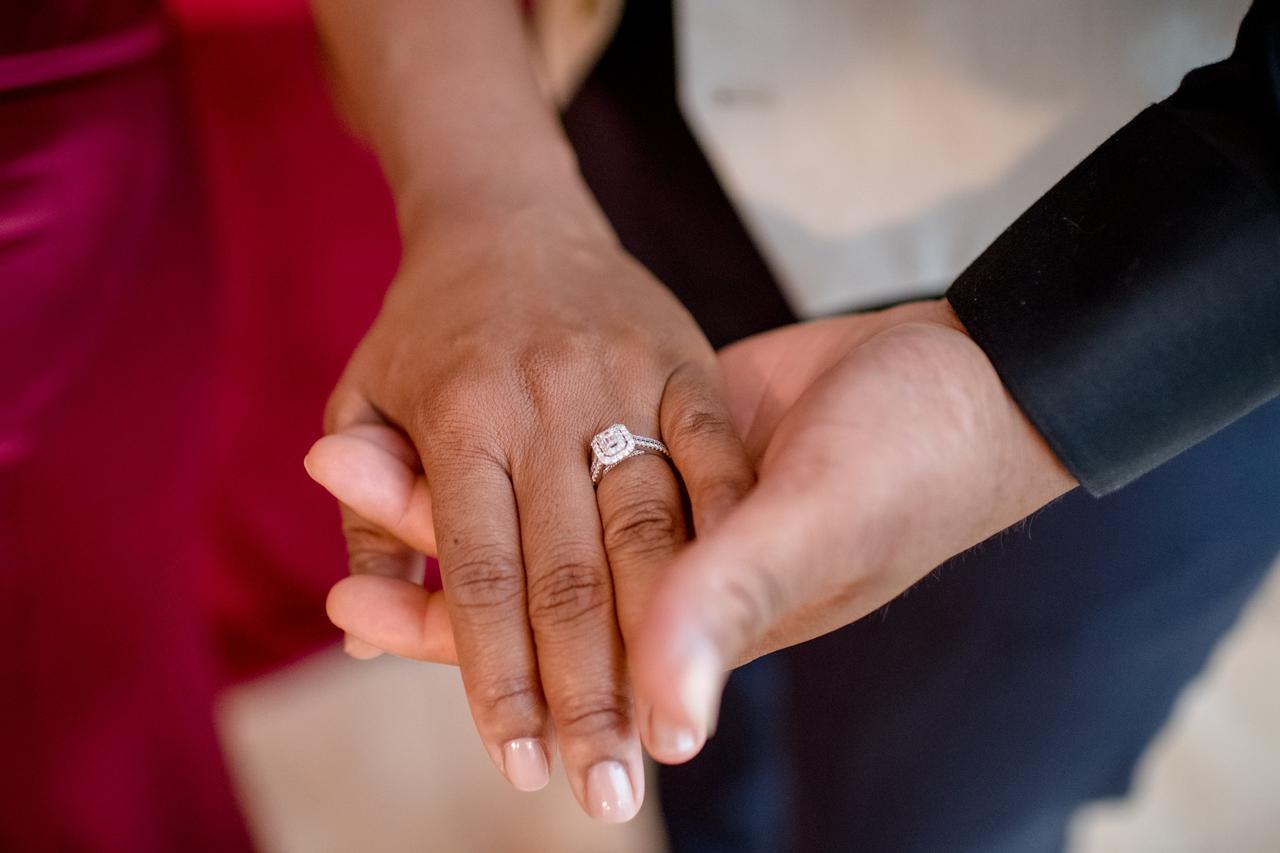 Pick the perfect ring.
When it comes to engagement ring shopping, decide what's most important to you—finding a ring you know your partner will love or keeping the ring a complete surprise. While there are ways to secretly find out your partner's ring size, if you choose to go the surprise route, you'll want to enlist family members or friends to help determine your partner's desired ring style. And these days, many couples are opting to shop for an engagement ring together—while the ring may not be surprise, creating an amazing proposal experience like this one will totally wow your partner.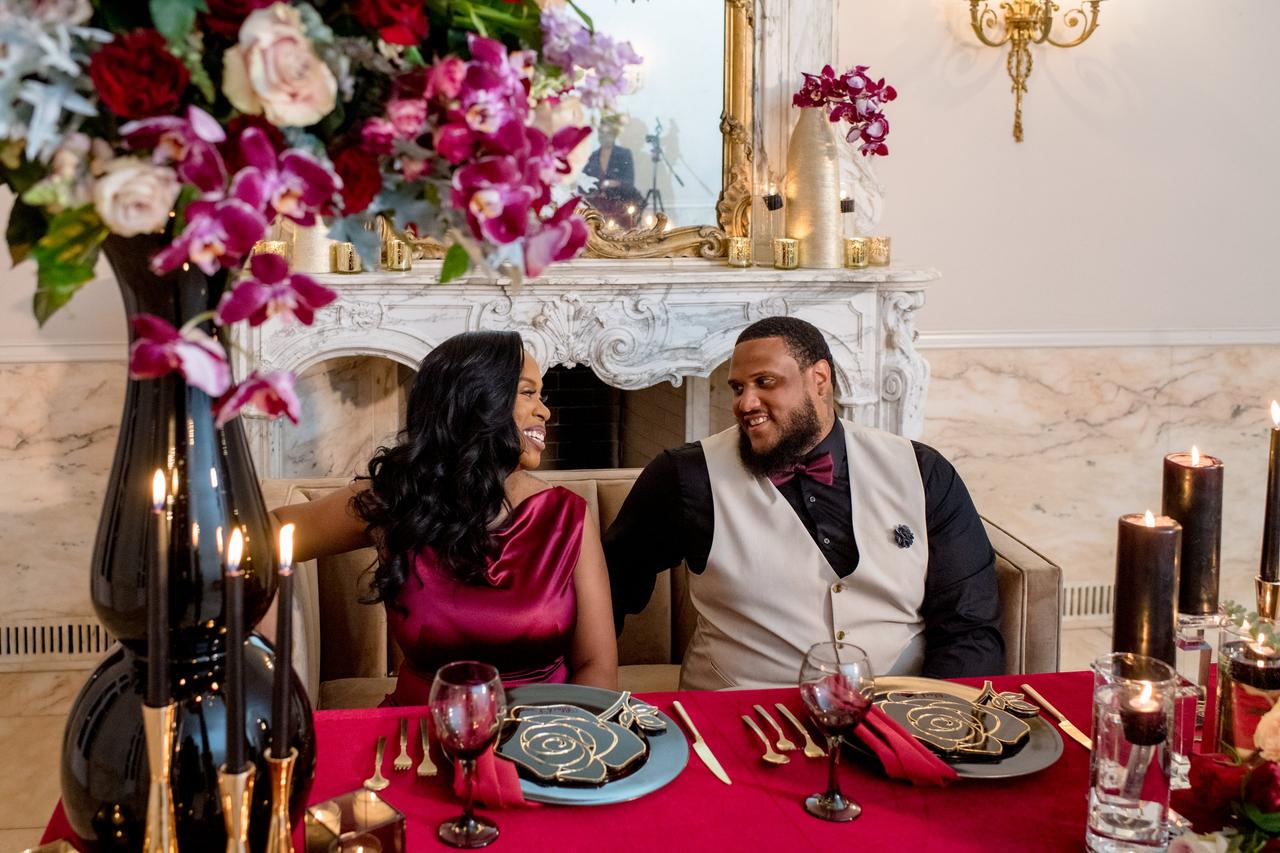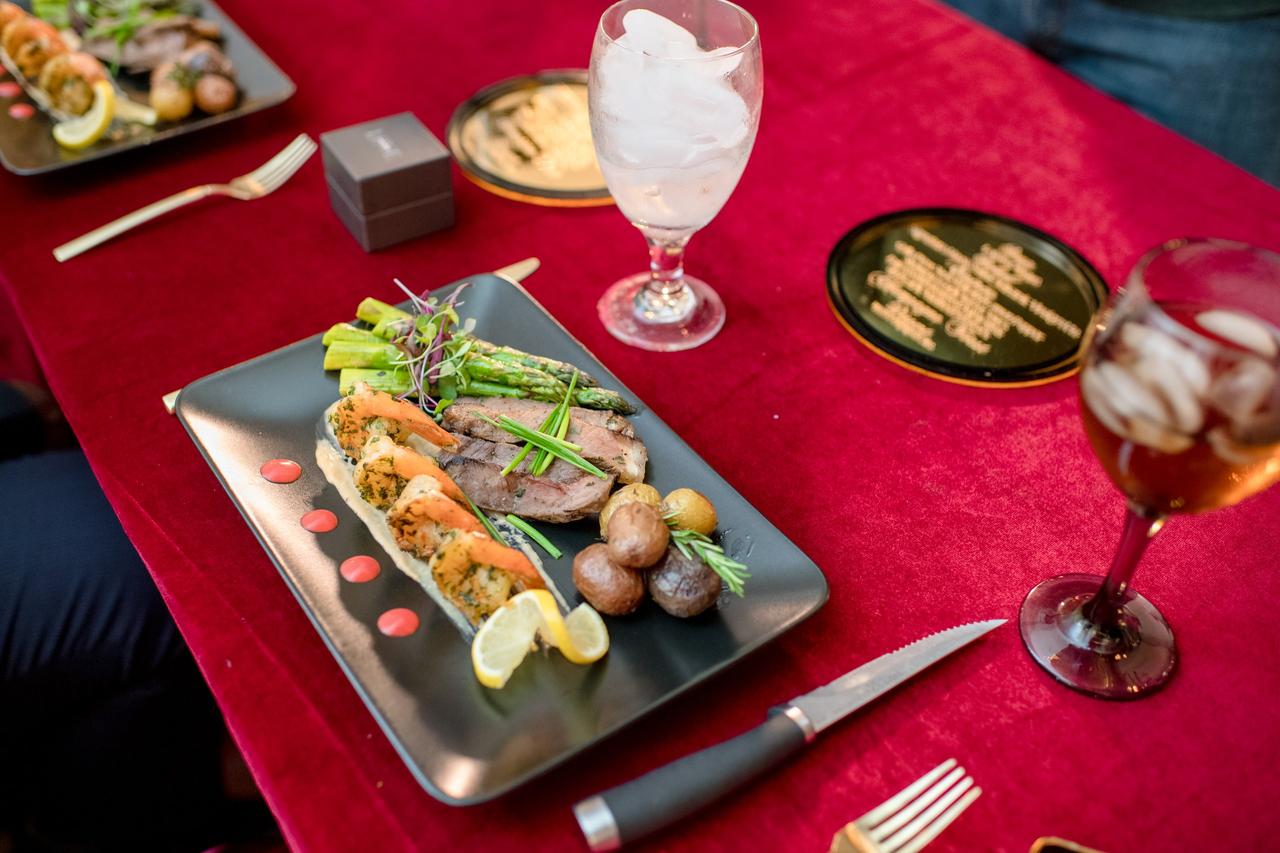 Don't forget the food.
We highly recommend incorporating food into your proposal, whether it's a full celebratory meal or a special dessert. Elevated cuisine, like this surf and turf from Exspensive Taste Catering, makes the proposal feel that much more special.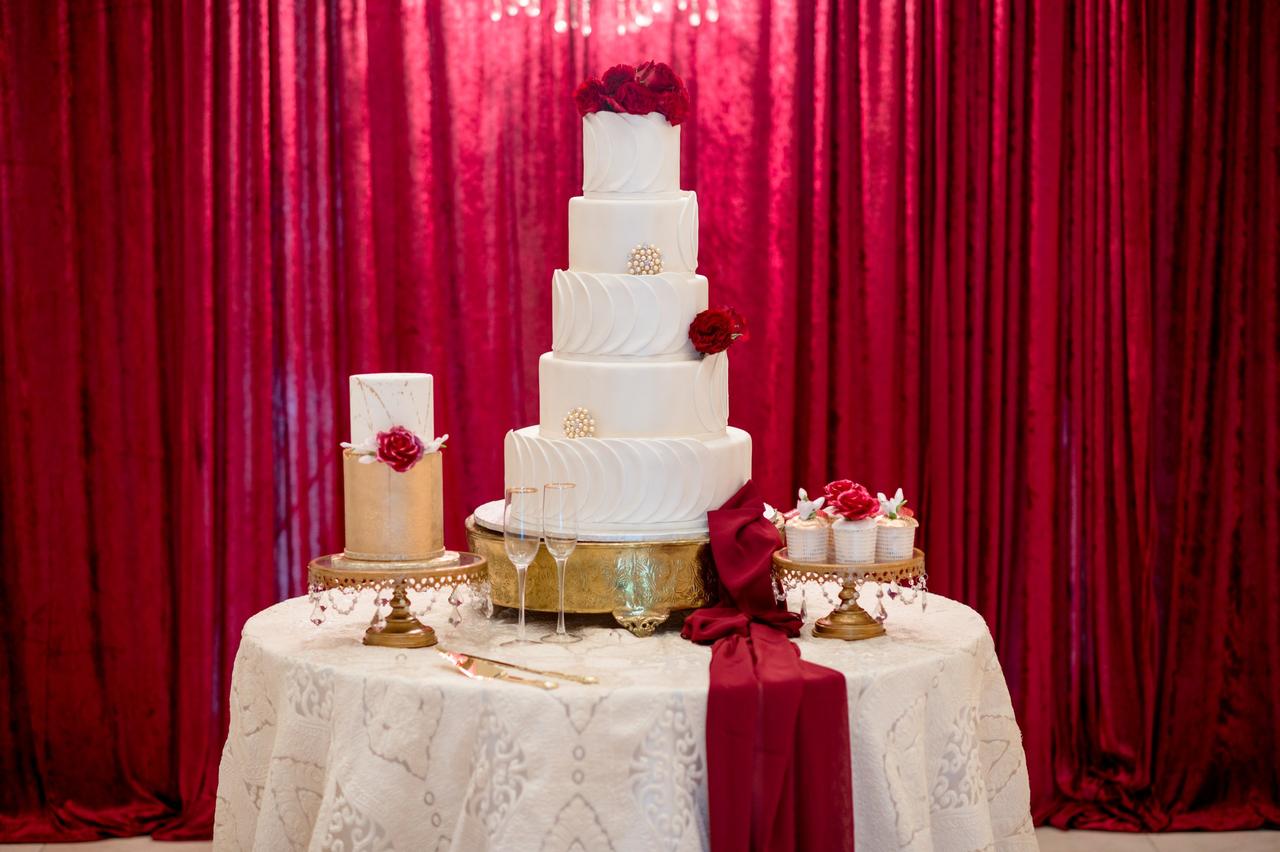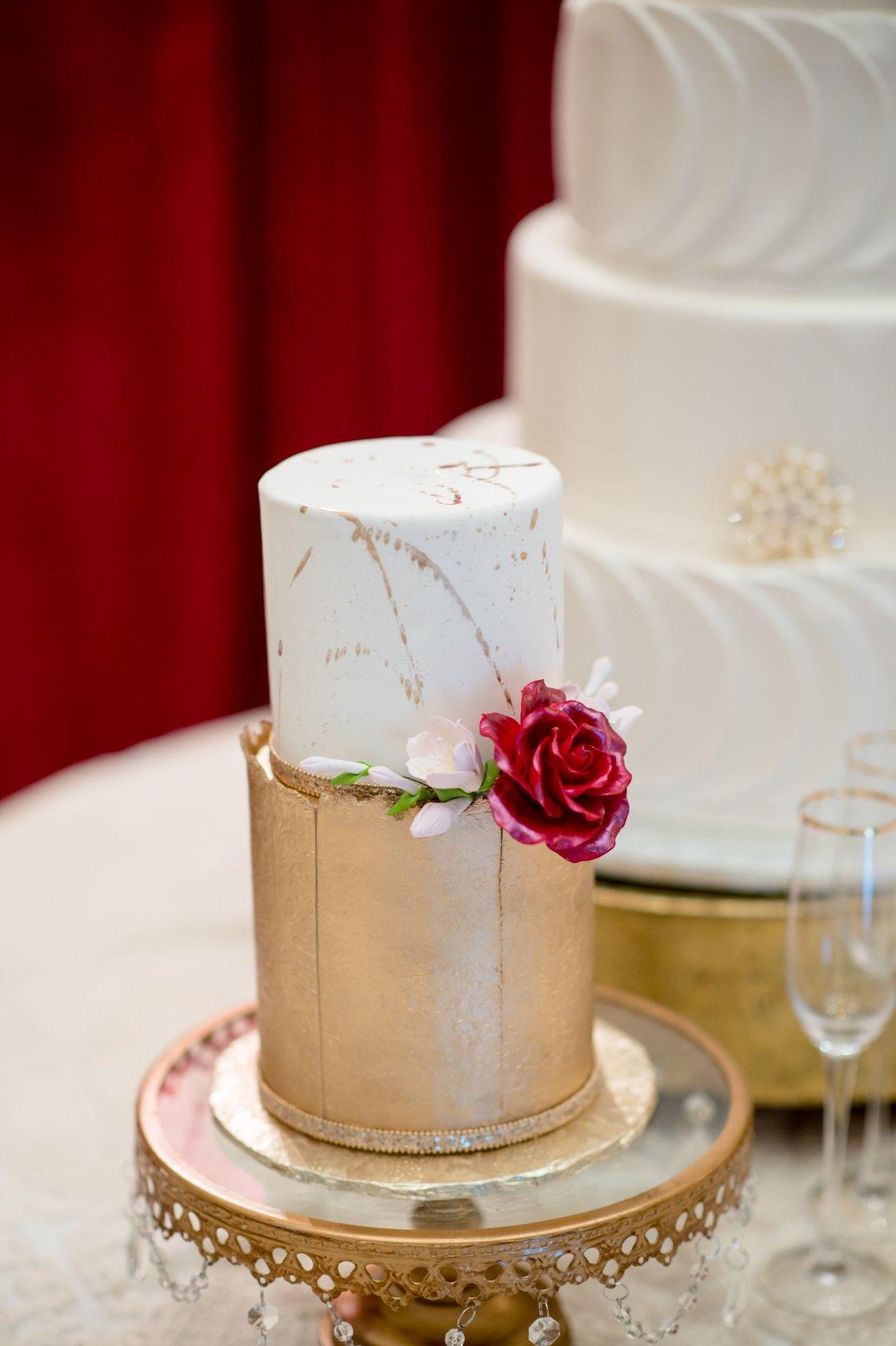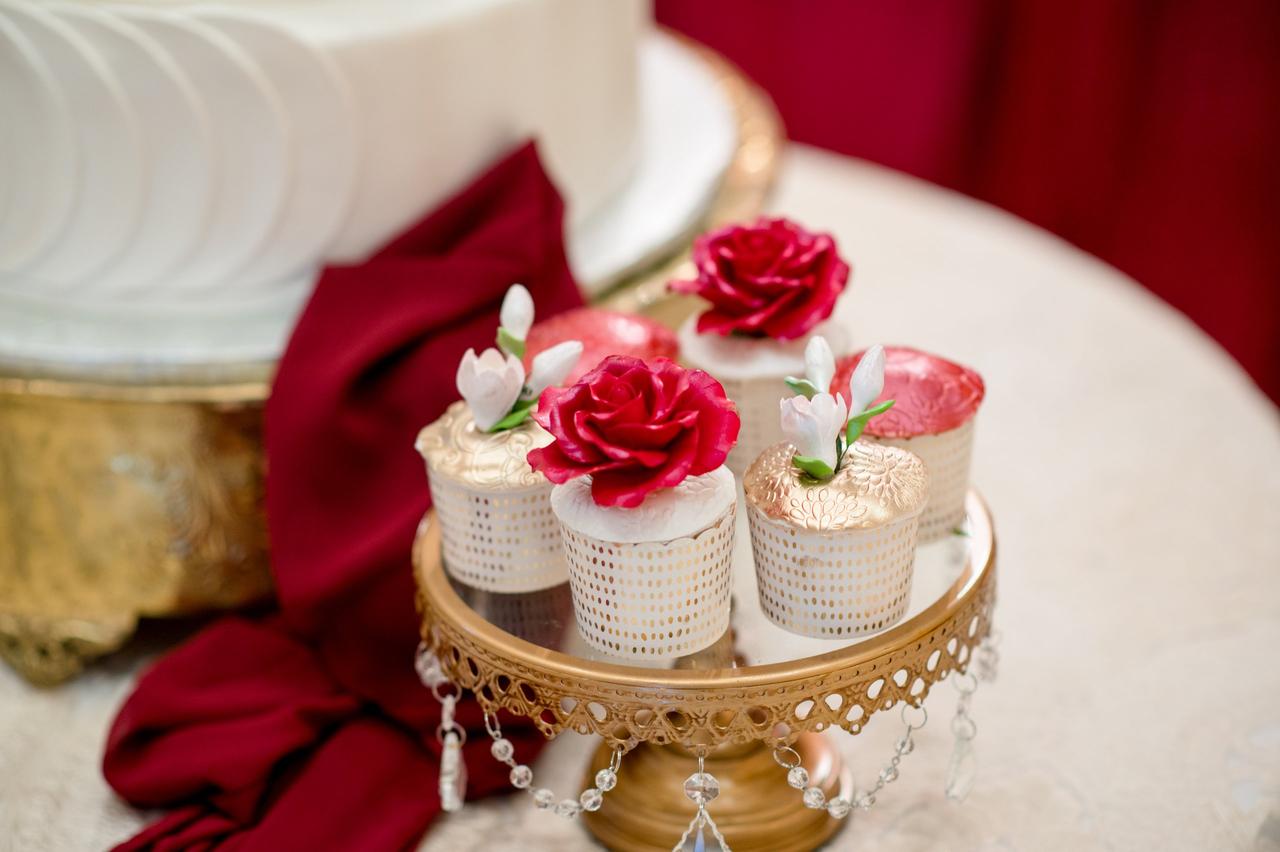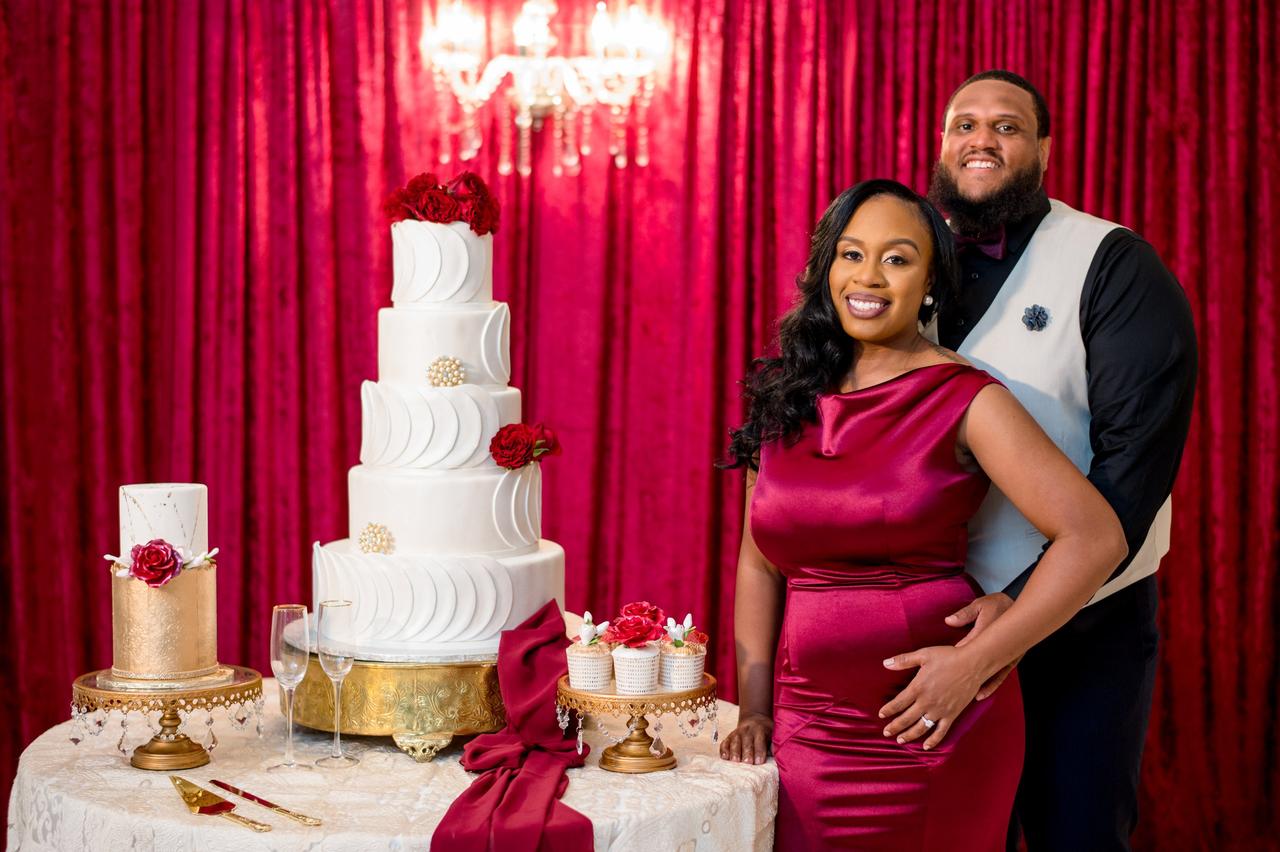 End the night with a sweet treat.
Juan and Tamika had their choice of delicious desserts from Wedding Cakes by Tammy Allen, but we love the idea of having a small "Just Engaged" cake or cupcakes on hand as a sweet finish to the proposal.
Vendors
Event Planner & Design: Elite Eventz | Photography & Videography: JF Studioz | Venue: Chateau Cocomar | Floral Design: Keisha's Kreations | DJ & Saxophonist: Signature Eventx | Cake Display: Wedding Cakes by Tammy Allen | Makeup Artist: Ashley Adams Beauty | Hair Stylist & Nails: Ashley Mitchell Salon & Spa | Menus: Delightful Details | Catering: Exspensive Taste Catering