The Best Honeymoon Destinations in October
Planning an October honeymoon? Check out these incredible destinations for your fall trip of a lifetime.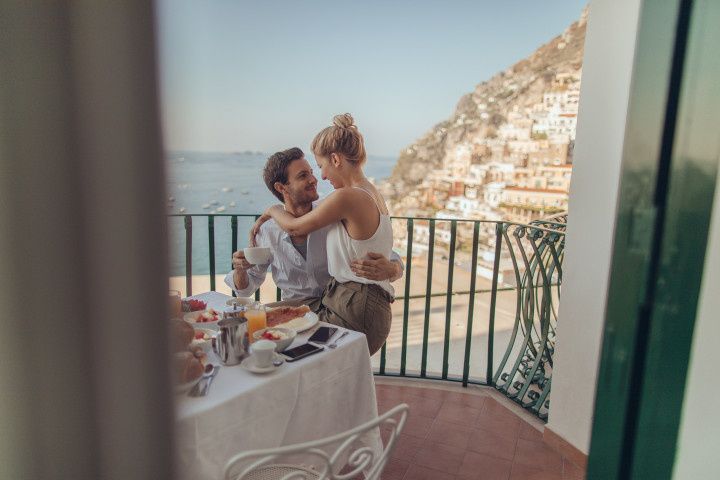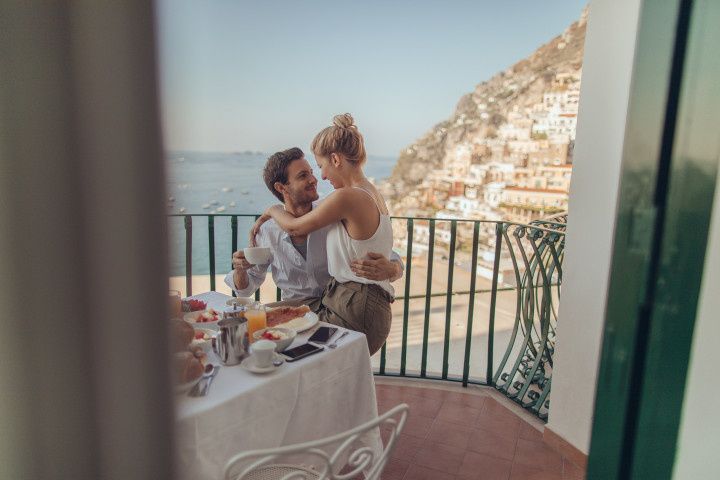 Much like falling in love, October's arrival symbols the start of a new season. From the shifting myriad of colors on the trees to the variety of warm, rich flavors in our dishes and coffees, there's something about this time of year that feels just like home. While many couples choose to incorporate the elements of this just-about-perfect weather season into their nuptials, others select this month thanks to its star holiday—Halloween! Whatever your reason for setting your date in October, consider yourself lucky since it's an off-season time of year for some of the best honeymoon destinations in October. This means your honeymoon will not only be one-of-a-kind (duh, it's you and your partner!)—but it'll be less expensive than other calendar pages.
Here, a look at the best honeymoon destinations in October to trek to as newlyweds after you say "I do."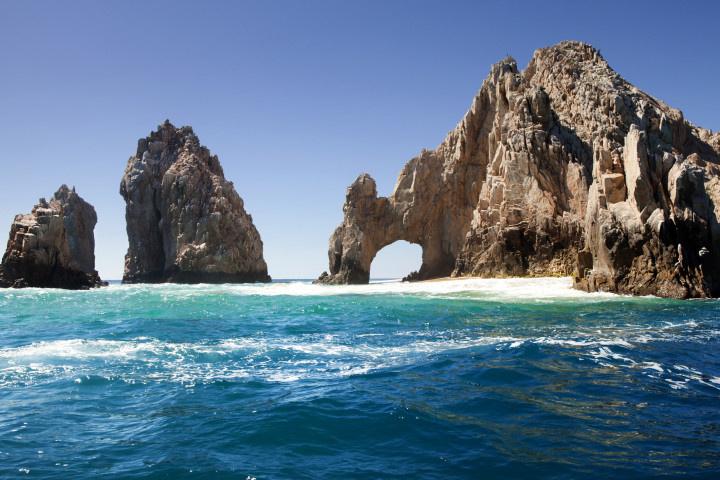 Los Cabos, Mexico
While hurricane season is definitely a concern in September, toward the end of October, your chances of coming head-to-head with a water cyclone during your Los Cabos honeymoon greatly diminish. But since you've probably already spent enough time in Cancun in college (and for those countless bachelorette parties), consider heading to another region that's a bit more upscale. In this area of the country, you'll be right on the border of California on the Baja Peninsula, where you'll be captivated by the deep blue waters and the rocky cliffs that define the scenery. If you both love fish, you're in luck, since it's caught, prepared and served daily.
Where to Stay: Paradisus Los Cabos
Nestled on a white sand beach with Instagrammable-views of the Sea of Cortes, this recently-renovated, luxury all-inclusive resort is set on 18.5 acres of land. As you venture through the property and it's grounds, you'll feel like you're the only two on the oasis, giving you space to connect as new spouses. For special occasions, you can book the adults-only Royal Service which comes with a personalized butler service who will tend to any whim you dream up.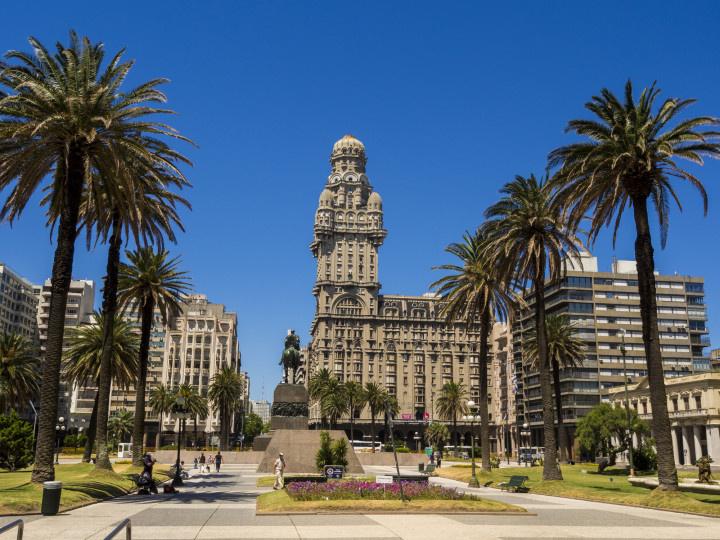 Uruguay
Can't pinpoint this South American country on a map? Just a short ferry ride away from Argentina is this hidden gem of a destination with daily sunny weather from October to March. What makes this locale one of the best honeymoon destinations in October is the vast variety of regions you have to pick from, meaning you'll never have to choose between wine country and the beach, since you can have both! Begin your bliss-filled honeymoon with a stop-over in Montevideo. Though more of a financial hub than anything else, it's a nice stopover to catch some Zzzs after a long flight and pick up your car rental. From here, you can sip your way through reds and whites in Garzon and then head to the luxury region of Punta del Este, where many Latin American celebrities vacation.
Where to Stay: For a comfortable few nights in the heart of the city - complete with pretty views of the sea - stay at the Hilton Garden Inn Montevideo. Once you're rested, pack your carry-on and travel to Garzon, where you can visit the boutique winery, Bodega Garzon. Here, you can sample highly-rated grapes from a renowned vinter. Since this vineyard is only 45 minutes from the beach, you can take your time getting there, where a stay at the 5-star Hotel L'Auberge is worth your splurge.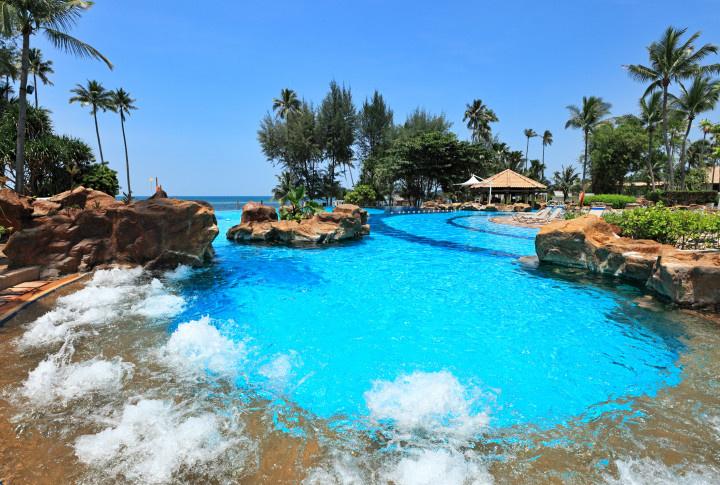 Bintan, Indonesia
After the madness of wedding planning has come to a halt, you and your number one want nothing more than to step off the grid. Turn off those iPhones and cuddle into one another at this beautiful oasis, a short ferry from Singapore and one of the best honeymoon destinations in October. While Bali often gets touted as the must-visit honeymoon destination in Indonesia, this tropical spot offers more seclusion and less tourist traffic. The northern Lagoi tip is known for luxury resorts and golf courses, juxtaposed against private beaches and places to grab sunset drinks. For a bit of history, you can also make your way to the capital of Tanjung Pinang, which is renowned for its history and preserved Dutch colonial architecture.
Where to Stay: The Sanchaya
While you have plenty of dreamy accommodations to choose from, what sets The Sanchaya apart is it's dedication to romance. As the most rose-colored vacation you'll likely ever take together, it's important to let the gushy overtones reign supreme, after all. Here, you can book many honeymoon excursions, including a four-course menu served by candlelight on the beach, a wine tasting in their robust cellar or releasing a sky lantern into the air for good luck and a happy marriage.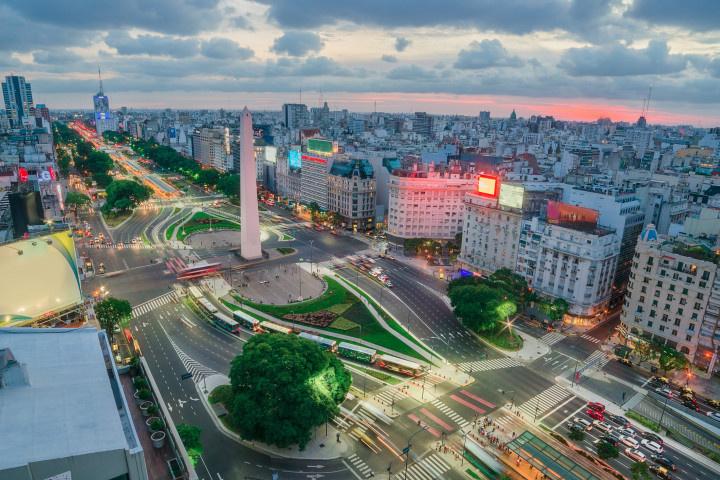 Buenos Aires
Forget relaxation: you and that person you just promised your life to want to adventure for your honeymoon. Especially if you've already toured Europe and Asia, turn your attention south to the party mecca of Buenos Aires—one of the best honeymoon destinations in October. This capital of Argentina is ideal for couples who want to get lost in a sprawling metropolitan and fully immerse themselves in a new country and culture. From taking tango lessons to trying the infamous asado at many renowned steak houses, you'll return not only tipsy from the wine, but from the warm vibe of the city.
Where to Stay: Four Seasons Buenos Aires
Being city center is great and all, but what's better is having a romantic place to lounge, too. There's no better excuse than your honeymoon to upgrade to luxury. This resort offers plush rooms, an extensive spa menu, a courtyard pool and much more to make your stay memorable. As a bonus? You don't even have to leave the front door to dine at one of the top 50 restaurants in all of South America - Elena - since it's part of the hotel!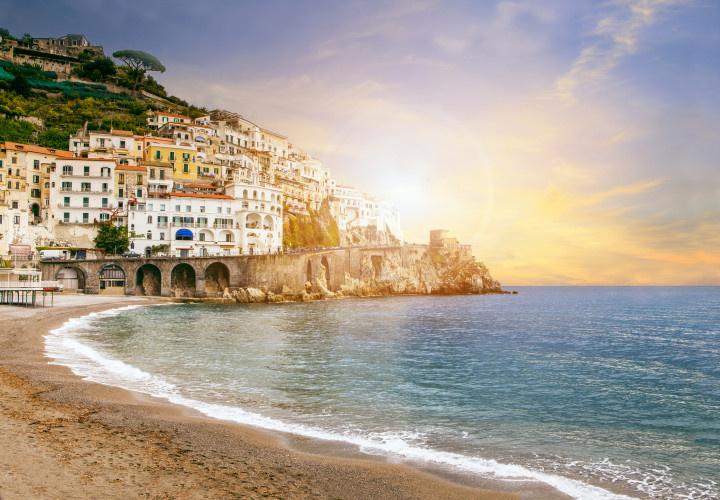 Amalfi Coast, Italy
When you Google 'honeymoon' — the sights from this Italian destination are likely among the first results. Thanks to breathtaking views, daily, invigorating sunsets and sunrises, globally-acclaimed food and plenty of opportunities to fall in love with your spouse again, there's a reason so many newlyweds flock to an Amalfi Coast honeymoon. The good news for October jetsetters is tourist traffic slows down around the time of year, making for great deals at luxury places and far less competition to get into a cliff-side restaurant.
Where to Stay: Monastero Santa Rosa
This 17th-century ruined convent has been transformed into a 20-room luxury resort is just-about-perfect for newlyweds. Perched on a cliffside with sweeping views of the Bay of Salerno and the coast, you can choose one of their romance packages to take your experience to an even sweeter level. From a candle-lit dinner for two to a five-course meal by the water, the only thing you're missing is a champagne buzz.