The Ultimate Wedding Workout Plan That You Can Do at Home
Getting in shape for the big day is easier than you think. This entire wedding workout plan can be done sans equipment without ever having to leave your house.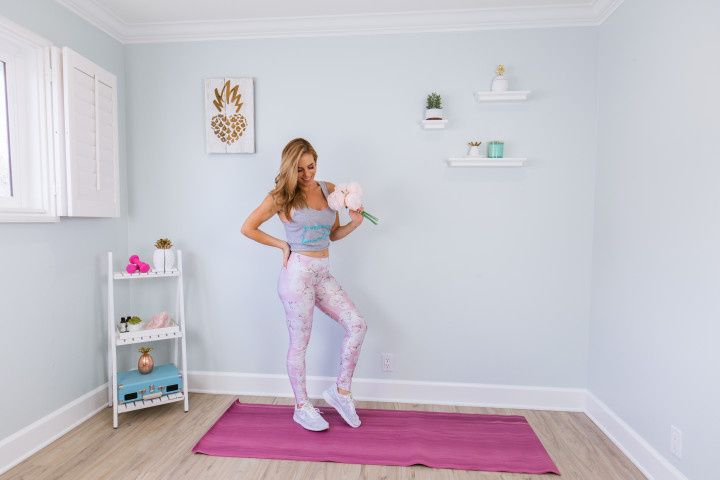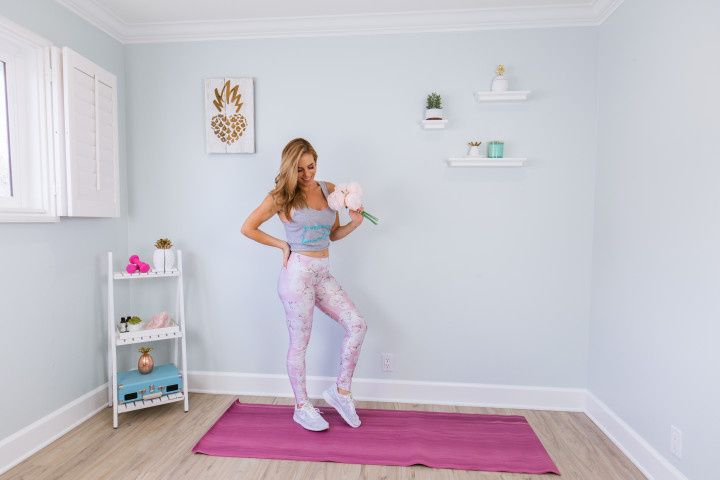 Looking your best on your wedding day is about more than simply finding the perfect wedding dress or having flawless hair and makeup. It's just as important to feel your best, whether that means eating healthy in the weeks and months before the big day, getting serious about your sleep schedule, or following a wedding workout plan — all so you exude confidence and beauty as you walk down the aisle.
WeddingWire partnered with Katie Dunlop of Love Sweat Fitness to create five at-home workout routines, each targeting a specific area of the body, from arms and shoulders to abs and booty. For best results, follow this wedding workout plan a few times a week for at least six weeks before the big day. We promise you'll be feeling fabulous by the time you say "I do!"
Get your sweat on with our at-home wedding workout plan below.
Strapless Wedding Dress Workout
If you're showing off your décolletage with a strapless wedding dress on the big day, focus on toning your arms and upper body. Along with making your collar bones pop and eliminating the dreaded "spillover" effect (especially if you're busty), this strapless wedding dress workout will also help with your posture!
Read more about our strapless wedding dress workout »
Easy Ab Workout
Get crop-top ready by following a wedding workout routine that targets your core and oblique muscles. Even if you're feeling a little shy about rocking this trendy dress style on your wedding day, our easy-to-follow ab workout will have you ready to show some skin before you know it. The best part: this routine only takes about 15 minutes, and you don't need any equipment.
Follow our easy ab workout for your crop-top wedding dress »
Backless Wedding Dress Workout
A backless wedding dress is one of the sexiest styles you can rock on the big day. Whether you're baring it all in a gown that's totally open from the back or leaving a little something to the imagination, following a wedding workout plan to get your upper body in shape will help you feel extra-confident. These easy at-home exercises are guaranteed to get your arms, shoulder blades and lower back ready for their big moment in just a few weeks!
Try our backless wedding dress workout »
Butt Workout
Are you wearing a form-fitting dress on the big day? If so, it's time to get your booty into shape! Mermaid, trumpet, fit-n-flare, and sheath wedding dress silhouettes all emphasize your curves, including your derrière. Lift and tone your glute muscles with a simple and effective at-home butt workout consisting of four moves — no gym or boring squats required.
Here's the best butt workout you can do at home »
Full-Body HIIT Workout
Following a high-intensity interval training (HIIT) workout is the most effective way to get your entire body into shape, regardless of your wedding dress style. This wedding workout plan focuses on pushing your muscles to the limit in 30-second intervals for maximum results. It's sure to get your heart rate up, which will ultimately help you burn more calories! This workout is also great for achieving a bikini bod if you're headed somewhere warm and sunny for your honeymoon (or if you just want to look good in the bedroom – wink wink).