7 Small Wedding Details Not to Share Before Your Big Day
There should be an element of surprise on your big day, especially when it comes to these small wedding details.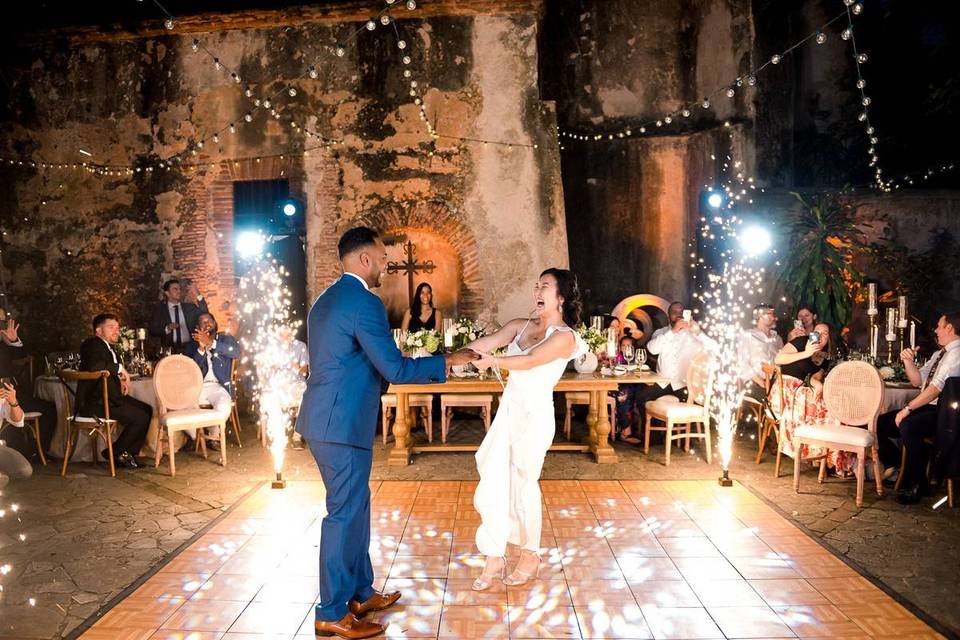 You're probably bursting with excitement over your upcoming wedding – and want to shout your plans from the rooftops! But take our advice – hold back. Of course, it's okay to share some of your small wedding details with your nearest and dearest (we're talking close family and wedding party members, not all of your social media followers) but there should be an element of surprise on your big day. Here are the small wedding details you should avoid sharing before the actual event.
The Dress and Attire
We're telling you now: Everyone will want to see a picture of what you're planning on wearing. But we recommend keeping your attire a secret from the majority of your guests until the big day. You want the gasps of delight when you first walk down the aisle to be genuine, and you never know – some Debbie Downer might say something negative about your ensemble before the big day that may make you doubt your decision.
Hair and Makeup Choices
"How are you wearing your hair?" is a common question, and like your dress, there's no need to tell everyone about your intended hairstyle or makeup choices. Everyone will likely have an opinion about how you should look on your wedding day – but in the end, it's up to you (with the help of your hair stylist and makeup artist) to decide. Simply say "I haven't figured it out yet" to change the subject.
Color Scheme and Decor
Again with the element of surprise. You don't want your guests to walk into your reception and know all of your small wedding details beforehand – a little anticipation is much more fun. There's no reason you need to tell them every detail about your décor and flowers in advance, and if they press you for answers, just say "We want you to be surprised!"
First Dance Song
Your first dance song is a very personal choice, and not all of your guests will "get it." But that doesn't matter. Even if you're picking a more traditional song, there's no need to share it in advance with everyone. You may pick up some unwanted comments or even criticism ("Oh really? That's a weird song.") – and who needs that?
Guest List Details
Try to avoid divulging too much information about your wedding guest list to others—especially if you're doing the A and B list thing. You may get a lot of questions about why certain people were or weren't invited, and it can turn into a sticky situation. Of course, your close family members should be aware of the invite list, but there's no need to take it too far beyond that. And related to that, it's best to keep the reception seating arrangements private as well—guests may not love where you're placing them, which can make the process even more stressful.
The Favors
Think of your wedding favors as a gift to your guests – and most of the time, you don't tell people about gifts (whether it's birthday, holiday, whatever) in advance. So any favors or giveaways should be among the small wedding details kept private, except for anyone who is helping to create, assemble, or purchase your favors.
The Surprises
Whether you're doing a fun sparkler sendoff, having a photo booth, or you and your dad are performing a wacky dance together, don't ruin your wedding details and surprises by spilling the beans! Even if you just tell one person (and swear them to secrecy), you run the risk of your entire guest list finding out about that thing that's going to make your wedding totally unique. So keep any surprise wedding elements to yourself (and your future spouse and wedding planner, of course!).