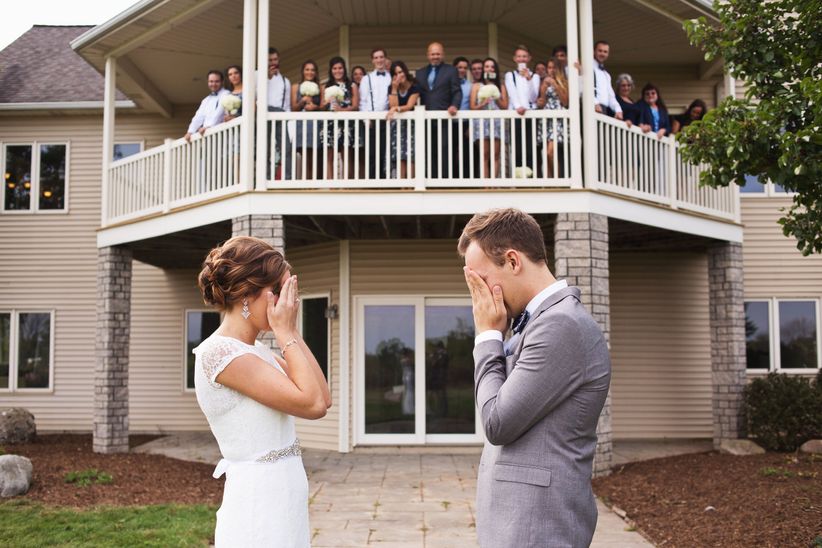 Photo: Sarah Gehman Photography
During the craziness of it all, it's important not to forget that your wedding day is about you and your S.O. There will be lots of memorable moments throughout your wedding day, but a little surprise here and there can make things even more exciting and fun (if that's possible!).


Consider gifting one of these cute and fun wedding-day surprises as another way tell your partner how much they mean to you.
Heartfelt note
Have the MOH and best man (or better yet the flower girl and ring bearer) deliver
a handwritten letter
the morning of the wedding. Include anything you want in the note from how much you love them to how excited you are to get married in a few short hours, and anything else you'd want them to know before the big moment. The two of you can look back and re-read this sentimental gift for years to come!
Personal gift
Do the two of you share an inside joke, or do you know of something your fiancé(e) has always wanted but you've never had the chance to give them? Now is your chance! Have a member of the wedding party deliver a wrapped gift while you're both getting ready and have them open it before walking down the aisle. Give engraved cufflinks they can wear that day or a nice pair of earrings for the morning-after brunch. Looking for something a little less pricey? Opt for your favorite bottle of liquor that you like to share together. Whatever the gift, make it something that represents you two as a couple.
Flash mob or choreographed dance
Get together with your wedding party and
arrange a choreographed dance
to your S.O.'s favorite song! It doesn't have to be perfectly choreographed (that's half the fun), and it can even be something you throw together while you're getting ready in the morning. Want to get more people involved? Plan a flash mob with friends and family at the wedding! The new trend is popping up at weddings all over, and it's no wonder why! It's a great way to get everyone dancing and is sure to surprise your partner.
Honeymoon location
As a fun surprise, keep your
honeymoon destination
under wraps! Give your significant other hints about where you're going to go so they know what to pack and whether or not they'll need their passport. This is a great idea for adventure-seeking couples who trust their partner to plan an amazing trip. On the day you head out on your vacation, you'll be so excited to find out where you're jetting off to!
Dance lessons
If dancing isn't your forte (and your S.O. knows it) take up
dance lessons
before your wedding day! Secretly practice a few weeks beforehand so when it's time for the first dance, your spouse and your guests will be pleasantly surprised by your dance floor moves. These lessons will come in handy long after your wedding day, at other weddings, and beyond!
Clothing item
Wear an accessory or item of clothing that belongs to one of your in-laws. Consult with them prior to the wedding and find out if there are any
family heirlooms
such as a tie or headpiece you can don on the day of the wedding. Not only will this demonstrate to your new family how much they mean to you, but your partner will be so moved when they see you for the first time. Opting for grandma's bouquet wrap from her wedding or your father-in-law's cufflinks is bound to be a meaningful surprise.