30 Creative 40th Anniversary Gifts to Celebrate This Major Milestone
The ruby anniversary is a big deal. Shop our favorite 40th anniversary gifts for your partner, your parents, or your friends.
We have included third party products to help you navigate and enjoy life's biggest moments. Purchases made through links on this page may earn us a commission.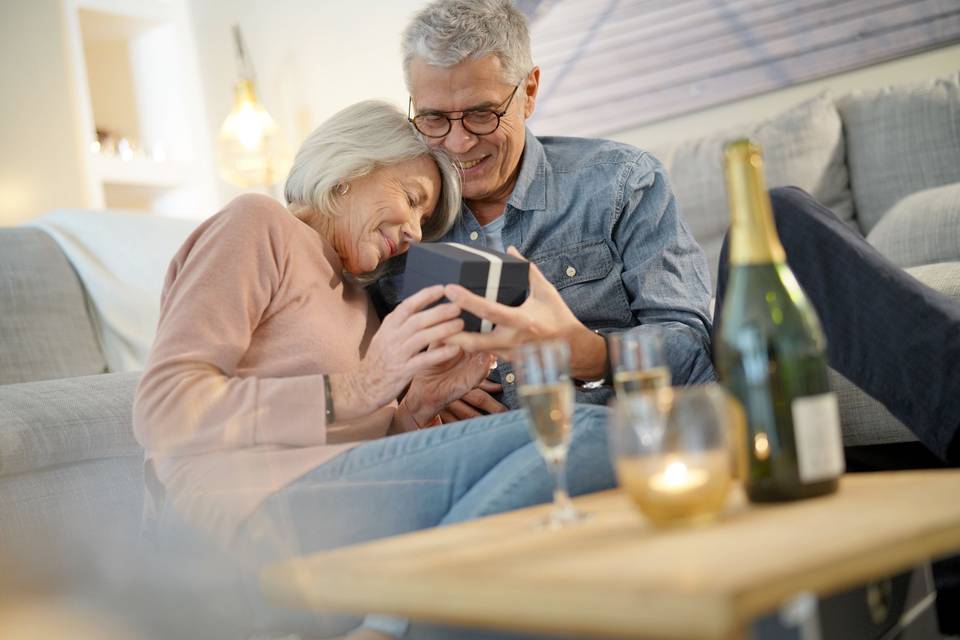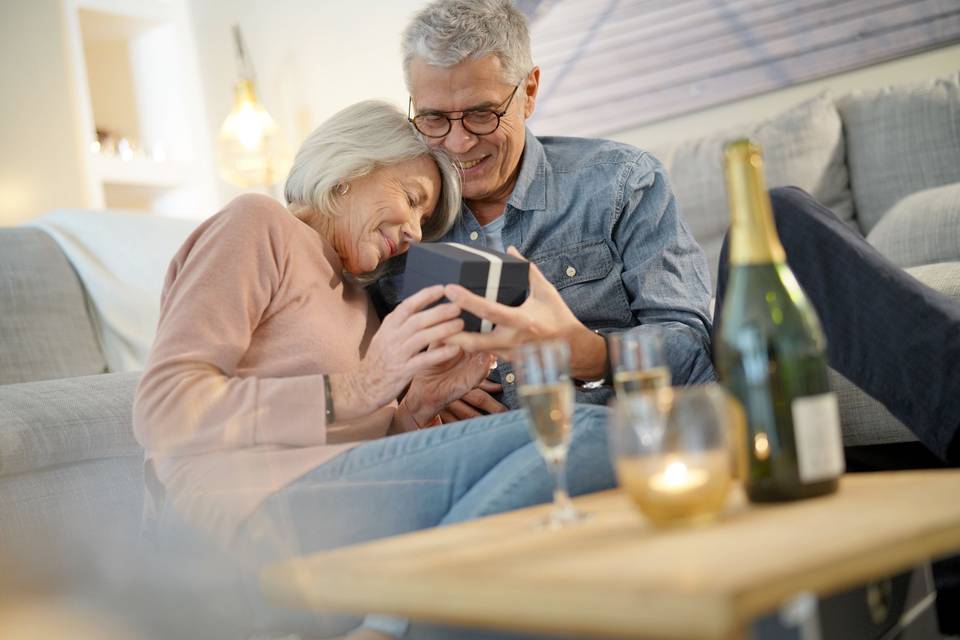 On the hunt for a 40th anniversary gift for your parents, your spouse, or your close couple friends? First and foremost, congratulations! Forty years married is an amazing accomplishment, and something to be celebrated indeed! From traditional 40-year anniversary gifts to more modern and creative ones, your options abound as you seek to snag the perfect present. Keep reading for background on the ruby anniversary and tons of 40th anniversary gift ideas.
What is the Traditional 40th Anniversary Gift?
Rich, intense and unforgettable (just like your 40-year love story!), ruby is the traditional 40-year wedding anniversary gift. But that doesn't necessarily mean you're limited to ruby jewelry—from ruby-studded artwork, to ruby chocolates (really!) to a beautiful bouq of ruby-red nasturtiums (the official flower of the 40th anniversary). And since the official color of the 40th anniversary is red, really any gifts in that shade will do the trick. Of course, if you want to break tradition entirely, there are lots of other sweet and sentimental anniversary gifts out there that aren't ruby at all, but will still pack a punch! Check them out below.
The 30 Best 40th Anniversary Gifts
From traditional and ruby-accented to creative and interactive and everything in between, we've done the 40th wedding anniversary gift shopping for you! Simply browse, add to cart, and poof: Cheers to 40 years.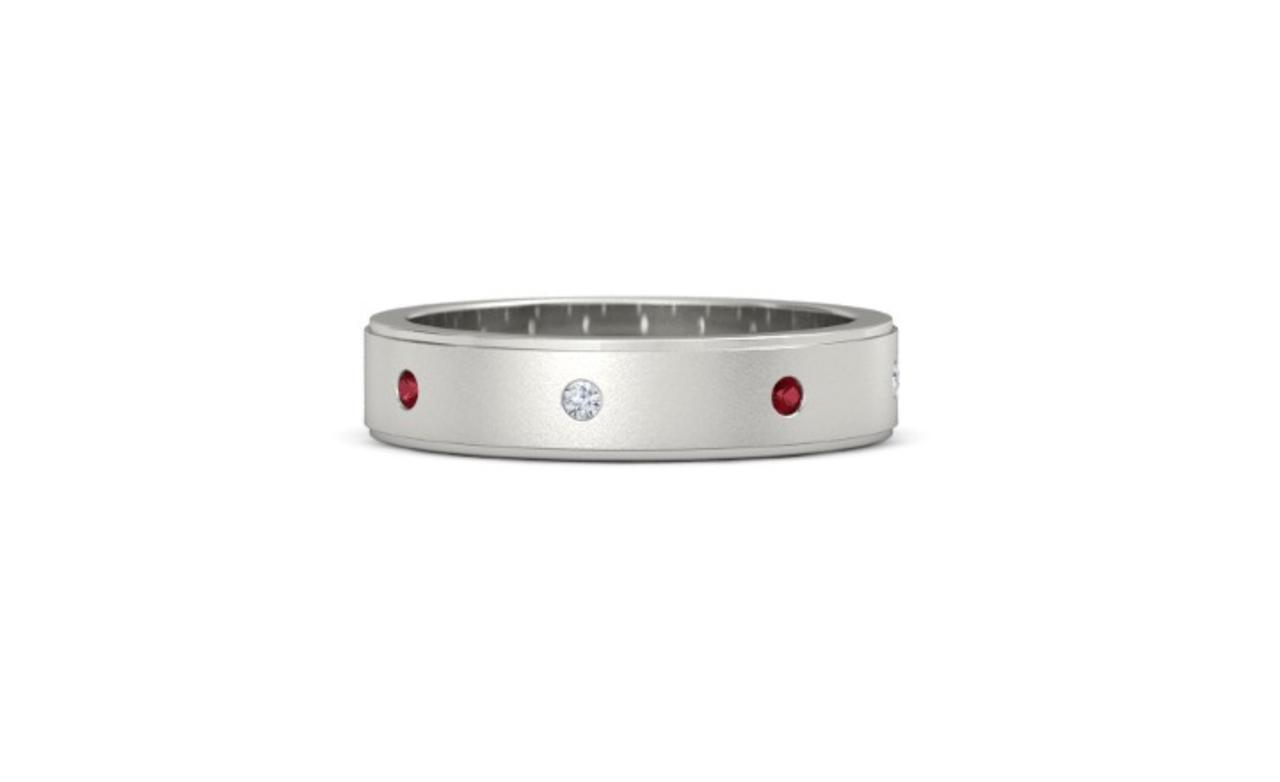 1. Ruby-studded band
Why should all the sparkly stuff be just for her? This sleek, masculine band with a subtly satin finish and hint of ruby sparkle is a handsome other-hand complement to his wedding band.
Gemvara men's satin-finish gemstone band, $1,695, Gemvara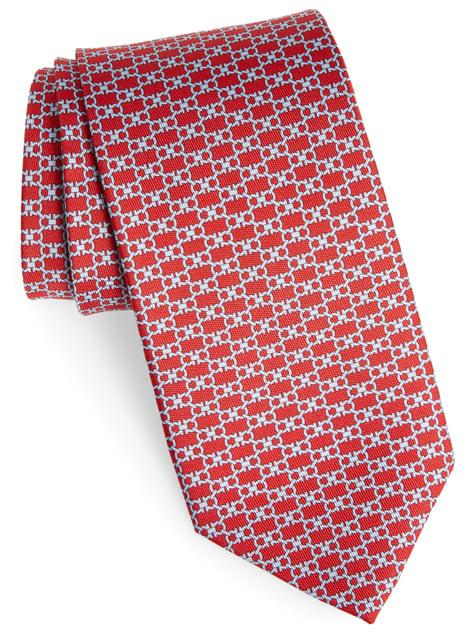 2. Ruby red designer necktie
A statement piece he'll reach for every day, this luxurious silk necktie in a gorgeous shade of ruby is the perfect way to nod to the traditional 40th anniversary gift without entering jewelry territory. Also, who doesn't want a designer tie?
Salvatore Ferragamo Mano tie in Rosso, $190, Nordstrom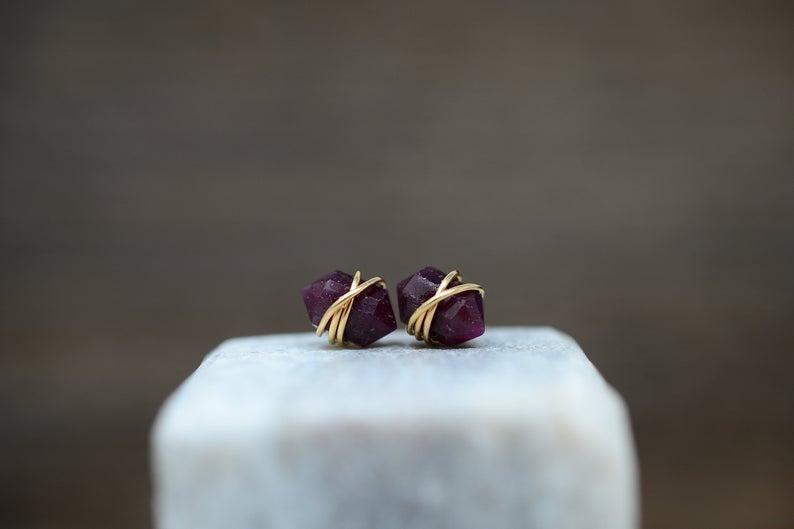 3. Raw ruby stud earrings
Just the right amount of ruby, these rustic-chic studs are an affordable and sparkly pick if you're a friend or colleague looking to fete your pal without overdoing it. They'll go with anything and feel so special.
Admantae Designs raw ruby studs, from $63, Etsy

4. Virtual wine tasting kit
For the couple who cheekily counts "wine, and plenty of it" as their happy marriage secret, this experiential gift is spot-on (and a bottle of red certainly counts as a "ruby" gift!)! The kit, which comes complete with stunning bottles of individual six-ounce pours plus a code for a virtual tasting experience led by a real sommelier, is a date night and learning experience all rolled into one.
In Good Taste California wine mixer, $65, In Good Taste

5. Custom newspaper print
This digital download is such a clever and affordable gift! Just send in a real wedding photo and date and receive a high-res downloadable image of a custom newspaper print complete with notable events, birthdays and more from the year of the wedding. Frame it and, bam! A one-of-a-kind charmer for the nostalgic at heart.
FunPartyGamesGifts personalized sign digital download, from $10, Etsy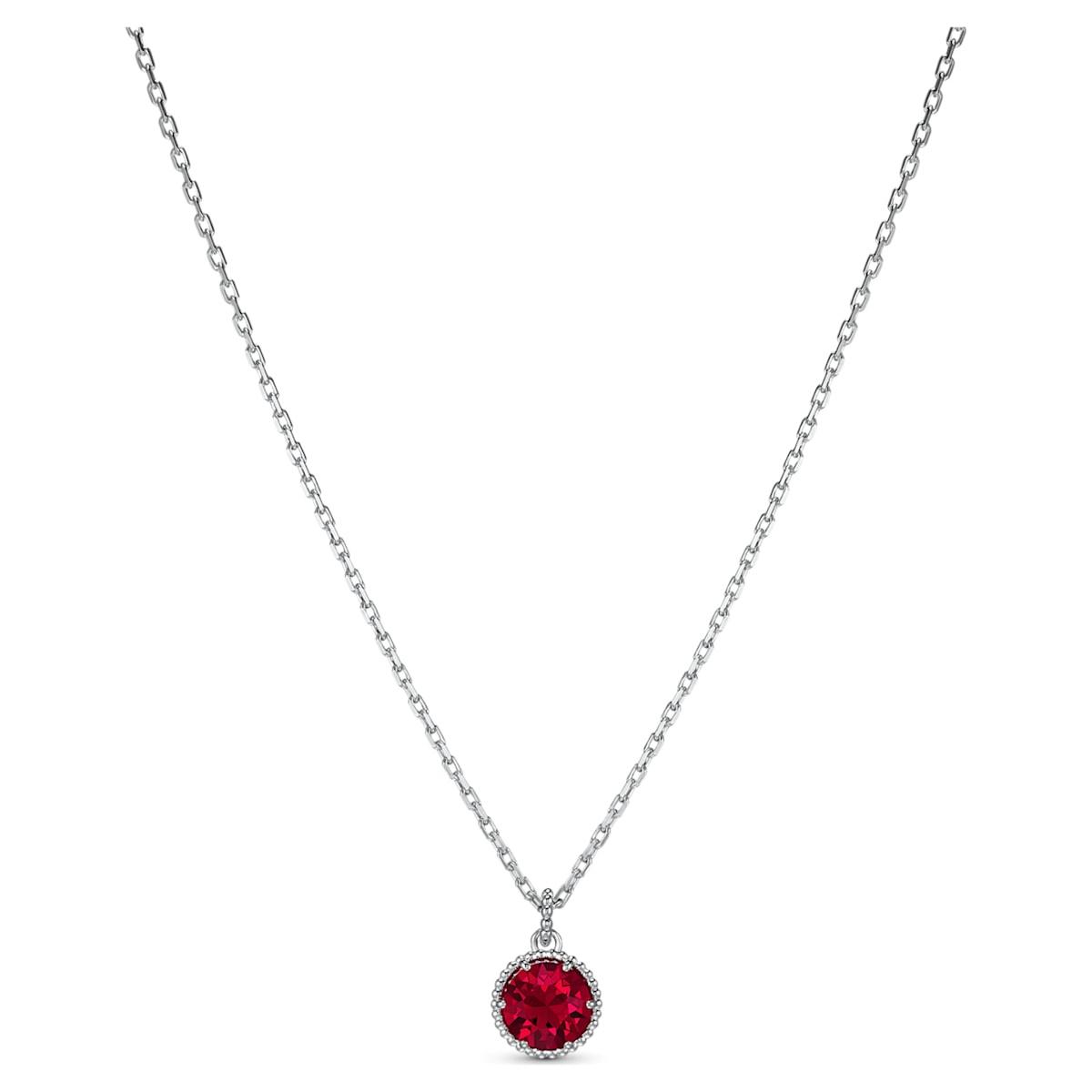 6. Ruby pendant necklace
Elegant and breathtakingly pretty, this simple ruby pendant necklace on a simple silver chain is casual enough for everyday but special enough for a show-stopping 40th anniversary gift.
Swarovski birthstone pendant in red, $89, Swarovski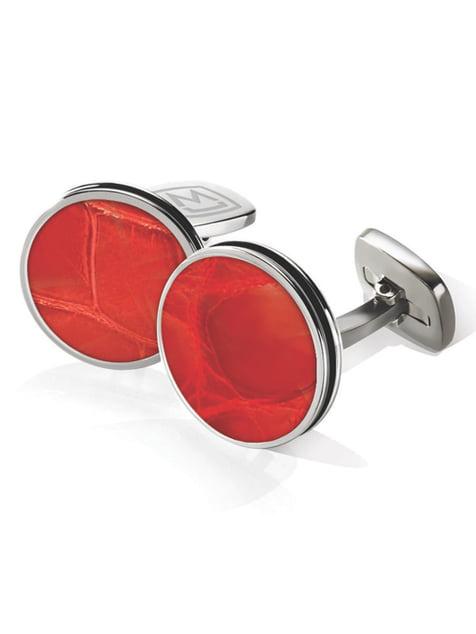 7. Alligator cufflinks
High-style meets "Happy 40th !"in these too-cool cufflinks with real alligator leather in a stainless steel setting. The ruby-red gator finish gives a subtly yet fashionable nod to the big 4-0.
M-Clip alligator cufflinks in red, $115, Nordstrom
8. Custom soundwave print
That first dance might have been four decades ago, but we're willing to be it's still playing in the back of the couple of honor's minds, all these years later. Now, they can give it the spotlight it deserves on their wall with this unexpected print of the song's soundwaves. Get it in red, of course!
VoiceandSound song soundwave artwork, from $49, Etsy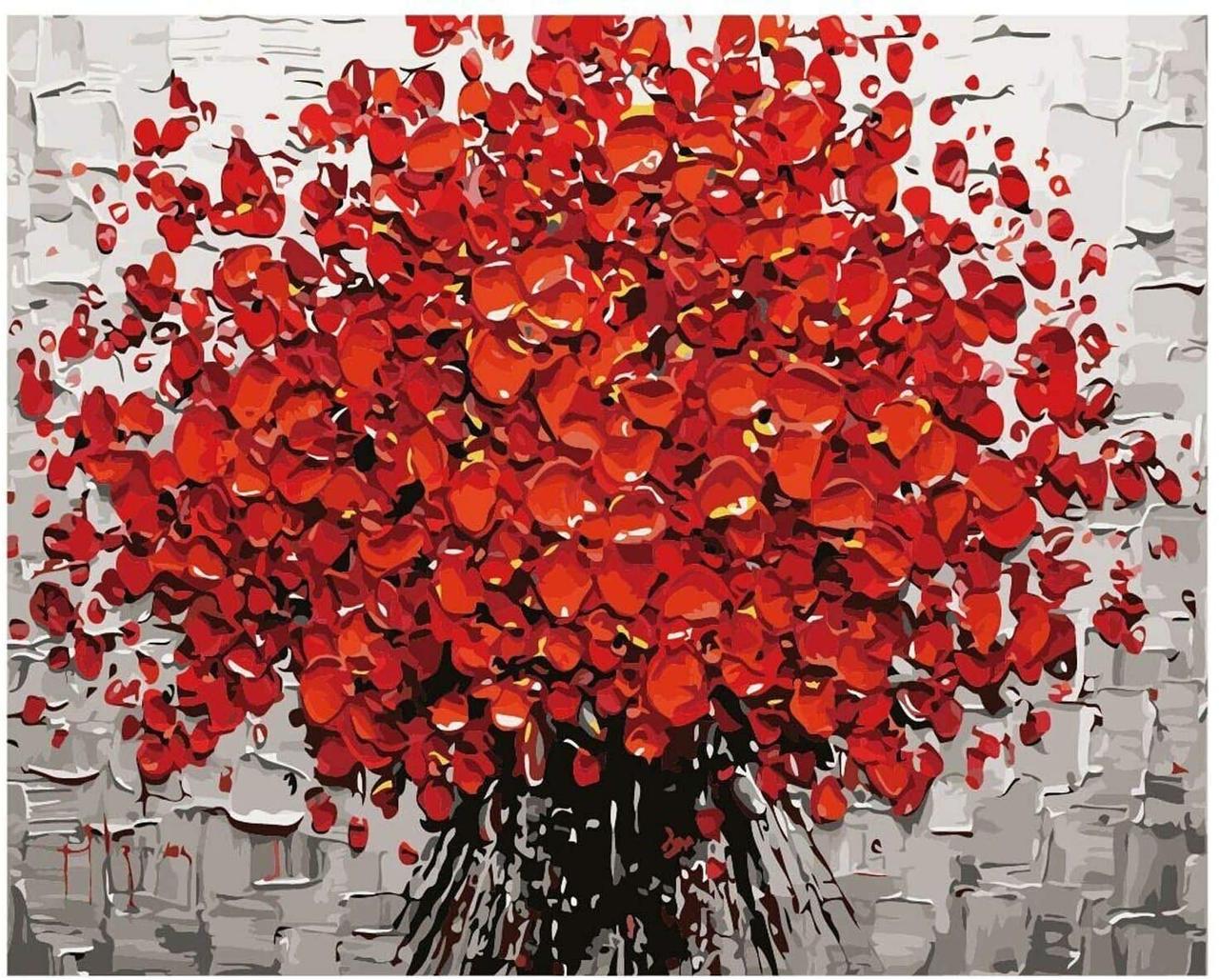 9. Paint by number set
If you're looking for a 40th anniversary gift for a couple who's been stuck inside for a while, a paint-by-number set is not only a lovely present, it's also a fun activity. We love how the finished product features a vibrant bouquet of red flowers to represent the ruby anniversary.
Alto Crafto DIY paint by number set, $25, Amazon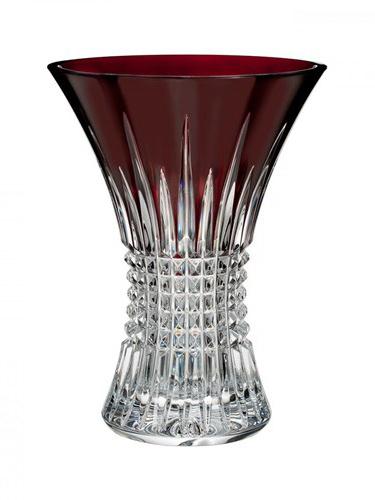 10. Elegant crystal vase
Wondering what to buy for a 40th wedding anniversary? A stunning, heirloom-worthy piece that both members of the couple can enjoy on display in their home, this statement vase with ruby-red accents is as beautiful as it is functional. Gift it filled with a bouquet of nasturtiums, the traditional 40th anniversary flower, to pack even more of a punch!
Waterford Lismore diamond red vase, $285, Scully & Scully
11. Ruby doves sculpture
Perfect for perching on a work desk or bookshelf, this charming sculpture of two nuzzling ruby-red doves is a beautiful symbol of four decades of love and care.
Baccarat Loving Doves in ruby, $360, Neiman Marcus

12. The perfect red lipstick
If she's all jewelry-ed out but you still want to gift her something 1) red and 2) so special, reach for a luxurious lipstick she can swipe on to elevate her everyday! This designer pick's tube is like a piece of art in and of itself, and the universally flattering ruby shade is an instant classic.
Gucci Rouge à Lèvres Gothique lipstick in Goldie Red, $46, Saks Fifth Avenue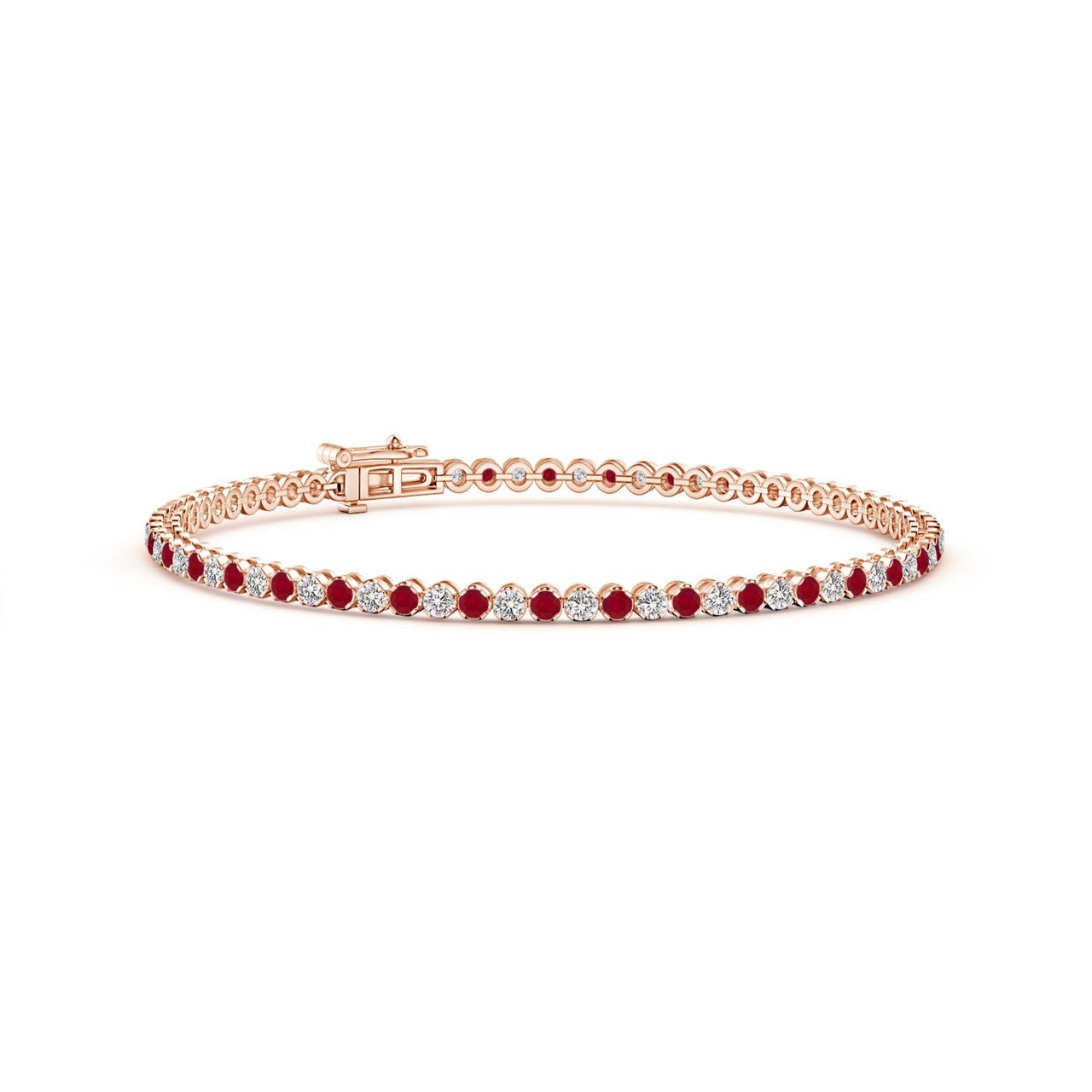 13. Ruby and diamond tennis bracelet
If my husband reads this in 35 years, babe, this is what I want! There is nothing more classically elegant than a dainty diamond tennis bracelet, and this one gets the 40th anni treatment with intermittent, sparkling rubies. Simply stunning.
Angara classic round ruby and diamond tennis bracelet, $1,889, Angara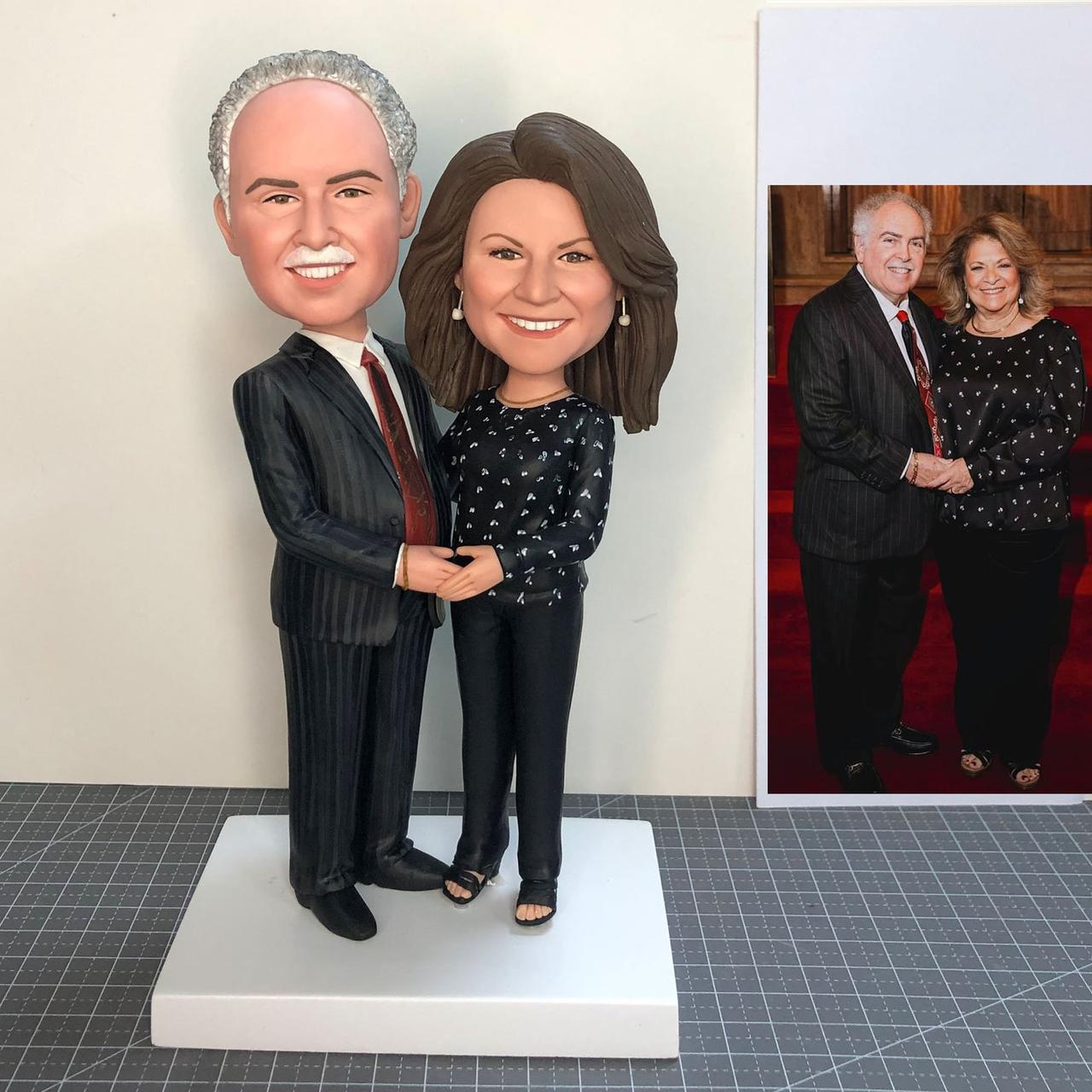 14. Custom couple bobblehead
OK, this lighthearted gift is definitely for that couple that does not take itself too seriously and that might feel rubies are a little too fancy. They'll get such a kick out of this one-of-a-kind bobblehead model in their likeness, and you'll have so much fun designing it. Send a reference photo of them on their wedding day, or on a memorable vacay, for extra cute points.
My Bobbleheads Shop fully customizable double bobblehead, from $150, Etsy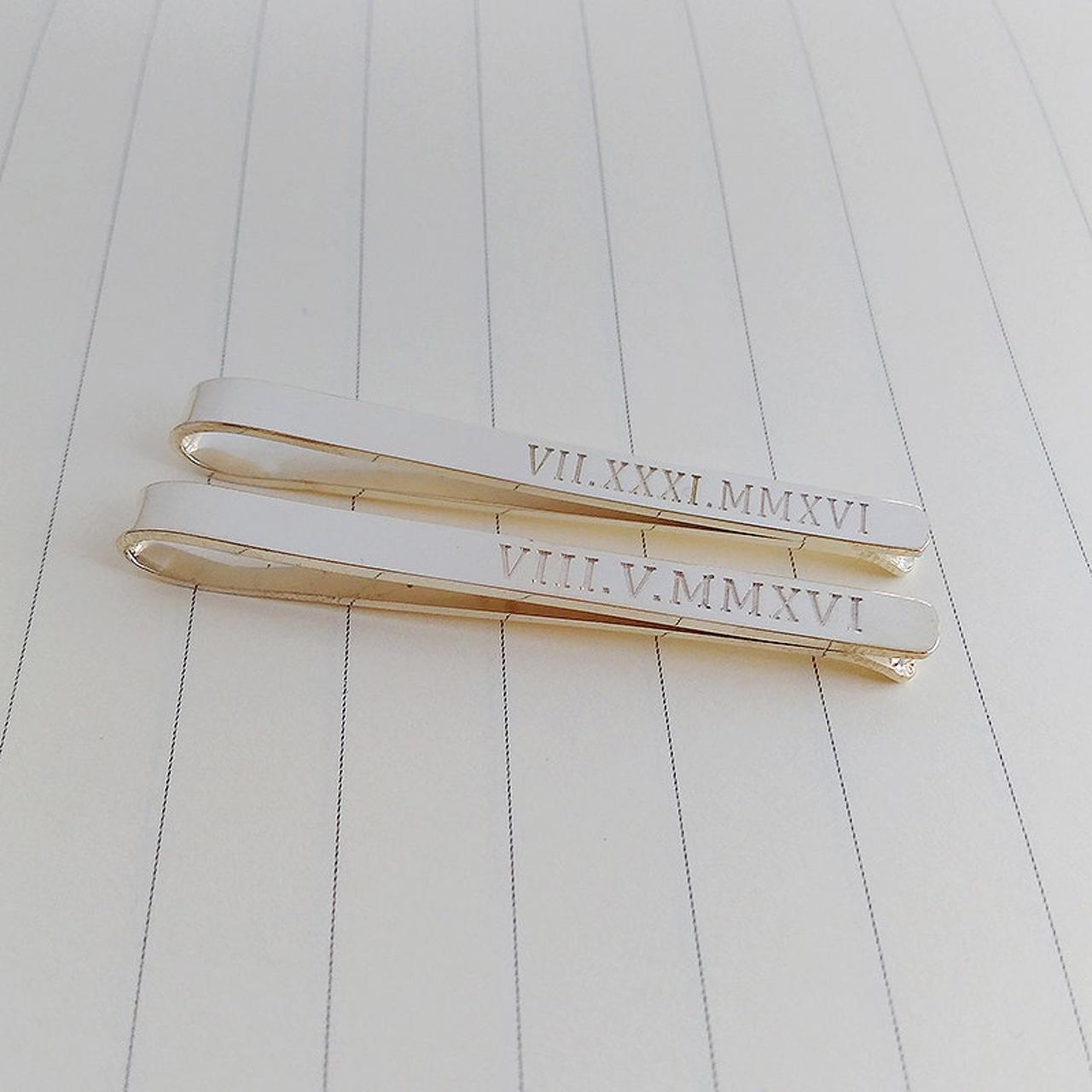 15. Personalized tie clip
If rubies aren't really his thing, but you still want to gift a heartfelt memento that nods to 40 blissful years, add this handsome tie clip emblazoned with the wedding date in Roman numerals to your cart. Subtle, yet sentimental.
Customforu personalized tie clip, from $36, Etsy

16. Gourmet lobster dinner
They always say experiences are worth more than things, so why not gift 'em an unforgettably yummy gourmet lobster dinner they they can prepare and enjoy together on their anniversary night? Bonus: These beautiful ruby-red Maine lobsters are totally on theme (and delicious).
Hancock Gourmet Lobster Co. Maine Lobstermen's Fisherman's Catch dinner, $182, Goldbelly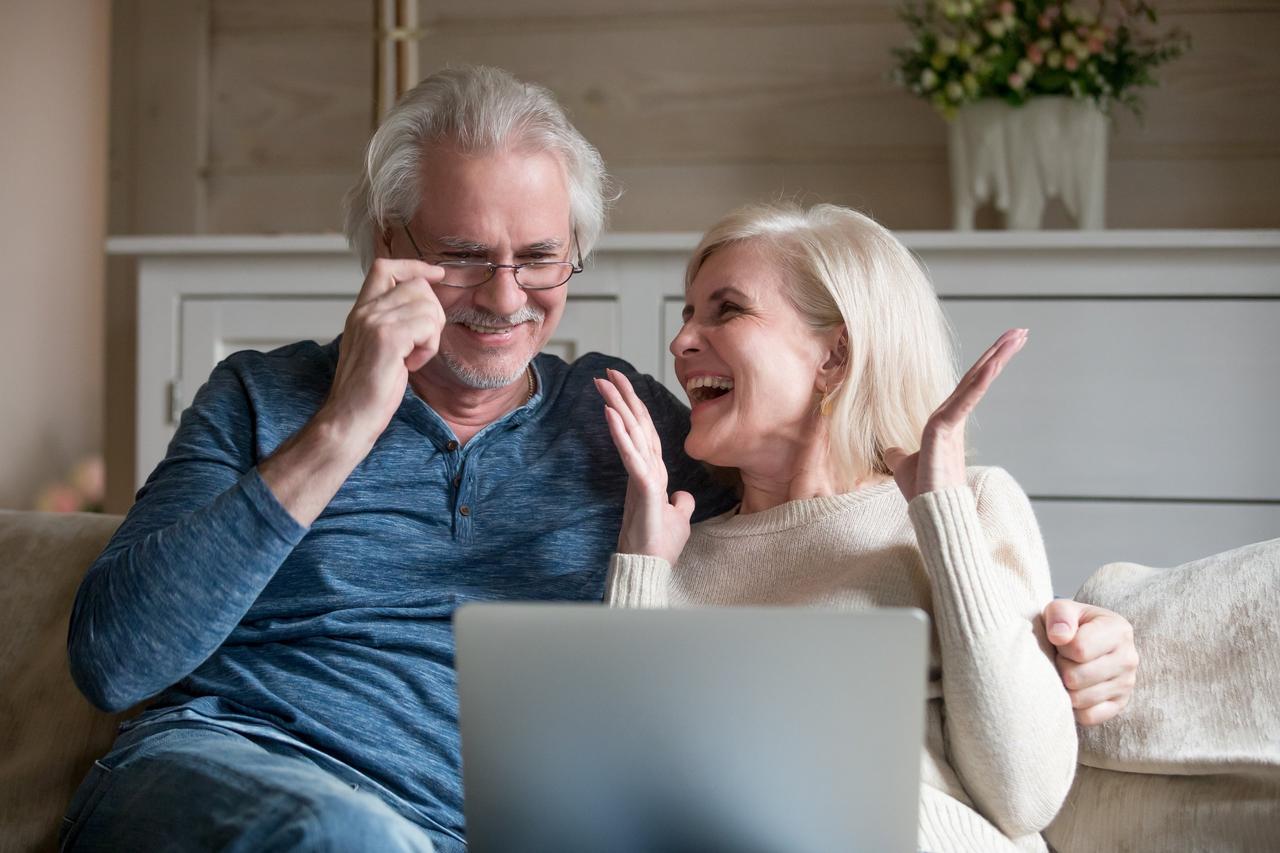 17. Custom video tribute
Whether you're unable to get the fam together for a 40th wedding anniversary bash, or you just want to gift a love-packed memento they can enjoy again and again, this custom video that edits together video messages from as many friends and family members as you want is just the thing. Cue the waterworks!
Tribute custom-edited video, $99, Tribute

18. Delicate ruby necklace
Delicate, dainty jewelry is all the rage right now, and this ruby-accented piece will go perfectly with everything in her closet, any day of the week. If she's not the ultra-glam type but still deserves something sparkly and red for the big 4-0, she'll love this unique necklace.
Gemvara Luxe Petite Karma necklace, $185, Gemvara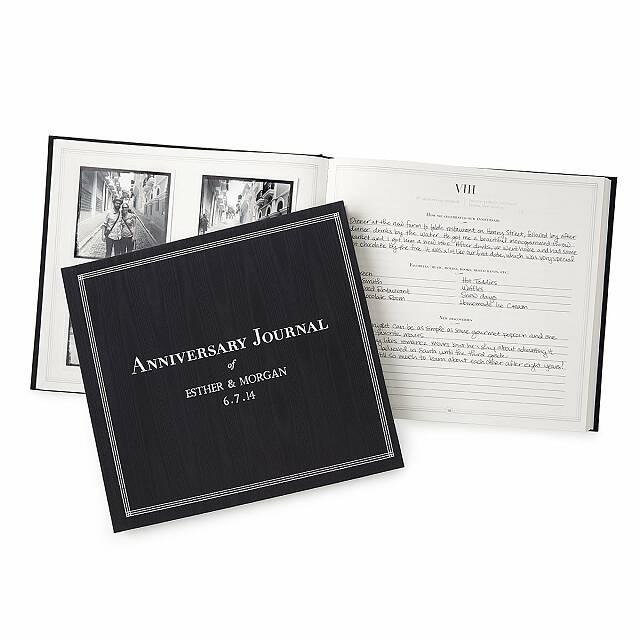 19. Personalized anniversary journal
Forty years together means you've probably gathered quite the collection of memories and stories together. Where better to write them all down together than in this heirloom-quality journal with a personalized cover? It has pages for memories up to your 60th anniversary, making it a ritual you'll come back to year after year.
Uncommon Goods personalized anniversary journal, from $115, Uncommon Goods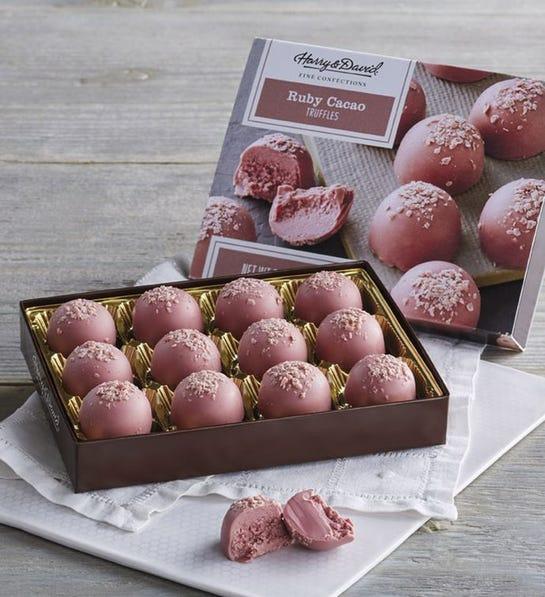 20. Ruby chocolates
As pretty as real ruby gemstones, but far more delicious, this sweet set of 12 ruby cacao truffles beautifully arranged in a gift-worthy box is a unique spin on the traditional 40th anniversary gift. The subtle berry flavor of ruby cocoa beans offers a totally unexpected chocolate experience.
Harry & David ruby cacao truffles, $30, Harry & David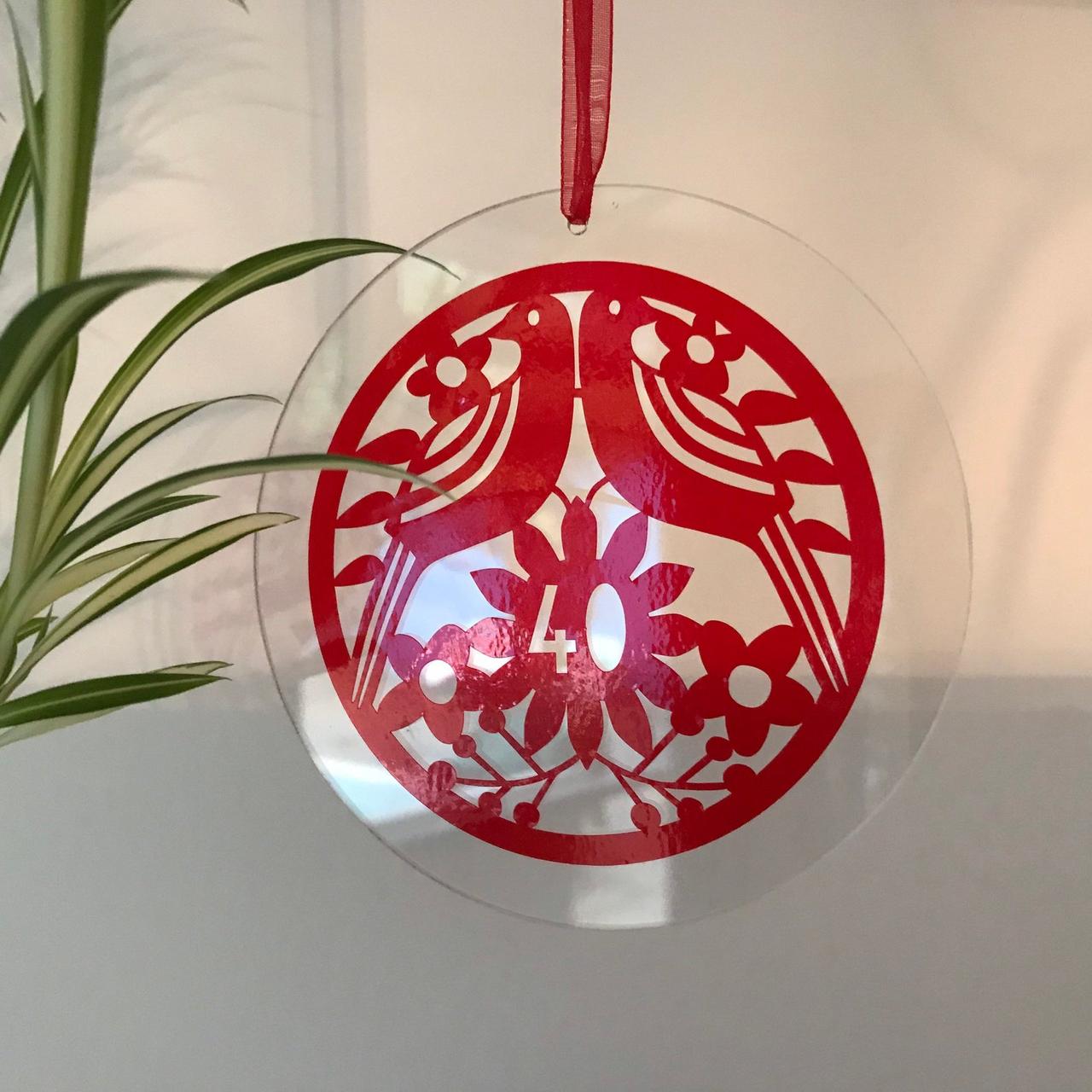 21. Anniversary sun catcher
This pretty piece will sparkle in the sun with a daily reminder of the couple's long-standing love for one another. An especially great pick for that one couple who spends most of their time together on the front porch!
CarolineReesPapercut 40th anniversary sun catcher, $15, Etsy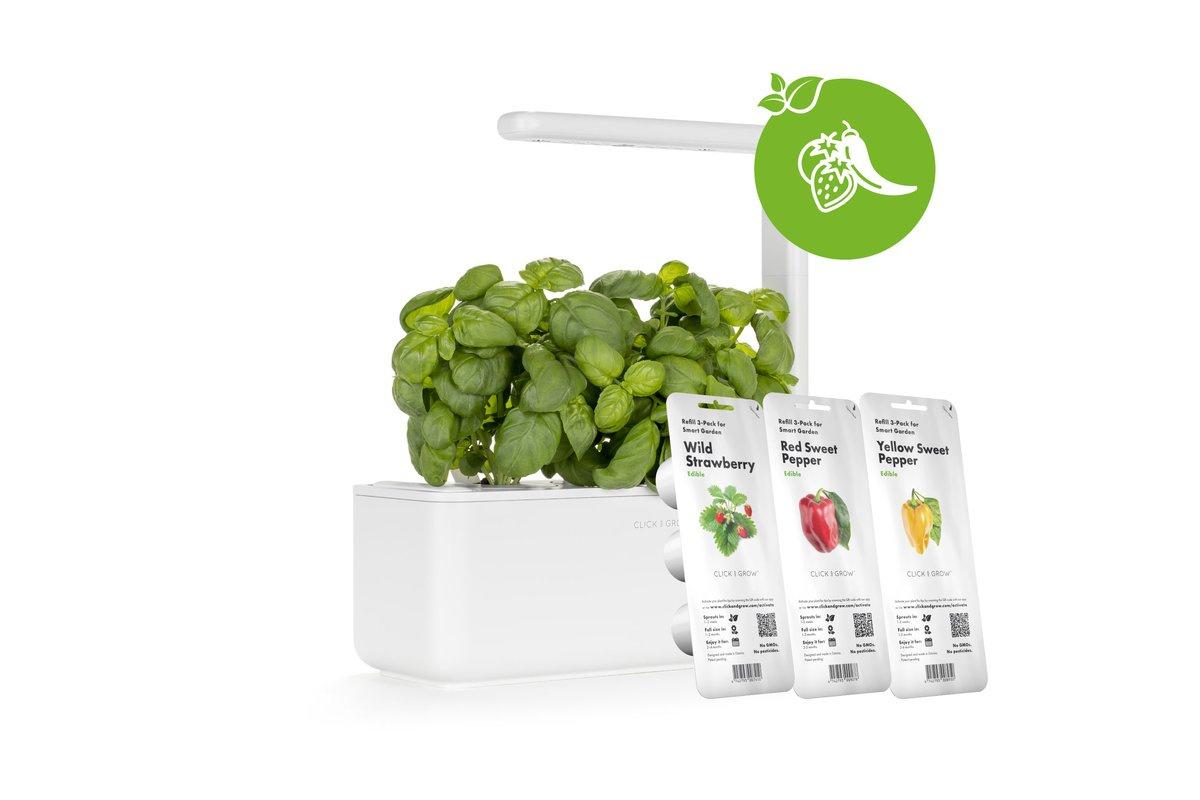 22. Indoor garden
After 40 years in the kitchen together, any cookin' couple will love a homegrown way to mix up their usual recipes. This clever countertop kit comes with everything needed to create a bountiful indoor garden with fresh fruits and veggies they can watch grow, and enjoy, together!
Click and Grow fruit and veggie kit, $266, Click and Grow
23. Date night box subscription
So many years together = sooo many date nights. Why not refresh their routine with a monthly date-night-in-a-box delivery that will give them what they really want: more quality time together. This clever gift that keeps on giving will surprise them once a month with everything they need for a unique themed evening in.
Date Night in a Box monthly subscription, from $42, Date Night in a Box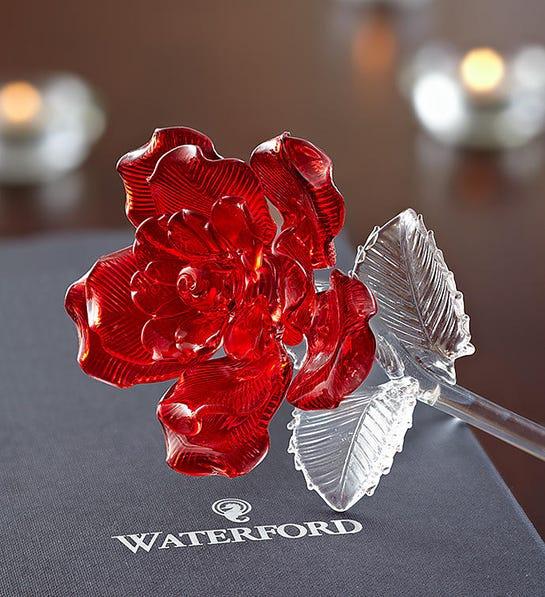 24. Red glass rose
Symbolic of both 40 years of marriage and ever-blooming love, this unique crystal-cut ruby glass rose is a forever alternative to the classic anniversary bouquet. Whether you gift just one or a small bouquet of these sparklers, they'll certainly be a show-stopping surprise.
Waterford red glass rose, $85, 1-800 Flowers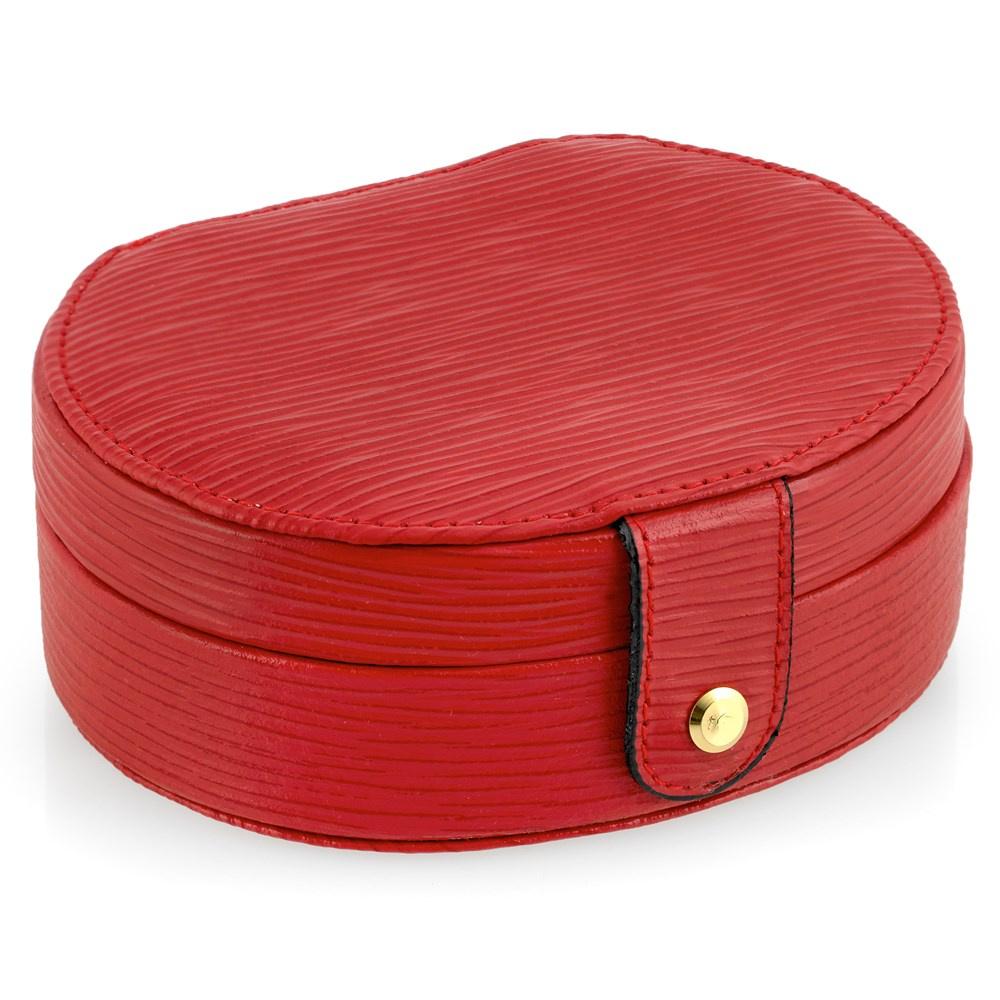 25. Red jewelry box
A sophisticated gift in beautiful ruby red, this snap-close leather jewelry box will look lovely on her dresser and is a chic new home for the sparkling gifts she's amassed over 40 years of marriage. Extra points if you gift it with something ruby-studded tucked inside!
Scully & Scully wave leather oval jewelry box, $165, Scully & Scully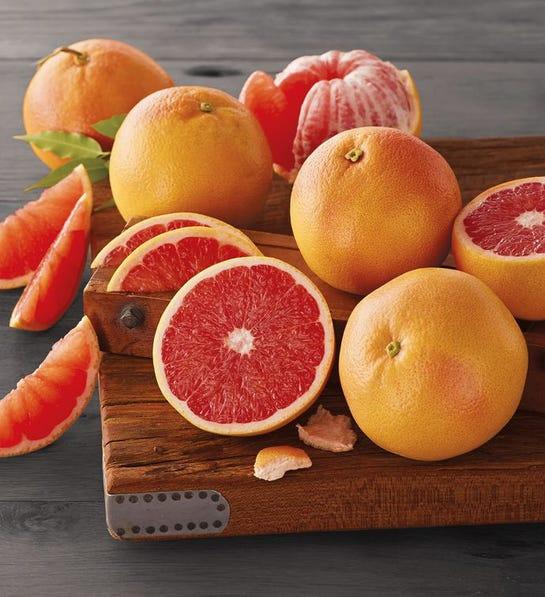 26. Ruby red grapefruit
An edible 40th wedding anniversary gift is always a good idea! The recipients are sure to smile when they open this basket of delicious, juicy ruby red grapefruit. Not only do these grapefruits make a perfect breakfast or snack, they're also a fun interpretation of the ruby theme.
Harry & David Florida Indian River ruby red grapefruit, from $35, Harry & David


27. New York Times anniversary book
How best to remember 40 years together? With the help of one of America's most longstanding news institutions, of course! This thoughtful gift binds together all the top headlines from the married couple's four decades together, perfect for paging through when bouts of nostalgia hit.
Uncommon Goods New York Times custom anniversary book, $100, Uncommon Goods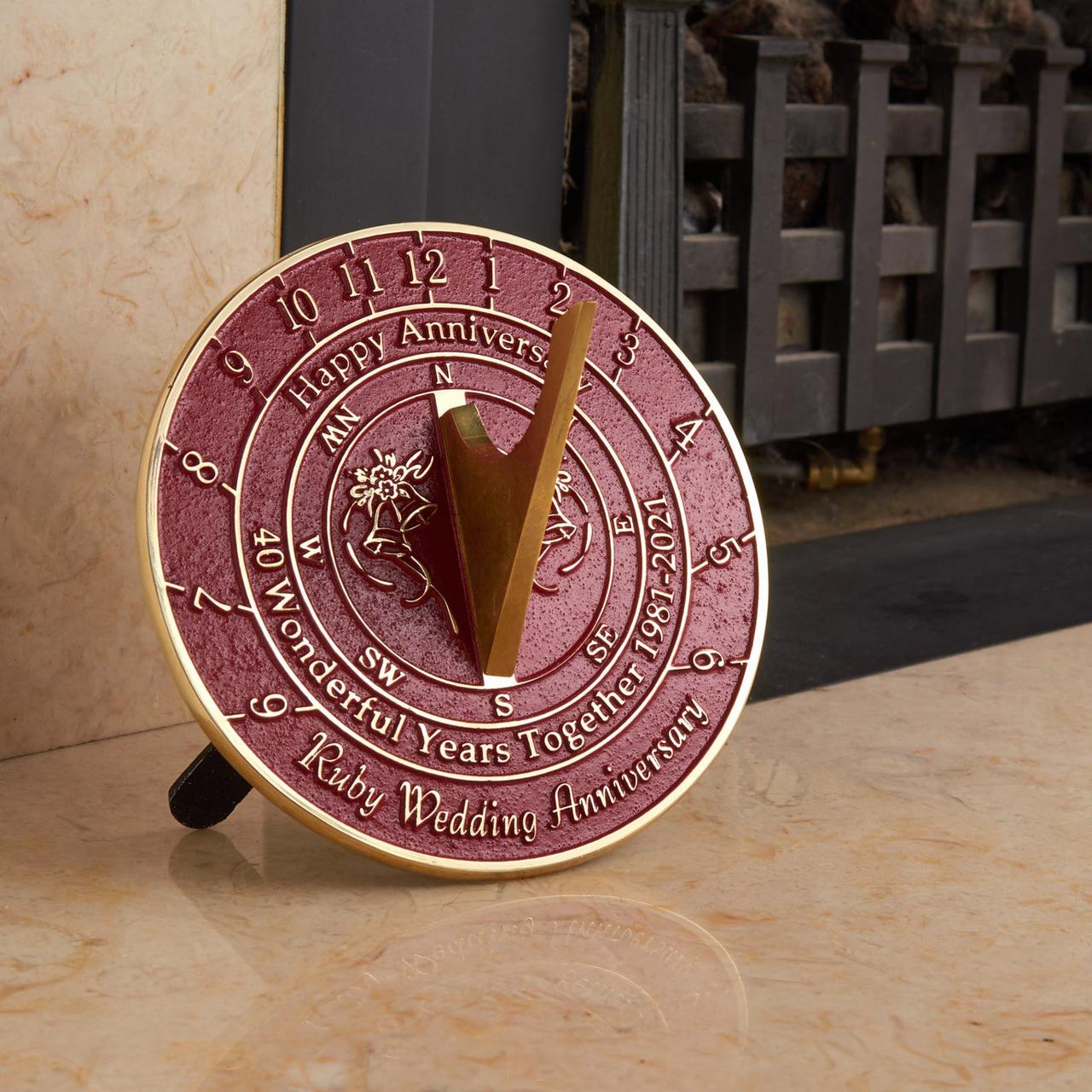 28. Ruby red sundial
After 40 years of sunsets and sunrises together, this handsome and solid handmade gift is a unique desktop or backyard reminder of the couple's longtime love together. And learning how to read a sundial together sounds like the perfect anniversary date!
TheMetalFoundry 40th wedding anniversary sundial, from $79, Etsy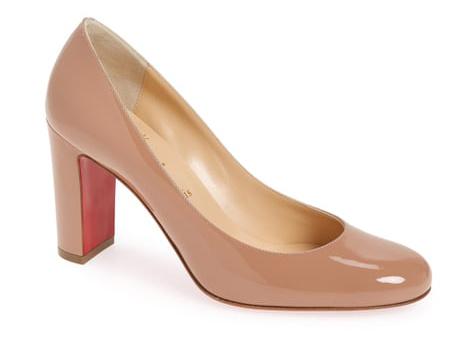 29. Iconic designer shoes
A fashionable 40th anniversary celebrant will wilt for a pair of these iconic and classic nude block heels with a hint of ruby (and luxury!) on the sole. And if you want to really tug at her heartstrings, inscribe the sole with a sweet message so those good 40th anniversary vibes are with her every step of the way.
Christian Louboutin Lady Gena red-sole pumps, from $675, Nordstrom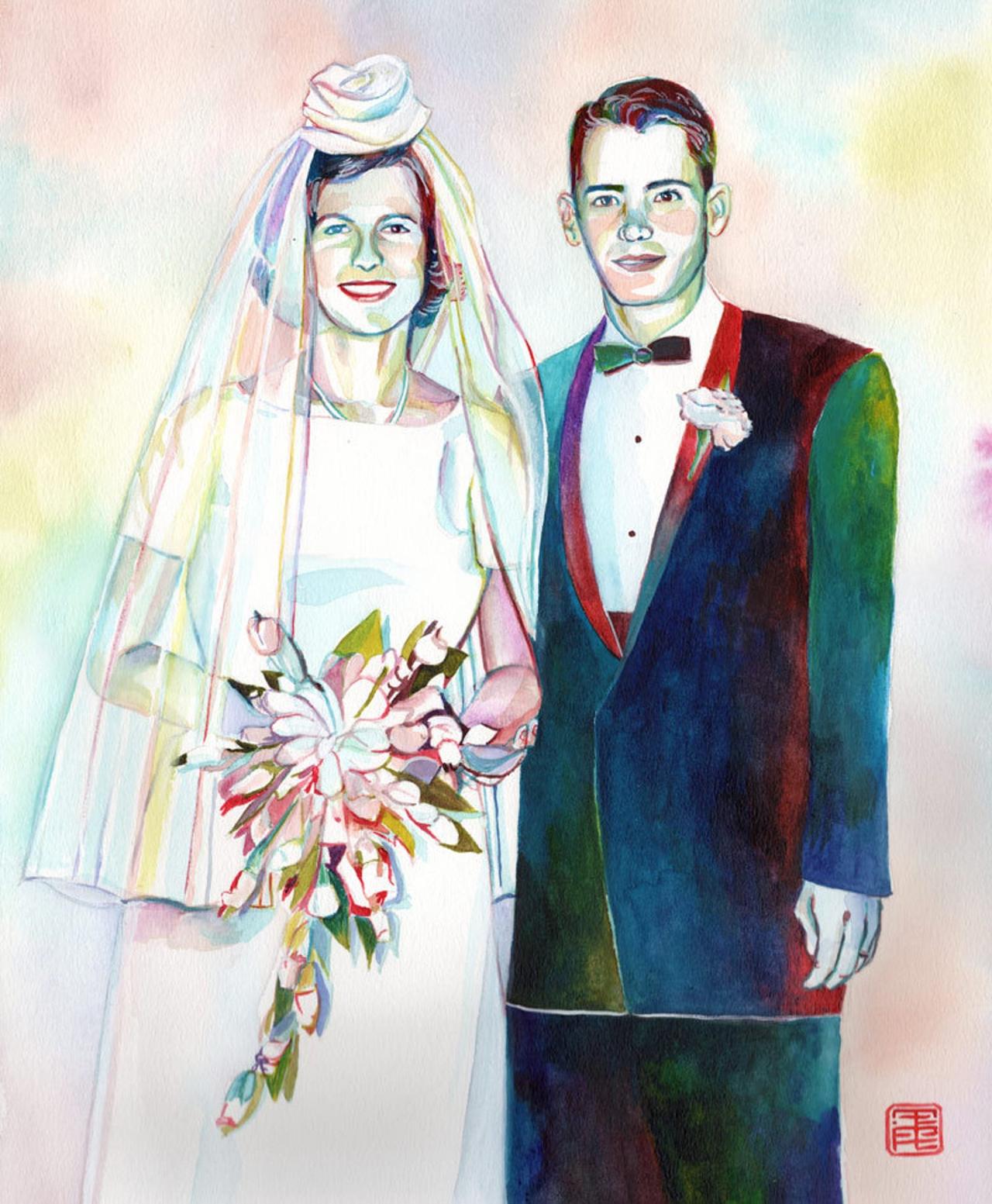 30. Custom couple portrait
After four decades of flipping through the wedding photos, a little refresh might be in order— and this modern custom painting makes a pretty perfect 40-year wedding anniversary gift. Surprise the happy couple with a fresh take on their fave moment from their wedding day and gift them this totally unique, heirloom-worthy piece of art.
SesCaniques custom couples portrait, from $229, Etsy