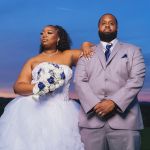 Yasmine
My name is Yasmine and my fiancé's name is Davon. We were best friends for 7 years before we even started dating, and getting in a relationship was the... View More
My name is Yasmine and my fiancé's name is Davon. We were best friends for 7 years before we even started dating, and getting in a relationship was the best decision that we could've ever made. I am literally the happiest that I have ever been in life!
Happily married 🎉
October 6, 2020

Storms on wedding day
Jess
, on September 30, 2021 at 1:00 PM
I was terrified of storms on my wedding day, but now I am so so so happy it happened. It was perfect. We had our ceremony outside and then it absolutely POURED during the dances and cocktails. After...




5